NewBoost V4 UPDATE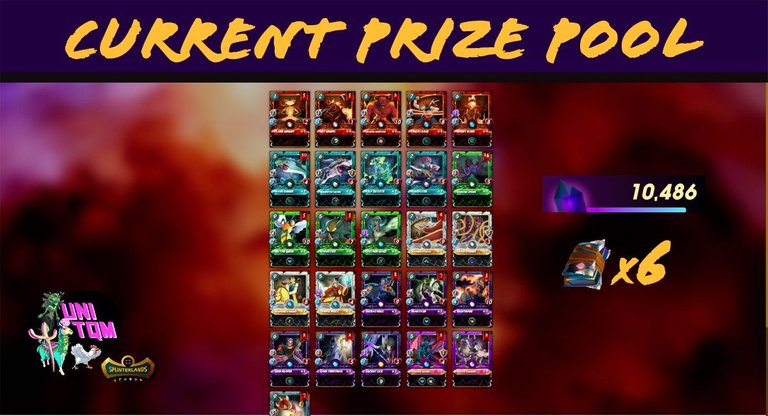 NewBoost is Live
Hello all and welcome to another version of NewBoost. The event is simple... Play Splinterlands for 1 hour. Gather your DEC rewards from that time playing and send them over to @newboost. Then tomorrow we distribute all those DEC rewards out to 15 lucky new players. You can also send over packs, totems, plots or cards if you want. We'll take anything we can get.
IF YOU DONATE TO THE CAUSE YOU WILL GET AN NFT!!! BUT I WILL NEED YOUR WAX ADDRESS. DROP YOUR ADDRESS IN THE COMMENTS BELOW. :)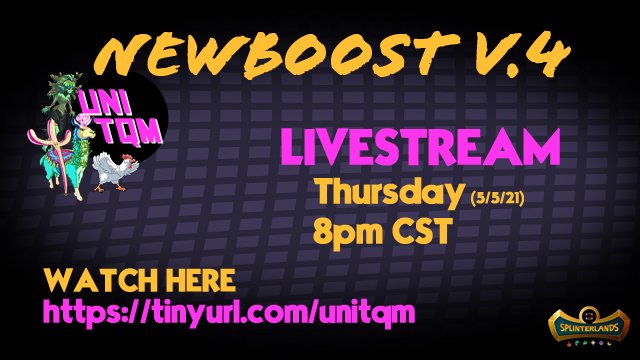 Stats on Stats on Stats
This is our fourth time giving new players a boost. Our goal, make the game more fun for new players and hopefully keep them playing longer. Yesterday I pulled some numbers.
NewBoost v.1 - 13 players boosted. 10 played in the last 4 days.
NewBoost v.2 - 10 players boosted. 9 Played in the last 4 days.
NewBoost v.3 - 15 players boosted. 12 played in the last 4 days.
Tell me More
Prizes will be distributed during the LiveStream at 8pm CST on Thursday.
The Roster of players we're going to boost is full.
We have unveiled the NFT for folks who contributed to the last boost here.
NFT Auction
Also we're trying something new. We only create a limited number of NFTs each Boost. If 22 people give to the boost then I only mint 22 NFTs. Well some of the people who have given to NewBoost did not claim their NFTs so we've got some NFTs up for grabs. We've currently got an auction up for Mint #3 from New Boost V.2. All funds that are received from these auctions will be converted to packs and added to the prize pool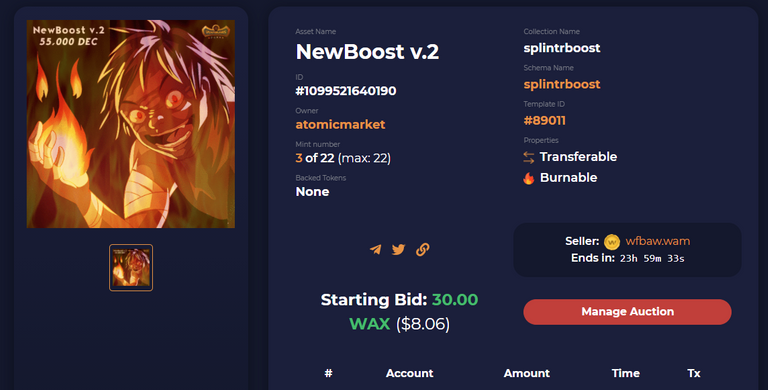 Bottom of the Post Spam
Sign up for Splinterlands using my referral link to get a free card when you first sign in. https://splinterlands.com?ref=unitqm
Check out the wiki. We're making a splinterlands wiki and need your help.
https://www.splinterwiki.com
Watch the full Starting out in Splinterland series here...
https://www.shorturl.at/drJW3
Support/Follow Me:
https://cointr.ee/unitqm
Blockchain games that I play. Using these links to sign up will get us both a bonus.
Crypto Brewmaster
https://www.cryptobrewmaster.io/game/invite?ref=9b5d87ec41214ab9944aa43274e0a144&code=AlphaBonus
Rising Star
https://www.risingstargame.com?referrer=unitqm
Prospectors
https://prospectors.io?waxref=wfbaw.wam
Upland
https://r.upland.me/YhDa
---
---