NewBoost V.6 July 14th

What is NewBoost?
Every month the community gets together to give new players a boost. "Boosters" will play for 1 hour and then send their DEC winnings and/other prizes to the @newboost account. Then we have a livestream where we give out the prizes to Noobs. All of the Boosters that give at least 100 DEC get a fancy NFT.
Here is the NFT that is going out this month to our contributors from the last boost.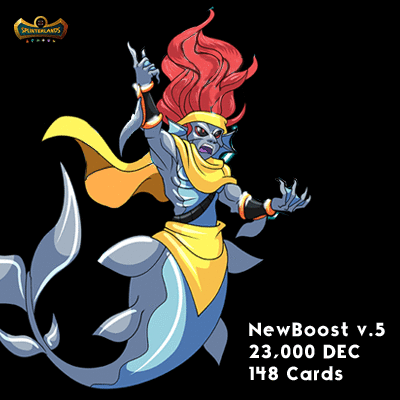 When is NewBoost
We will be boosting on July 13th. Send your donations to @newboost. We've already got over 10,000 DEC and 30+ cards to give out. Then on Wednesday July 14th I'll do a livestream at 10 AM CST. Links will be posted on discord and in this post.
How do you get a Boost?
I've been collecting the names of new players over the past month. Some of these players asked for a boost and then haven't been active in the community. If you were invited to the NewBoost Program please confirm that you want to participate in the givaway tomorrow. We have a few more open spots. Just drop your ingame username in the comments I'll take a look at your game and hiveblog/peakd history and if you look like a good fit for a boost I'll add you to our next boost.
Players getting a Boost
@sanderking77 - sent
@mechpolaris - sent
@kursen - sent
@jesolator - sent
@harayatim - sent
@las3rbone - sent
@cadama - sent
@herbal-thought - sent
@leonardohwang - sent
@peping - sent
@nevashia - sent
@xushee - sent
@nathan09fc - sent
@mojitofc - sent
@ritsnifferdill - sent
Invited but not confirmed
@duczthegreat
@strykex
@bigwinz
@l053r
@metyzera
@alex7g
@sire999
@trailblizzard
@cryptzzz16
@emyone
Who's doing the boosting?
Send your donations to @newboost
All of these amazing people have already donated to the cause.
@monstermother | a31r.wam
@unitqm | wfbaw.wam
@giemo | fmjb2.wam
@thegcc | s52qy.wam
@homesteadhacker | ypbr2.wam
@magooz | ogde4.wam
@ninjobu | npyu4.wam
@cajacksparro | 4.fuc.wam
@warrentrx | xciaw.wam
@vettev | l3uqu.wam
@peping | ioxf.wam
@funferall | bsdb2.wam
Who's getting an NFT from the last Boost?
Thank you all for your support. Here is a preview of the NFT that I will be sending out during the livestream. Only 11 of these bad boys were minted.
---
---