What is NewBoost?
Every month the community gets together to give new players a boost. "Boosters" will play for 1 hour and then send their DEC winnings and/other prizes to the @newboost account. Then we have a livestream where we give out the prizes to Noobs. All of the Boosters that give at least 100 DEC get a fancy NFT.
Here is the NFT that is going out this month to our contributors from the last boost.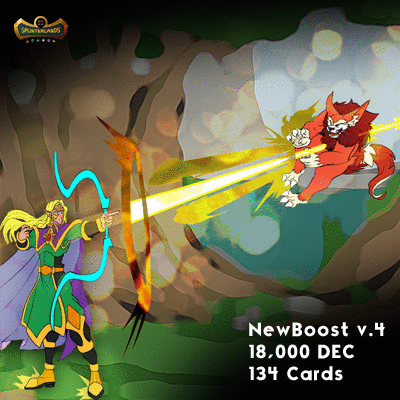 When is NewBoost
We will be boosting on June 4th. Send your donations to @newboost. We've already got over 10,000 DEC and 30 cards to give out. Then on Saturday June 5th I'll do a livestream at 10 AM CST. Stay close to discord or bookmark this post. You can't miss it. I'll drop the livestream link in this post.
How do you get a Boost?
If you are a new player and you could use a boost drop your ingame username in the comments below. I'll take a look at your account and if you look like a noob we'll hook you up.
THE POOL IS FULL... If you're looking for a boost catch me next month or watch the livestream tomorrow. I'll be giving out packs and prizes.
Who are we boosting?
@acolytelite - 1000 DEC Sent
Gloridax Soldier
Shadowy Presence
Harvester
Grim Reaper
Sniping Narwhal
Sand Worm
@axlertwinblade - 1000 DEC Sent
Undead Rexx
Fineas Rage
Wave Runner
Nectar Queen
Warrior of Peace
Biceratops
@capjacksparrow - 1000 DEC Sent
Harvester
Nectar Queen
Wave Runner
Ant Miners
Shieldbearer
Nectar Queen
@chinotek - 1000 DEC Sent
Demented Shark
Captain's Ghost
Silvershield Sheriff
Wood Nymph
Undead Rexx
Captain's Ghost
Phantasm
@cryptonymouz - 1000 DEC Sent
Pirate Archer
Warrior of Peace
Kretch Tallevor
Chain Spinner
Nectar Queen
Chain Spinner
@deathstalker007 - 1000 DEC Sent
Wave Runner
Barking Spider
Harvester
Grim Reaper
Gloridax Soldier
Flame Monkey
@feanarosurion - 1000 DEC Sent
Phantasm
Charlok Minotaur
Orc Sergeant
Ant Miners
Charlok Minotaur
Scale Doctor
@julia417 - 1000 DEC Sent
Chain Spinner
Harvester
Undead Rexx
Phantasm
Centauri Mage
Flame Monkey
@lina1997 - 1000 DEC Sent
Charlok Minotaur
Demented Shark
Nightmare
Lensmaster
Horny Toad
Ant Miners
@maxim4444 - 1000 DEC Sent
Demented Shark
Shadowy Presence
Wave Runner
Flame Monkey
Kretch Tallevor
Nectar Queen
@megawolf - 1000 DEC Sent
Contessa L'ament
Gloridax Soldier
Vera Salacia
Undead Rexx
Sand Worm
Demented Shark
@nolthestranger - 1000 DEC Sent
Undead Rexx
Magma Troll
Shadowy Presence
Demented Shark
Undead Rexx
Warrior of Peace
Undead Rexx
@oduncu - 1000 DEC Sent
Lensmaster
Flame Monkey
Evangelist
Harvester
Nectar Queen
Flame Monkey
@ogaming7 - 1000 DEC Sent
Gloridax Soldier
Nectar Queen
Nectar Queen
Ant Miners
Barking Spider
Silvershield Sheriff
@shin92 - 1000 DEC Sent
Temple Priest
Chain Spinner
Harvester
Phantasm
Harvester
Harvester
@siddmaster - 1000 DEC Sent
Chain Spinner
Fineas Rage
Flame Monkey
Phantasm
Charlok Minotaur
Wave Runner
@sublimjester - 1000 DEC Sent
Lensmaster
Ant Miners
Chain Spinner
Wave Runner
Harvester
Demented Shark
@thetamyco - 1000 DEC Sent
Nightmare
Ant Miners
Warrior of Peace
Chain Spinner
Ant Miners
Captain's Ghost
Phantasm
@weakbot - 1000 DEC Sent
Nectar Queen
Barking Spider
Wave Runner
Phantasm
Wave Runner
The Gorlodon
Undead Rexx
@zorro2021 - 1000 DEC Sent
Sand Worm
Phantasm
Gloridax Soldier
Phantasm
Serpentine Spy
Harvester
@thezorro2021 - 3000 DEC Sent
Livestream Giveaways
@oduncu
-Land Plot
@koition
-failed summoner
-maintoid
-crystal jag
-maggots
-mother khala
@lina1997
-Crystal Jag
-Squid
-Bortus
-Mantoid
-Gorgdon
@​megawolf
-Chansus
@zorro2021
-Furious Chicken
@shin92
-bortus
-squid
-boatman
-badger
@thetamyco
-maggots
-crystal jag
-biceratops
-unicorn
-mantoid
@deathstalker007
-furious chicken
@maxim4444
-common totem
@giemo
-GOLD herbalist
Who's doing the boosting?
Send your donations to @newboost
@monstermother | a31r.wam
@davemccoy | ujbaw.wam
@unitqm | wfbaw.wam
@funferall | bsdb2.wam
@thegcc | s52qy.wam
@warrentrx | xciaw.wam
@giemo | fmjb2.wam
@brucolac | ???
@dandelionfluff | rueo4.wam
@draygyn | 4dray.wam
@homesteadhacker | ypbr2.wam
@odin7557
@magooz
@sgt-dan
@xxblackknightxx
@toocurious
Who's getting an NFT from the last Boost?
Thank you all for your support. Here is a preview of the NFT that I will be sending out during the livestream. Only 11 of these bad boys were minted.