UPDATE
User @rentau Congratulations. You just won 10,000 DEC, 3 Untamed Boosters and some random cards. Please reach out to me to confirm your username and get your prize.
@rentau - DEC SENT
Everyone else. Congratulations you all won 873 DEC. Please reach out to me to confirm your username and get your prize. If you don't claim your prize in 1 week I will reach out to the boosters to see what they want to do with the DEC.
@x1ke - DEC SENT
@chchannel003 - DEC SENT
@YouLoseAgain - DEC SENT
@mejiasclaudia - DEC SENT
@snaasi - DEC SENT
@nmount911 - DEC SENT
@elclements - DEC SENT
@godfather.ftw - DEC SENT
@chrisv
@doctore2hot
@bhattg - DEC SENT
@shrazi - DEC SENT
@carlosro - DEC SENT
THANK YOU ALL FOR CONTRIBUTING
Not sure when the next boost will be but I can tell you this... There will be one. :)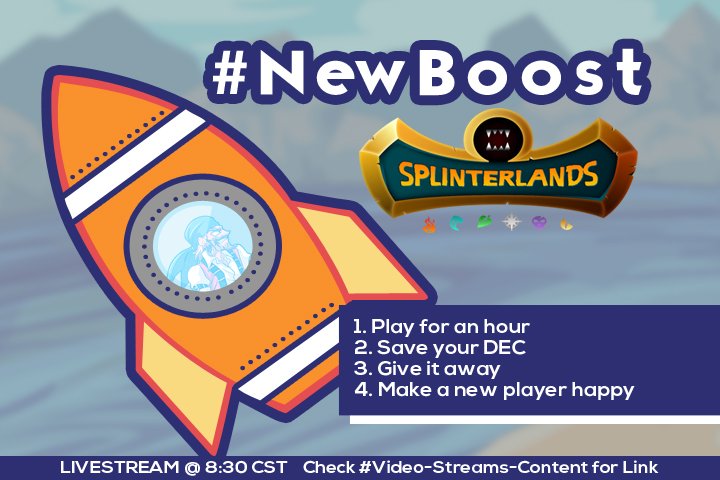 What are we Doing?
Today, February 5th, all across the Splinterlands community players are playing the game we all love for 1 hour. We are going to take all of that sweet sweet DEC and pool it together and give it away just like that. Why? Cause we all need a little helping hand sometimes. Trying new things is tough and getting Started in Splinterlands is harder when you can't afford to upgrade.
Livestream and Backup Plan
At 8:30 Central Standard Time I will start livestreaming. It's okay if you can't make the livestream. You can send me your DEC (@unitqm) ahead of time or to the player that wins after the fact. In the livestream I will be selecting the winners of the boost and getting feedback from the community. If you miss the stream check back on this post tomorrow. You can see who wins your payout.
You can watch the Livestream Here
I'll do a few other prizes in the livestream. Maybe a plot of land and a totem? Does that sound good?