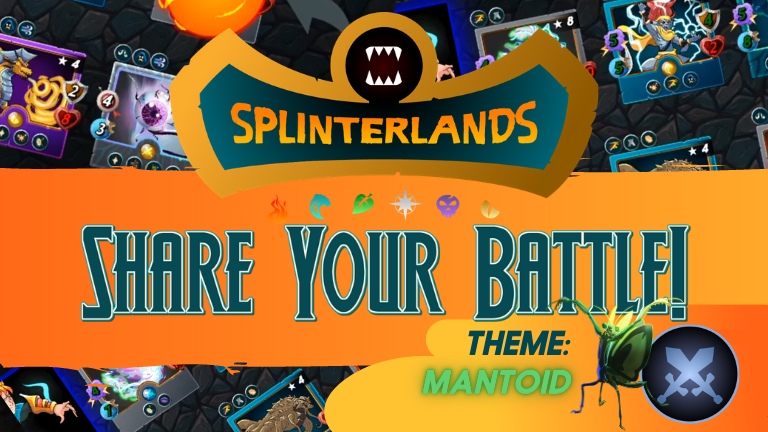 It is splinterland battle challenge mood for me, been a while I participate in the splinterland community, so I decided to check out what is really going on in the weekly battle challenge so as to participate, most time I will just upload my battle to youtube and forget to write the post or at times feel lazy to do so. This week card is Mantoid which is among the ranged neutral monster card. Had to check my collections to see If I have one and was glad to even have a gold mantoid.
I rarely make use of this particular card mostly because I don't really use range monster card which I battle with my opponent except am making use of Fire lord Zaku due to the extra range ability and most times if I have a huge mana cap battle. Who want to miss the chance of beating his opponent.

Today's battle was between me and @neminers-40 from the botholes guild in a 42 mana cap battle with two rules which are:
Reverse Speed which allow monster with the lowest speed to attack first and also have the ability to evade attacks.
Rise of the Commons which is the second rule which give only common and rare monster cards to battle.
This three things make me choose Fire Lord Yodin Zaku out of the Summoners we are permitted to choose from. Yodin Zaku has 7 mana card with the blast, health and extra range ability.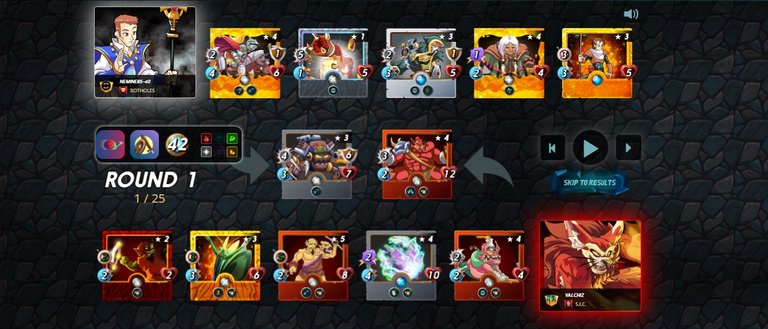 When using this summoner, I do make use of less melee and magic cards with a good health incase of attacks and more rangers to back it up. Which lead to my formation below
Firstly I make use of Molten Ogre with the Demoralize ability in order to reduce enemy melee attack and also because of the 12 health the monster card have. Really a strong card in this battle with 9 mana cap
Followed by Kobold Miner, not that strong but I make use of it because of the sneak ability since it will also have the blast ability and extra health so as to attack the last enemy cards.
Prismatic energy is one of my strong magic card that I do make use of often. Yet to upgrade my Zaku that is why you cant see the full effect of this card but nevertheless, it always work like a bomb.
Ettin Spearman with the strong range attack, this card must always show up if am to use Zaku because of the great effect it gives after hitting opponent cards with the extra blast ability. This is one of my favorite rangers
Mantoid which is the man of the battle, this card really have a lot of advantages especially with the snipe ability which make it to attack all other cards apart from melee which are not in the first position.
Lastly Goblin Fireballer because of the low mana cap I have left. It fit in and also a ranger.
You can watch how the battle went to the youtube link but my opponent is very strong too, he even make use of tank heal card but because of the blast ability, I was able to quickly defeat the cards and it was really a win for me. Fatality Match
Join us on splinterland using this link