it has been a long time since i posted here or played a game on splinterlands. I have been busy in real life trying to fix myself in a job and make some much needed cash. The thrill of winning is still there though and this my first game in several months did not disappoint.
---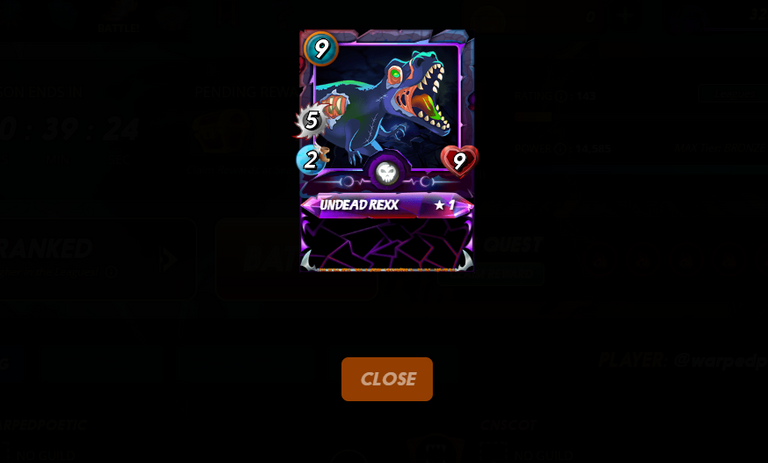 ---
I am very excited to see the new cards that have appeared in the game and i am sure most of my cards are weak compared to what some other players are hodling in their deck now. It does not matter though. I still believe that the game is more about strategy than about having the best cards. I do not know much about strategy but i always ensure that i maximize my cards at any given time.
I don't know if i will come out tops on the league but i know that i will be playing and hopefully i will be able to upgrade my deck to a more modern class of cards and monsters. Meanwhile, the cards themselves still serve as a small bag that would help solve some real life financial issues one day.
I am yet to join any guild and i do not have the time right now that being a member of a guild might involve thus my reluctance. I may find it necessary in the future to be part of a guild but right now i am enjoying the novelty of starting all over again.
The hive chain is still tops for me for the variety it offers in the creation of content and utility of apps on the blockchain ecosystem. I find it wierd that it has not picked up steam in spite of its contribution to the growing band of crypto and blockchain based apps spilling out of the woodwork. This current bitcoin bullrun could be an opportunity for hive and all its commmunities and applications to find traction, gain the necessary human capital and investment that will take it to the next level. If it doesn't happen now though, it is not the end of the world, there is still opportunity for us to move this blockchain beyond this place and time.
Creating content is never easy especially when you are considering what is most profitable. Writing becomes a chore when you focus too much on how much your article will make when rewarded on the platform. It takes away the vibe, the joy of creating. splinterlands on the other hand, remains an experience that is not tied to some need for profit. The joy of winning, the sportsmanship essence remains ever present. It is one of the reasons why i still keep my cards and still play the game even after being absent for such a long time.
Someone once said you come for the money, you stay for the community. The community is the major pillar of all of these things being created. Without a community to enjoy and share everything being achieved here, it will be wasted. It is this that makes the hive blockchain and all the projects running on the chain great. It is hoped that the community will increase and that would affect the value of the chain in the real world.
I have played my first game, won myself a good card and now i can return back to the real world, to handle real world issues like hunger. I will be back though. The feeling of winning still feels fresh and i would love to retain that feeling. See you on the other side.
yours always,
Osahon (warpedpoetic)