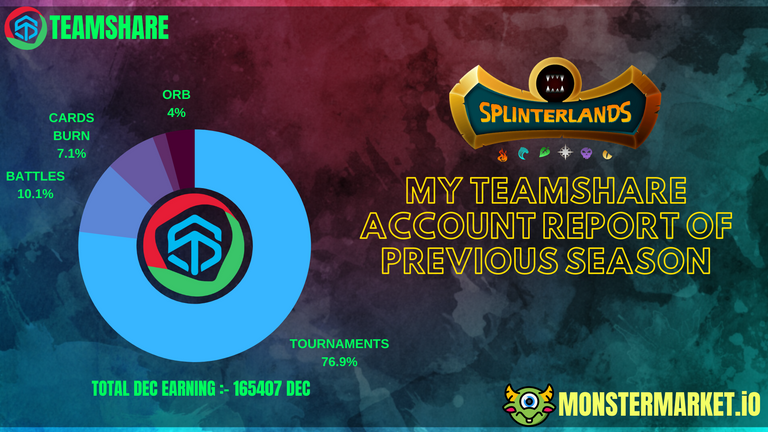 Greetings @splinterlands warriors, I hope you guys are doing well on Battle field. As you know 16 days ago We(me and @reazuliqbal) officially announced about our new project @TEAMSHARE. The project goes live 1 month before the announcement, between this time we tried to solve all bugs we found on our system.
This service very useful for those, who don't have much time to play their own deck and those cards sitting on their account.I found this very useful for me as well, because all this time I was just played for complete my quest, that's it. But @splinterlands sponsoring lot's of DEC on Tournament and I don't have enough time to play those tournaments. So I decided to give my main account cards on TS.

Benefit's Of Using Teamshare:
If you got good skilled player(s) for your account, then you no need to worry about your incomes. Because they will play for you and both will earn good amount of DEC. It's a win-win for both sides.
The service is available free of charge. We don't charge anything for using our service.
Q - Then what is our benefit?
A - We will take the Reward Cards from those account's and you'll get 101-105% of the BURN value of cards according to dynamic rewards system.This dynamic ratio will be determined based on DEC price but won't be below 101%.
REWARD DECs are added to your Splinterlands balance, so our system will auto transfer them to Steem-engine as soon as the player claims quest rewards or you can Claim manually from your Teamshare Dashboard.
REWARD ORB(s) will also be transferred to @teamshare and 2230 DEC for each ORB will be transferred back to the account. 2230 DEC for each ORB is the price we sell them for from MonsterMarket Shop.
Our goal to provide better customer service, So most of the time we are active on our Discord Channel.So, as a user of the Service, you must join our Discord server. In future more services will be available through our website.

My TS account(@ts-yodin) Performance report:
@ts-yodin is my TeamShare account, I delegated all my main account cards on that. That account have Level 6 Summoners(Max gold league). Also I got a skilled player for that, Who participate most of the tournament and the result also so good. To check my TS account performance I Used New MonsterMarket tool Analyze Rewards, which is Originally developed by @jacekw.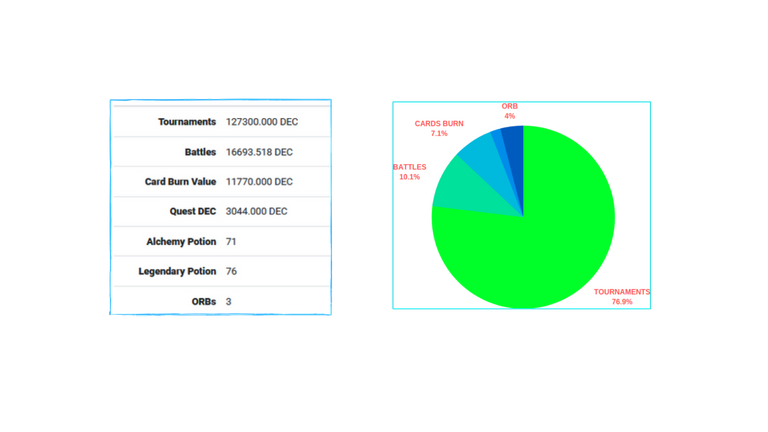 As you can see previous season timeline was 14th February to 1st March. During this time period @ts-yodin won 127300 DEC from Tournaments, got 16693.518 DEC from Battling, The burn value of the reward cards 11770 DEC and liquid 3044 DEC from Quest. Also 3 Orbs which is 2230*3 = 6690 DEC. In total 165407 DEC approx earned on previous season. So 76.9% of total earning came from Tournaments, So you need to choose a player who willing to play maximum tournaments and have good skill for those.And 10.1% from Battling, 7.1% from cards burn and 4% from ORB.
So, My contract is 50/50 share, which means Owner will get 50% and Player will get 50% as well. So,165407/2 = 82703 DEC not bad at all. i am very happy with this result.

Those who have good deck and not getting much time to play, I suggest you to use our service because Something is better than Nothing. Feel free to contact with us Discord or You can DM me on Discord zaku#1944.
PS: Currently we are accepting Gold League( SUM-6)/higher league accounts only.

If you don't know how to purchase packs from MonsterMarket then this post will help you to understand more. Still if you need to know anything about our market you can Contact with us on Discord, Our Discord Channel : https://discord.gg/3NCwbCv .
MonsterMarket Community:
To know about our Market updates keep your eyes on our community page : https://steempeak.com/c/hive-118875
All card images and icons shown are property of @splinterlands