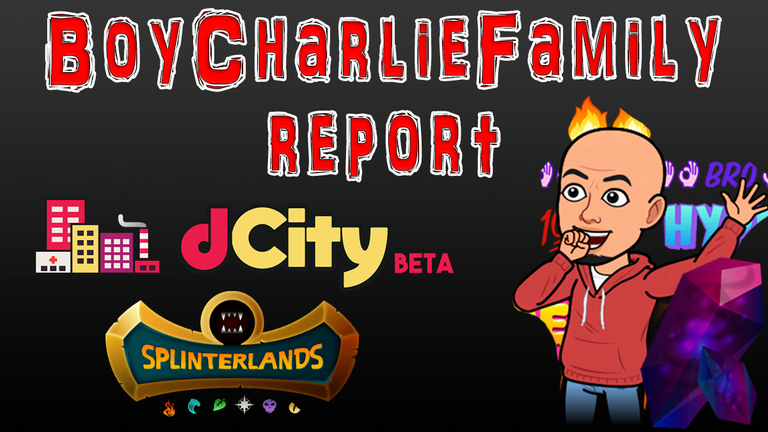 What's good everybody it's your boy, Charlie !
---
We're Leveling Up! Are you not entertained?
Over the last couple of days we have put a big focus on creating gamified interactive content for people who come to the blog. Tokens, Video Game Avatars, and real-life DCity Market events at a gaming convention near you? I have been inspired to create a fictional government council within the world of DCity called the @boycharliefamily DCity Politics Collective. This group of character accounts maintain their cities and report back to the community. The characters will also engage in comments with the community to build repoir and offer support to those who are learning the game. Imagine a boycharlieplays stand at ComicCon where people will walk up and purchase Splinterland Cards or DCity Cards from my table. Fans will be able to walk up and battle me for an untamed pack from long ago. Or a rare Alpha pack! These are all things made possible by being a content creator on the platform.
BoyCharlieFamily DCity Collective Notes
---
DCity has inspired the mayors of our collective to all receive an upgrade to our look. These cute RPG avatars are meant to represent the different mayors of our collective. @boycharlieplays is the mayor of @boycharlieplays city, @boycharlieville city district, and the @boycharliefamily funding city. The @boycharliefamily of cities is almost a subsection of this council that aims to protect and establish a basis with those who wish to join the fun of our games. The character of @zapphead is the mayor of his own named town and given the role of maintaining the @onestrong sanctuary city. Our positions serve these nation cities that extend and hold roles within the council. All of the five cities pay their respective SIM funding into the @boycharliefamily treasury city and request to pull funding from it. The fund is constantly influx due to choices being made by the current reigning president. News around the collective states that in the next election @zapphead will aim to claim the treasury city due to these practices. If voted that would put another resource city in the hands of @zapphead.

---
The Worker's City - @boycharlieplays city has a total population of 709 citizens. We produce a steady income based on the different businesses that occupy our spaces. We hold a positive Popularity scale with our citizens.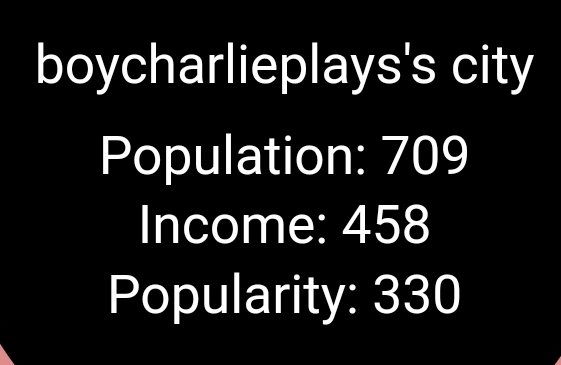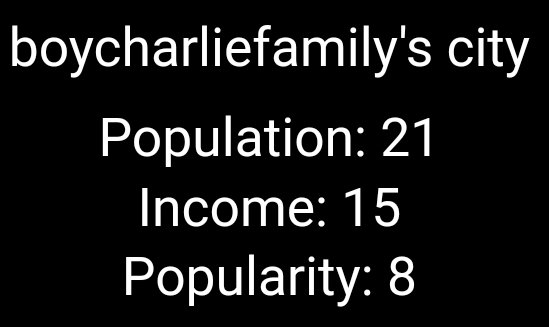 The Luxury City - @boycharlieville will maintain luxury homes and agricultural cards after the first couple of grant requests being approved. Many of these citizens are not fond of the @zapphead city region or the rabble of the @onestrong Sanctuary City.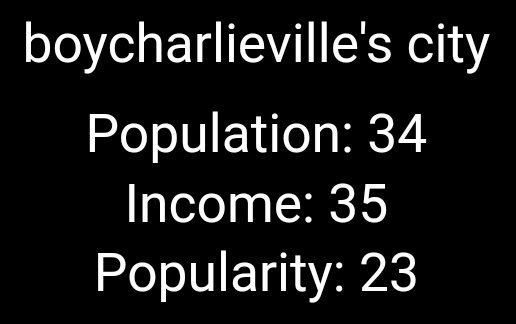 @zapphead mayor duties continued on his page soon....
---
As a reminder, the @boycharlieplays city is petitioning through requests, with the divided five cities we now hold 3 votes to @zappheads 2 giving us immediate approval. However as a show of faith I am inclined within the interest of maintaining this relationship to assist him in his next couple of votes. With One Strong he is also in control of the Worker Force coming out of his newly acquired nation. amongst ourselves and hope to bring forth the @boycharliefamily DCity Collective AND the #onestrong council. Now things have been changing regarding the structure of the collective and the overall city/nation.
---
461.000 SIM
6.14068646 WEED
2.266208 STEM
28.61462165 SWAP.HIVE
The boycharliefamily nation is maintained by @boycharlieplays as the treasury for all of the accounts in the collective. Everyday transfers are made to the family fund in SIM and extra cards are placed in the market under the @boycharliefamily name in order to keep all SIM income within the wallet. We recently had an emergency sale of a shopping mall that allowed us to get some swap.hive.
I have been very busy with all of the DCity updates that I have barely had time to think about Splinterlands. This is funny because at the end of @zapphead's most recent blog we saw a Captain's Ghost at the end!. I love the idea of a world where Splinterland creatures exist around DCity Structures and other Hive entities. I've always been fond of the RPG Creator tool as well so I'm combining my love for blockchain and gaming to throw my hat in the ring.
---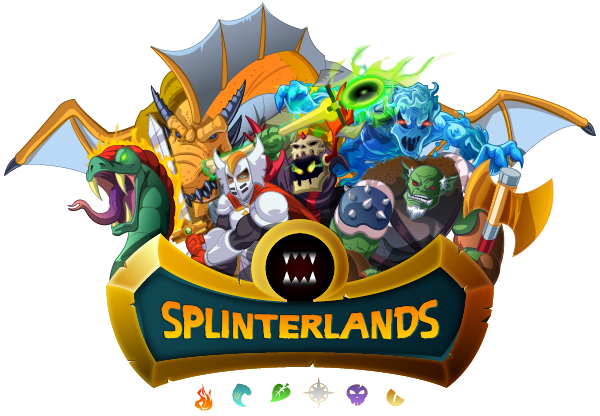 DAILY QUEST: "Splinter Type" Type Quest Complete 5 Matches
SplinterReports are provided by @boycharlieplays to reflect on the current metagame happening on the Splinterland Ranked Ladders. These report studies are personal and also are recorded for posterity in the BoyCharlieFamily Hive Community circles. The BoyCharlieFamily! Hive Community Project allows me to connect with my online Hive Gaming community. Livestreams have taken a break so that I can make the different games scripted for the appropriate shows. Daily Splinterland Training will consist of looking over the battles we are going into and efficiently tracking the battle type, the cards used, and the conditions that led to our win or loss. Today I am here to tell you guys about today's daily quest, our guild recruitment season beginning, and the other exciting things we have for Splinterland. The community is putting out some significant challenges of its own.
*BCP Comments: Earth Vs. Earth! Our Wizard of Eastwood brought out the Unicorn Mustang to do some heavy hits on this team. With the Headhunter and Sergeant in the back, we were able to bring in this challenge easily. *
Winning Hand:

Summoner | Wizard of Eastwood
Monsters | Unicorn Mustang, Orc Sergeant, Mitica Headhunter
BCP Comments: Always funny to see a Living Lava double matchup. Our living Lava received a steady increase from our Malric Inferno and Fineaus Rage's high life points was able to suffer though the last few rounds.
Winning Hand:

Summoner | Malric Inferno
Monsters | Living Lava, Fineas Rage, and Flame Monkey
BCP Comments: It's always a little scary when someone brings a light team that is building up a shield. However, Nectar Queen, Orc Sergeant, and Screeching Vulture added some heated physical pressure in the front gaining us the win.
Winning Hand:

Summoner | Wizard of Eastwood Lvl4
Monsters | Nectar Queen, Orc Sergeant, Goblin Sorcerors, Screeching Vulture, Khmer Princess, Mitica Headhunter
---
Thank you for reading!

Make sure to check out more of our @boycharliefamily content through our other associated blogs.

MAIN THREE PROGRAMS

Make sure to check out the BoyCharlieFamily Hive community. Those who post within this community and support the @boycharlieplays posts may receive an upvote from the @boycharliefamily account. I am still currently working on developing the Hive Power for this account so that it is strong enough to curate content by our supporters for great rewards.
Community Entities

@klye - Vote KLYE for Witness, Every Single Vote Helps, Thanks for the Support!
Need to get in Contact with KLYE?
Make sure to say hi to my Hive Shoutouts! Drop them a follow, an upvote, and a comment saying @boycharlieplays sent me ;)!
Ways to Connect with BoyCharliePlays!
Be sure to follow me on the other social media platforms provided down below.
---
---
---