Splinterlands and what i should do next?
Hello everyone i haven't posted in awhile because i've been lazy but today i got some good news to share. Recently splinterlands has rose in value and my collection is now worth 160$ which is amazing. I have been doing daily quest ever since i got the spellbook and i have been leveling up monsters. Mylor Crowling is one of my new favorite summoners because of the thorns ability which is overpowered. Take a look: https://splinterlands.com?p=battle&id=ec8779d55ccbeb59e0a0444b0f672a46d35e12c6&ref=teenagecrypto
I was thinking of growing my collection a lot more and renting some out but i don't know what to do yet. I think i will probably rent out cards i win from the daily quest and build up others from playing. Splinterlands has been a fun game to play recently and i like earning money from it. I have had tremendous support from the community. I need to try and play more events when i have time but most of them start right when i go to work. I'm also saving up to purchase more card packs to open and share with you all. I think i will put all post payouts towards my collection. Also should i join a guild if so let me know which one is good.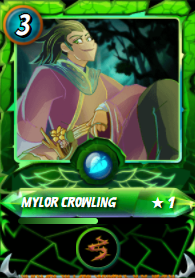 I just looked and it's worth 24$. If you are new to the game and want to join here is the link: https://splinterlands.com?ref=teenagecrypto
I need to do a giveaway soon to get more people to join. Might giveaway a card pack to get users interested. Thanks for stopping by and wish me luck on my journey. Air out your thoughts in the comments.
Yours truly, Mr.Crypto
---
---