DRAGON ELEMENT - DRAYKH-NAHKA - (ENG/ITA) Splinterlands Social Media Challenge!

---
---
👉ENG VERSION👈

---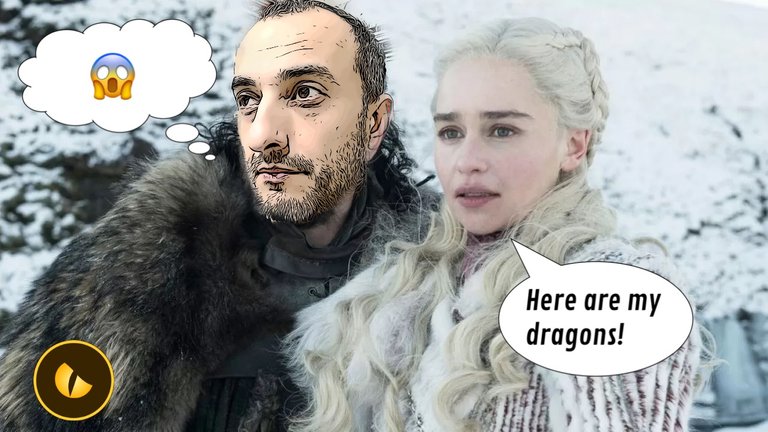 "Game of Thrones" TV series screenshot with "blue-snow" face

Hi guys here we are at the fifth appointment, I also survived the island of the Fire element "THE BURNING LANDS" really hot and dangerous island, on several occasions I risked being roasted by flames and monsters that suddenly appeared.
Embarked on my raft that would be the envy of even the dear "Tom Sawyer" I continued my journey on the fifth island of the six in the world of @Splinterlands.
Here too the air is not among the most serene you have to have eyes everywhere both on the ground and in the sky we are at DRAYKH-NAHKA the island of Dragons.
DRAYKH-NAHKA is the smallest island of the six but certainly no less dangerous than the others located in the centre North is a seemingly livable green island thanks to the woods located all around the city of CENTRUM and a small river that gives it castle part NOGA RIVER.
During the trip, I was able to visit MILITARY BASE and the GRASSLANDS valley with a small stop in the village of BRYNN for a coffee and then visit FARMLANDS, the nearby valley.
I also had the pleasure of climbing the DRAGON'S ROOT mountains located in the east of the island, it wasn't easy but I got to the top and I was able to admire the whole island and beyond.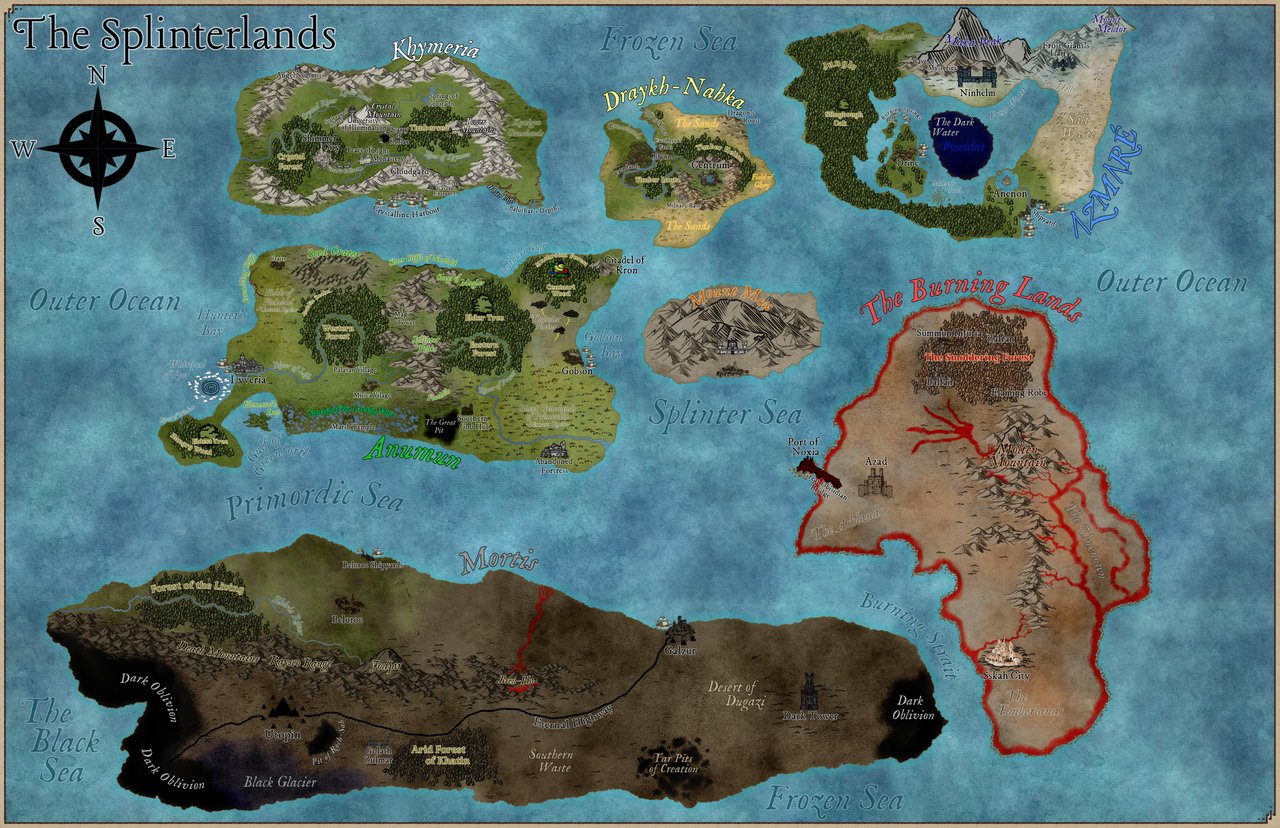 Also on this island, I met monsters of all kinds, almost all winged, dangerous and hungry for destruction for those who invade their lands such as DIAMOND DRAGON a diamond monster that lives in the attic of CENTRUM city, or THE VIGILATOR who live under the sand of the island but in my journey I also met wizards like GLORIDAX MAGUS and strange beings composed of several beings as in the case of MANTICORE.
Here too I had to pay the utmost attention to how to move and how to behave but also here, as, in the other islands, I managed to grab the flag of the DRAGON element! wherein the centre a yellow dragon eye looks menacing.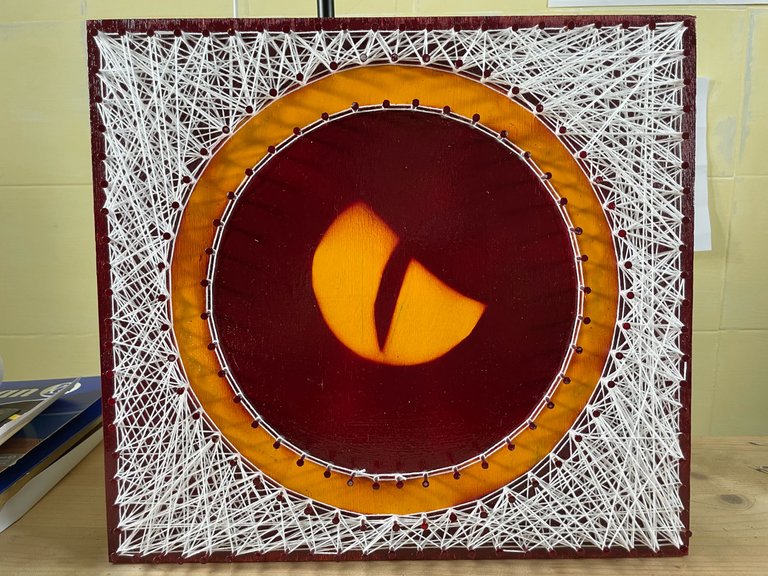 The full video lasts about 4 hours has been brought to just under 15 minutes by speeding up some parts to x2 up to a maximum of x50 is the fourth made of seven elements.
The images are taken from the Splinterlands game.
Recorded and edited by blumela with iPhone 12, applications used: Perfect Video - Photoleap - Clip2Comics - Tinipiny Camera.
For this flag, I used the free sample music from the copyright-free Perfect Video application.
USED MATERIAL:
Wooden board 34cm x 32cm
Nails
Twine
Yellow paint
Wine-red paint
Glossy protective paint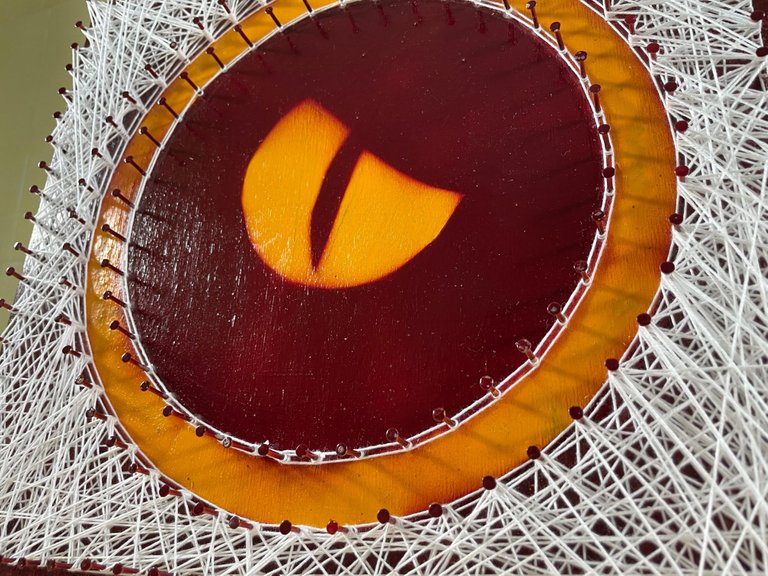 If you haven't tried this game yet my advice is to do it this is my link referral you can use the link if you like it or not but the point is always the one game to try! :-)
https://splinterlands.com?ref=blumela
If you don't like using it;) below !.
Have fun and see you in Battle !!

ISLANDS VISITED:
La bandiera di ANUMUN!


---

---

---
La Bandiera di THE BURNING LANDS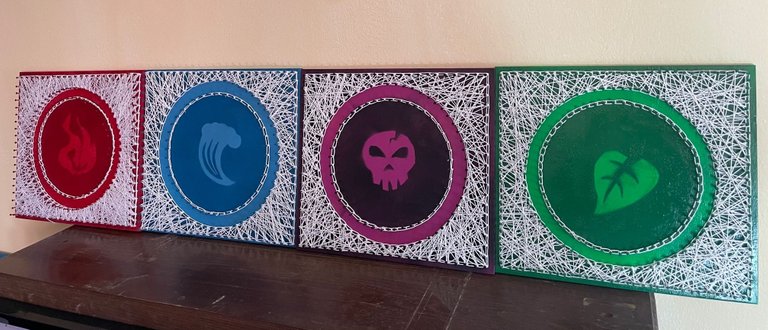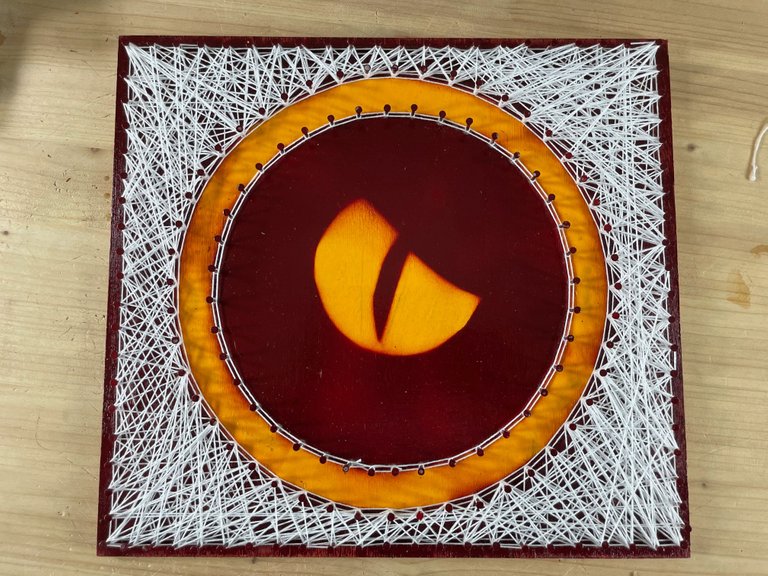 The photos are taken by the author and images from the Splinterlands game or from the Splinterlands source unless otherwise indicated.

---
---
👉ITA VERSION👈

---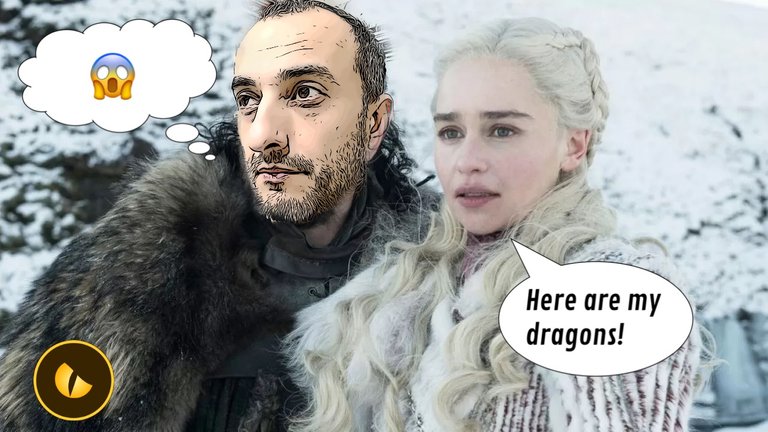 Screenshot serie tv "trono di spade" con la faccia di "blu-snow"

Ciao ragazzi eccoci al quinto appuntamento, si sono sopravvissuto anche all isola dell'elemento Fire "THE BURNING LANDS" isola veramente calda e pericolosa, in più occasion ho rischiato di essere arrostito da fiamme e mostri che sbucavano all'improvviso.
Imbarcato sulla mia zattera che farebbe invidia anche al caro "Tom Sawyer" ho continuato il mio viaggio sulla quinta isola delle sei presenti nel mondo di @Splinterlands.
Anche qui l'aria non è fra le più serene bisogna avere occhi ovunque sia a terra che in cielo siamo a DRAYKH-NAHKA l'isola dei Draghi.
DRAYKH-NAHKA è l'isola più piccola delle sei ma di certo non meno pericolosa delle altre situata al centro Nord è un isola apparentemente vivibile verde grazie ai boschi situati tutti intorno alla città di CENTRUM e un piccolo fiume che da questo castello parte NOGA RIVER.
Nel viaggio ho potuto visitare MILITARY BASE e la vallata di GRASSLANDS con piccola tappa al villaggio di BRYNN il tempo di un caffè per poi visitare FARMLANDS vallata vicina.
Ho avuto anche il piacere di scalare le montagne di DRAGON'S ROOT situate a est dell'isola, non è stato facile ma sono arrivato in vetta e ho potuto ammirare tutta l'isola e oltre.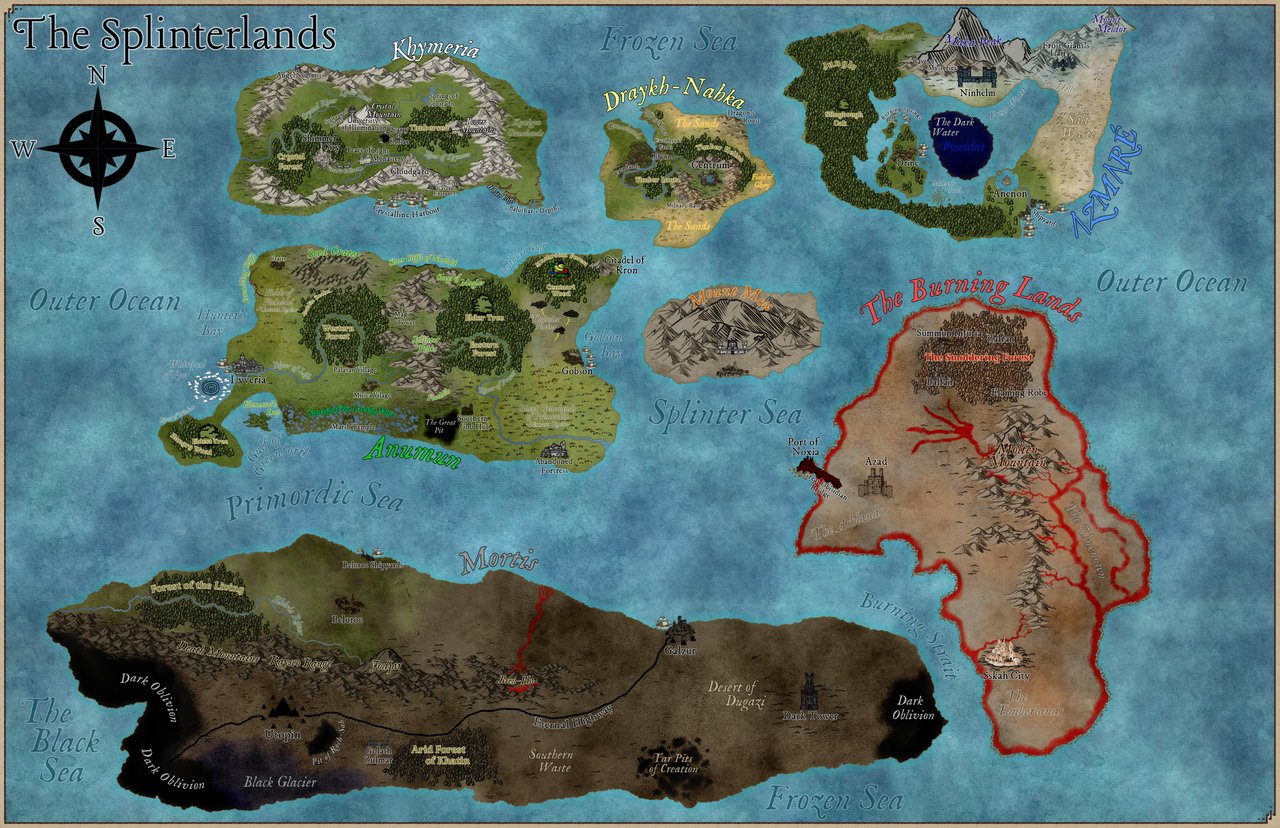 Anche in questa isola ho incontrati mostri di ogni tipo, quasi tutti alati, pericolosi e affamati di distruzione per chi invade le loro terre come ad esempio DIAMOND DRAGON un mostro di diamanto che vive nell'attico di CENTRUM city, o i THE VIGILATOR che vivono sotto la sabbia dell'isola ma nel mio viaaggio ho incontrato anche maghi come GLORIDAX MAGUS e strani esseri composto da più esseri come nel caso della MANTICORE.
Anche qui ho dovuto prestare la massima attenzione su come muovermi e come comportarmi ma anche qui, come nelle altre isole, sono riuscito ad accaparrarmi la bandiera dei dell'elemento DRAGON! dove al centro un occhio giallo di drago osserva minaccioso.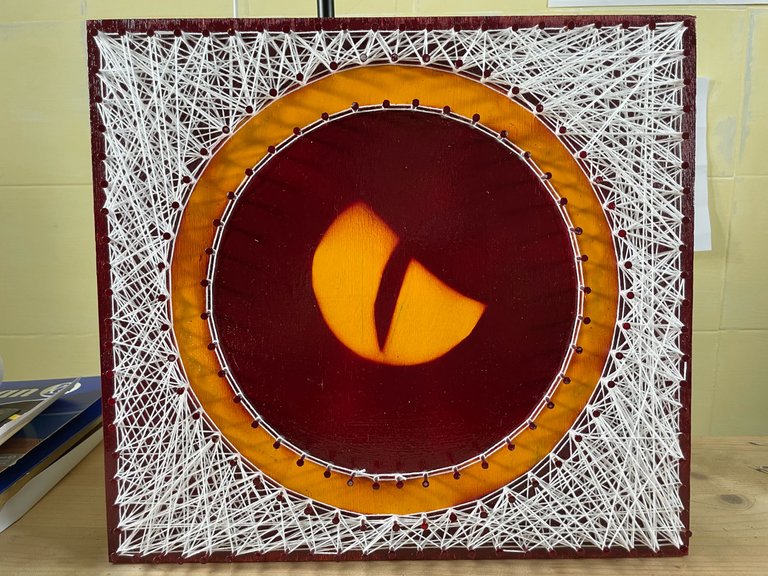 Il video integrale dura 4 ore circa è stato portato a poco meno di 15 minuti velocizzando alcune parti a x2 fino ad un massimo di x50 è il quarto realizzato di sette elementi.
Le immagini soon prese dal gioco Splinterlands.
Registrato e montato da blumela con Iphone 12, applicazioni utilizzate: Perfect Video - Photoleap - Clip2Comics - Tinipiny Camera.
Per questa bandiera ho utilizzato la musica campione gratuita dell'applicazione Perfect Video priva di copyright.
MATERIALE UTILIZZATO:
Tavola di legno 34cm x 32 cm
Chiodi
Spago
Vernice Gialla
Vernice rosso-vino
Vernice protettiva lucida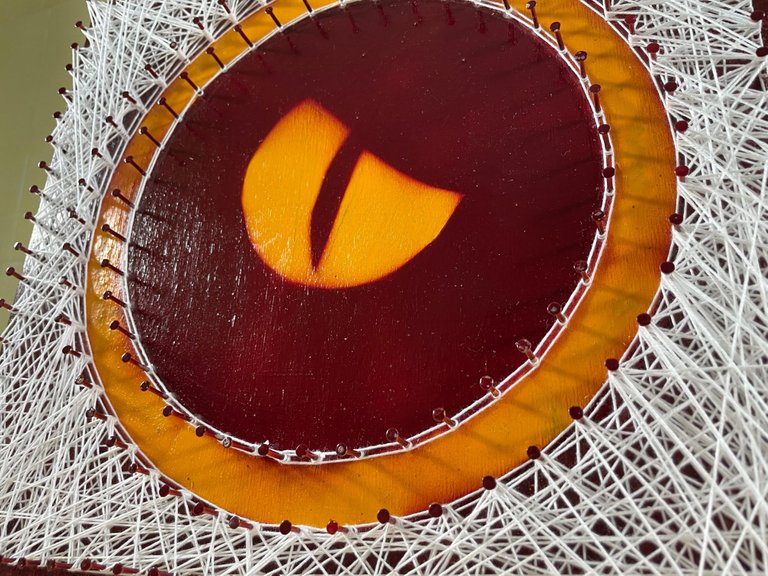 Se ancora non hai provato questo gioco il mio consiglio è quello di farlo questo è il mio link refferal puoi utilizzare il link se ti fa piacere oppure no ma il punto è sempre quello gioco da provare! :-)
https://splinterlands.com?ref=blumela
Se non vi fa piacere utilizzarlo ;) qui sotto!.
Buon divertimento e ci vediamo in Battaglia!!

ISOLE VISITATE:
La bandiera di ANUMUN!


---

---

---
La Bandiera di THE BURNING LANDS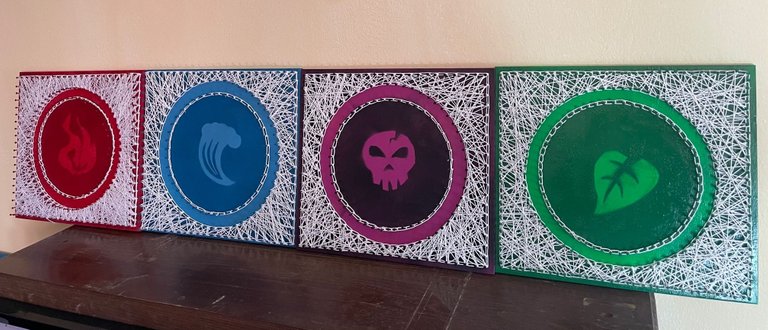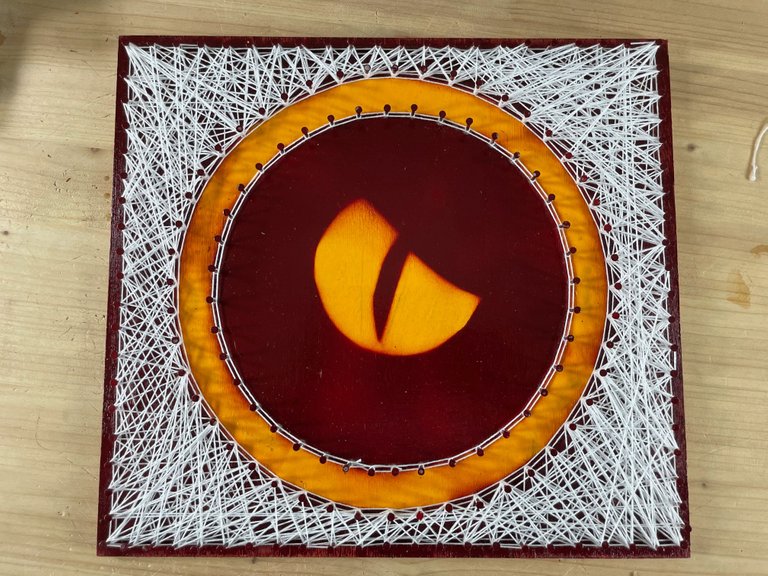 Le foto sono scatti dell'autore e immagini del gioco Splinterlands o di fonte Splinterlands, salvo dove diversamente indicato.


---
---
▶️ 3Speak
---
---