As I often write, what I love most about @splinterlands contests is the opportunity to learn about, deepen and study new game strategies and new cards, which may have always existed, but escape my sight.
This is the case of WAR CHAANG, Epic card, neutral monster of the UNTAMED edition!
Honestly, I have never had the pleasure of this beautiful card during my unpacking and for this reason I have ignored its existence a little, and I'm really sorry because I think it is an excellent card!
The first thing I noticed and I really like is the drawing: these warriors armed with spears on battle elephants! Beautiful 😍 I know that drawing has no influence on the power of the paper, but I also really like the aesthetics of the cards! Congratulations to those who make them 👏
Well, now let's move on to the characteristics of the card: WAR CHAANG belongs to the family of monsters with a double attack and double attack mode, depending on the position in which it is located. If placed in the front row it has an attack +2 while if placed in a rearward position, it has the ranged attack +1. Obviously these values ​​are related if the monster is level 1, otherwise the values ​​will tend to increase up to level 6 with a ranged attack and an attack in first position by 3 points.
The ability already buys from level 1 is Retallate and allows the monster to have a chance to counter attack every time it is hit by a ranged attack. At level 4 WAR CHAANG acquires the second ability Trample and allows you to attack the next enemy, if the previous one is killed by his attack.
The card has an average Mana (7) despite its characteristics and it is possible to use it a little in all battles, being moreover Neutral. It also has a good speed (3) and a good number of life points (8). Really a card that I really appreciate!
Below you can see my battle, I preferred to use the Dragon summoner to get a +1 bonus on attack
Now I'll explain how I preferred to deploy my cards and what strategy I used
WAR CHAANG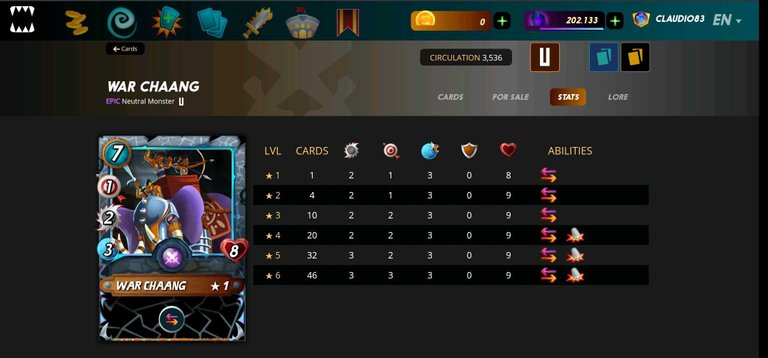 In the first position I deployed the card object of this contest. Having a good attack and taking advantage of the summoner's +1 attack bonus, I cast WAR CHAANG against my opponent, delivering good attacks and holding up well in the first turn. His strength was essential for the ranged attack from allied cards. The road to victory has been paved
GLORIDAX GUARDIAN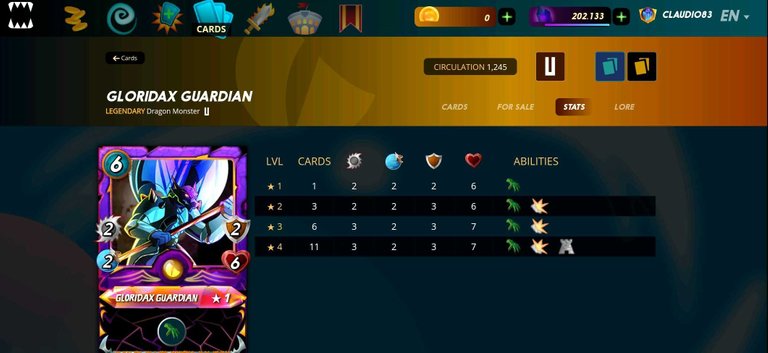 The guardian has an excellent basic structure with an attack from an important distance (2 + 1 bonus) and a robust defense (6 life points and 2 armor points). A small iron barrel, hard for enemies to beat!
RULER OF THE SEAS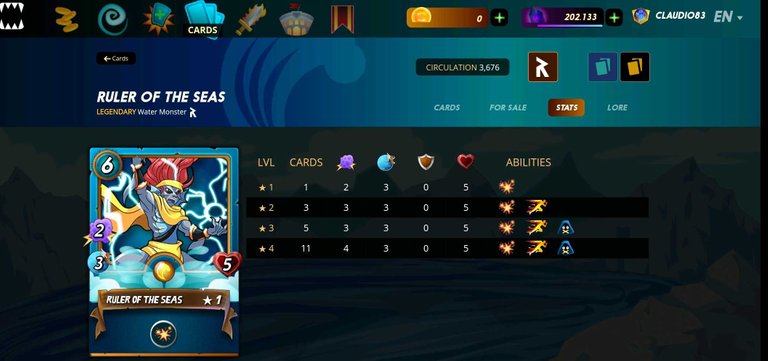 Probably one of the most powerful wizards in the entire game, he unleashes deadly attacks from a distance and pierces any enemy armor, causing chaos and fear in opponents! I love it!
MANTICORE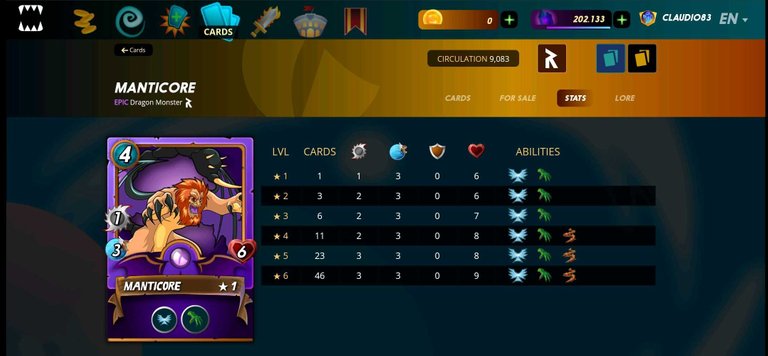 Truly remarkable card, especially if we consider the Mana of 4 points! Currently at level 3 he has an excellent attack (2 + 1 bonus) and hits from distance with tranquility, well defended with his 7 life points. It is currently level 3 but I will continue to upgrade it! A warranty!
FURIOUS CHICKEN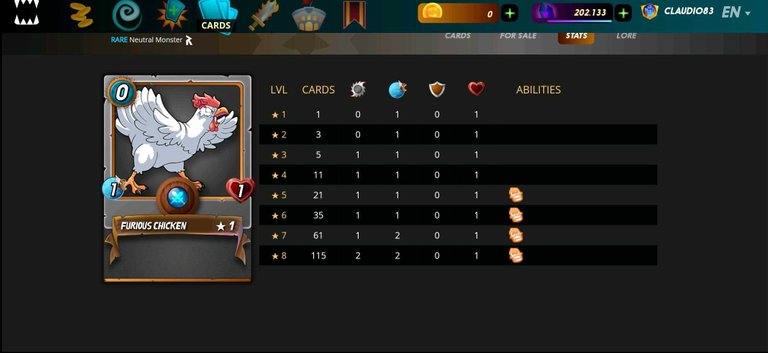 Finally my beloved hen who fearless and contemptuous of the enemy, attacks like a fury from a distance. Small attacks that still cause damage to opposing monsters. I remember FURIOUS CHICKEN has 0 😍 mana
Conclusion
I hope you enjoyed my review and convinced you to try WAR CHAANG. It currently has a very affordable market price, under $ 0.50 or just over 900 DEC and at this price it is a steal!
Happy Game!
Thank you for taking the time to read this post
If you have not yet signed up for Splinterlands, I invite you to try. You can use my referreal link
ITA
Come spesso scrivo, ciò che più adoro dei contest di @splinterlands è la possibilità di conoscere, approfondire e studiare nuove strategie di gioco e nuove carte, magari sempre esistite, ma sfuggite alla mia vista.
È questo il caso di WAR CHAANG, carta Epica, mostro neutrale dell'edizione UNTAMED!
Sinceramente non ho mai avuto il piacere questa bellissima carta durante i miei spacchettamenti e per questo motivo un po' ne ho ignorato l'esistenza, e mi dispiace davvero tanto perché l' reputo un'ottima carta!
La prima cosa che ho notato e che mi piace davvero tanto è il disegno: questi guerrieri armati di lance su elefanti da battaglia! Bellissimi 😍 so bene che il disegno è ininfluente sulla potenza della carta, ma a me piace molto anche l'estetica delle carte! Complimenti a chi li realizza 👏
Bene, ora passo un po' alle caratteristiche della carta: WAR CHAANG appartiene alla famiglia di mostri con un doppio attacco e doppia modalità d'attacco, in funzione della posizione in cui si trova. Se posizionato in prima fila ha un attacco +2 mentre se posizionato in una posizione più arretrata, ha l'attacco da distanza +1. Ovviamente questi valori sono riferiti se il mostro è di livello 1, altrimenti i valori tenderanno ad aumentare fino a livello 6 con un attacco da distanza ed un attacco in prima posizione di ben 3 punti.
L'abilità acquista già dal livello 1 e' Retallate e consente al mostro di avere una chance di controattacco ogni volta che è colpito da un attacco a distanza. A livello 4 WAR CHAANG acquista la seconda abilità Trample e permette di attaccare il nemico successivo, qualora quello precedente sia ucciso dal suo attacco.
La carta ha un Mana (7) medio nonostante le sue caratteristiche ed è possibile utilizzarlo un po' in tutte le battaglie, essendo per di più Neutrale. Ha inoltre una discreta velocità (3) e un buon numero di punti vita (8). Davvero una carta che apprezzo molto!
Qui sotto potrete vedere la mia battaglia, ho preferito utilizzare l'evocatore Dragon per avere un bonus +1 sull'attacco
Ora vi spiego come ho preferito schierare le mie carte e quale strategia ho usato
WAR CHAANG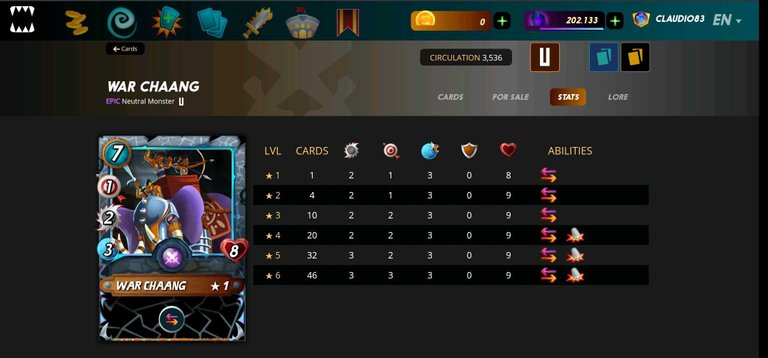 In prima posizione ho schierato la carta oggetto di questo contest. Disponendo di un buon attacco e sfruttando il bonus attacco +1 dell'evocatore, ho lanciato WAR CHAANG contro il mio avversario, sferrando buoni attacchi e reggendo bene al primo turno. La sua forza è stato essenziale per l'attacco da distanza da parte delle carte alleate. La strada verso la vittoria è stata spianata
GLORIDAX GUARDIAN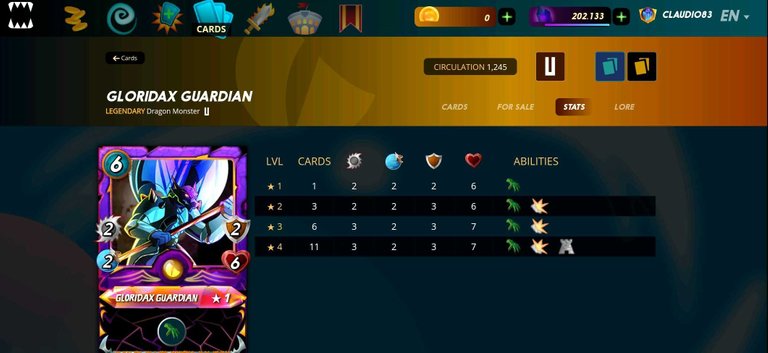 Il guardiano ha un'ottima struttura di base con un attacco dalla distanza importante (2+1bonus) ed una robusta difesa (6 punti vita e 2 punti armatura). Una piccola botte di ferro, difficile da battere per i nemici!
RULER OF THE SEAS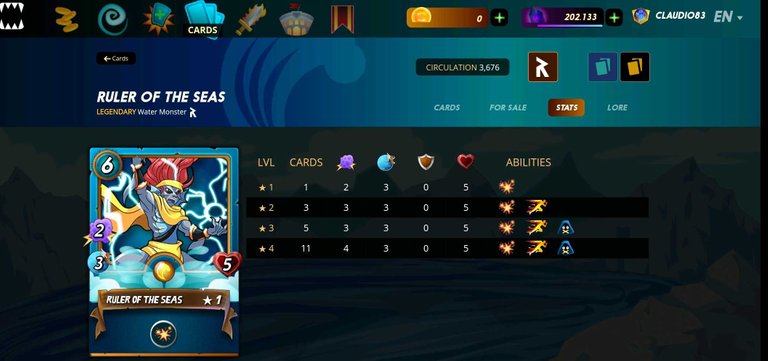 Tra i maghi più potenti probabilmente di tutto il gioco, sferra attacchi micidiale dalla distanza e perfora qualsiasi armatura nemica, provocando caos e paura negli avversari! Io lo adoro!
MANTICORE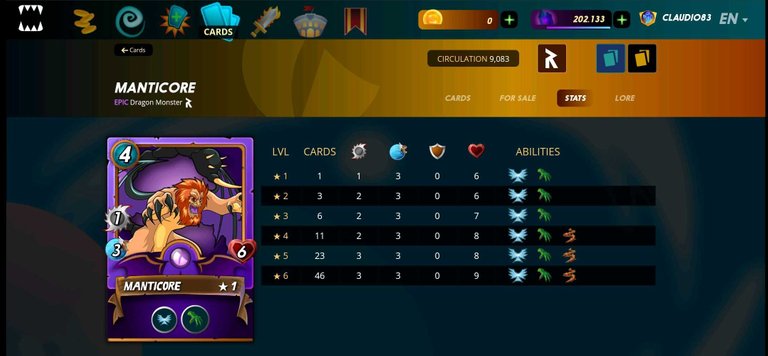 Carta davvero notevole, soprattutto se consideriamo il Mana di 4 punti! Attualmente a livello 3 ha un ottimo attacco (2+1bonus) e colpisce dalla distanza con tranquillità, ben difeso con i suoi 7 punti vita. Al momento è a livello 3 ma continuerò a potenziarlo! Una garanzia!
FURIOUS CHICKEN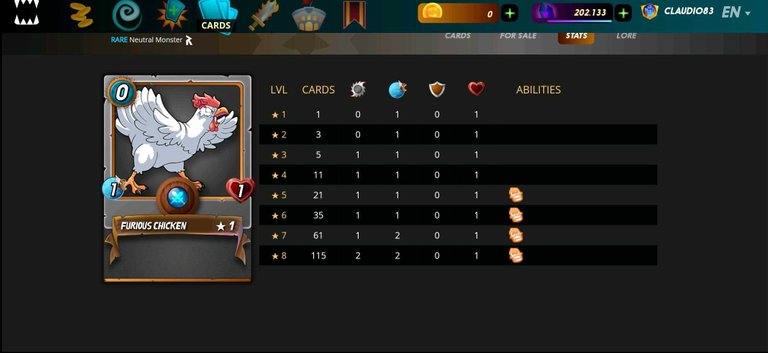 Infine la mia amata gallina che impavida e sprezzante del nemico, attacca come una furia dalla distanza. Piccoli attacchi che provocano comunque danni ai mostri avversari. Ricordo che FURIOUS CHICKEN ha mana 0 😍
Conclusione
Spero che la mia recensione vi sia piaciuta e che vi abbia convinto a provare WAR CHAANG. Attualmente ha un costo sul mercato molto abbordabile, sotto i 0,50$ o poco più di 900 DEC e a questo prezzo è davvero un affare!
Happy Game!
Thank you for taking the time to read this post
If you have not yet signed up for Splinterlands, I invite you to try. You can use my referreal link