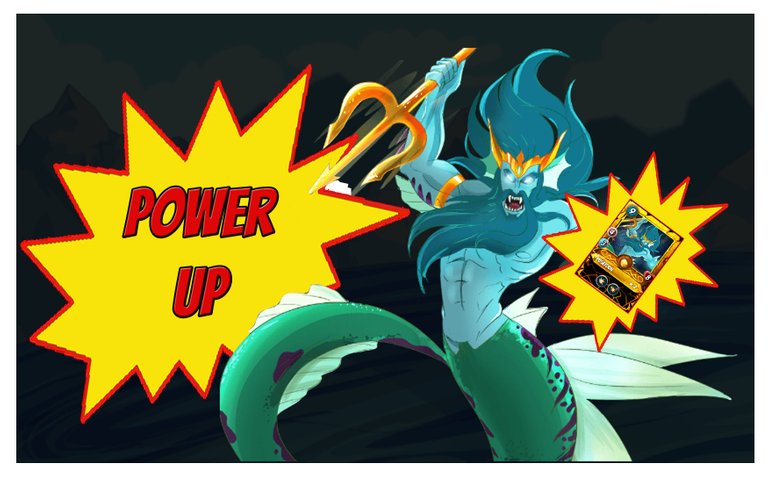 Character image and card image owned by @splinterlands - Edit by @libertycrypto27- Font used is Open Source
---

---
Hello Hivers,
games have been a passion of mine since I was little and here on Hive I discovered some beautiful games, first of all Splinterlands.
A few weeks ago in a pack of cards from the DICE collection I found my first legendary golden card: Poiseidon.
---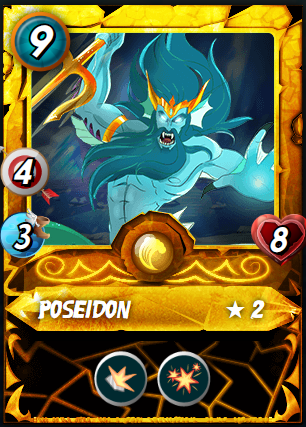 ---
I immediately put the card on the market with the goal of investing the profit obtained from the sale to buy cards with an excellent ratio Power/$ and increase the Power score of my card collection up to 500000 in order to access the Champion League and its rewards.
I sold the Poseidon card a few days ago for 53 $.
I received the equivalent of 53 $ in tokens DEC (67466).

Today, however, I changed my mind and I decided to do a power up on Hive and I explain why.
Many Splinterlands cards have had an increase in value in the last month.
Not only have the cards increased in value, but also the tokens DEC have registered a great increase in value compared to the past months.
In fact:
on April 25, 2020 1 DEC was only worth 0.00151 HIVE
on September 7, 2020 1 DEC was worth 0.295 HIVE.
Today, October 5, 2020, 1 DEC is worth 0,494 HIVE (Highest Bid - Hive Engine).
---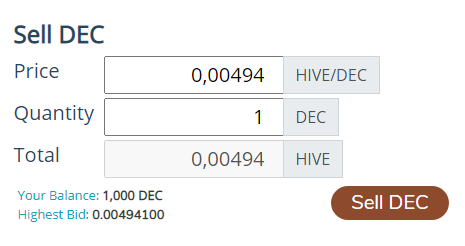 ---
In the following image you can see the graph with the trend of the DEC token value in the last 30 days.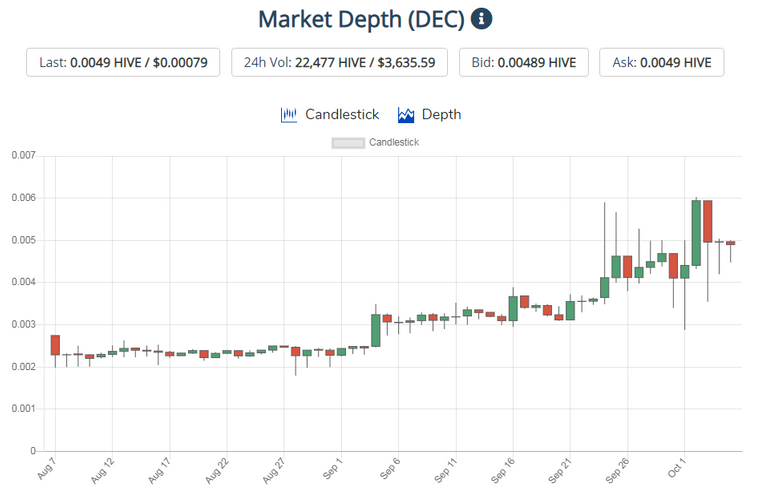 Considering that:
the cards with Power/$ ratio have had a strong price increase.
DEC tokens are worth much more than in the past
in the current season of Splinterlands I have chosen to stay in the Gold League to try to win a prize in the Gold ranking.
The requirement in terms of Power of the Gold ranking is only 200000 power points.
I have on my Splinterlands wallet 101000 tokens DEC
So I thought...
Why keep so many DECs stuck when I could do a nice Power Up on Hive ?
So today I put on sale 81000 DEC on Hive Engine
---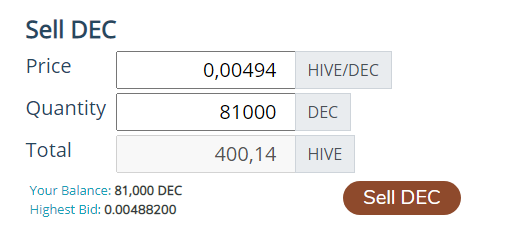 ---
Today, October 5, 2020, 1 Hive is worth 0.162 $
---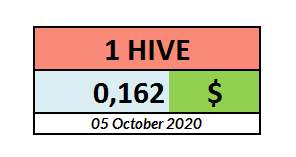 ---
From the sale of 81000 DEC, if my sales offer will be matched, I will get 400.14 HIVE (64.8 $).
---

---
Considerations
---
The Splinterlands game is my favorite game on Hive.
Choosing to convert 81000 DEC tokens to HIVE instead of buying more cards to upgrade my card collection doesn't mean I've lost the will to play or invest in the Splinterlands game.
All the opposite
I love Splinterlands!
I believe that Splinterlands still has a lot of untapped potential and it is the game that is most probable to go beyond the boundaries of Hive and consequently it is the game that contributes most to the diffusion and promotion of Hive.
I simply put myself in a state of waiting and when the conditions are favorable and maybe the price of HIVE will be higher I will return to invest in Splinterlands.
Incidentally, instead of keeping the value locked (my DEC tokens) I will have a greater Hive Power and consequently I will have an increase in my Curations Reward.
By the way with the current value of the DEC tokens it is even more convenient to play with.
Based on my current rating, for every battle I win I get about 30 DEC (0.1476 HIVE = 0.024 $).
---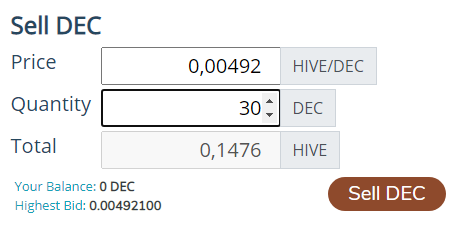 ---
When I play Splinterlands I have fun and at the same time I am rewarded for having fun.
That's why Splinterlands is a game that I recommend to everyone!
---
This post participates in the weekly @splinterlands contest entitled: "Weekly Media Challenge".
I really like to participate in this contest and if you are registered in Splinterlands you must absolutely participate too.
---
Haven't you registered on Splinterlands yet?
---

---
You are missing out on a more unique than rare opportunity to enjoy yourself and at the same time to earn tokens and cards.
---
Splinterlands is a beautiful game but it is above all an excellent investment (my personal opinion).
---
If you are not yet registered on Splinterlands and have decided to register, you can do it from this link:
https://steemmonsters.com?ref=libertycrypto27
obviously if you like to use my refferal link ...
If you liked my post leave a comment, an upvote or do a reblog.
See you on the Splinterlands battlefields.
---
Unless otherwise indicated, the images in this post are screenshots taken from the sites:
https://steemmonsters.com/
https://peakmonsters.com/
https://hive-engine.com/
The images containing calculations and tables are my property
.
(Font used is Open Source)
---

---

---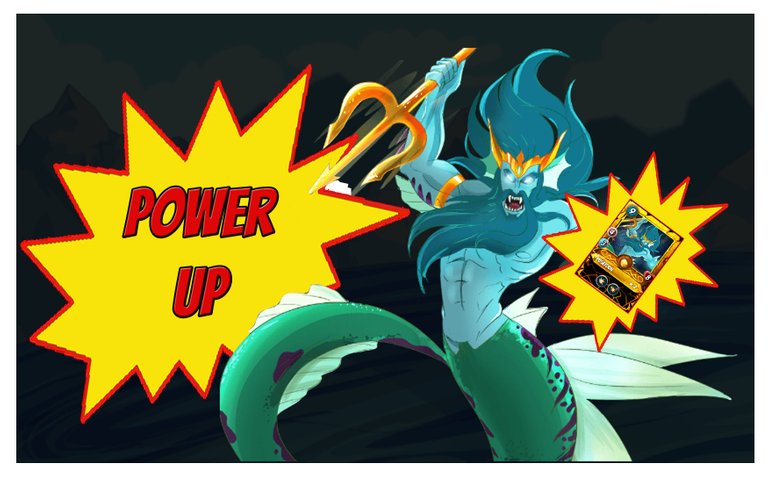 Character image and card image owned by @splinterlands - Edit by @libertycrypto27- Font used is Open Source
---
Ciao Hivers,
i giochi sono una mia passione fin da quando ero piccolo e qui su Hive ho scoperto dei bellissimi giochi, primo tra tutti Splinterlands.
Qualche settimana fa in un pacchetto di carte della collezione DICE ho trovato la mia prima carta leggendaria dorata: Poiseidon.
---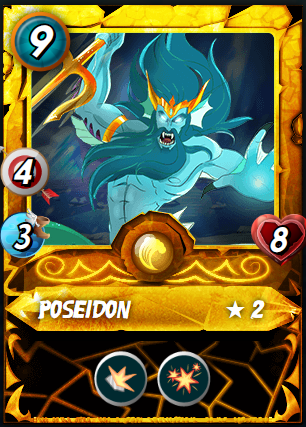 ---
Ho messo subito la carta sul mercato con l'obbiettivo di investire il guadagno ottenuto dalla vendita per comprare carte con un ottimo rapporto Power/$ e aumentare il punteggio Power della mia collezione di carte fino a 500000 in modo da accedere alla lega Champion e alle relative ricompense.
Ho venduto la carta Poseidon qualche giorno fa al prezzo di 53 $.
Ho ricevuto l'equivalente dei 53 $ in token DEC (67466).

Oggi però ho cambiato idea e vi spiego il motivo.
Molte carte di Splinterlands hanno subito nell'ultimo mese un incremento di valore.
Non solo le carte hanno aumentato il loro valore ma anche i token DEC hanno fatto registrare un grande aumento di valore rispetto ai mesi passati.
Infatti:
il 25 Aprile 2020 1 DEC valeva solo 0.00151 HIVE
il 7 Settembre 2020 1 DEC valeva 0.295 HIVE
Oggi, 5 Ottobre 2020, 1 DEC vale 0.494 HIVE (Highest Bid - Hive Engine).
---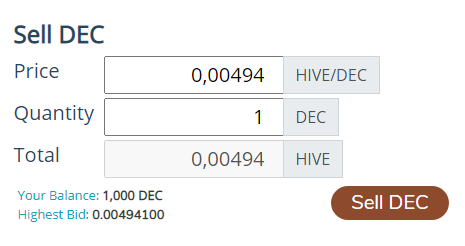 ---
Nell'immagine seguente puoi vedere il grafico con l'andamento del valore del token DEC negli ultimi 30 giorni.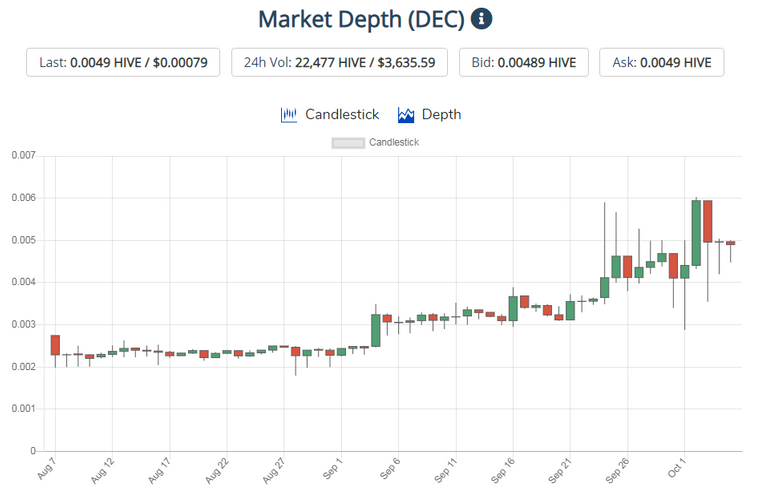 Considerato che:
le carte con rapporto Power/$ hanno subito un forte incremento di prezzo.
i token DEC valgono molto rispetto al passato
nella stagione in corso di Splinterlands ho scelto di rimanere in lega Oro per provare a vincere un premio della classifica Gold.
Il requisito in termini di Power della classifica Gold è di soli 200000 punti power.
ho sul mio wallet di Splinterlands 101000 token DEC
Perchè tenere fermi tanti DEC quando potrei fare un bel Power Up su Hive?
Così oggi ho messo in vendita 81000 DEC su Hive Engine
---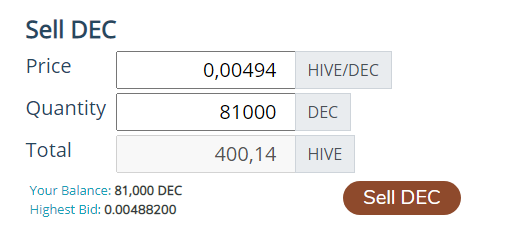 ---
Oggi, 5 Ottobre 2020, 1 Hive vale 0.162 $
---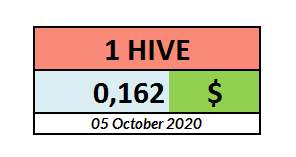 ---
Dalla vendita di 81000 DEC, se la mia offerta di vendita verrà abbinata, otterrò 400.14 HIVE (64,8 $)
---

---
Considerazioni
---
Il gioco di Splinterlands è il mio gioco preferito su Hive.
Aver scelto di convertire 81000 token DEC in HIVE invece di comprare altre carte per potenziare la mia collezione di carte non significa che ho perso la voglia di giocare o di investire sul gioco di Splinterlands.
Tutto il contrario
Splinterlands mi piace tantissimo!
Credo che Splinterlands abbia ancora tanto potenziale ed è il gioco che ha più probabilità di uscire oltre i confini di Hive e di conseguenza è il gioco che contribuisce maggiormente alla diffusione e alla promozione di Hive.
Semplicemente mi sono messo in uno stato di attesa e quando le condizioni saranno favorevoli e magari il prezzo di HIVE sarà maggiore tornerò ad investire su Splinterlands.
Tra l'altro invece che tenere del valore bloccato (i miei token DEC) avrò un maggiore Hive Power e di conseguenza avrò un incremento della mia Curations Reward.
Tra l'altro con il valore attuale dei token DEC è ancora più conveniente giocare.
In base al mio punteggio di rating attuale, per ogni battaglia vinta ottengo circa 30 DEC (0.1476 HIVE = 0.024 $)
---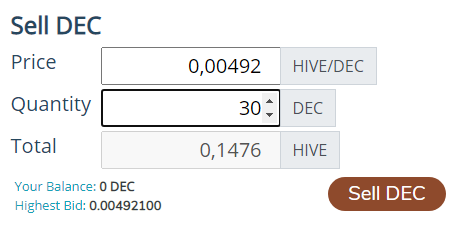 ---
Quando gioco a Splinterlands mi diverto e allo stesso tempo vengo ricompensato per essermi divertito.
Ecco perchè Splinterlands è un gioco che consiglio a tutti!
---
Non sei un giocatore di Splinterlands?
---

---
Se non sei un giocatore di Splinterlands stai perdendo un'occasione più unica che rara per divertirti e allo stesso tempo guadagnare carte e DEC (NFT di Splinterlands).
Se decidi di registrarti, puoi farlo da questo link:
https://steemmonsters.com?ref=libertycrypto27
ovviamente se hai piacere ad usare il mio refferal link... :)
---
Splinterlands è un bellissimo gioco ma è soprattutto un ottimo investimento (mio parere personale) in particolare se, oltre a giocare, partecipi anche ai contest settimanali.
---
Se ti è piaciuto il mio post lascia un commento, un upvote o fai un reblog.
Ci vediamo sui campi di battaglia di Splinterlands.
---
Se non diversamente indicato, le immagini presenti in questo post sono screenshots presi dai siti:
https://steemmonsters.com/
https://peakmonsters.com/
https://hive-engine.com/
Le immagini che contengono calcoli e tabelle sono di mia proprietà
(Font used is Open Source)
---

---