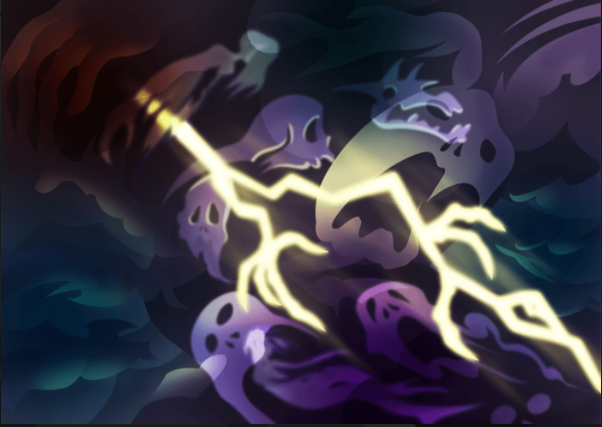 It was a card I had noticed, this Soulstorm, with such a high-sounding name should definitely look good...
I don't know, honestly I don't know how to evaluate it well, it could be one of those discoveries that as you power it up and level it up, at the same time you increase in feeling, at the present time it has left me a bit indifferent , but I left it at this level...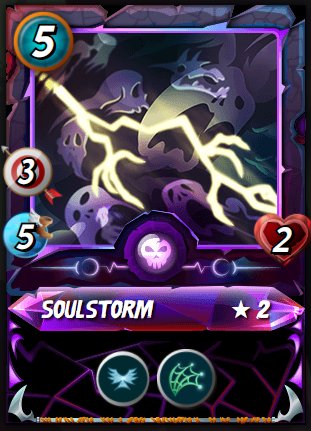 2nd level, out of the 6 available, being an Epic Card, I couldn't get too out of balance due to a cost per unit currently equal to about 40 cents of dollars, to max it it would take almost 20 dollars, very much, above all in this moment, where my attention and my commitment are magnetized on the support of our Edsf Guild, there are situations in which the needs of the team come hand in hand with personal ones, indeed, sometimes they are even a priority, at least for that that concerns me, as I feel very responsible for the performance of our team, for which no sacrifice is too high, but let's go back to the paper that is the subject of this contest...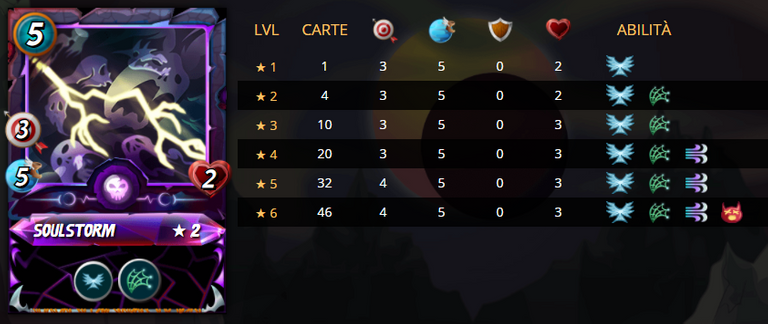 And here it is, the table of Soulstorm, sure that at 6th level it is quite powerful, several additional skills, with a cost of 5 Mana you have a firepower of 4 units per hit, while not the number of lives is really exciting, which remains at 3, honestly 1 or 2 more lives would not have been bad...
As per tradition, the contested card must take the field and do its battle, I must be honest, because first of all I like to be, Soulstorm started under the best auspices, as the reference link that found below is relative to the 1st absolute match that he made under my account...
https://steemmonsters.com?p=battle&id=db483eebff1d6f6874ef6ba28b96f98946ec4840&ref=mad-runner
What to say again?? Nothing in particular, that Soulstorm will be one of the medium / long-term goals, too much meat in the fire at the moment, I'm too focused on some issues to push hard on this card, but in life, as they usually say, you never know, I could also be struck by this Storm and power it up to full blast!!!
I sincerely thank Splinterlands for several reasons for these wonderful opportunities that it offers us, and if any of you are not yet registered in this game I recommend with increasing determination and pleasure, this is my affiliate code...
https://steemmonsters.com?ref=mad-runner
If you want to participate in this very valid contest, here is the link to access it...
https://peakd.com/splinterlands/@splinterlands/share-your-battle-weekly-challenge-soulstorm
Screenshots of my property, taken from my computer
---
Versione Italiana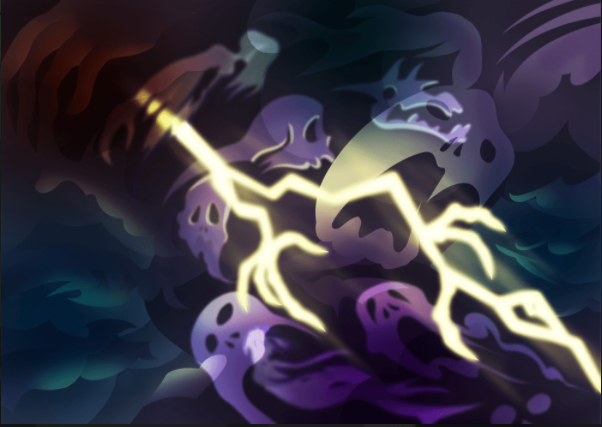 Era una carta che avevo notato, questa Soulstorm, con un nome così altisonante dovrebbe promettere decisamente bene...
Non lo so, sinceramente non la so valutare bene, potrebbe essere una di quelle scoperte che mano a mano che la si potenza e la si aumenta di livello, di pari passo si incrementa in feeling, al momento attuale mi ha lasciato un po' indifferente, ma l'ho lasciata a questo livello...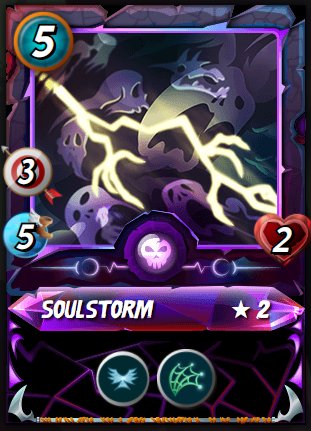 2° livello, sui 6 disponibili, essendo una Carta Epica, non mi sono potuto sbilanciare più di tanto a causa di un costo per unità pari attualmente a circa 40 centesimi di dollari, per maxarla occorrerebbero quasi 20 dollari, decisamente tanti, soprattutto in questo momento, dove la mia attenzione e il mio impegno sono calamitati sul supporto della nostra Gilda Edsf, ci sono dei frangenti in cui le esigenze della squadra vengono di pari passo con quelle personali, anzi, a volte sono addirittura prioritarie, almeno per quello che mi riguarda, in quanto mi sento molto responsabilizzato dell'andamento della nostra squadra, per la quale nessun sacrificio è troppo alto, ma ritorniamo alla carta oggetto di questo contest...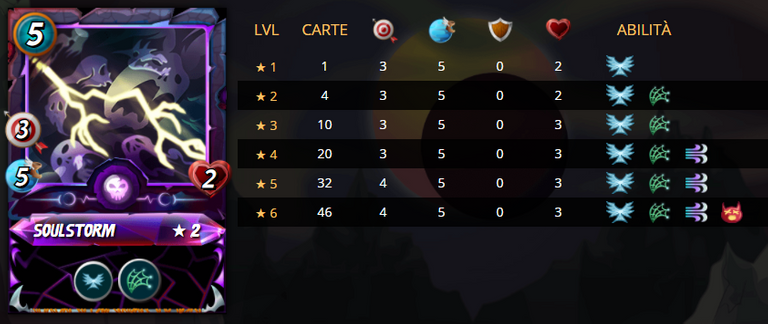 Ed eccola qua, la tabella di Soulstorm, certo che al 6° livello è abbastanza potente, parecchie abilità aggiuntive, con 5 Mana di costo si ha una potenza di fuoco di ben 4 unità per colpo sferrato, mentre non è proprio esaltante il numero di vite, che rimane fermo a 3, sinceramente 1 o 2 vite in più non sarebbe stato male...
Come da tradizione, la carta oggetto del contest deve scendere in campo e fare la sua battaglia, devo essere onesto, perché innanzitutto mi piace esserlo, Soulstorm è partita sotto i migliori auspici, in quanto il link di riferimento che trovate qua sotto è relativo alla 1° partita assoluta che ha fatto sotto il mio account...
https://steemmonsters.com?p=battle&id=db483eebff1d6f6874ef6ba28b96f98946ec4840&ref=mad-runner
Cosa dire ancora?? Nulla di particolare, che Soulstorm sarà uno degli obiettivi a medio/lungo termine, troppa carne al fuoco in questo momento, sono troppo concentrato su alcune tematiche per spingere forte su questa carta, ma nella vita, come si suol dire, non si sa mai, potrei anche essere folgorata da questa Tempesta e potenziarla a tutta bomba!!!
Ringrazio sinceramente Splinterlands per diversi motivi per queste meravigliose opportunità che ci offre, e se qualcuno di voi non è ancora registrato in questo gioco, raccomando con crescente determinazione e piacere, questo è il mio codice affiliato...
https://steemmonsters.com?ref=mad-runner
Se vuoi partecipare a questo concorso molto valido, ecco il link per accedervi...
https://peakd.com/splinterlands/@splinterlands/share-your-battle-weekly-challenge-soulstorm
Screenshot di mia proprietà, scattati con il mio portatile