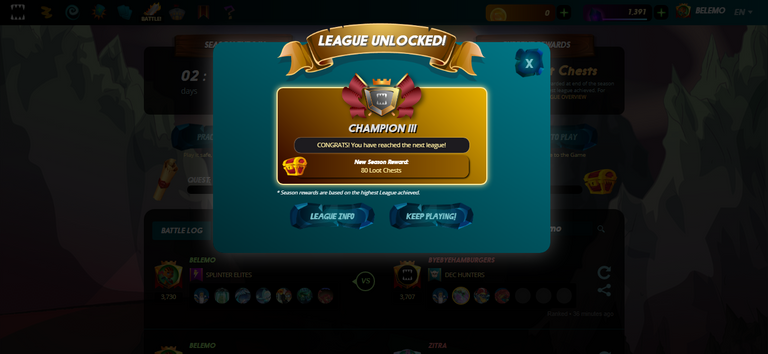 Achieving Champion status has been a big deal for me for the longest time. I use to come agonisingly close in the past but after a few tactical tweaks and improvement in my deck, I have now made it into Champion status two seasons in a row.
This season in particular has been really rough on me. I actually started the season in Diamond 3, but after losing so many games, I ended up in Gold 1. I never expected that I'd actually get to this level but alas, here I am.
The Clinching Battle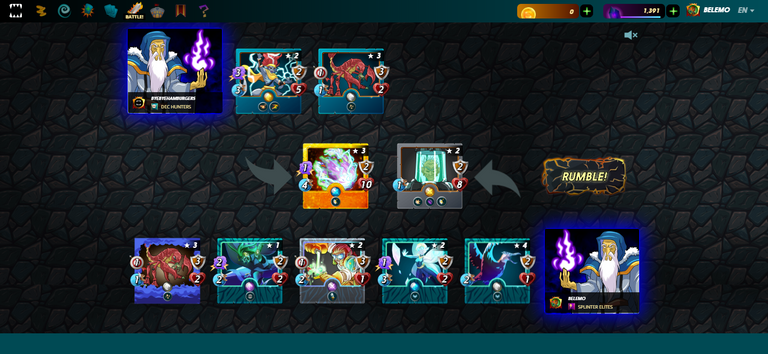 Link to Battle
In Splinterlands, small margins make the difference and it is all about using what you have to the best of its potential. In this battle, Lord Arianthus was the chief orchestrator of damage, but plaudits have to go to Halfling Prince, Coral Wraith and Crustecian King for the role in weakening my opponent's attack and defence.
In my opinion, the big blow was in the second round when Halfing prince halved the attack Prismatic energy, effectively making it useless against Lord Arianthus.
What Next?
Well,I'll try to go higher of course. Although I highly doubt the chances of crossing over the next level, it won't deter me from giving it a shot.
Things are looking good for now and I'll give it one final push to see if I can achieve it. I got agonizingly close to Champion 2 with up 3977 earlier but lost a few battles and dropped to 3890 range. Odds are that I'll be knocked back down to Diamond 1 at the end of the season but I'm going to give it all I can nonetheless. I'll be keeping my fingers crossed and hope my luck shines through.
Check out some of my battles below:
https://splinterlands.com?p=battle&id=dea8fcf9ed30cda864b4efb22d290e159a612df4&ref=belemo
https://splinterlands.com?p=battle&id=383bf8edc03a557d159267712e01e57b4f3d3780&ref=belemo
https://splinterlands.com?p=battle&id=87ca7b8703d09cfe244ad14c3223d2a7d935e2fb&ref=belemo
https://splinterlands.com?p=battle&id=84b0037688aeccebc3f798e1cb417fa048e6cd84&ref=belemo
Get In The Game
If you enjoyed this battle and would like to join the game, you can join with my affiliate link below and we'd both stand the chance of getting a gold foiled legendary monster that could be worth like $100
https://splinterlands.com?ref=belemo