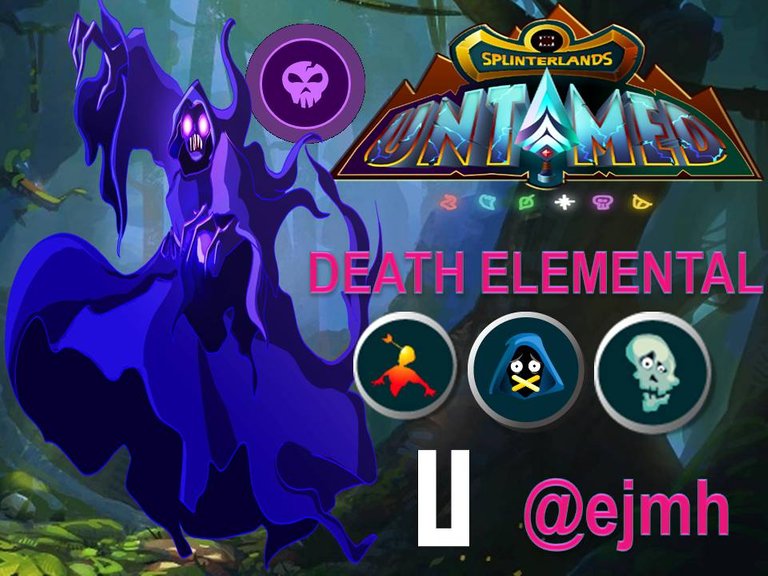 Fuente Editada en PowerPoint
Hola que tal, amigos de splinterlands, hoy estoy de regreso a compartirles mis batallas y mostrando mis estrategias con estos monstruos que se presentan semanalmente.
Este monstruo es solo el segundo monstruo elemental que no apareció en la versión Alpha y Beta de cartas, sino que fue hasta la versión Untamed donde tuvieron su momento para ingresar al juego. Es un excelente monstruo con habilidades desde el nivel 1 y un bajo nivel de mana lo que le permite estar presente en casi todas las batallas. Ademas esta potenciado con un muy buen nivel de velocidad que lo convierte en una buena opción para todos los jugadores y un monstruo que debe estar presentes en todas las colecciones.
Hello there, friends of splinterlands, today I am back to share with you my battles and show you my strategies with these monsters that are presented weekly.
This monster is only the second elemental monster that did not appear in the Alpha and Beta card version, but it was until the Untamed version that they had their moment to enter the game. It is an excellent monster with skills from level 1 and a low mana level that allows it to be present in almost every battle. It is also enhanced with a very good speed level that makes it a good option for all players and a monster that must be present in all collections.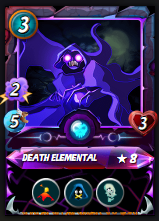 Posee la habilidad Snipe desde el inicio que le permite atacar al segundo monstruo en la fila siempre y cuando sea de ataque a distancia o sin ataques. Ademas a medida que aumenta de nivel recibe las habilidades de disminuir 1 nivel de magia a sus oponentes y también 1 nivel de vida, esto en los niveles mas elevados.
It has the Snipe skill from the beginning that allows it to attack the second monster in the row as long as it is a ranged or non-attacking attack. Also as he increases his level he receives the ability to decrease 1 level of magic to his opponents and also 1 level of life, this in the higher levels.
---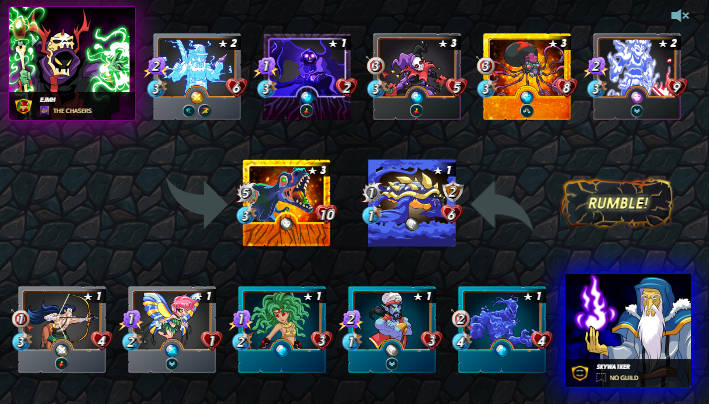 Battle
En esta batalla que les comparto, tenemos regla de no permitir que los monstruos sanen y ademas un nivel permitido de mana bastante alto que nos permite colocar los monstruos con tranquilidad.
In this battle that I share with you, we have a rule not to allow the monsters to heal and also a fairly high mana allowance that allows us to place the monsters with peace of mind.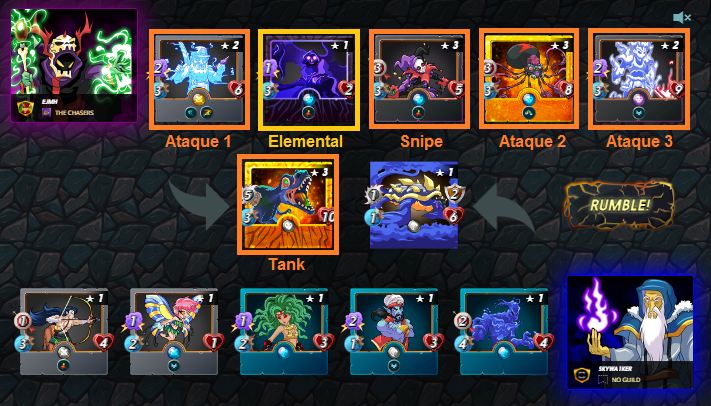 Battle
Invocador de muerte -1 de ataque cuerpo a cuerpo que evita que los oponentes tengan fuerza para atacar.
El primer monstruo es un tanque con muy buen nivel de vida y ademas un excelente ataque cuerpo a cuerpo para destrozar a sus oponentes.
En segundo lugar se encuentra nuestro primer ataque a distancia con la habilidad de acelerar a nuestros monstruos para un ataque mas rápido.
En tercera posición está nuestro elemental, bastante rápido y ademas con su habilidad snipe para atacar a los segundos puestos y acabarlos.
En cuarta posición esta un ataque snipe que complementa el ataque de nuestro elemental y así eliminar a todos mas facilmente.
En quinta posición, esta mi monstruo un segundo ataque con un ataque a distancia muy fuerte y excelente nivel de vida.
Por último pero no menos importante un tercer ataque para ayudar a todos a obtener la victoria.
Fue una excelente batalla porque todo salió como lo planee y pude ganar que era lo que esperaba.
Death Summoner -1 melee attacker that prevents opponents from having the strength to attack
The first monster is a tank with a very good level of life and also an excellent melee attack to destroy its opponents.
Second is our first ranged attack with the ability to accelerate our monsters for a faster attack.
In third position is our elemental, quite fast and also with his ability to snipe to attack the second places and finish them.
In fourth position is a snipe attack that complements the attack of our elemental and thus eliminates all more easily.
In fifth position, my monster has a second attack with a very strong distance attack and excellent level of life.
Last but not least a third attack to help everyone to obtain the victory.
**It was an excellent battle because everything went as I planned and I was able to win what I expected.

ESTE HA SIDO MI VIAJE POR ESTA BATALLA COMPARTIDA, PUEDES MIRARLA AQUÍ, ADEMAS SI TAMBIÉN QUIERES PARTICIPAR EN EL RETO SIGUE LAS INSTRUCCIONES EN ESTE POST Y SI AUN NO JUEGAS SPLINTERLANDS TE INVITO A UNIRTE A ESTE GRAN JUEGO DESDE AQUÍ
THIS HAS BEEN MY JOURNEY IN THIS SHARED BATTLE, YOU CAN LOOK AT IT HERE, AND IF YOU WANT TO TAKE PART IN THE CHALLENGE FOLLOW THE INSTRUCTIONS IN THIS POST AND IF YOU STILL DON'T PLAY SPLINTERLANDS I INVITE YOU TO JOIN THIS GREAT GAME FROM HERE
¿TIENES DUDAS SOBRE EL JUEGO? PUEDES SEGUIR MIS GUÍAS
PARTE 1: Función de los Botones de la barra principal
PARTE 2: Cartas y sus características
PARTE 3: Batallas y Reglas
PARTE 4: Recompensas
EN LOS SIGUIENTES ENLACES PUEDES OBTENER TODA LA AYUDA QUE NECESITAS Y RESOLVER TUS DUDAS.
IN THE FOLLOWING LINKS YOU CAN GET ALL THE HELP YOU NEED AND SOLVE YOUR DOUBTS.
Telegram Español
Traducción realizada en DELP.