Hello all my friend in steemit.
I hope that you all are well by the grace of Allah.
Today I'm back with something else. This post is not like my other posts, which I sketched by watching the real one. But this one is not copied from anywhere, this artwork is my own creation. I drew it from my own imagination.
I'm presenting this post to join the Weekly Art Contest of Splinterlands arranged by the @splinterlands team.
Link to the contest
https://hive.blog/contest/@splinterlands/splinterlands-art-contest-week-93-15-booster-pack-prize
Let me Explain what I drew.
Actually this is an Alien Warrior from another planet. I also have a story for him.
He is from a planet named E9C1-78. His planet was also like as our planet Earth. Full of technology. Our lifestyle in improving day by day by inventing new technology. Life has become so much easier than before. But, as well as we are getting used to technology, we are also causing damage to the ecological system of our planet. Just like us, their planet was also getting full by radiation and id became totally impossible for them to live there. They flew to the space in search of new home. But, in his way he fell into a warm-hole and reached in out in our galaxy. Then an asteroid hit one of it's side engine, he lost the control and fell into the orbit of our solar system and finally crushed into our planet. You can see something in his right shoulder, its a super-weapon. It's made by alien intelligence, this weapon is a combination of both plasma and electric shock wave. It is so heavy that it can easily melt any hard metal. The next part is up-to you for thinking. What will it be? A good alien? Which will help humanity to be more upgraded or it will be a bad one. Which will try to finish the human race. I'd like to let you guys use your imagination power to think the next part of the story. Tell me in the comment section about what you think, I'll tell my imagination in my next post. But, it doesn't seems like a bad one.
My Drawing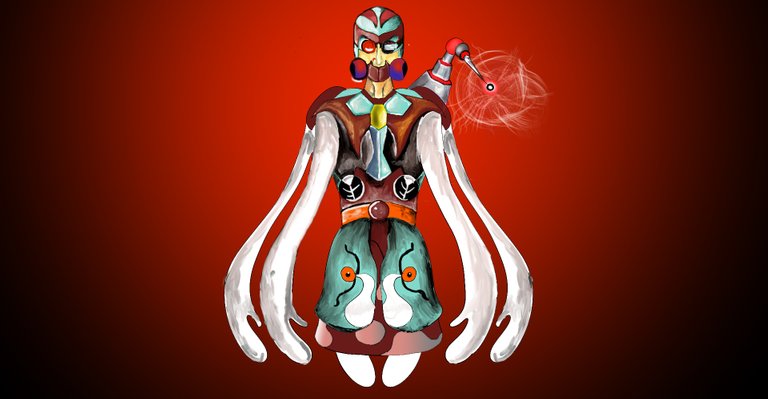 My Steps of Drawing & The Tolls I used
I used a Tablet named Wacom Intous Pro by attaching it with my Computer. I used a application named Autodesk Sketchbook.
At first I made Basic Structure after then I filled every part with Primary Color. After I finished coloring every part I used some shade and bright color to make it more perfect. To built the background, I used deep red color and then used Vignette effect to make the sides dark so that the middle point became the main focused part.
First Step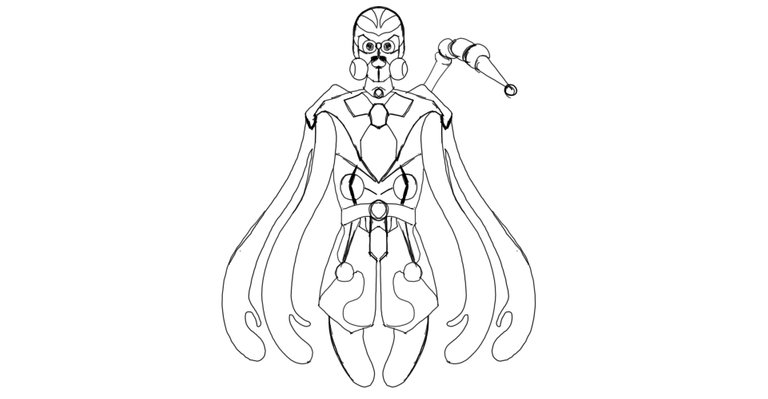 Second Step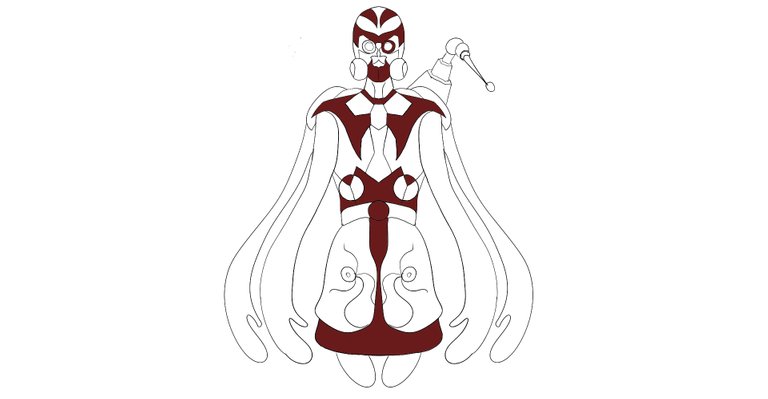 Third Step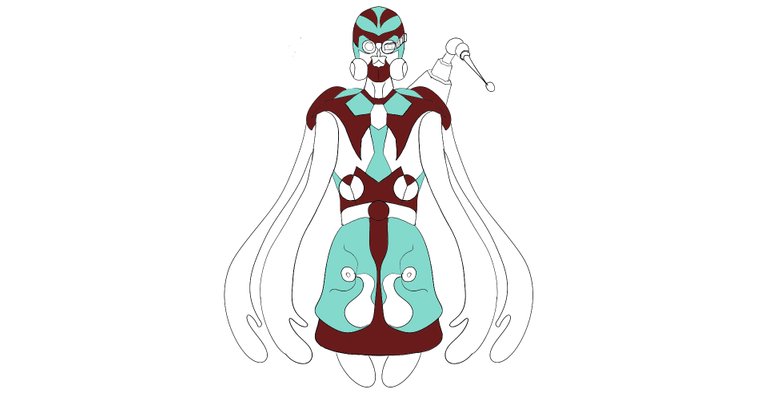 Fourth Step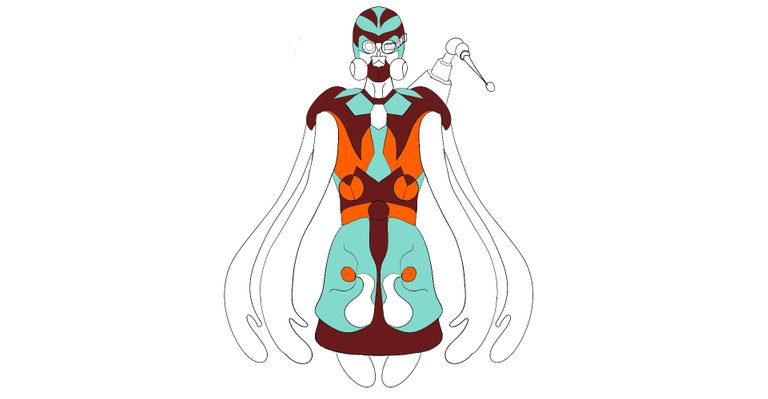 Fifth Step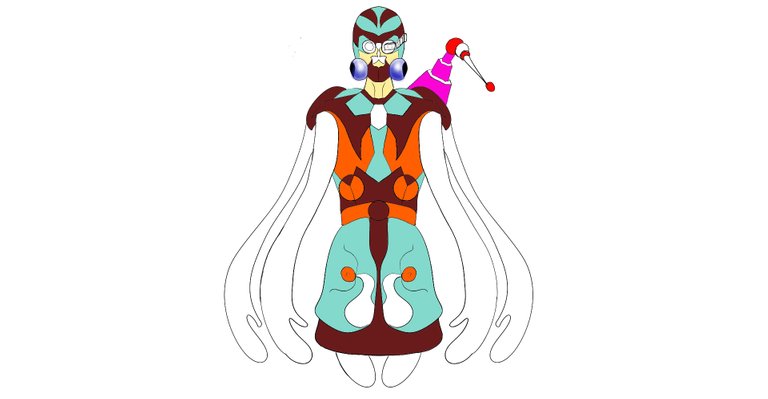 Sixth Step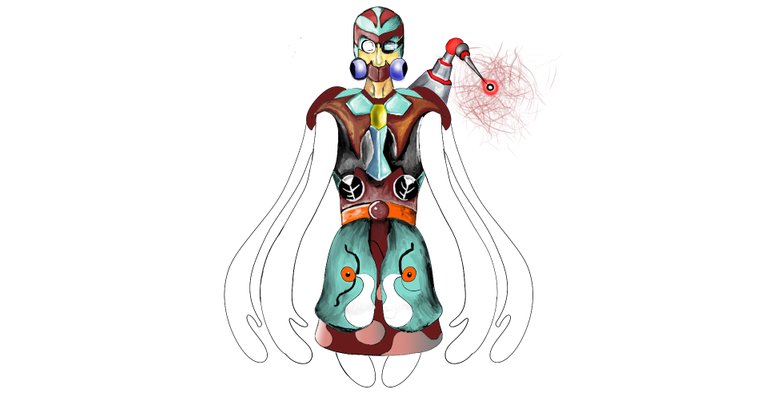 Seventh Step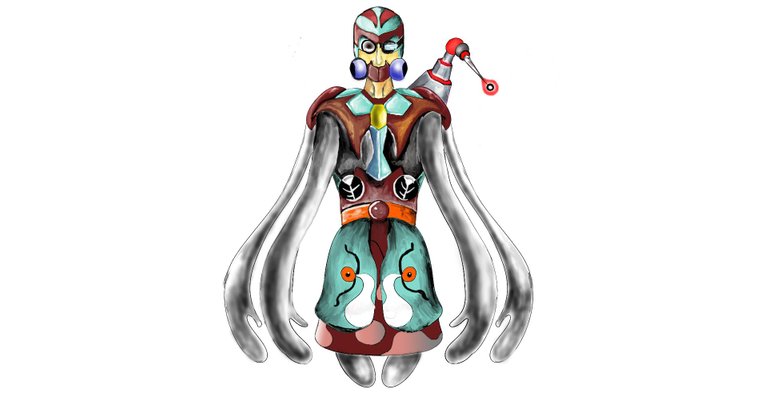 Eighth Step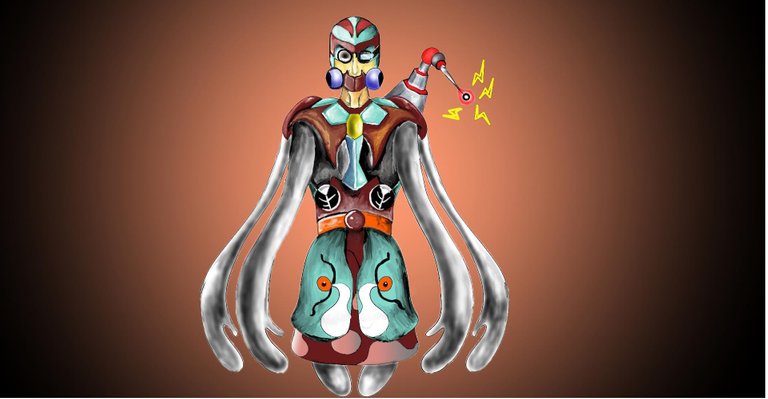 After this stem the color didn't seem like right to me, so I decided to change it.
Ninth and Final Step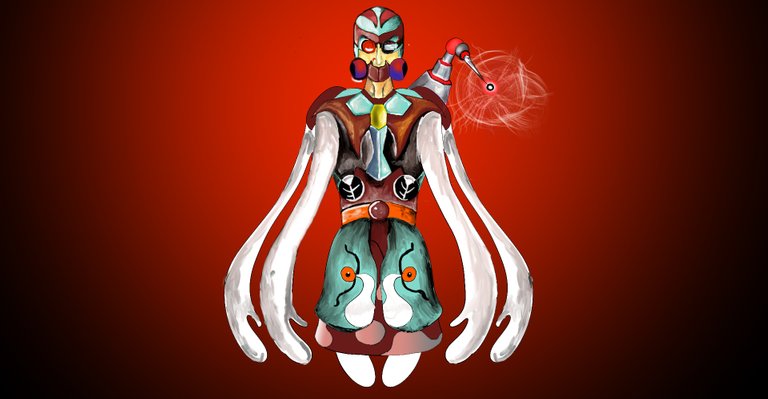 Finishing this work took me almost 6 hours of continuous work. I worked for 3 days in it and then I got the final view. I was thinking about something like that for so many days, but then I didn't knew about digital art. As now I know how to draw, I can now draw as I imagine. I hope that I'll back soon with my next artwork.
If you find any interest in SPLINTERLANDS you are welcome to visit.
My Refer to SPLINTERLANDS
https://steemmonsters.com?ref=sazzad-sm
I hope that you enjoyed my artwork. See you again in my next post.
Thanks for reading my post.