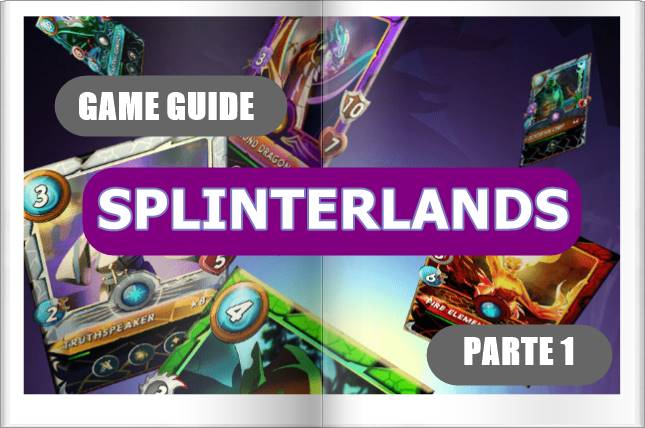 GAME BEGINNER'S GUIDE @SPLINTERLANDS

IT'S TIME TO EXPLAIN CERTAIN BASICS OF THE GAME:



I plan to divide this guide into 5 parts, because although it may not seem like it, there are many things you should keep in mind, and others are small details to make your stay in the game much better.
First things first, WHAT IS THE GAME?
@Splinterlands is a strategic collectible and tradeable card game based on the Blockchain. In other words, each card is a unique digital asset, which you can exchange, sell or play and earn daily rewards.

CARD TYPES:



In case you don't know, this game is fought by cards. Perhaps you usually know this method if you were one of those who bought Pokémon card packages and Yu-Gi-Oh and played every day. Well, like this, but much more strategically, digitally and yet, you earn rewards for it.
There are two types of cards that you must know to understand the game:
INVOCATORS:
A MAGIC USER USING ONE OF THE SIX PRIMARY FORCES. THEY USE THIS POWER TO CALL UP MONSTERS.
So that you learn to differentiate them I made you a structure of the BETA summoners:
and in its LEGENDARY AND EPIC versions: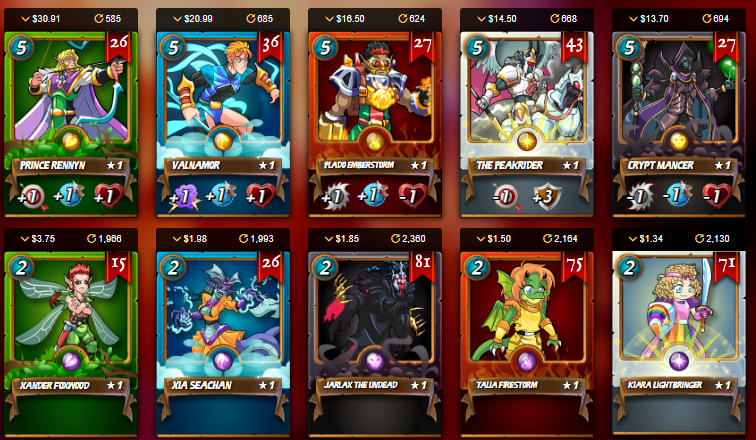 ---
A few months ago an edition of new letters came out and with it, new summoners. This edition is known as: UNTAMED. And these are its summoners.

I skipped the Legendary Untamed summoners because they are not all out yet, but when they are ready I will update this post. In addition the Dragon summoners I also omitted them, because later I will make a post about them.
SUCH INVOCATORS HAVE SPECIAL POWERS FOR EACH SPLINTER:
In the Betas Summoners (the first image) they do the following:
WATER SPLINTER: increases an attack point on magic monsters.

DEATH SPLINTER: Subtract one point of attack from Melee

EARTH SPLINTER: Increases all of your allied monsters by 1 life point.

FIRE SPLINTER: Increases attack point by Melee Attack monsters

SPLINTER OF LIFE: Increases a shield point by all its allies.
And they can also know the other abilities of the other summoners Betas and Untamed from these.

DIFFERENT SPLINTER OF THE GAME:

As you can see, there are 6 splinters in the game.
They should not be guided by the element itself, that is, water does not beat fire or fire over earth. They all have pros and cons.
WHEN YOU BUY AN INITIAL SET, YOU ARE GIVEN SOME SERIES OF INITIAL LETTERS TO BEGIN TO BATTLE WITH ALL THE CALLERS, LESS DRAGON.

MONSTERS: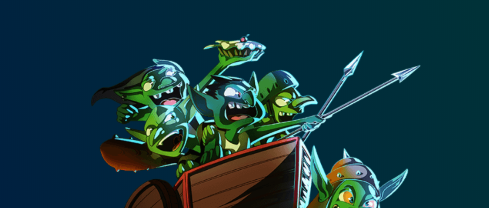 The monsters are in charge of winning in battle through their abilities. These monsters are summoned by some summoner regarding their element.
That is, a fire summoner can only summon monsters from the fire splinter. The same goes for other splinters. Less with the Dragon, but that is another post that I will write.

You like me? Follow me on my social networks:
---
Greetings to all! Have a nice day / afternoon / night💝



---
POST EN ESPAÑOL:
---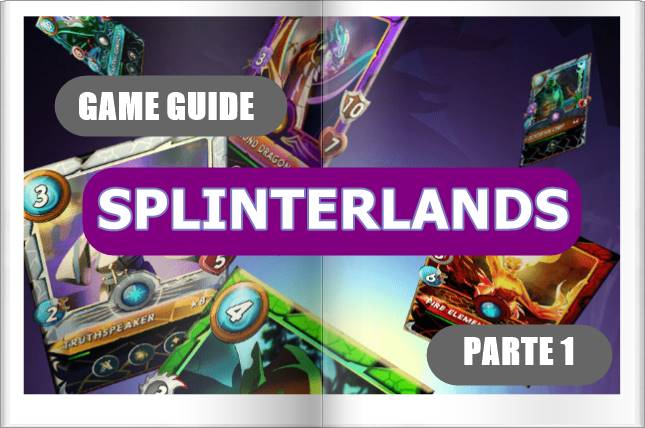 GUÍA PARA PRINCIPIANTES DEL JUEGO @SPLINTERLANDS

ES HORA DE EXPLICAR CIERTAS COSAS BÁSICAS DEL JUEGO:



Pienso dividir en 5 partes esta guía, porque aunque no lo parezca, son muchas cosas que debes tener presente, y otros son pequeños detalles para que tu estadía en el juego sea mucho mejor.
Primero lo primero, ¿QUÉ ES EL JUEGO?
@Splinterlands es un juego estratégico de cartas coleccionables y tradeables basado en la Blockchain. Es decir, cada carta es un activo digital único, que puedes intercambiar, vender o jugar y ganar recompensas diarias.

TIPOS DE CARTAS:



Por si no sabes, este juego se batalla mediante cartas. Quizás suelas conocer este método si fuiste de aquellos que comprabas paquetes de cartas Pokémon y Yu-Gi-Oh y jugabas todos los días. Bueno, así, pero mucho más estratégico, en digital y no obstante, ganas recompensas por ello.
Hay dos tipos de cartas que debes conocer para comprender el juego:
INVOCADORES:
UN USUARIO DE MAGIA QUE APROVECHA UNA DE LAS SEIS FUERZAS PRIMARIAS. USAN ESTE PODER PARA INVOCAR MONSTRUOS.
Para que aprendas a diferenciarlos te hice una estructura de los invocadores BETA:
y en su versiones LEGENDARIOS Y ÉPICOS: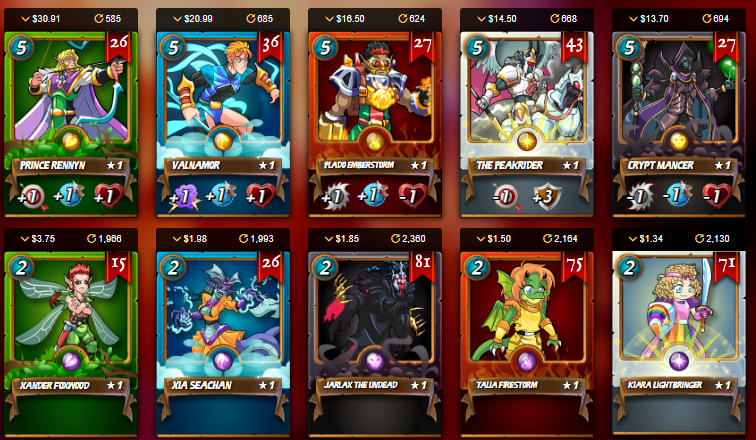 ---
Hace pocos meses salió una edición de cartas nuevas y con ello, invocadores nuevos. Esta edición se le conoce como: UNTAMED. Y estos son sus invocadores.

Omití los invocadores Legendarios Untamed porque aún no salen todos, pero cuando estén listos actualizaré este post. Además los invocadores Dragón también los omití, porque más adelante haré un post sobre ellos.
DICHOS INVOCADORES POSEEN PODERES ESPECIALES PARA CADA SPLINTER:
En los Invocadores Betas (la primera imagen) hacen lo siguiente:
SPLINTER DE AGUA: aumenta un punto de ataque a los monstruos mágicos.

SPLINTER DE MUERTE: Resta un punto de ataque a los de Cuerpo a Cuerpo

SPLINTER DE TIERRA: Aumenta un punto de vida a todos su monstruos aliados.

SPLINTER DE FUEGO: Aumenta un punto de ataque a los monstruos de Ataque Cuerpo a Cuerpo

SPLINTER DE VIDA: Aumenta un punto de escudo a todos sus aliados.
Y así mismo pueden saber las demás habilidades de los demás invocadores Betas y Untamed a partir de estas.

DIFERENTES SPLINTER DEL JUEGO

Como ven, existen 6 splinter en el juego.
No se deben guiar por el elemento en sí, es decir, el agua no le gana al fuego ni el fuego a la tierra. Todos tienen pros y contras.
CUANDO COMPRAS UN SET INICIAL, TE DAN UNAS SERIES DE CARTAS INICIALES PARA COMENZAR A BATALLAR JUNTO A TODOS LOS INVOCADORES, MENOS DRAGÓN.

MONSTRUOS: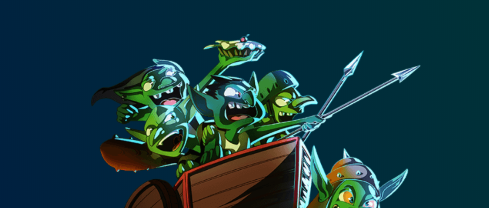 Los monstruos son los encargados de vencer en batalla mediante sus habilidades. Dichos monstruos son invocados por algún invocador con respecto a su elemento.
Es decir,un invocador de fuego solo puede invocar a monstruos del splinter de fuego.Lo mismo sucede con los demás splinter. Menos con el Dragón, pero eso ya es otro post que escribiré.

¿Te gustó? Sígueme en mis redes sociales:
¡Saluditos a todos! Que tengan un buen día / tarde / noche 💝