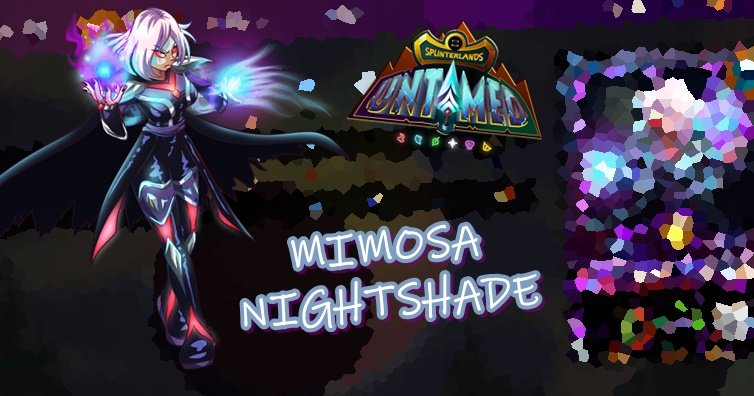 A new card analysis has arrived: MIMOSA NIGHTSHADE! ♥

LET'S ANALYZE THE POWERS OF THIS GREAT LEGENDARY CARD:



As we know, Mimosa is the 4th card of the UNTAMED Airdrops. For me, each letter has been a surprise, one more than another, but surprise anyway. However, the one that gave the most and especially, I loved ... is the card that I will speak.
The first thing you see, taking aside his flashy character, are his powers. Powers as if it were a monster and therein lies its peculiarity. I didn't really understand how it worked.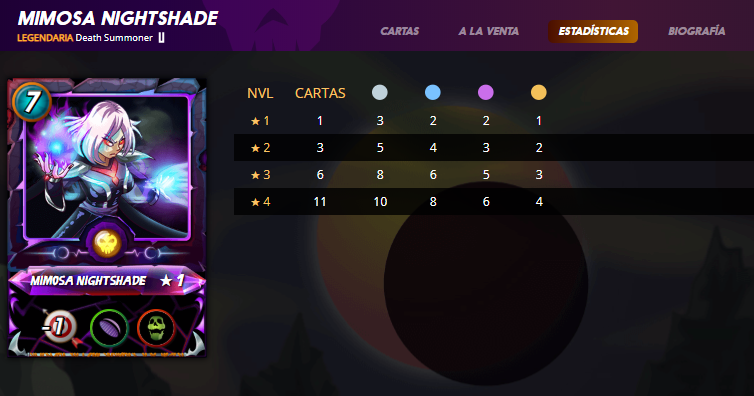 BEYOND THE OBVIOUS, THAT IS, FROM THE ABILITY TO DOWN -1 ARCHERY POINT TO THE ENEMIES, THERE ARE OTHER CURIOUS.
EMPTY: This ability allows you to take half damage from a magic attack. It is an excellent ability when facing the Water Splinter, especially if the summoner is beta. Although it does not completely repel it, imagine receiving a magic blow of 10 points, but in the middle, that is to say in 5. There is a lot of difference.

AFFLICTION: When a monster with this ability hits an enemy that can heal, it has the ability to nullify that healing for the entire battle.
With these powers we can say that the most affected Splinter would be the water one, curiously, it is the same one that has the best chance of winning against the Death Splinter. This card is strategic, although it was made to combat magic, it is also good for others.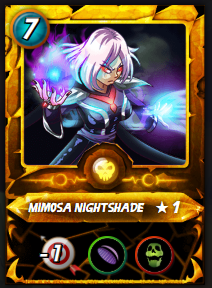 DEFINITELY:
Everyone who heals, archers and wizards, will have a very hard time facing this card.
"The green ring around the Void ability means that she will grant the Void ability to ALL friendly Monsters, and the red ring around the Affliction ability means that she will cast the Affliction effect on ALL enemy Monsters at the start of the battle." from @splinterlands
With this I wanted to tell you that ... I HAVE PURCHASED A MIMOSA IN UNTAMED PACKAGES!
I was surprised to see this letter once opened in the packages, when I found out its price was $ 12. Currently $ 9
I only use it at the beginning of each season, since I am usually in GOLD I, and it is a relatively low league, in which I can use this card since it does not summon monsters so high as to use it in diamond or champion.I AM VERY HAPPY FOR THIS CARD, I NEED FEW TO PASS IT ON A LEVEL AND BE ABLE TO EXPLOIT IT WITH TASTE.

You like me? Follow me on my social networks:
Greetings to all! Have a nice day / afternoon / night 💝



---
POST EN ESPAÑOL:
---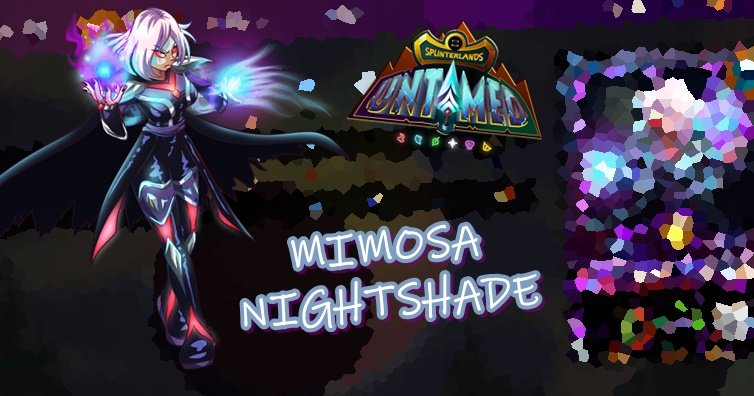 Un nuevo análisis de cartas ha llegado: ¡MIMOSA NIGHTSHADE!

ANALICEMOS LOS PODERES DE ESTA GRAN CARTA LEGENDARIA:



Como sabemos, Mimosa es la 4ta carta del Airdrops UNTAMED. Para mi, cada carta ha sido una sorpresa, una más que otra, pero sorpresa en fin. Sin embargo, la que más dio de hablar y en especia, me encantó... es la carta que hablaré.
Lo primero que ves, quitando de lado su llamativo personaje, son sus poderes. Poderes como si fuese un monstruo y he allí su particularidad. No entendía muy bien como funcionaba.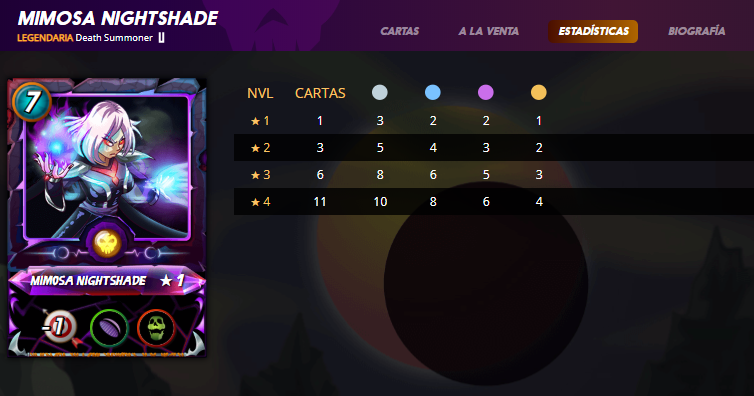 MÁS ALLÁ DE LO OBVIO, ES DECIR, DE LA HABILIDAD DE BAJAR -1 PUNTO DE ARQUERÍA A LOS ENEMIGOS, EXISTEN OTRAS CURIOSAS.
VACÍO: Esta habilidad permite recibir la mitad de daño de un ataque mágico. Es una habilidad excelente cuando te enfrentes al Splinter de agua, sobre todo si el invocador es beta. Aunque no la repele del todo, imagínate recibir un golpe de magia de 10 puntos, pero a la mitad, es decir en 5. Es mucha la diferencia.

AFLICCIÓN: Cuando un monstruo con esta habilidad golpea a un enemigo que pueda curarse, tiene la posibilidad de anular dicha curación durante toda la batalla.
Con estos poderes podemos decir que el Splinter más afectado sería el de agua, curiosamente es el mismo que más oportunidad tiene de ganar contra el de Muerte. Esta carta es estratégica, a pesar que fue hecha para combatir la magia, también es buena para otros.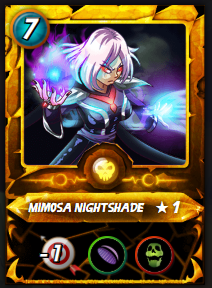 EN DEFINITIVA:
Todos los que se curan, los arqueros y los magos, la pasarán muy mal frente a esta carta.
"El anillo verde alrededor de la habilidad del Vacío significa que ella otorgará la habilidad del Vacío a TODOS los Monstruos amigos, y el anillo rojo alrededor de la habilidad de Aflicción significa que lanzará el efecto de Aflicción sobre TODOS los Monstruos enemigos al comienzo de la batalla." Por @splinterlands
Con esto quería decirles que... ¡HE ADQUIRIDO UNA MIMOSA EN LOS PAQUETES UNTAMED!
Me sorprendió ver esta carta una vez abierta en los paquetes, cuando averigüé su precio era de 12$. Actualmente es de 9$
Solo la uso a principios de cada temporada, pues suelo estar en ORO I, y es una liga relativamente baja, en la cual puedo usar esta carta ya que no invoca monstruos tan altos como para usarla en diamante o campeón. ESTOY MUY FELIZ POR ESTA CARTA, ME FALTAN POCAS PARA PASARLA DE NIVEL Y PODERLA EXPLOTAR CON GUSTO.

¿Te gustó? Sígueme en mis redes sociales:
¡Saluditos a todos! Que tengan un buen día / tarde / noche 💝