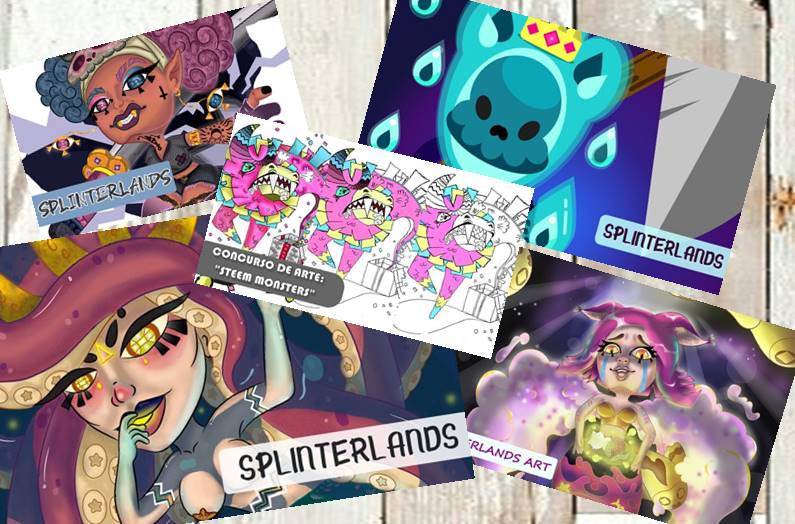 For a long time I wanted to make a publication like this, where I would vainly talk about my process as an illustrator and the awards I had won within my favorite game @splinterlands ♥
IF IT IS NOT MY FIRST PARTICIPATION, because before I made my entries in traditional, yes it is my first entry in digital art.
Here I was already getting acquainted with photoshop and I had a thousand fever, every day I got up to start drawing digitally and learn even more.
@Splinterlands was one of the reasons that prompted me to learn this digital art and now it is what I do the most and I even live from it ♥

THIS PARTICIPATION, apart from having won a position that I do not remember, was one of my first illustration exercises in the Adobe Illustrator program.
I wanted to make La Parca or La muerte "Flat Design" style and well, that was the result.
If you want to see the process click the link above ♥

This beautiful mermaid was one of the most beautiful entries I posted, I think she also won a place in the @splinterlands art contest, but I really can't remember which one.
Here Photoshop was beginning to dominate and I was really enjoying how everything was left.
I remember that with the packages I won from this contest came an epic gold that I sold at once haha, at that time it was betas that came in the packages.

This is one of my favorite illustrations, the "dark-gloomy-samurai-gothic" shape hooked me.
I admit that the two things that I loved the most about having made this entry were the sword and the corgi.
Also, since this entry I was already starting to integrate even more the gem-shaped eyes. I liked to give that unique touch to my cartoons.
And well, it goes without saying that from here and even before, everything started to be digital.

NOW IN THIS PUBLICATION, I DO REMEMBER THAT I WON THE FIRST PLACE WITHIN THE CONTEST.
And I say I remember because it is recent hahaha. This is one of the publications that I wanted to do much better, but it was running out of time.
I will definitely make a modification to this drawing, but in a few months ... it is a baby pony from @splinterlands too cuchi. Her eyes are so Awww ♥. ♥
At first I had thought it would be in a gift box, with Christmas lights and under a small tree, but that time I was very busy and I tried to make it easier.

And how to forget this beauty that gave me headaches on my poor 2 gb RAM laptop haha
I made this illustration on an old laptop, which almost did not support photoshop, now I have changed equipment and I have a much better computer.
But I do remember lasting 3 days trying to finish it because the details I wanted to add were extreme haha ​​and it took a long time.
But it was worth it because he won THE FIRST PLACE IN THE ART COMPETITION @splinterlands WEEK 81 ☻ ♥

You like me? Follow me on my social networks:
Greetings to all! Have a nice day / afternoon / night 💝



---
POST EN ESPAÑOL:
---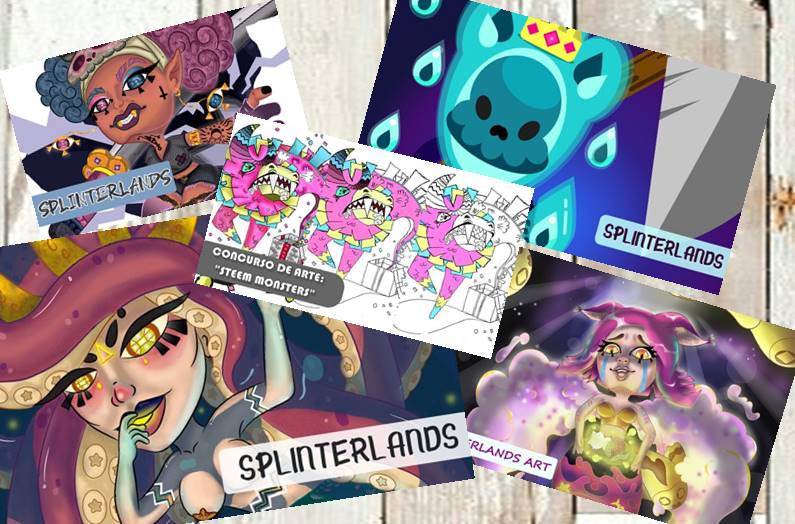 Desde hace tiempo quería hacer una publicación como esta, donde vanidosamente hablaría de mi proceso como ilustrador y de los premios que había ganado dentro de mi juego favorito @splinterlands ♥
SI BIEN NO ES MI PRIMERA PARTICIPACIÓN, porque antes hacía mis entradas en tradicional, sí es mi primera entrada en arte digital.
Aquí ya me empezaba a familiarizar con photoshop y estaba con una fiebre a mil, todos los días me levantaba para ponerme a dibujar en digital y aprender aún más.
@Splinterlands fue uno de los motivos que me impulsó a aprender este arte digital y ahora es lo que más hago y hasta vivo de ello ♥

ESTA PARTICIPACIÓN, a parte de haber ganado algún puesto que no recuerdo, fue unos de mis primeros ejercicios de ilustración en el programa Adobe Illustrator.
Quería hacer a La Parca o La muerte al estilo "Flat Design" y bueno, ese fue el resultado.
Si quieres ver el proceso clickea el link allá arriba ♥

Esta hermosa sirena fue una de las entradas más hermosas que publiqué, creo que también ganó un puesto en el concurso de arte @splinterlands, pero la verdad no recuerdo cuál.
Aquí ya empezaba a dominar Photoshop y me estaba gustando muchísimo como todo iba quedando.
Recuerdo que con los paquetes que gané de este concurso me vino una dorada épica que vendí de una vez jaja, en ese tiempo eran betas las que venían en los paquetes.

Esta es una de mis ilustraciones favoritas, la forma "dark-tétrica-sámurai-gótico" me enganchó.
Admito que las dos cosas que más me encantaron de haber hecho esta entrada, fue la espada y el corgi.
Además, desde esta entrada ya estaba empezando a integrar aún más los ojos con forma de gemas. Me gustaba darle ese toque único a mis caricaturas.
Y bueno, está de más decir que a partir de aquí e incluso desde antes, todo empezó a ser digital.

AHORA, EN ESTA PUBLICACIÓN, SÍ RECUERDO QUE GANÉ EL PRIMER LUGAR DENTRO DEL CONCURSO.
Y digo que recuerdo porque es reciente jajaja. Esta es una de las publicaciones que quise hacerla mucho mejor, pero estaba falta de tiempo.
Definitivamente haré una modificación a este dibujo, pero dentro de algunos meses... es un pony bebe de @splinterlands demasiado cuchi. Sus ojitos son tan Awww ♥.♥
Al principio tenía pensado que estuviese en una caja de regalo, con luces de navidad y debajo de un arbolito pero por aquella vez estaba muy ocupado y traté de hacerlo más sencillo.

Y como olvidar esta hermosura que me hizo pasar dolores de cabeza en mi pobre laptop de 2 gb de RAM jaja
Esta ilustración la hice en una laptop viejita, que casi no soportaba photoshop, ahora ya cambié de equipo y tengo un computador mucho mejor.
Pero sí recuerdo haber durado 3 días tratando de terminarla porque los detalles que quería ponerle eran extremos jaja y hacía que tardara muchísimo.
Pero valió la pena porque ganó EL PRIMER LUGAR EN EL CONCURSO DE ARTE @splinterlands SEMANA 81 ☻♥

¿Te gustó? Sígueme en mis redes sociales:
¡Saluditos a todos! Que tengan un buen día / tarde / noche 💝