Hello battlers,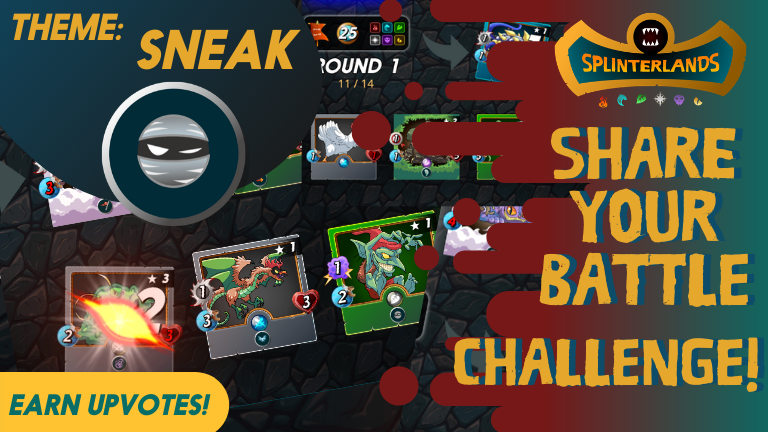 https://steempeak.com/splinterlands/@splinterlands/share-your-battle-weekly-challenge-snae
Another week and we have another Weekly Challenge from ever popular @splinterlands and Splinterlands is becoming more and more popular not with battlers but also on twitter as well.
OK, here we go for this week's Challenge and this week, we have a another ability, one of my favorites, yes, it's Sneak ability.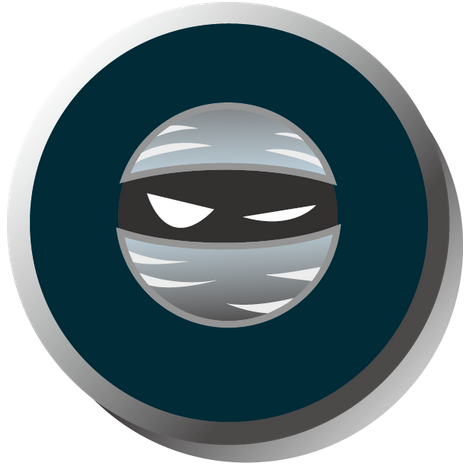 Sneak as we Splinterlands battlers know, is an ability to attack from the other side of the lineup, i.e. attack from back end or the last monster on the lineup.
We have many sneak monsters, Kobold Miner, Goblin Sorcerer, Sabre Shark, Feral Spirit, Skeleton Assassin are a few to name.
It's also notable that, sneak monsters are there from all 3 attack monsters i.e. melee, magic and ranged.
Most of the sneak monsters are of very less Mana cost and provide good attack with just few level upgrades and on an average, I think by level 4 or 5, we get a decent 2 melee or ranged or magic attack and some of those are with good speed of 3 or 4 from level 2 itself.
So, overall, sneak monsters are some of the most used monsters for their less cost, good enough attack and good enough speed as well.

Battle and Lineup:
Now, for this week's challenge, I just tried a battle and it turned out to be one of the best or I can say a Classic one. I will let you know why I say this a bit later ;)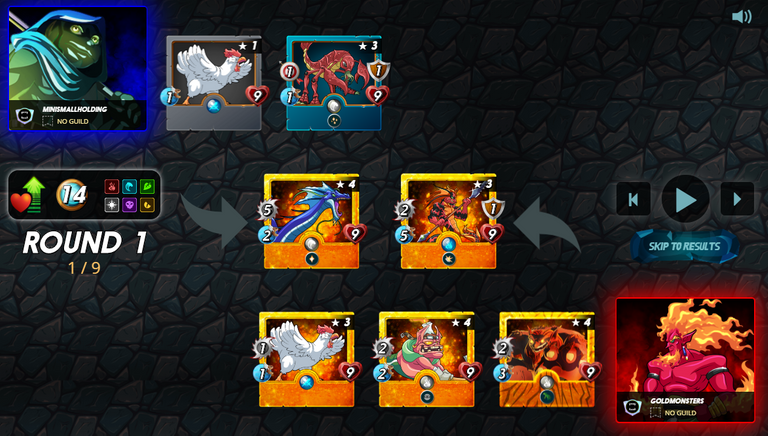 https://steemmonsters.com/?p=battle&id=006be6fed961f7f05b41baae0706c1a6db32ec5f
Lineup:
For this Equalizer battle with one of the lowest Mana of 14, I just used Fire Splinter and my lineup is as below:
Serpentine Soldier: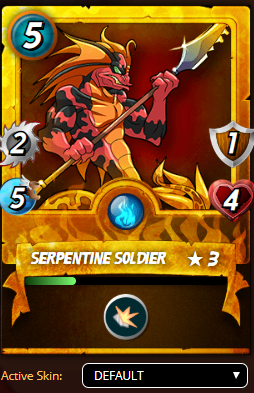 Since this was a low Mana and Equalizer battle, I wanted a monster with some resistance to melee attack, and this one with Dodge ability, fitted well for the front position.
It has a melee attack of 2 which turns to 3 because of Fire Splinter's +1 ability and also it has good speed of 5.
---
Magma Troll: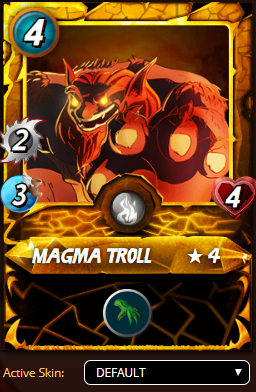 Magma Troll with reach ability was just required to support Serpentine Soldier and it did exceptionally well with 3 melee attack in containing the Sea Monster opponent had used.
---
Kobold Miner: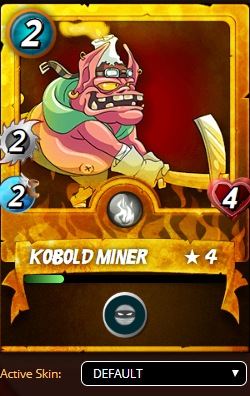 Kobold Miner is the monster I used as part this week's theme of sneak monster.
At 2 Mana cost, it gives me a 3 sneak attack after +1 from Fire Splinter and anyone will accept that :)
Infact, this was the hero for me in this battle as defeating Sea Monster with self healing ability and Crustacean King also to heal it, so, without removing the healer Crustacean King, it wouldn't have been possible for me to win this battle.
---
Furious Chicken: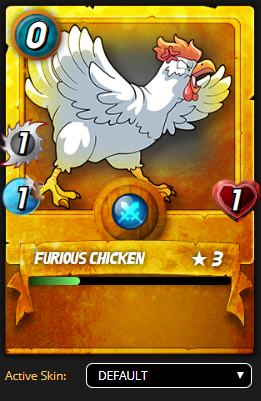 Furious Chicken holds more significance in Equalizer battles and sneak monsters will have to cross this to attack my other monsters :)
---
It's customary to declare about opponent's monsters as well before we move onto the battle rounds, isn't it?
The monsters used were Sea Monster, Furious Chicken and Crustacean King. A good lineup with double healing for Sea Monster, but Kobold Miner was up to the task and hence, gave a win for me.

Battle:
Round 1:
So, as we see, on paper, opponent's monsters looks better with double healing. But my monsters had other thinking.
With each blow from Serpentine Soldier and Magma Troll, Sea Monster kept healing, but the difference in both sides is a sneak monster in Kobold Miner.
Because of Kobold Miner, I termed this battle as a classic one as that was instrumental in this win.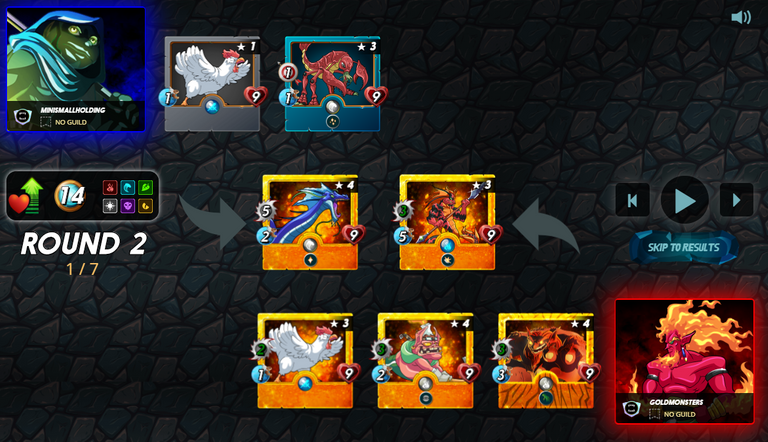 ---
Round 2 and 3:
Frankly speaking, there wasn't much difference in round 2 and 3 and were similar to round 1 as Sea Monster kept regaining health and only change was Kobold Miner attacking Crustacean King and reducing it's health.
So, after round 3, monsters were as below: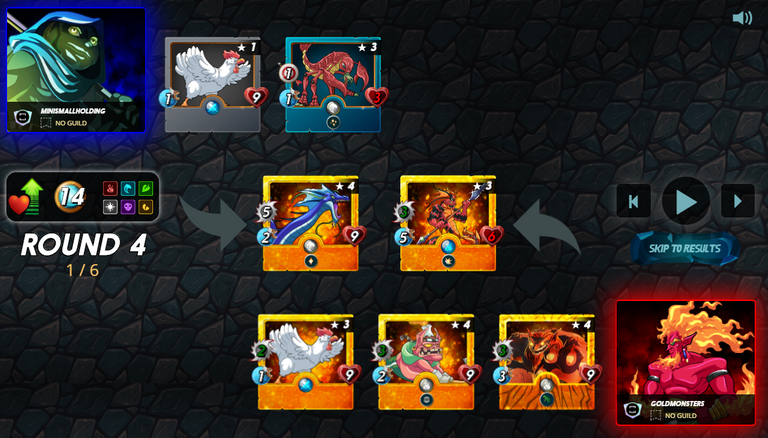 ---
Round 4:
Round 4 turned the things on with removal of Crustacean King and halted double healing of Sea Monster and that was the beginning of a win for me.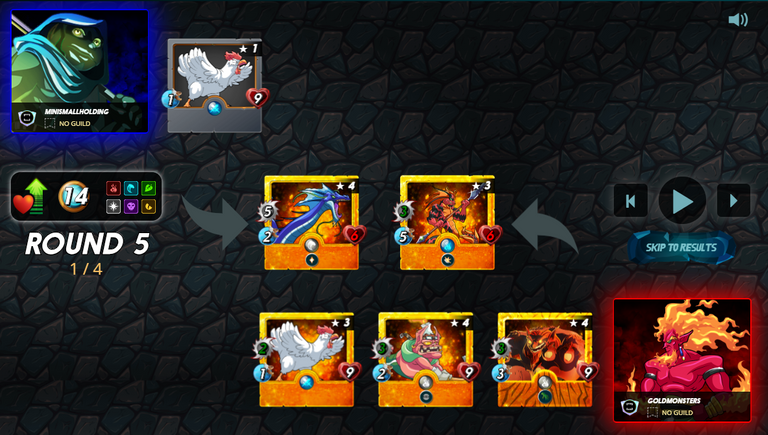 ---
Round 5 and 6:
With Just one time healing Sea Monster could heal upto 6 in a round and that was enough for Serpentine Soldier and Magma Troll to remove it and remove Furious Chicken and move on.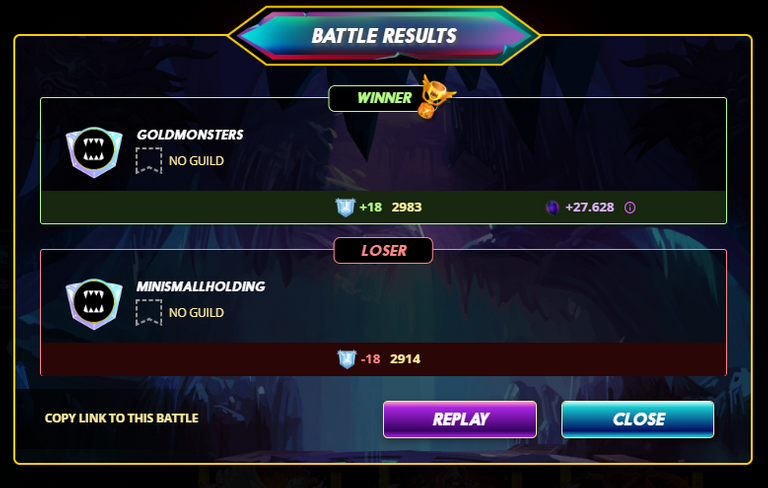 Question Answer Time:
Did your strategy work? What will you try differently next time?
Yes, worked perfectly and knowingly or unknowingly, I included sneak monster Kobold Miner and that was my hero for this battle.
If I would have tried something different, that must be to include a healer, but to be frank, I don't have one for Fire Splinter and that also would have disturbed this winning combination.
---
Do you use SNEAK often? Why or why not?
I use those based on the situation, since my account is still very small with lesser monsters, I select those sneak monsters based on what I have and what battle demands.
---
This is my question, Can we call this battle as Classic one?
In my honest opinion, based on my limited experience of playing Splinterlands battles, I think we can call it a classic one considering the lineup from both sides.
---
That is THE END of this blog guys, I know I am not perfect with my words, but I hope I took you through a roller coaster kind of battle I explained here ;)
Have a Good Day All :)

New to Splinterlands or yet to Join?
You can join using my referral link: splinterlands.io
Join now and start battling and have fun and also earn rewards in the form of Crypto and even you can trade the monsters cards on market to earn Crypto.