Hola queridos lectores, curadores y comunidad en general, esta vez les comparto mi participación en el concurso de splinterlands de compartir batallas, esta vez con EXPLODING DWARF, un monstruo letal del equipo de fuego.
Hello dear readers, curators and the community in general, this time I share with you my participation in the splinterlands contest to share battles, this time with EXPLODING DWARF, a lethal monster of the fire team.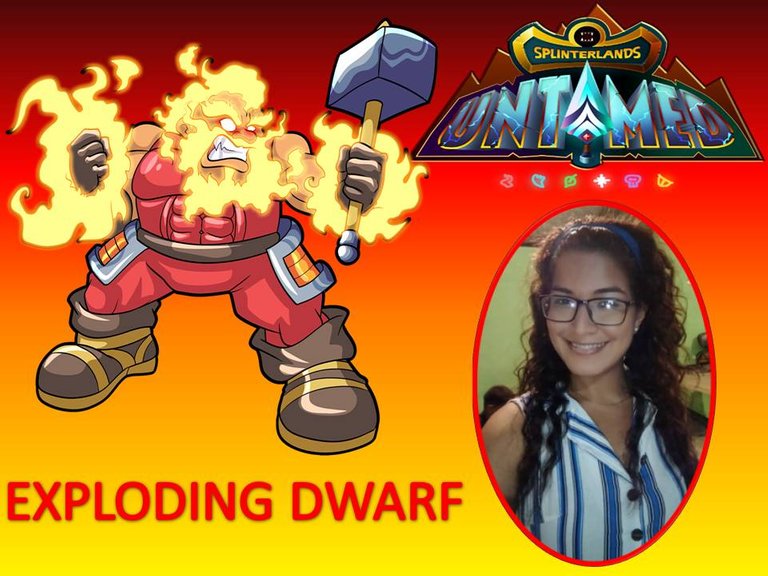 FUENTE

Splinterland es un juego de cartas coleccionables y batallas muy entretenido y con buenas recompensas para sus jugadores. Los retos semanales también son un excelente incentivo para que los jugadores creemos contenido con referencia al juego para recibir los votos que ofrecen por participar.
Empieza en este gran juego desde este Link
El monstruo al que hacemos referencia de esta semana es otro monstruo de edición reward pero que ya culmino su limite de impresión, lo que quiere decir que actualmente ya no se entrega. Es para mi un monstruo letal y muy necesarios si sabes utilizarlo y utilizar tu estrategia para sacarle el mejor provecho. Lo que está en su contra es su nivel de vida, el cual esta establecido en 1 y es el objetivo favorito de los monstruos con oportunidad. La unión de su fuerte golpe con sus habilidades me encanta verlo en batalla.
Tu también puedes participar entrando a este Link.
La idea con este monstruo es conocer las reglas en las cuales mejora su rendimiento.
Splinterland is a very entertaining collectible card and battle game with good rewards for its players. Weekly Challenges are also an excellent incentive for players to create in-game content to receive the votes they offer for participating.
Get started in this great game from this Link
The monster we are referring to this week is another reward edition monster that has already reached its printing limit, which means that it is no longer delivered. It is for me a lethal monster and very necessary if you know how to use it and use your strategy to get the best out of it. What is against him is his life level, which is set at 1 and is the favorite target of monsters with opportunity. The union of his strong blow with his skills I love to see him in battle.
You can also participate by entering this Link.
Like me, I have come across many people who use this sea monster as a tank so I see that I put it to good use.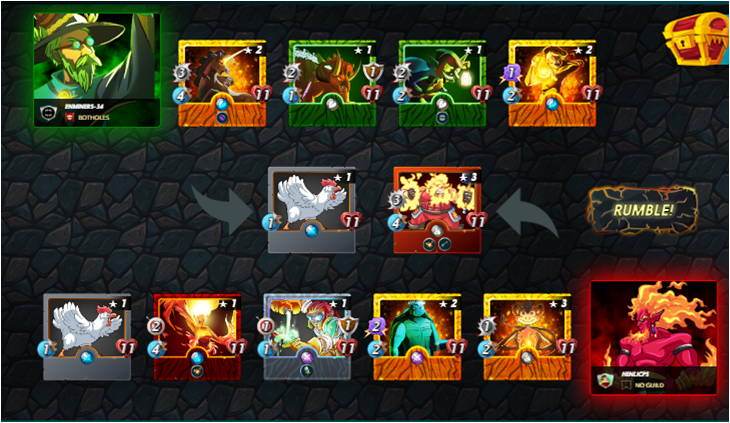 FUENTE
En este link pueden encontrar mi batalla que les comparto en la que este monstruo fue uno de los factores principales para conseguir la victoria.
La regla de la batalla le permitió a todos mis monstruos estar con u nivel de vida igual, esta es una de las formas de utilizar a este monstruo. Debido a que todos tienen la misma vida, tiene la posibilidad de golpear mas veces y eliminar a todos los contrarios.
In this link You can find my battle that I share with you in which this monster was one of the main factors to achieve victory.
The rule of the battle allowed all my monsters to be with the same level of life, this is one of the ways to use this monster. Because they all have the same life, you have the possibility of hitting more times and eliminating all opponents.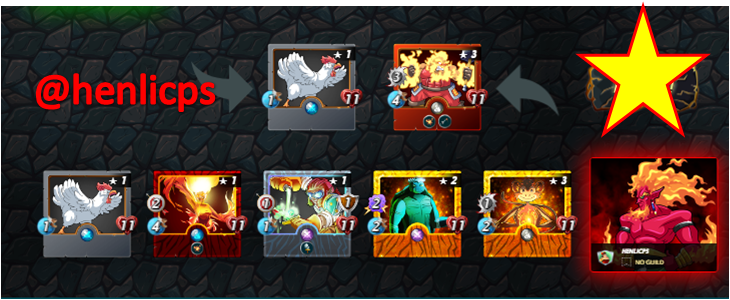 Esta regla me permite colocar al monstruo principal en la primera posiciones, con la facilidad que ya no sera 1 solo nivel de vida sino 11, una de las mas altas. Luego coloque a varios monstruos con diferentes ataque que complementan el ataque cuerpo a cuerpo y el blas, la cual es su principal virtud. Ademas, a medida que el aumenta su nivel adquieren unas habilidades muy buenas que la hacen ser muy fuerte para el nivel de vida que tiene.
Lo mas resaltaste aquí fue la obtención de la victoria y que a pesar de que el EXPLODING fue eliminado casi al final, pudo cumplir los objetivos y eliminar a todos los enemigos.
This rule allows me to place the main monster in the first position, with the ease that it will no longer be 1 level of life but 11, one of the highest. Then place several monsters with different attacks that complement the melee attack and the blas, which is their main virtue. Also, as he increases his level, they acquire very good skills that make her very strong for the level of life she has.
The most outstanding thing here was obtaining victory and that despite the fact that the EXPLODING was eliminated almost at the end, it was able to fulfill the objectives and eliminate all the enemies.

SPLINTERLANDS BRINDA MUCHAS FORMAS DE RECIBIR RECOMPENSAS, ESTA ES UNA DE ELLAS, EN LA QUE PODEMOS COMPARTIR NUESTRAS OPINIONES SOBRE CADA UNA DE LAS BATALLAS QUE REALIZAMOS. ESTA VEZ ME SALIÓ DE LO MEJOR PORQUE PUDE CONSEGUIR LA VICTORIA QUE ES LO QUE TODOS DESEAMOS.
SPLINTERLANDS PROVIDES MANY WAYS TO RECEIVE REWARDS, THIS IS ONE OF THEM, IN WHICH WE CAN SHARE OUR OPINIONS ABOUT EACH OF THE BATTLES WE FIGHT. THIS TIME I CAME OUT OF THE BEST BECAUSE I COULD GET THE VICTORY WHICH IS WHAT WE ALL WANT.


Traducido por GOOGLE TRADUCTOR