Hello Everyone,
Welcome back to my another splinterlands blog.Hope all of you are having a wonderful day.Mine is going as usual.
In this post, I'll share my winning Battle Using Fire Monster Combined with Dragon Summoner.

you can watch the battle direct from splinterlands official website from the link I have given below.
Link Of The Match
The day I started playing #splinterlands, since then I am becoming addicted to this wonderful game.
Although so far I can't determine the card correctly for a specific battle but I can say the combination between Fire Monsters and Dragon Summoner is very deadly.

The health of most Fire Monsters is much lower. So using some of these monsters becomes a problem because it takes only one hit from enemy monster to take this monsters down.

But using these monster with Dragon Summoner give them extra shield which prevent some hits from enemy monster and helps to keep these monster little longer.
About The Match:
For this match mana cap was 24.
And played with the "Standard" rule.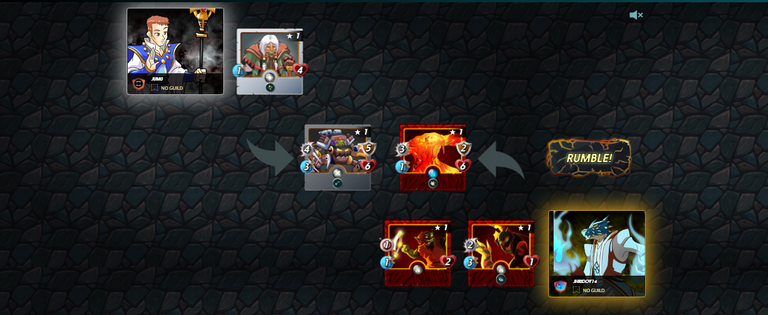 I was using my Dragon Summoner "DRAKE OF ARNAK" along with "LIVING LAVA" in level 1, "SERPENTINE SPY" in level 1, "GOBLIN FIREBALLER" in level 1.
Now Let Me introduced you with The Cards I have Used In The Battle.
SUMMONER: DRAKE OF ARNAK(RARE Dragon Summoner)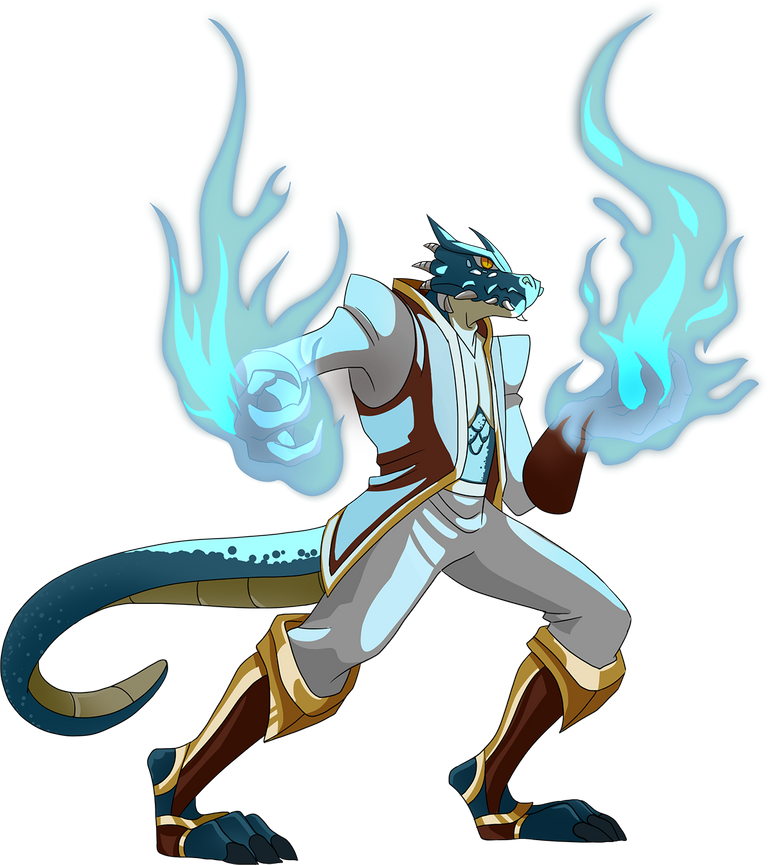 The Drake of Arnak is a medium-sized Dragon hybrid. He is highly intelligent and extremely rich, but cannot fly nor breathe fire. All his life he has honed his skills as a summoner, hoping to win a share of the glory that should rightfully be his as a carrier of the fire blood. The Drake's trademark is that his monsters are summoned to battle with a thin force field of blue fire, fortifying their defenses. Forms have been filed by the High Council to formally request that the Drake of Arnak hand over his secrets for the good of the united Gloridax, but he will not give up his proprietary magic without a fight. The Drake of Arnak is the Gloridax rival of Daria Dragonscale; the two despise one another.Source
It cost 4 mana cap and has the ability to give extra +1 Armor to every friendly monsters.
---
---
NO 1: LIVING LAVA(RARE Fire Monster)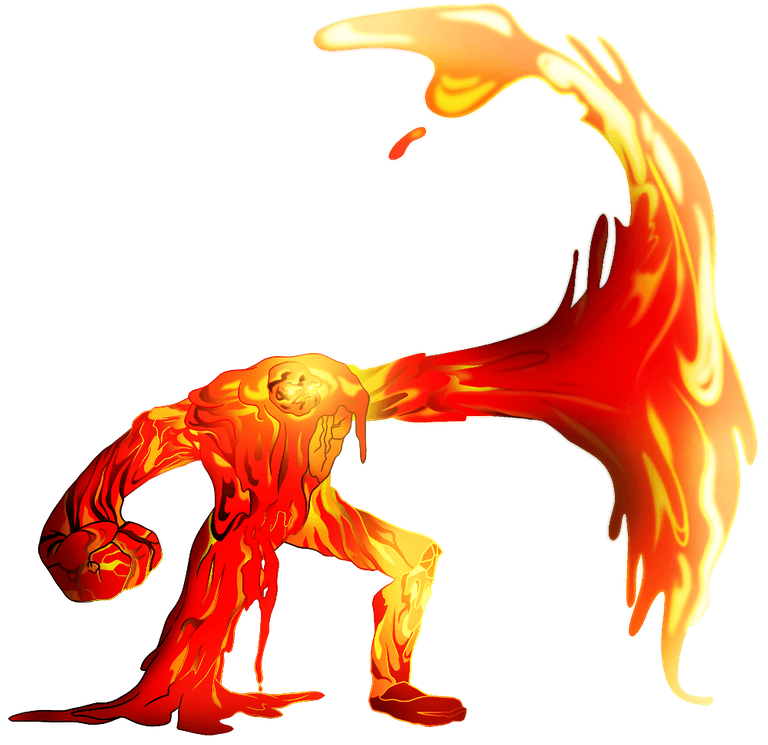 "LIVING LAVA" is a Rare Fire monster which has the "Shield" ability. At level 1, this monster comes with,

3 Melee attack
1 Speed
8 Health and 2 armor.

"LIVING LAVA" is a monster which I believe can be used in any match. it is a very damageable monster with 3 Melee attack and also the "Shield" ability helps this monster to survive longer in a battle.
It cost only 07 mana to use in the battle.
---
---
NO 2: SERPENTINE SPY(COMMON Fire Monster)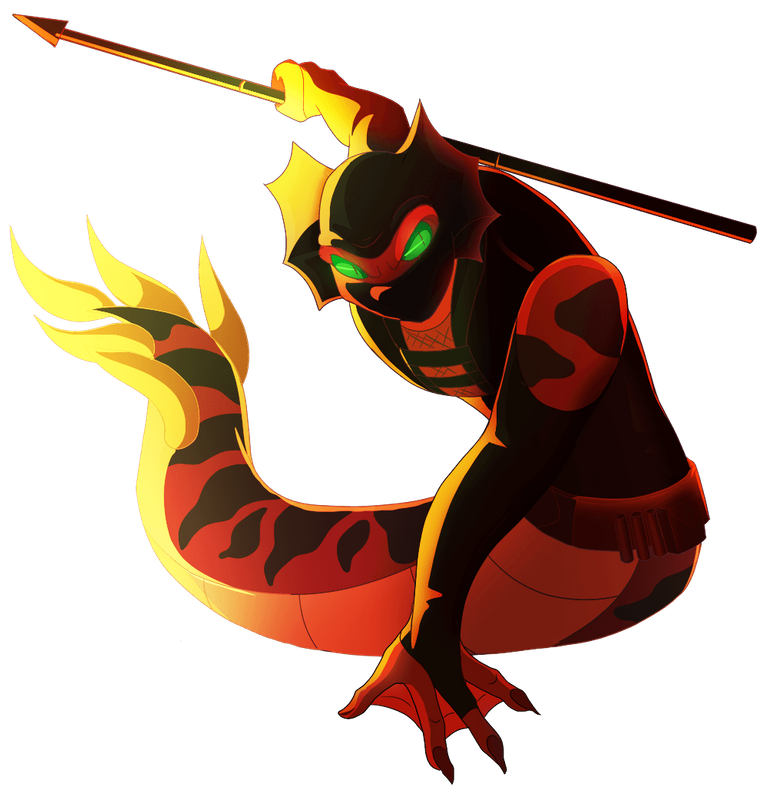 "SERPENTINE SPY" is a Common Fire monster which has the "opportunity" ability. At level 1, this monster comes with,

1 Melee attack
3 Speed
1 Health.

"SERPENTINE SPY" is a kind of card which can change your battle any time. The only risk is that this monster's health is very low. But if this card survive then believe me this card will be the destroyer.
---
---
NO 3: GOBLIN FIREBALLER(Common Fire Monster)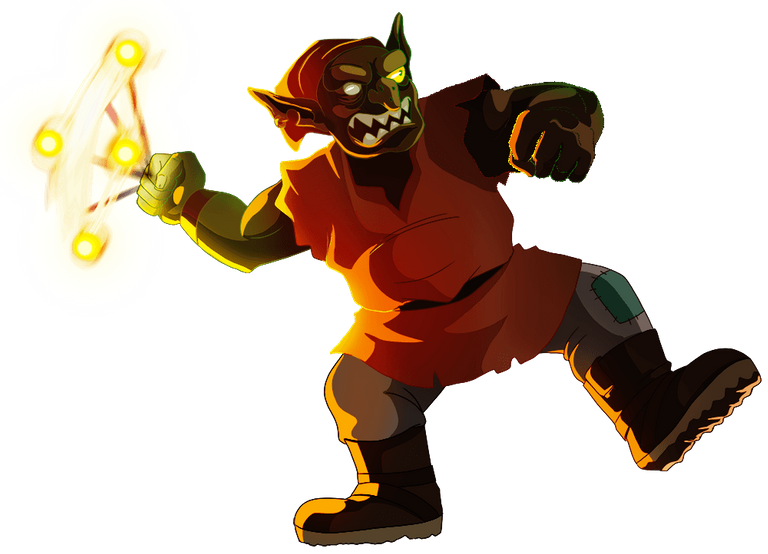 My "GOBLIN FIREBALLER" is in level 1 with
1 Ranged attack,
1 Speed,
2 Health
"GOBLIN FIREBALLER" is a COMMON Fire Monster which actually I used to cover up some mana. When I find you that I have no other choice than this card, then only I choose this monster.
---
---
Here Is Some ScreenShots Of The Battle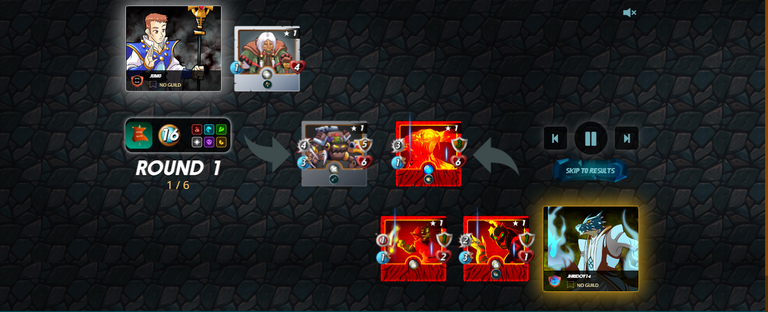 We all know that Dragon Summoner "DRAKE OF ARNAK" has the ability to add extra shield to all the friendly monsters, all my Fire Monsters gain extra +1 shield.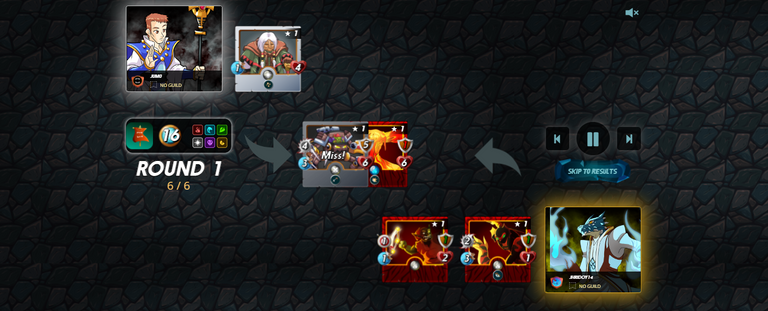 At first round, I couldn't do much damage to my opponent's monster. My "SERPENTINE SPY" has the "Opportunity" ability. So it hits on the low health enemy monster "DIVINE HEALER" which was pretty much helpful. But my "LIVING LAVA" miss it's first hit on opponent's "GOBLINE MECH". I was worried about it. I thought maybe I would lose the battle.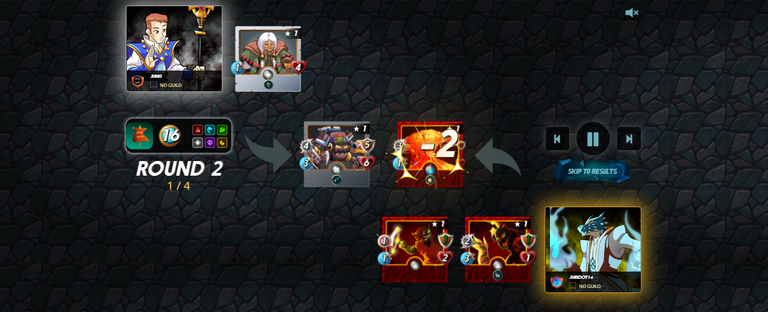 But I had a huge plus point that my "LIVING LAVA" has the Shield ability. This ability reduce the Melee attack damage from enemy Melee attack monsters. So opponent's "GOBLINE MECH" has a high damageable 4 Melee attack. But due to that ability, the damage was only 2.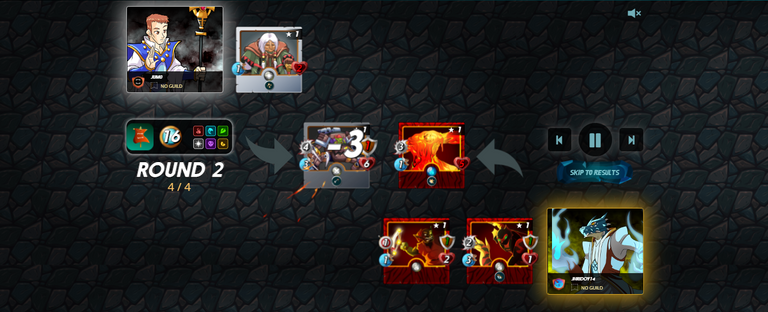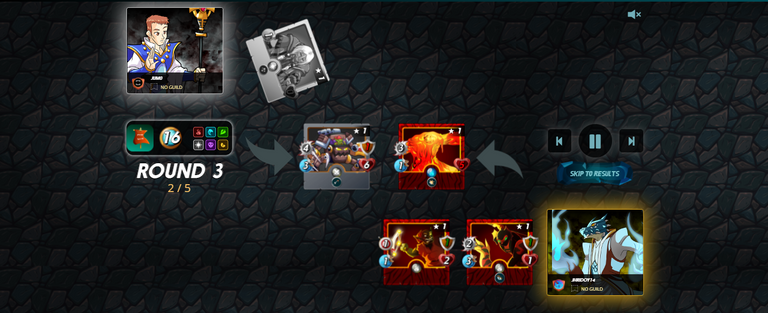 Round 2 and round 3 was pretty good for me. my both Melee attack monster hits very hard on opponent's monster so this time I did a lot of damage to my opponent's monsters. My "SERPENTINE SPY" was continuously attacking opponent's "DIVINE HEALER" and at round 3, finally it take down that monster.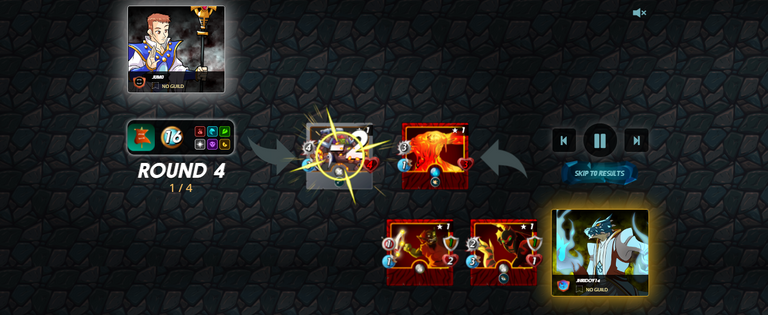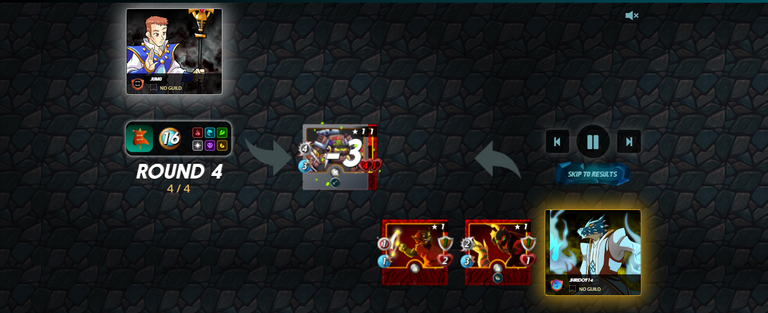 After that my opponent was having only one monster card left "GOBLINE MECH". but I had all of my cards left. "GOBLINE MECH" actually try to defend and fight with it's Melee power attack. But it was pretty sure that, alone it's self can't able to win this battle against my two Melee attack monsters "LIVING LAVA" and "SERPENTINE SPY".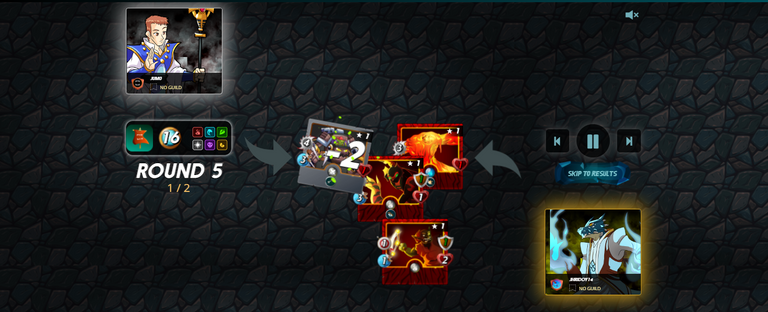 At the first attack of round 5, my "SERPENTINE SPY" hits on "GOBLINE MECH" and take that monster down.
Battle Result: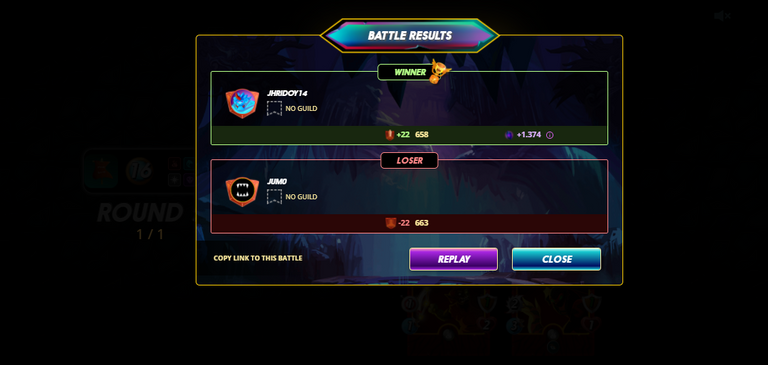 As I won this match, I got 1.374 Dec and +22 League Rating.
That's All For Today.
And if you haven't played Splinterlands yet then you are always welcome as new warrior. Check out the Official Website Of Splinterlands Using My Referral.
Thanks for reading the post to the end. I'll come back with another splinterlands blog again.
If you find my post interesting, then please hit the upvote button and feel free leave a comment if you have anything to say about my post.
and if you are interested for my upcoming post, you are always welcome to My Profile
Stay Home, Stay Safe.
GoodBye