En esta oportunidad estoy haciendo un miniconcurso y regalando 5 cartas de Splinterlands. Solo tienes que responder las 3 preguntas, donde los 2 primeros que respondan bien tendrán premios y los demás que respondan entrarán en 1 sorteo.
| ■ Estado de miniconcurso: | Cerrado |
| --- | --- |
| Hora de inicio: | 10:10 p.m. (UTC-5) viernes |
| Hora de finalización: | 10:10 p.m. (UTC-5) lunes |
---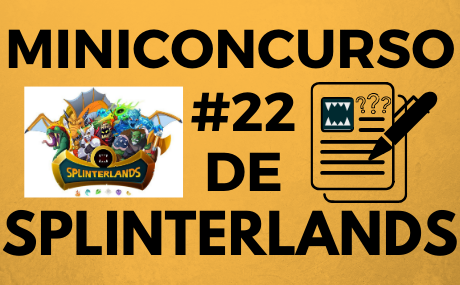 Responda las preguntas eligiendo una opción de las siguientes alternativas:
1. ¿Qué carta de Splinterlands (Steem Monsters) es de vida?
a) Warrior of Peace
b) Lord Arianthus
c) Alric Stormbringer
d) Flesh Golem
e) Peaceful Giant
2. ¿Cuál de las siguientes cartas de Splinterlands tiene la habilidad de Desmoralizar (Demoralize) en el nivel 1?
a) Baby Unicorn
b) Wave Runner
c) Molten Ogre
d) Pit Ogre
e) Giant Squid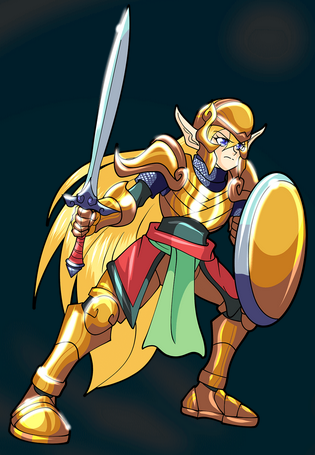 Fuente de imagen: Splinterlands
3. ¿Cuál es el nombre de esta carta de Splinterlands?
a) Manticore
b) Camila Sungazer
c) Selenia Sky
d) Daria Dragonscale
e) Delwyn Dragonscale
---
Premios: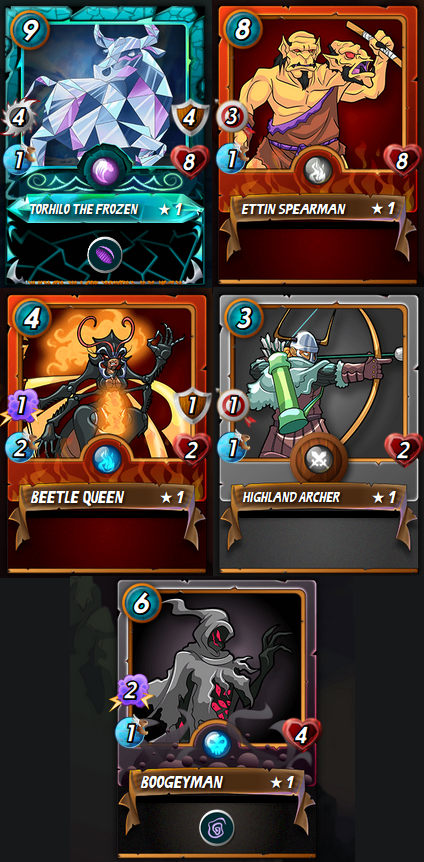 Fuente de imagen: Splinterlands
■ 1° PUESTO: TORHILO THE FROZEN (Carta épica/Agua/Edición: Reward) + ETTIN SPEARMAN (Carta común/Fuego/Edición: Reward).
■ 2° PUESTO: BEETLE QUEEN (Carta rara/Fuego/Edición: Reward) + HIGHLAND ARCHER (Carta común/Neutral/Edición: Reward).
■ Sorteo: BOOGEYMAN (Carta rara/Muerte/Edición: Reward).
■ El 1° puesto será el primero en resolver rápido y correctamente. Luego sigue el 2° puesto. También se realizará 1 sorteo entre los demás participantes de este concurso que respondieron correctamente. En el caso de que solo 1 haya resuelto correcto, los demás participantes entran para el sorteo. Por otro lado, si hay un único participante y lo responde correctamente, se lleva todos los premios automáticamente.
■ No se permiten correcciones, fíjate bien antes de publicar o serás descalificado.
Nota: Estos premios se darán al cumplirse los 3 días de plazo.
Ejemplo para responder una pregunta:
1. ¿Cuántas veces campeonaste en los torneos automatizados de Splinterlands (Steem Monsters)?
a) 5
b) 15
c) 20
d) 30
e) 35
Yo respondería así:
d)
---
■ Teniendo esto en cuenta, les invito a que respondan las 3 preguntas y lo coloquen en la sección de comentarios de esta publicación.
¡Gracias por visitarme y hasta la próxima!