Another Splinterlands season has successfully ended. We have already been awarded with our rewards. Some players have been quite happy with they got as rewards while some are probably still wondering what they really got. Nevertheless, last season have not been that much productive for me in terms of season reward but overall it was good as it seems.
---
Let me share what I got as season rewards :
---
As you can probably see, according to peakmonsters the total card value for the season reward card is USD 0.697 and the burn value is 946 DEC. While the compensation came in terms of DEC, I got around 2000 (1980) DEC from season rewards. Which according to current Dec price Current price of 1980.0 DEC is 5.3064 STEEMP. Well you can guess what I really feel right now lol.
---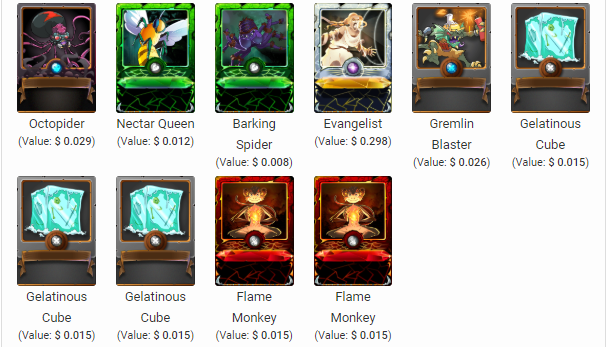 ---
---
I finished my season in CHAMPION 3 this season, which I was quite happy about before the season. But that feeling kind of changed thanks to these rewards. Not a good season well probably this is the worst season so far for me. But some users got even worse than me this time. But either way this season there were some extreme battles which enhanced few of my battling experience as well.
---
But the irony of it is, I got a quest reward today, which is probably worthy one. It is kind of compensating for season reward atm woot woot lol
---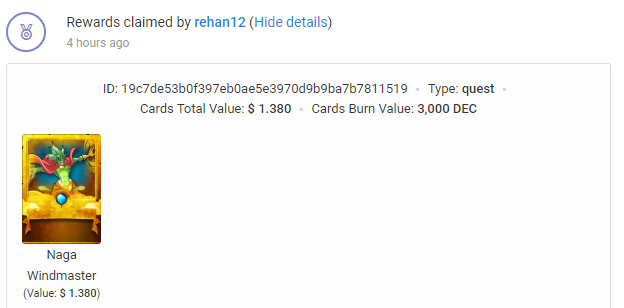 ---
---
While in terms of upgrading some of my decks, I will try to invest some more, as the more up you go the more invest is needed. as that is what i saw in the last two season for me. It does hurts to get defeated by strong decks lol. Placed some of my cards in the market. I will reinvest them in purchasing needed cards. Slowly let me upgrade the important cards. But before going into pricy cards I am trying to upgrade some cards which does seems neglected but often comes in handy in few battles, like this one :
---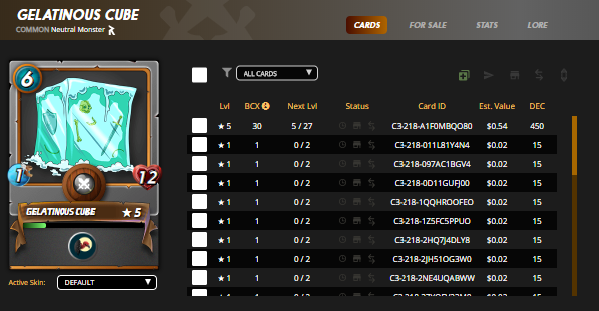 ---
So first victim of upgrade is done. Slowly moving forward to the next. I am trying to upgrade the summoners for the time being but if I get some cheap deals I will get some of my monsters upgraded. As this is the only way to make things right for myself and in order to upwards need that indeed. So that concludes my update for the last season and looking forward to this season!
---
All the images are taken from Peakmonsters.com & Splinterland.io
---

---
Be a part of my Vlogging journey on DTUBE
---
Watch my Videos on Youtube
---
Best regards
Rehan
---