This publication was also written in SPANISH and PORTUGUESE.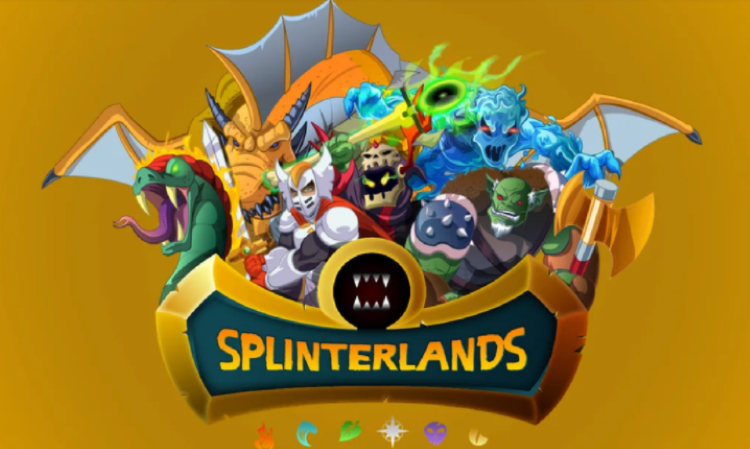 Coil
One of the most promising paths within the blockchain world is gamification that happens in great strides here. This is a process that has no return, because users and even those who don't like playing these types of games are starting to modify and see this new way of entertainment as a way to earn extra money.
The game that is still on the crest of the wave is the Splinterlands (probably the most famous), a very exciting adventure that requires you to play a lot of attention, in addition to a very refined sense of strategy so that the plans are drawn up in the best possible way. The main objective is to battle and be able to beat opponents through a system where the focus is on card battles.
For a long time I, despite knowing only the basics, chose not to play it in favor of building my blog. However, now I want to dedicate more time to try to expand (even more) the content of my blog. At the moment, I'm still reading a little more and at the same time, I'm going to start chatting with some users who have been playing this game for a long time. I need to feel safe to start venturing into this new terrain.
One of my next steps (something I intend to do more often) is to start reading and interacting on posts that talk about this subject and try to better understand how everything works before I start playing and also, writing about Splinterlands. I think it's past time that I started to be part of this fever and help the community of this game in its growth. Soon, I will be a very active user in this game.
---
Splinterlands: Un juego muy famoso al que pretendo empezar a jugar.
Uno de los caminos más prometedores dentro del mundo de las cadenas de bloques es la gamificación, que ocurre a grandes pasos aquí. Este es un proceso que no tiene retorno, porque los usuarios e incluso los que no les gusta jugar a este tipo de juegos están empezando a modificar y ven esta nueva forma de entretenimiento como una forma de ganar dinero extra.
El juego que aún está en la cresta de la ola es Splinterlands (probablemente el más famoso), una aventura muy emocionante que requiere que se juegue mucha atención, además de un sentido de la estrategia muy refinado para que los planes se tracen de la mejor manera posible. El objetivo principal es luchar y poder vencer a los oponentes a través de un sistema donde la atención se centra en las batallas de cartas.
Durante mucho tiempo yo, a pesar de saber solo lo básico, decidí no jugarlo a favor de construir mi blog. Sin embargo, ahora quiero dedicar más tiempo a intentar ampliar (aún más) el contenido de mi blog. De momento sigo leyendo un poco más y al mismo tiempo voy a empezar a charlar con algunos usuarios que llevan mucho tiempo jugando a este juego. Necesito sentirme seguro para comenzar a aventurarme en este nuevo terreno.
Uno de mis próximos pasos (algo que pretendo hacer con más frecuencia) es comenzar a leer e interactuar en publicaciones que hablan sobre este tema y tratar de comprender mejor cómo funciona todo antes de comenzar a jugar y también, escribir sobre Splinterlands. Creo que ya es hora de que empiece a ser parte de esta fiebre y ayude a la comunidad de este juego en su crecimiento. Pronto, seré un usuario muy activo en este juego.
---
Splinterlands: Um jogo muito famoso que eu pretendo começar a jogar.
Um dos caminhos mais promissores dentro do mundo da blockchain é gamificação que acontece a passos largos por aqui. Esse é um processo que não tem mais volta, porque os usuários e até mesmo que não gosta muito de jogar esses tipos de jogos estão começando a modificar e encarar esse nova maneira de entretenimento como uma forma de ganhar um dinheiro extra.
O jogo que ainda está na crista da onda é o Splinterlands (provavelmente, o mais famoso), uma aventura bastante instigante que exige dos jogares muita atenção, além de um senso de estratégia muito refinado para que os planos sejam traçados da melhor maneira possível. O objetivo principal é batalhar e conseguir vencer os oponentes através de um sistema onde o foco são as batalhas de cartas.
Por muito tempo eu, apesar de conhecer apenas o básico, optei por não jogá-lo em prol da construção do meu blog. No entanto, agora eu quero dedicar mais tempo para tentar expandir (ainda mais) os conteúdos do meu blog. No momento, eu ainda estou lendo um pouco mais e ao mesmo tempo, vou começar a conversar com alguns usuários que já estão jogando esse jogo há mais tempo. Eu preciso me sentir seguro para começar a me aventurar neste novo terreno.
Um dos meus próximos passos (algo que eu pretendo fazer com mais frequência) é começar a ler e a interagir nos posts que falam sobre esse assunto e procurar entender melhor como tudo funciona antes de começar a jogar e também, a escrever sobre Splinterlands. Eu acho que já passou da hora de eu começar a também fazer parte dessa febre e ajudar a comunidade desse jogo em seu crescimento. Em breve, eu serei um usuário bem ativo neste jogo.