Prügelei erneut gewonnen + Arena Ausbau rückt näher! - Brawl won again + Arena expansion moves closer!

Yeah! Wir, die Legendary Dragons haben den letzten Brawl erfolgreich gemeistert und konnten uns gegen die 9 anderen Gilden erfolgreich zur Wehr setzen. Der Schiedsrichter EagleEye Aggy Aggroed @aggroed hat ganz genau hingesehen und einen klaren Sieg für die Legendary Dragons ausgesprochen. Viele blutige Nasen und blaue Augen wurden in der letzten Prügelei verteilt.
Mit diesem Sieg haben wir nun über die hälfte der benötigten Kronen erreicht um unser Arena Gebäude auf das nächste Level zu bringen. Bin gespannt ob wir Dragons einer der ersten sein werden, die es möglich haben, die Arena auszubauen. Hierfür benötigen 150 CROWNS - Derzeit haben wir stolze 78 CROWNS!!!
Auf in den nächsten Kampf! Fordert uns heraus!
Yeah! We, the Legendary Dragons have successfully mastered the last Brawl and were able to successfully defend ourselves against the 9 other guilds. The referee EagleEye Aggy Aggroed @aggroed looked very closely and pronounced a clear victory for the Legendary Dragons. Many bloody noses and black eyes were handed out in the final brawl.
With this victory, we now have over half of the crowns needed to take our Arena building to the next level. I'm curious if we Dragons will be one of the first to be able to upgrade the arena. For this we need 150 CROWNS - Currently we have 78 CROWNS!!!
Let's go to the next battle! Challenge us!
---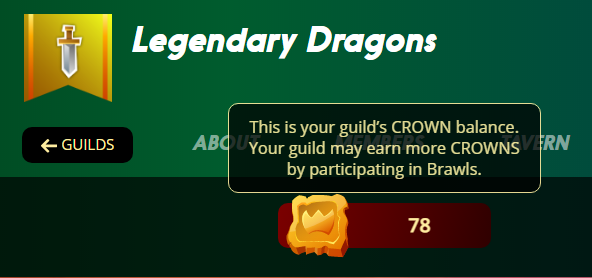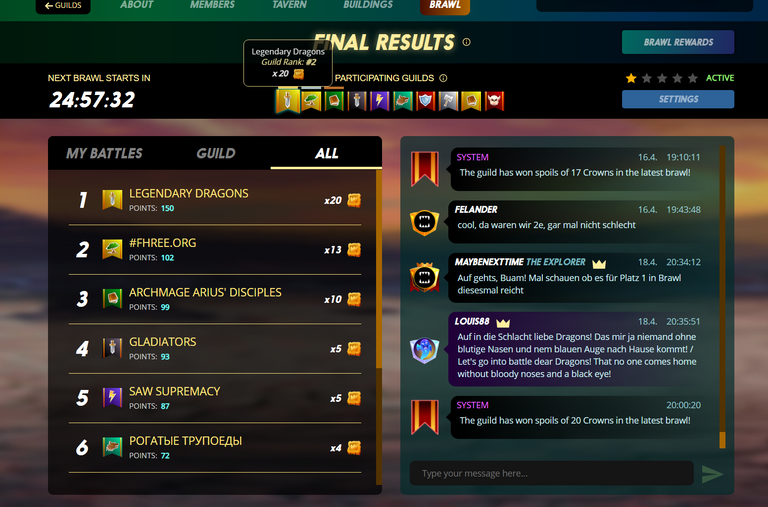 ---
---