The time has come to edit the Splinterlands cards DEC burning chart to add the Dice Edition there: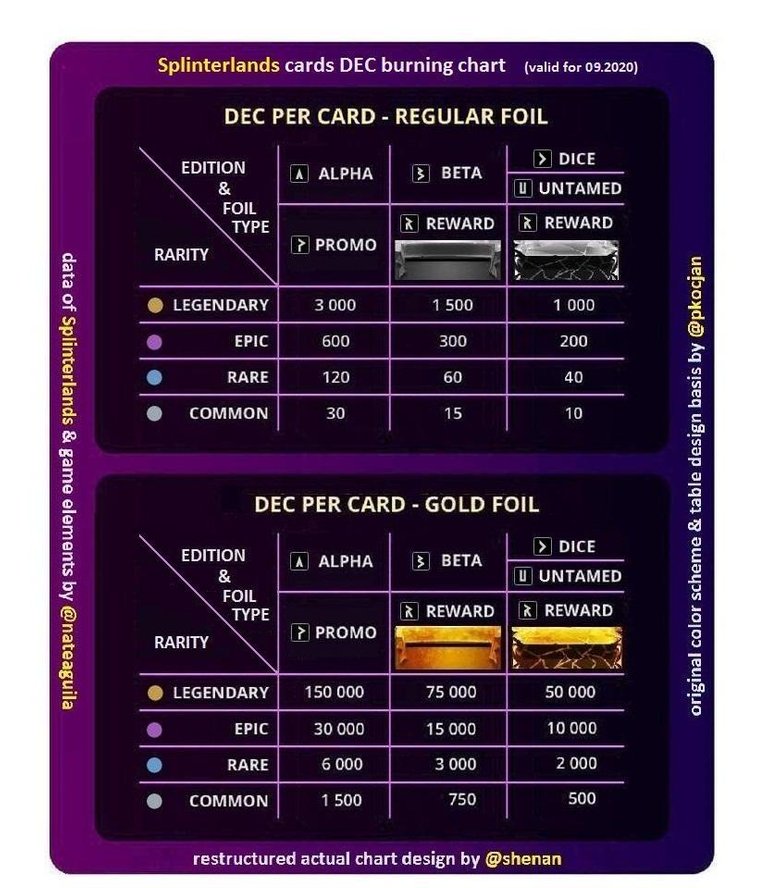 (the link to open chart in another window or/and download)
You can grab and use it right now, as well as read the interesting details below (especially if you are still quite a beginner).

I want to thank the Splinterlands team (founders) about wise move was made:
to mark the Dice Edition in it's own "[D]" Category in Collection (MARKET/CARDS game sections)
because first the Dice Edition cards were announced like they would appeared in the "[P]" – Promo Editon Category, but with their Burn Rate like Untamed Edition have. It could cause the totally mess with the identification of the Dice Cards & Special Promo Card "Halfling Alchemist"(for the Halving Event), 'cos ALchemist have the Burn rate like the Promo, but the Card Skin is like the Untamed one:


So if you look into the chart - this would cause difficulties with redesigning the table: because it was necessary to somehow distinguish some Promo cards from others, while such a distinctive feature as Card Skin was identically for 2 different Burn rates.
Appearing of the "[D]" Dice Edition category gave the opportunity to edit the Cards DEC Burning Chart very slightly.
You can follow the evolution of the table and read about it in my previous post:

"Splinterlands Cards chart of DEC burning (actual, game interface adaptive)"

For the real newbies: we use this chart not in order to necessarily burn cards, but in order to navigate (for ourselves) in their cost.

From the September 1st ('2020) the Collection Power Phase 2 was released (may read details in this announcement post) and this Chart became more actual due to the fact that the player must understand how to calculate the addition CP he wants to add into his Collection.

I hope, everybody understand that this сhart is relevant today, but "tomorrow" everything can change. And even more so, there will be changes when/if the Splinterlands releases the next edition of the cards.

For those who don't know what this is all about: Splinterlands is a tradable card crypto game on the Hive blockchain. To (confirm) actions in the game, transactions are used in the blockchain, and each card is a unique token (which you can sell, trade, burn, rent smbdy). In addition, the cards have a fairly wide variety of parameters; daily in the market players sell to each other cards in total about several thousand dollars!