Decentralized Money In Crypto Things Need To Change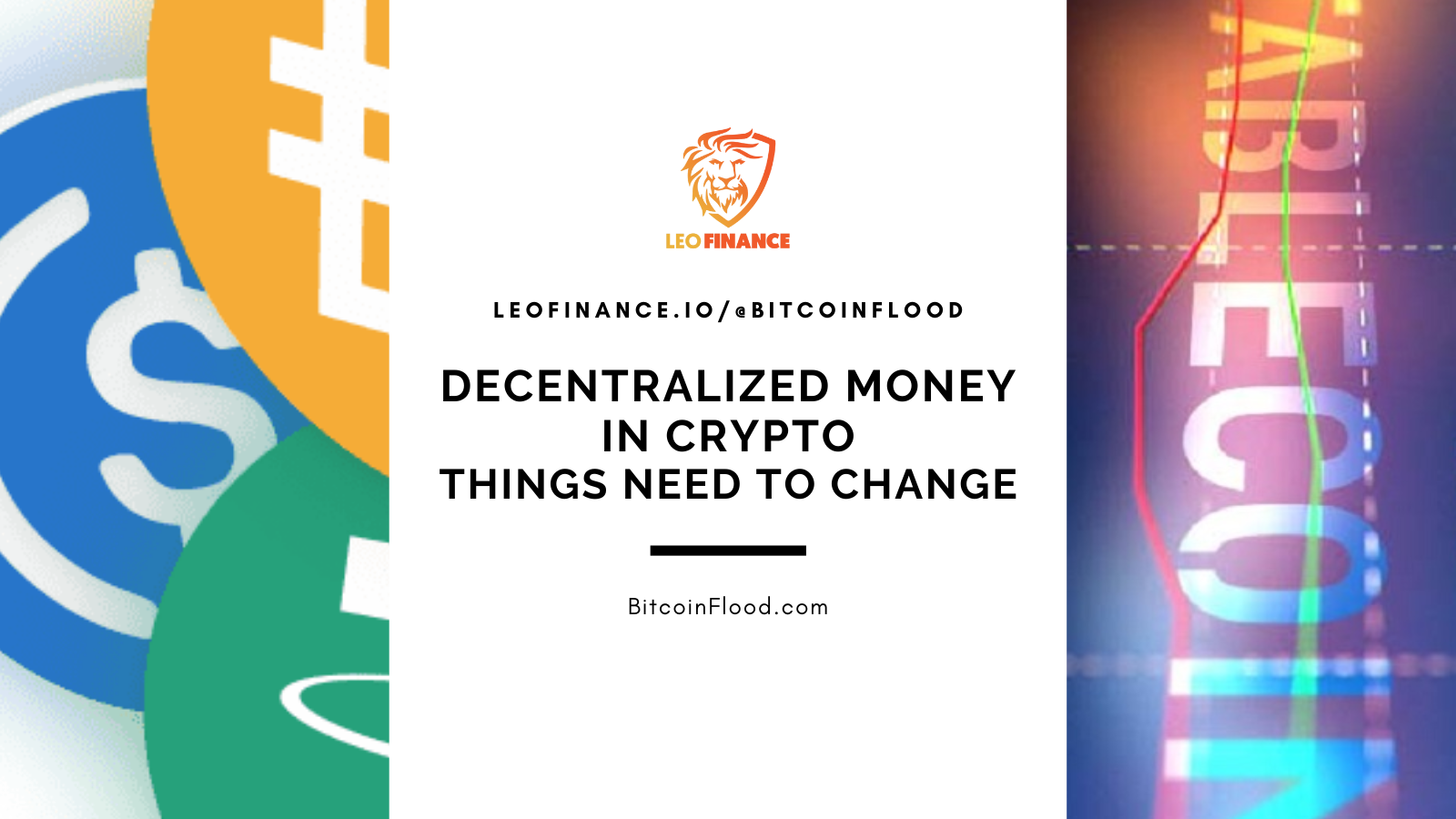 Crypto is far off of the 2.5 trillion we saw just a few months ago. In fact we are down 1 trillion since then as governments, banks and all these other greedy people start to put their foot down.
In 2017 our major issue was scalability. At the time the only coins that really matters were Bitcoin, Ethereum and Litecoin while the battles of hard forks took shape to try and fix high fees and scalability issues.
Fast forward to 6 months ago and our rally was pretty much hit with the same thing. While there where alternative solutions to help with scalability and fees they where not implemented fast enough.
Fast forward again to today and we see DeFi doing very well compared to the rest of the crypto market. (Yes some sell off but FAR from if you just help bitcoin or Ethereum for example) The issue we see starting to spark now is the issue of stablecoins and how it's possibly a ticking timebomb ready to blow up the financial markets of crypto.
I touched base on this a bit in pervious articles here
https://leofinance.io/@bitcoinflood/are-stable-coins-setting-us-up-for-collapse

Stablecoins are Banks
We need to seriously think of stablecoins being banks now. The new banking system and there are far fewer of those than there are real world banks. These stablecoins print, asset back and put funds into the crypto market pretty much exactly how a bank does.
What we hope is that these assets area really backed by something good and what we found out is that tether has some pretty odd backing.
At the moment of writing this currently there are only 4 yes FOUR stable coins that house 90%+ of the entire stablecoin market with tether being the largest followed by USDC, Binance USD and DAI.

Stablecoins Risks
Because almost all of the stable coin value is built behind just a few we now put our full trust into a unregulated, unwatched and unaudited platform. It starts to make you wonder and makes you think we need to start holding these companies more accountable. In fact because they are decentralized they should be more forthcoming about how these assets are backed instead of being all shady about it. We need more stable coins to diversify the funds (less risk if one fails) and hold them accountable for being transparent about how those assets are backed.
Posted Using LeoFinance Beta
---
---