What's good everybody it's your boy, Charlie!
---
I am a gaming and crypto content creator here on the Hive Blockchain creating an official LeoFinance post for the first time! The @boycharlieplays content creating business is reading more comments and replies from the community. Our goals are to reach higher stats on engagement using "hive.blog", "PeakD", and the other "blockchain content creating hive-engine tribe platforms" appropriately. The goal is to get people all over this platform and I want to show that I am truly listening to the people. To what's happening all over the news feeds and not just wading through the ocean with my own bubbles. Reviewing comments and providing upvotes for replies also shows why my staking these tokens will serve my community and help my business to reward through your curation. Upon review, I received two comments from @onealfa.leo that made me realize that my content using the #LEO was not meeting the criteria, and I apologize. Per the FAQ that was dropped in the comments, it seems that if you are using this hashtag, you should mind that your purposes should serve it's tribe appropriately. Again, this channel's mission and the @boycharliefamily community accounts are to market and showcase how media creators can make a living using these tools.
We showcase through our blogs and live streams out to the people and show how properly using tribes can benefit them. To make that appealing to LEO finance users, it's best to directly discuss the tokens, so I have regrouped and decided to do a Hive-Engine token Top 10 report. This list can change over time and allow me to play around with different curation styles as the links being provided will send out to Hive-Engine tribe websites. This is the kind of content @boycharlieplays will aim to provide new readers who wish to learn more about the available tokens and what games are being played by certain creators. A reminder to please smash that upvote button to help us grow as one of the fastest-growing Hive-gaming Content Creators on the platform. We are creating more content and applying for a grant through the Chicopee Cultural Council Now let's go over the tokens we hold ontop of our fantastic LEO.
Now in this report review, I will be discussing the holdings of the @boycharliefamily account publicly. This allows for transparency with my voters as I aim to make boycharlieplays a functioning private business that pays me a salary. Creating content on the blockchain allows me to express and earn tokens from the community. I am also able to return the favor back onto the community with my own upvote. Those when I create I aim to increase my Hive Power and experiment with my stake in many Hive-Engine tribes. For the time being, I have become extremely involved with @hive-roller.com as one of my tops played games. They are introducing a new Hive-Engine token called DEGEN which I, unfortunately, was too poor to take part in the airdrop sadly :(. However, now that it is listed I will say @klye works hard and I believe in his website so I think this may be a token I go in on as well. We shall see as these reports develop how my decisions change and my mind is able to change decisions. I will also look to the comment section to make sure I am engaging the community. With hopes of creating my own tribes, I hope to support my favorite creators who make great games and I have to say @klye is always so amazing and kind. If you haven't gone to his site yet you are missing out. Now normally I am a gaming content creator and frankly I see this new LeoDex/hive-engine scape as a new game to conquer. This whole Hive Blockchain/Hive-Engine experience is a bit like a game. we are all plugging away doing our best to show our best use case for our token/idea/project. We create and create and aim to find the best way to make our idea work. And to suppor the idea of #leo token I want to show the space my favorite tokens to spend time collecting.
REMEMBER !
THIS I JUST WHAT "I"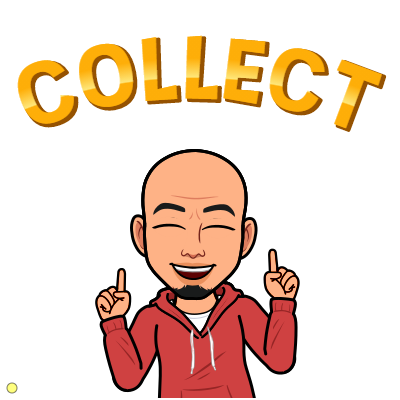 The tokens that are listed in this Top 5 and the information below it are my personal opinion and do not constitute actual financial advice. Please consult a professional financial advisor before making an investment on anything and never put in more than what you are willing to lose.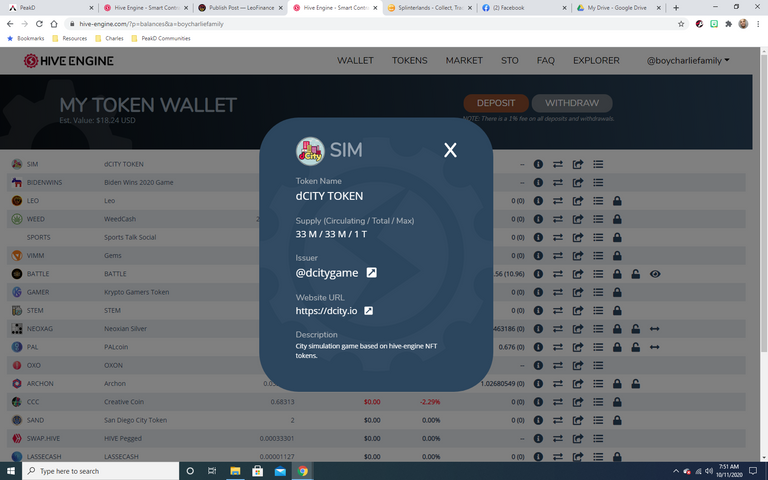 1. SIM - dCITY Hive-Engine TOKEN - City simulation game based on hive-engine NFT tokens.
Last: 0.00444 HIVE / $0.00069 24h Vol: 6,684 HIVE / $1,031.39 Bid: 0.004306 HIVE Ask: 0.00442 HIVE
The DCity token is the main income economy of @dcitygame earned by holding associated NFTs. Hive accounts serve as city wallets and you hold NFT building and citizen cards that provide SIM and other Hive-Engine tokens as income. The reason that @gerber's token is at the top is because of the fact that he is giving other tokens on this list the opportunity to strive as well and have more uses. Many opportunities exist with this community for people to gain more SIM token just head to the discord.
Charlie: This game has inspired me to work further on building everything in my gaming projects. The roleplay that has developed around this whole concept and the community that I feel was truly pushed by former President @ecoinstant has made this token stabilize at the rate that it is. I absolutely love using the @boycharliefamily accounts to continue to build SIM token over time with a story impacted by the national governments taxes on our people. The data from the associated @boycharliefamily hive project accounts (@boycharlieplays, @boycharliefamily, @boycharlieville, @onestrong, and @zapphead) will show you I am investing a lot into building as much SIM as possible in the main city. I have even burned some citizen cards out of print completely by burning Immigrant and Homeless cards. These Hive accounts transfer to @boycharliefamily's Hive-Engine Wallet to build up a "family fund" of SIM that purchases new cards off the market.@boycharlieplays, @boycharlieville, @boycharliefamily, @onestrong, @zapphead develop plans in creative blogs that help to develop the world-building. This supply of NFT's can have multiple uses for @boycharlieplays in the future to help on board people who participate in the upcoming @onestrong 10 week education proposal. @boycharlieplays envisions giving away some of these NFT's to viewers during Vimm live streams as well. Hopefully before the launch of @gerber's 3rd edition which has been hinted at greatly. we can develop a huge supply of Hive from the power downs and purchase enough SIM to be the top political Voting Power in the region.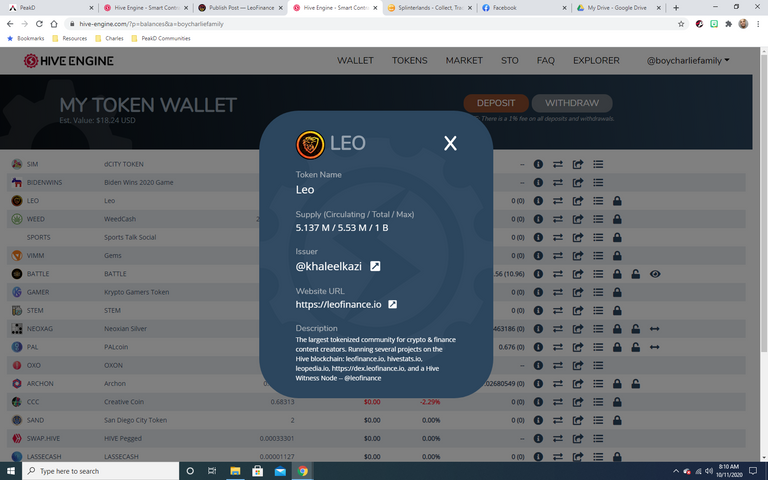 2. LEO - Leo Hive-Engine Token - The largest tokenized community for crypto & finance content creators. Running several projects on the Hive blockchain: leofinance.io, hivestats.io, leopedia.io, https://dex.leofinance.io, and a Hive Witness Node -- @leofinance
Last: 0.989958 HIVE / $0.153 24h Vol: 48,354 HIVE / $7,461.65 Bid: 0.97304 HIVE Ask: 0.989958 HIVE
LEO token has proven to be a valuable token rising on the Hive-Engine listing. LEO can be staked like Hive for more curation rewards on the Leofinance.io front end. This community is filled with crypto and blockchain enthusiasts who are discussing their financial gains with other like-minded individuals. Those who stake their LEO token are able to support their favorite Crypto creators this way. After getting a friendly reminder on posting appropriate content on Leofinance, I took some time to research what people were putting on here for posts. Immediately the content I found reminded me of the early days of exploring the STEEMIT space pre-censorship with Justin Sun. Many blogs created were people talking about altcoins and other ideas for SMTs that are still unreleased. The creator base seemed to be posting a TON about crypto and I was having a hard time getting invested in the community. I didn't understand and was a little lazy at the time. However now with communities and more focused tribes, we don't see this community as much unless you invest your time into it. Now if this is what you are interested in you only get this and I get my gaming content.
Charlie: I am currently not holding much of the LEO token but I plan on creating more Top 10 posts similar to this one to bring my LEO pool higher. LEO Token price is also higher than the Hive token at this time selling above 0.20 as of this posting. Thus holding this token and staking the token to add to the scarcity. There is a chance that LEO continues to hold more value than Hive its first layer coin. If that were to happen the LEO we earn now could boost in value over the next couple of weeks. This provides me an example to show in my grant proposals how members of our @onestrong creator program could earn tokens posting about cryptocurrency.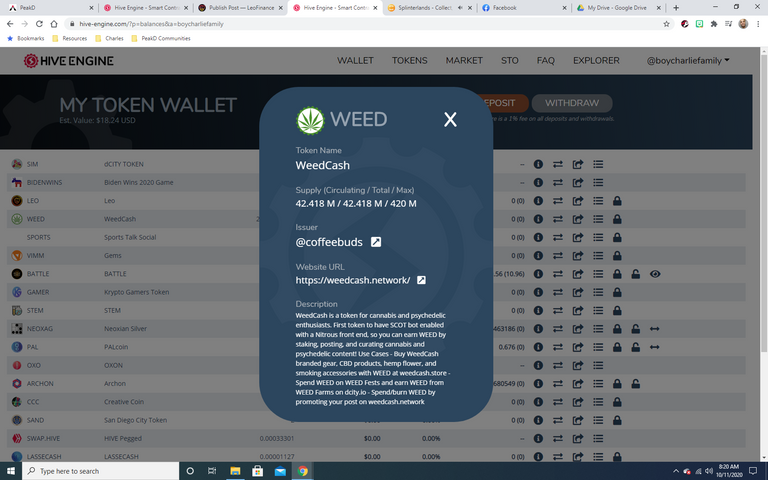 3. WEED - WEEDCash Hive-Engine Token - WeedCash is a token for cannabis and psychedelic enthusiasts. First token to have SCOT bot enabled with a Nitrous front end, so you can earn WEED by staking, posting, and curating cannabis and psychedelic content!
Last: 0.2 HIVE / $0.03086 24h Vol: 430 HIVE / $66.28 Bid: 0.1827 HIVE Ask: 0.1999 HIVE
Weed tokens are an innovative token that is distributed through blogging on WeedCashNetwork but is also distributed in the @dcitygame through building NFT's called Weed Dispensary and Weed FARMs. Per the description, on the listing, the token at this time is being used to sell CBD products and paraphernalia on the associated websites. By posting on their platform and playing "DCity" you can collect this token. The vision and could be used universally with dispensarys if the use cases become more diverse in my neighborhood. I want to potentially pitch the use
Charlie: I feel this is an appropriate place to begin a fake report for the Weed Dispensary and Weed Farm earnings maybe? This can encourage more of the WeedNetwork community to come onto @dcitygame. I am also a medical patient and could let some of the dispensaries I go to know about these platforms that could help expand their point system. The tokens that patients could earn checking into the store in a geolocation app will help to boost the number of transactions on the blockchain further proving the use of the token. As a start, my account will continue to hold and purchase the building cards that generate these tokens without us having to post. Once I make a professional relationship with a dispenary I will assist them with this token through the Weed Factory and Weed Dispensary cards in @dcitygame. I want to build up over 1,000 Weed Tokens to stake into the account from playing the game over time.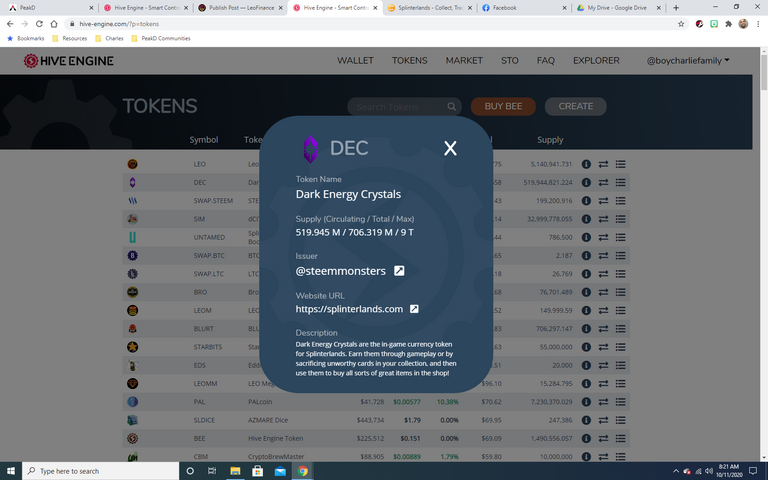 4. DEC - Dark Energy Crystals - Dark Energy Crystals are the in-game currency token for Splinterlands. Earn them through gameplay or by sacrificing unworthy cards in your collection, and then use them to buy all sorts of great items in the shop!
Last: 0.005061 HIVE / $0.00078 24h Vol: 41,595 HIVE / $6,417.28 Bid: 0.005043 HIVE Ask: 0.005049 HIVE
Dark Energy Crystals are the token used by one of the most influential games on the Hive-Engine market. Splinterlands players use Dark Energy Crystals to purchase more cards off the market and power up their existing deck. Dark Energy Crystals are also sought after during the hosted tournaments. A big reason to have Dark Energy Crystals right now is to purchase Azmare Dice as they can only be purchased with Dark Energy Crystals.
Charlie: I have completely slept on my duties the last few weeks to Splinterlands.The daily quest completion allows for more Summoner/Monster cards as well as pockets of Dark Energy Crystals for the players. However, if you enjoy playing card games and just have nothing to do in the background with your players.
5. SPT - Splintertalk Tokens - A token rewarding blogging about Splinterlands on https://splitertalk.io.
Last: 0.0013612 HIVE / $0.00021 24h Vol: 34 HIVE / $5.17 Bid: 0.0013612 HIVE Ask: 0.00167 HIVE
Splintertalk tokens allow for Splinterland players to receive a second income to the already available Dark Energy Crystals. Splintertalk tokens come from creating and curating blogs on the Splintertalk website. The best-supported content on that platform is usually the Weekly Challenges being held by other whales.
Charlie: This is something I should really do more. Blogging about my Top 5 cards in certain splinter or Top 5 battle styles or better yet a top 5 curation report. There are a ton of possibilities that can be combined with the @boycharliefamily guild in the effort to build more Splinterland players. Reward cards can be earned from us if we continue to build up our supply.
Remember this is just my opinion on tokens that I enjoy looking at on the platform. These tokens are giving me an opportunity to show people
---
Thank you for reading!

Make sure to check out more of our @boycharliefamily content through our other associated blogs.
MAIN THREE PROGRAMS
Make sure to check out the BoyCharlieFamily Hive community. Those who post within this community and support the @boycharlieplays posts may receive an upvote from the @boycharliefamily account. I am still currently working on developing the Hive Power for this account so that it is strong enough to curate content by our supporters for great rewards.
Community Entities

center> @klye - Vote KLYE for Witness, Every Single Vote Helps, Thanks for the Support!
Need to get in Contact with KLYE?
Make sure to say hi to my Hive Shoutouts! Drop them a follow, an upvote, and a comment saying @boycharlieplays sent me ;)!
Ways to Connect with BoyCharliePlays! Be sure to follow me on the other social media platforms provided down below.
Posted Using LeoFinance Beta