Splinterlands | Season 49 Challenge Report & Earnings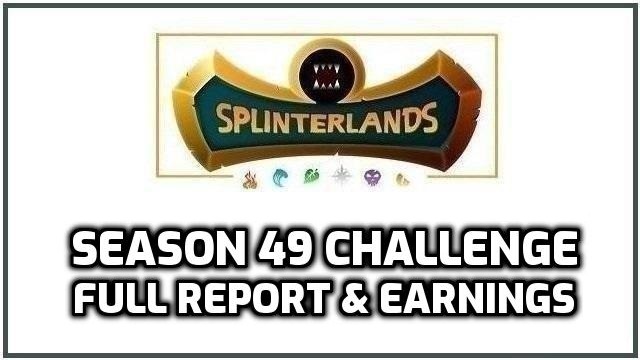 I set myself a challenge last month for Season 49 in Splinterlands in an attempt to get sparks of fun again as the game after playing for 2 years straight became a daily grind. This is how it played out along with a Full Earnings report...
There is a lot to like about Splinterlands...
The community is awesome.
I've made many friends along the way.
It's fun to follow the entire development of the Game.
I love blogging about the Game.
Learning how to play & Collecting cards is fun.
Rewards are Really worth playing the Game.
Unfortunately, there is 1 aspect of the game the ruins most of the experience for me. This is the completely broken extreme pay2win gameplay experience. Once you have a collection that fits your budget (things get exponentially expensive if you aim for the highest ranks) and have a good knowledge of the cards, 9 out of 10 matches pretty much play themselves. Either you play against someone that hasn't got the cards or lower-level cards and you get an easy win handed out to you are you face someone who has more or higher level cards and you stand no chance.
I have tried to get over this with the Challenge (See Post) to play around 30 matches daily at the best of my ability to get as high in the rank as possible without leaving too much capture rate at 100% ending up being the final attempt at this.
After 2 days, I was already back to wanting to get the daily quests to be over with as soon as possible since the gameplay rarely provides real fun or a fair challenge really outplaying your opponent. With my main Account battling for the Gold League Leaderboard, I face a lot of Level 6 summoner opponents (I'm at level 5 myself) with overpowered cards like Yodin Zaku while near the 2nd half of the season when these players moved to Diamond League, the roles are reversed.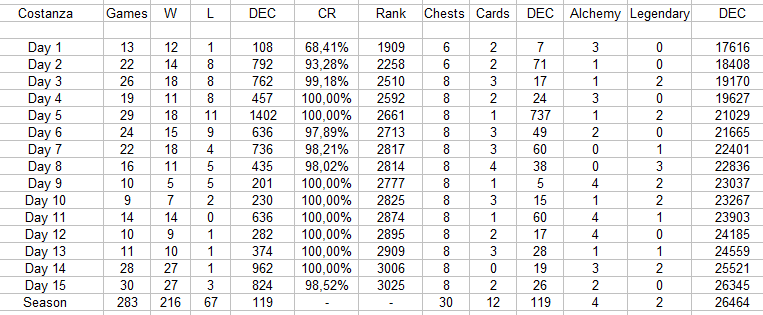 I did play a total of 283 Games in the course of 15 days with a win rate of only 76% (since I played more matches early in the season when I still had more motivation) reaching rank 26 giving 2 Untamed Packs as rewards.
With my Alt Level 3 Account, I just stuck to the Silver League which gives an easy 90%+ win rate allowing me to complete the daily quests in a matter of minutes.

Since I didn't play enough matches to get inside the top 25 in Silver, I moved up to Gold League on the last day to get some extra Loot Chests from the Season Rewards.

---
Full Season Earnings
The rewards the game gives out are still great and the investment in Splinterlands cards has shown to be an excellent hedge against the crypto market crash since the entire economy is holding up really well as my total collection value didn't get a hit. I received a total of 93 Reward Cards, 1661 DEC, & 84 Potions just from Loot Chests earnd by completing the Daily Quests and the Season Rewards along with 3 Untamed Packs. I also earned 10874 DEC combined as rewards for each individual win in the game (on average 24.33 DEC for a won game)
Card ValuesI did not manage to pull any Legendary Cards but did get a valuable Golden Living Lava from one of the packs I got as a reward from the Gold Leaderboard which brought the total earnings just from Cards I received during the 15 day period at 13.335$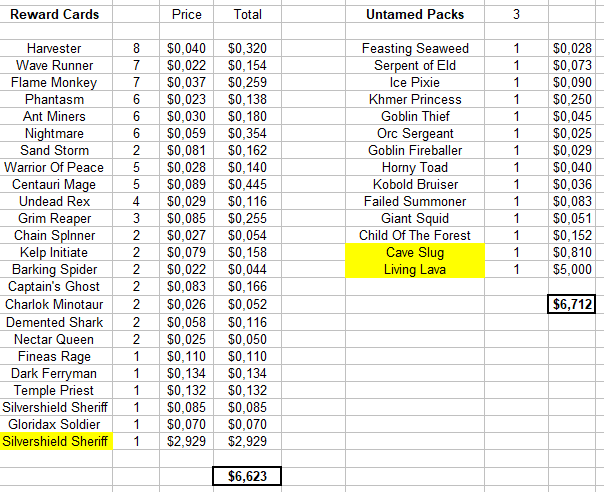 Total Season Earnings
| Loot Chest Reward Cards | 6.623$ |
| --- | --- |
| Untamed Packs | 6.712$ |
| Loot Chest DEC | 1.421$ |
| Winning Games DEC | 9.31$ |
| Total | 24.066$ |
The game provides more ways to earn as in blogging which still is plenty of fun and affiliate earnings which I didn't track this time around.
---
Conclusion
This challenge finally made me come to a point where I'm no longer trying to enjoy the actual card game experience Splinterlands offers. Instead, I will go back to getting the daily quests over with as quickly as possible and maybe at times grind out some extra games late in the season to get inside to top 30 of Gold League. I still very much enjoy the community, following all the development, make blog posts about the game, and so on. After 2 years of collecting and hodling cards, I now also started to slowly take some profit selling some of the duplicate cards I have still keeping my core collection to play with.
---
For more Info Around the Splinterlands Game see...
---
---
Posted Using LeoFinance Beta
---
---