Hello battlers,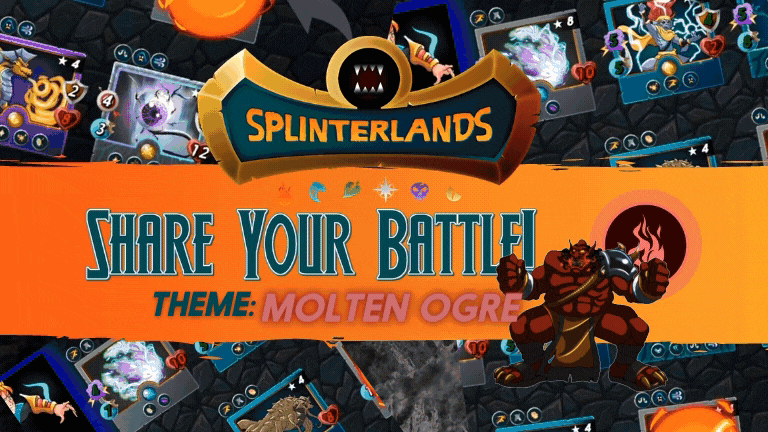 https://peakd.com/splinterlands/@splinterlands/share-your-battle-weekly-challenge-molten-ogre
I hope you are all having a wonderful Thursday and battling it hard on Splinterlands for reaching new level and exploring different battling options in that regard.
Here I am with a blog for this week's Splinterlands weekly challenge of SHARE YOUR BATTLE with featured monster being Molten Ogre.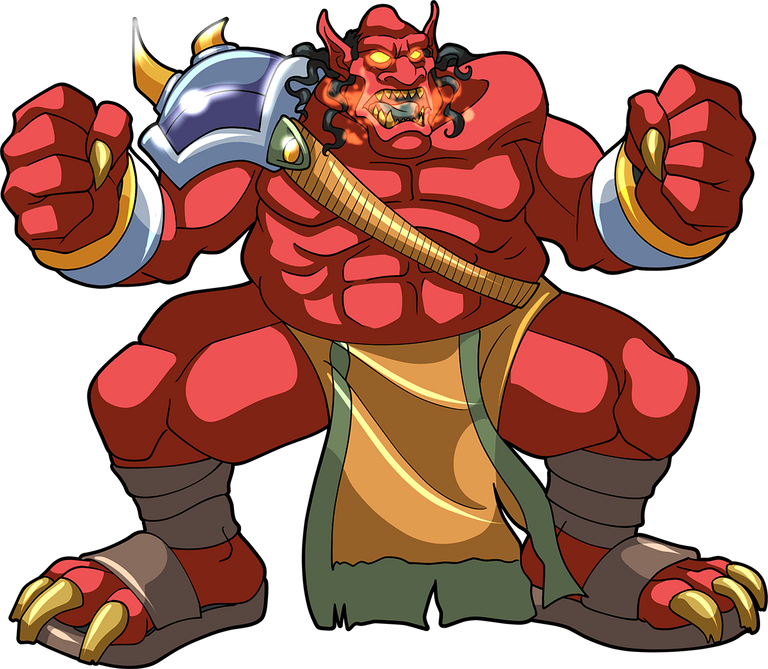 Molten Ogre as we can see from above screenshot, is a giant monster with some nice abilities and this being a melee attack monster, is one of the useful tanks to use as front position.
It gives 4 melee attack and that increases to 5 when it's used with Malric Inferno summoner as that gives +1 melee attack to all it's melee monsters.
Let's see the details of level-wise attack, speed and health along with the abilities this monster has as it's leveled up.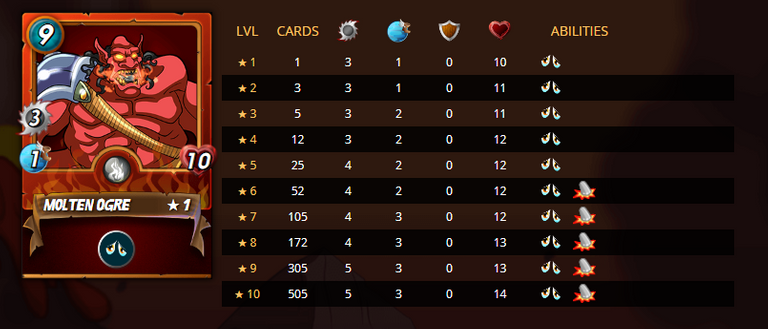 As we see above, this monster starts with 3 melee attack at level 1 which increases to 4 from level 5 onwards and it can attain a maximum of 5 melee attack at level 9 and 10.
The speed for this monster is a bit of a weak point as it starts with single speed, but that picks up to 2 from level 3 itself and further increases to 3 from level 7 and above.
It's health is definitely it's main strength as it starts with a hooping 10 health which keeps increasing as it's leveled up with 11 at level 2 and then 12 from level 4 and to 13 by the time it's leveled up to level 8 and finally, it reaches a health of 14 in final level i.e. level 10.
On the abilities side, this has 2 wonderful abilities in Demoralize from level 1 itself and it gets another nice ability in Trample when it is leveled up to 6.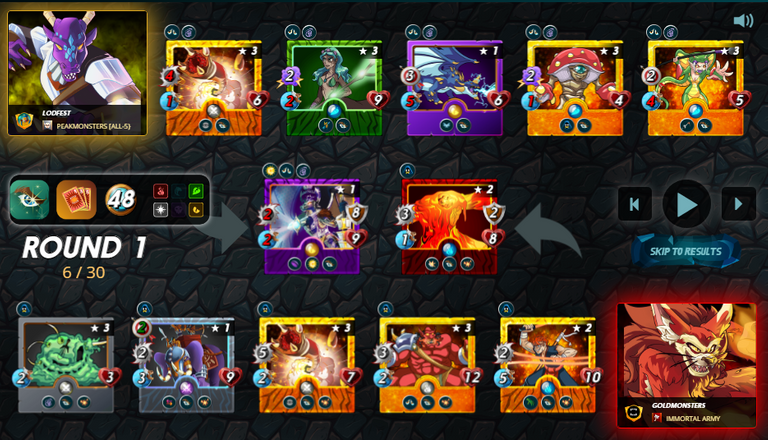 Every battle with combination of every rule set will be different and will have it's own challenges.
The battle I got this time was with 48 Mana cap and involved 2 rule sets with one of those being from the newly introduced rule sets and that was Equal Opportunity with other being Odd Ones Out.
While the Equal Opportunity makes all melee monsters to attack from any position and target monster with lowest health on opposite side, Odd Ones Out, as we know, will allow only odd Mana cost monsters only to be used in the battle.
I used my level 1 Yodin Zaku to summon some nice monsters since Yodin Zaku can induce that blast ability to all the monsters I use and help in getting the victory earlier.
Here is my lineup for this Equal Opportunity battle, I have tried to use monster with maximum health for the given Mana cap.
---
Lineup:
Living Lava: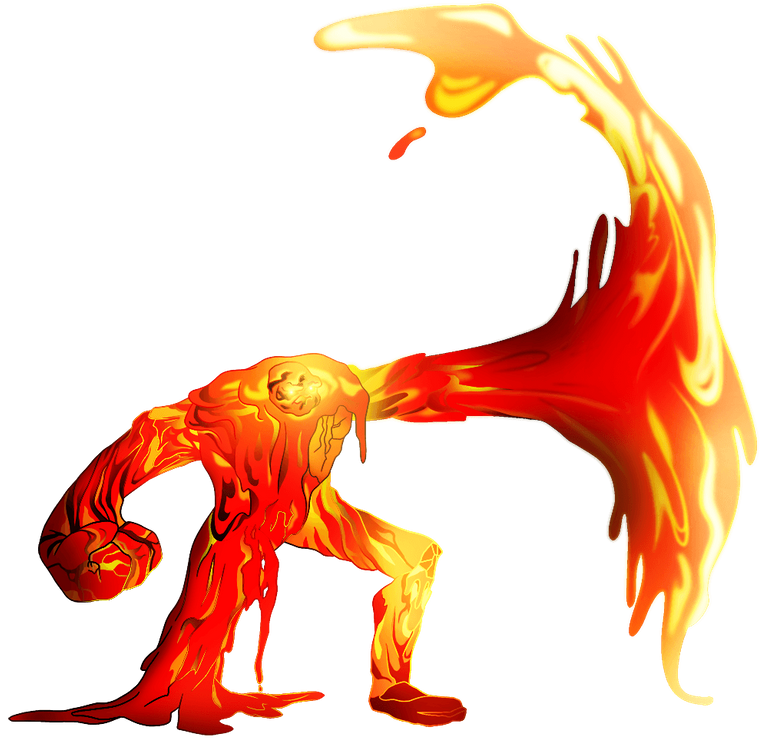 Used this monster with shield ability to have lesser damage from melee and ranged attack monsters and protect the monsters from second line from getting exposure to the attack early.
---
Fineas Rage: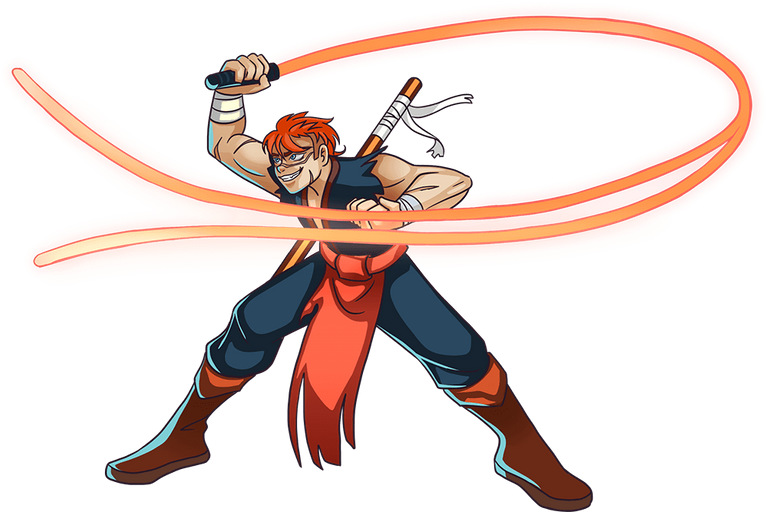 This monster with 2 melee attack has 10 health and should be able to stay alive longer and also help attacking monsters early because of it's speed of 5.
---
Molten Ogre: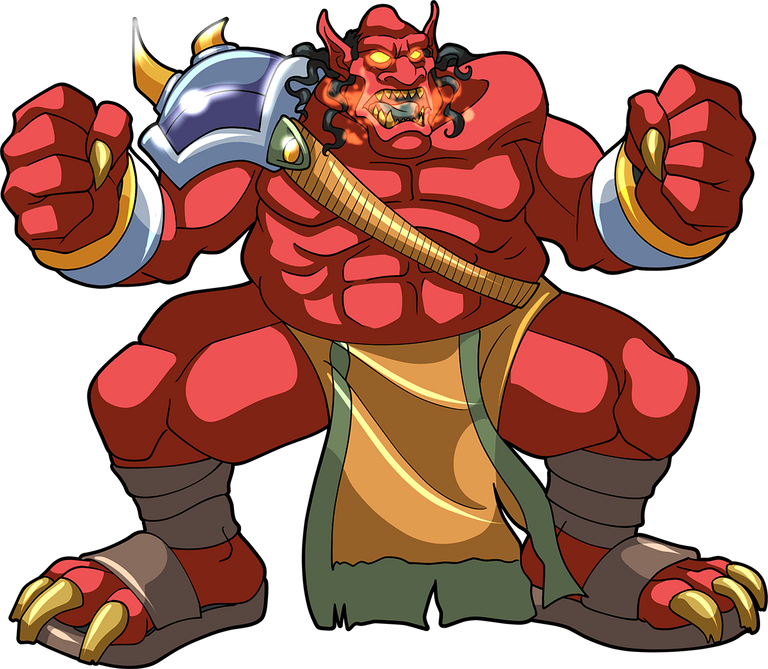 The theme monster Molten Ogre also comes up with demoralize ability to reduce the melee attack from opponent's monsters and not to forget it's 3 melee attack and this is again one of the powerful monsters in terms of health as it has 12 health!!!
---
Sand Worm: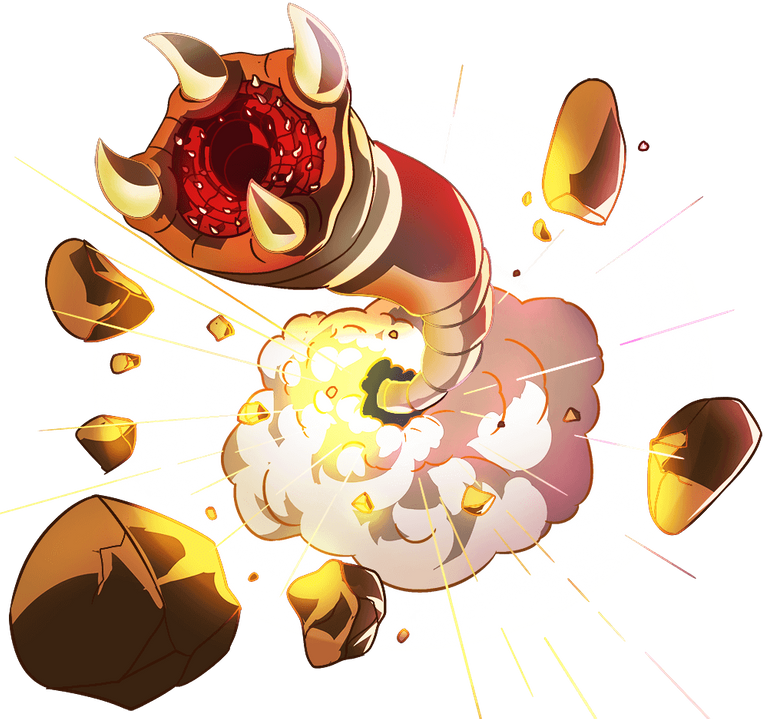 Used this huge melee attack monster with 5 attack to keep the back end monsters in check. This monster somehow, doesn't follow the Equal Opportunity rule set and keeps attacking the back end monsters with sneak ability.
---
War Chaang: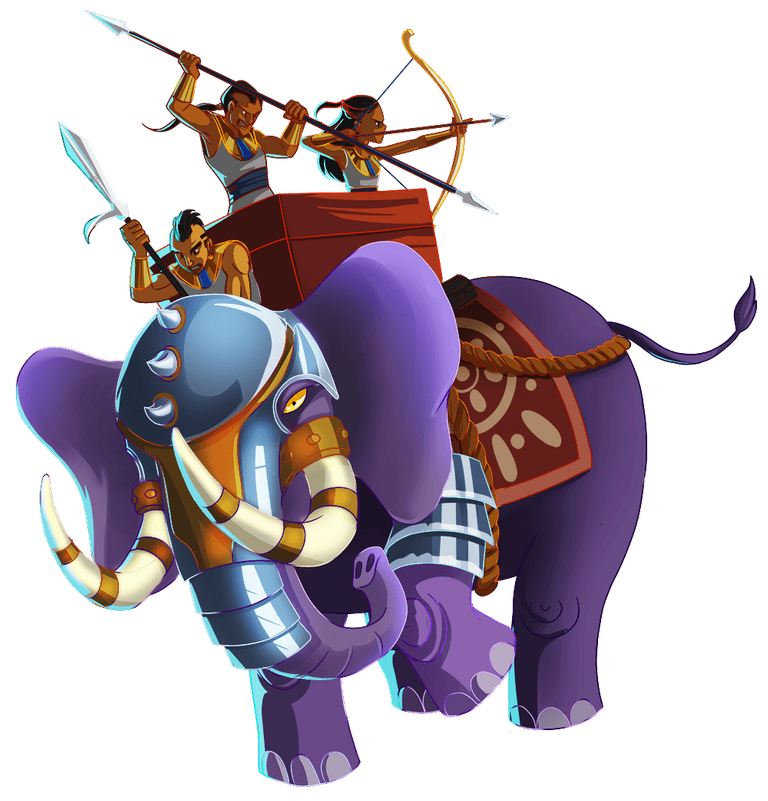 War Chaang being the monster with 2 attack types in melee and ranged, the Equal Opportunity rule set allows both the attack enabled and hence, makes this monster more powerful to have 2+2 attack in each round.
---
Creeping Ooze: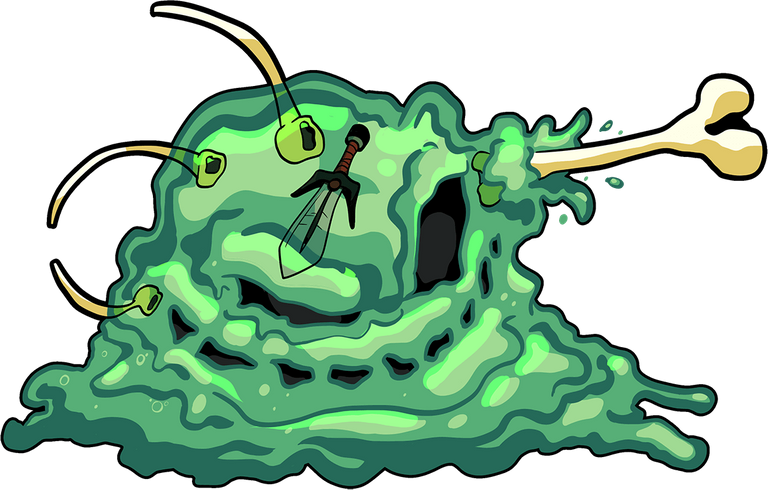 And lastly, I used this monster to utilize the remaining 1 Mana cost and complete the lineup and also slow down opponent's monsters speed because this monster has slow ability.

Battle:
With that lineup, I now take you thru the battle and yeah, let me also give a brief info about opponent's lineup before I go to battle details:
Opponent used a Dragon summoner and his lineup included Robo-Dragon Knight, Sand Worm, Centauri Mage, Lightning Dragon, Mushroom Seer and Javelin Thrower to complete his lineup.
---
Let's go thru battle.....
Round 1:
In total, 3 monsters go removed in this round with opponent losing 2.
Creeping Ooze used by me was the one with lowest health and that was the first to go followed by opponent's Mushroom Seer and Javelin Thrower.
The Equal Opportunity is an interesting rule set and keeps us guessing which monster will be attacked next.
---
Round 2:
It was equal amount of monsters getting removed from both side in this round with me losing Sand Worm and War Chaang and opponent lost his Lightning Dragon and Sand Worm.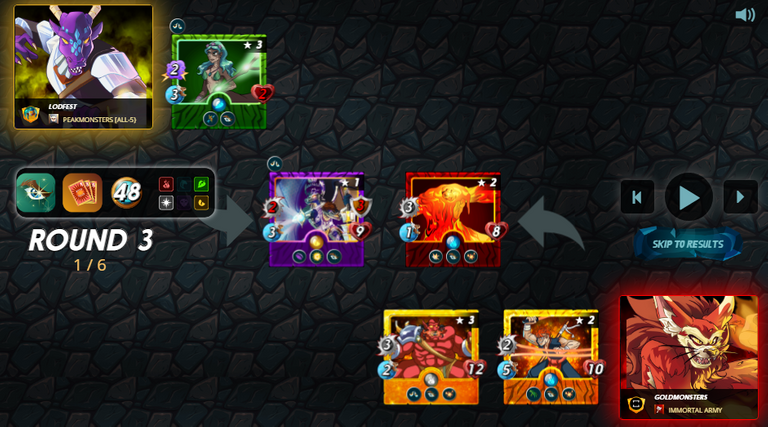 ---
Round 3:
Just one monster in Centauri Mage got removed in this round and that's from opponent's side with 3 monsters intact for me.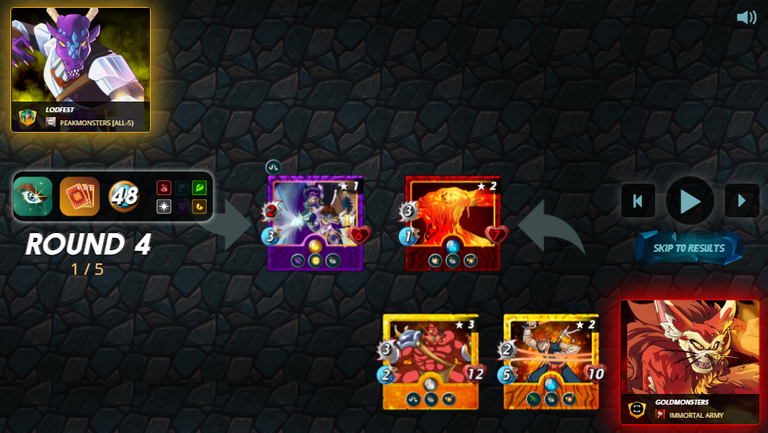 ---
Round 4:
Last man standing for opponent was the Robo-Dragon Knight which couldn't fight much beyond this round and that was a good win considering this was an Equal Opportunity battle.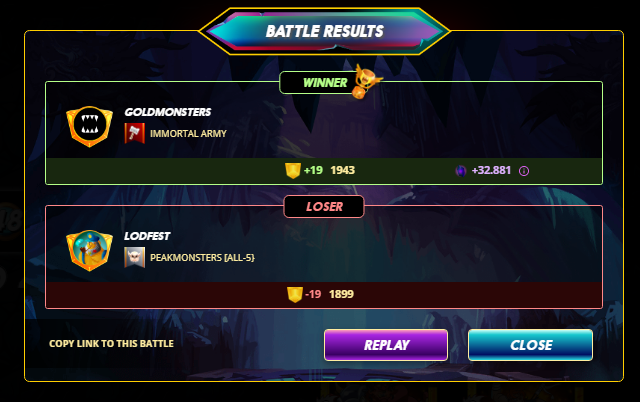 Did your strategy work? What will you try differently next time?
I think it worked quite nicely with Equal Opportunity rule set helping me more with theme monster Molten Ogre reducing the melee attack for opponent, it all helped me to have this rather easy win for me.
Molten Ogre, I feel is a good option for such all attack battles and like The Vigilator, this monster plays a good role in such battles and if I wasn't using Molten Ogre, I could have used Ettin Spearman as that is another good option from Fire Splinter.
---
Do you like the MOLTEN OGRE? Why or why not?
Well, I certainly like this monster for it's attack, for it's health and for it's awesome abilities.

That's all about this battle and Molten Ogre is the monster we feel like using in all the battles if not for it's attack, then for it's ability of demoralize to reduce melee attack from opponent.

New to Splinterlands or yet to Join?
You can join using my referral link: splinterlands.io
Join now and start battling and have fun and also earn rewards in the form of Crypto and even you can trade the monsters cards on market to earn Crypto.


Posted Using LeoFinance Beta