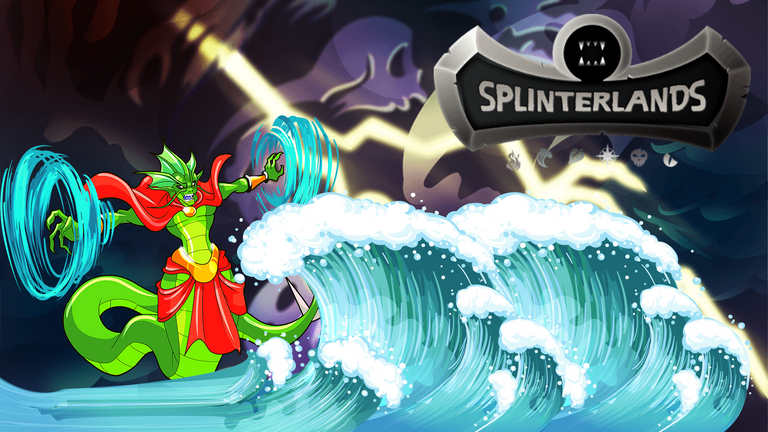 What's up Splinterland Lovers!
I hope you all enjoying Splinterlands!
This is your splinter fellow warrior mango-juice with another Splinterlands Social challenge post!!
---
Friends, here in India, the Summer has come in its full form and it's already 40-43 degrees C. The situation goes unbearable specially at noontime. The pain further increases more as my room is on the top floor and I don't have an AC installed! On the other hand, My leg is getting better day by day but at a slow rate, moreover I also often skip my workouts as its really boring and painful. I have really spent a long time lying in bed but I am really glad that I am lot better now.
Meanwhile, I am spending my lazy and lonely days after crypto hustling. In crypto. for me its mostly about posting and playing splinterlands. In fact, most of my crypto time is devoted after Splinterlands. These are bull days and hive is performing very well on the charts, it's still holding the 0.6$ mark with HBD at 1.74$ so I am very glad about it. Dec is also doing well with respect to the hive price and many betas, alpha summoner card prices actually went to the moon.
Talking about today's social post, I took some time and went into deep thinking of which monster I should talk about today. Then I remember I have upgraded the NAGA WINDMASTER today to max level, so without having a second thought, let the windmaster secure his place in my weekly curation post!
NAGA WINDMASTER is super usable in medium mana water matches specially you know that the opponent will use multiple range monsters. Costing only 4 mana, this new reward water monster has 2 range attack with Headwinds ability which decreases every enemy archer's power by 1. So, If you really want a powerful anti range spell that can slow down the enemy monsters easily, NAGA WINDMASTER can be your true companion!
I always love playing ranked matches with the Water deck with Alric Strombringer as with this splinter, you can choose from a variety of magic monsters.
Moreover, you can choose a vast range of monsters with melee, ranged or even no attack depending upon the match type and total mana limit. Now that I have almost all the untamed and reward water cards and also some alpha/beta edition as well, whenever I see an opportunity for magic monsters, I always select water summoner Alric over any other splinter.
However, Costing only 4 mana, this monster has shown great potential on the battlefield, especially in the range friendly matches. So today, I chose the windmaster to showcase in front of all of you splinter lovers.
Ok so, before moving on, lt use see what s being written in the book of Splinterlore for her.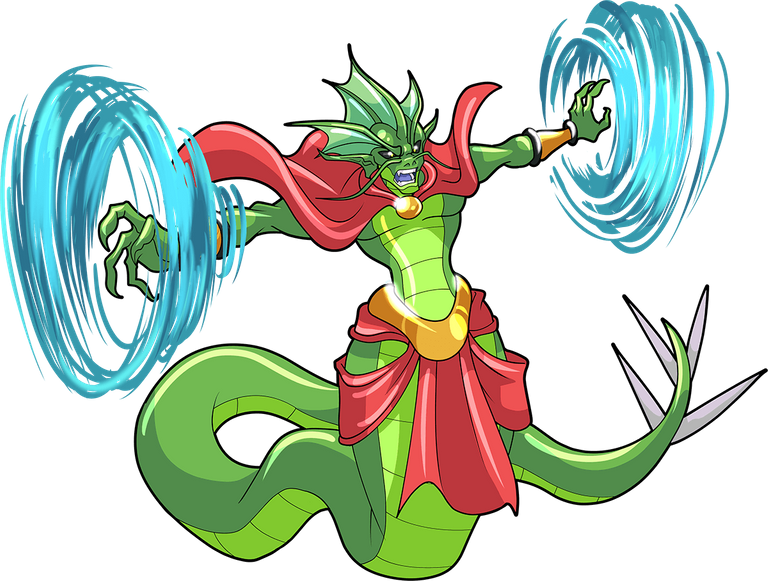 Since they are an amphibious people, Naga of the Water Splinter generally prefer to live under the waves, where life is decidedly easier to control. Still, some of the most rebellious of the gilled have decided to make their homes in the open air. These Wind Naga have taken a special interest in the air itself, which they find easier to manipulate with their magic than the waters below. Some of the Wind Naga have developed strong magical abilities that harness the powers of the wind and air. They are one of the only forces in the Splinterlands that can halt a Dragon in flight. They are known as Naga Windmasters.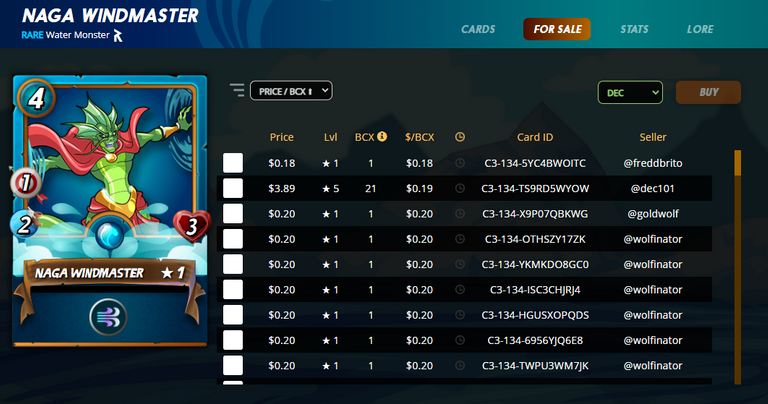 For this reward edition card, Right now there are currently no max windmaster available at the market.
A high level is there at good price, exactly 3.89$ for a level 5 (21 bcx, costing 0.19$ per bcx) costing a total of 4,261.613 DEC.
The single ones are available starting at 0.18$ and will cost you 197.195 DEC as per the current rate.

What NAGA WINDMASTER is actually capable of?
---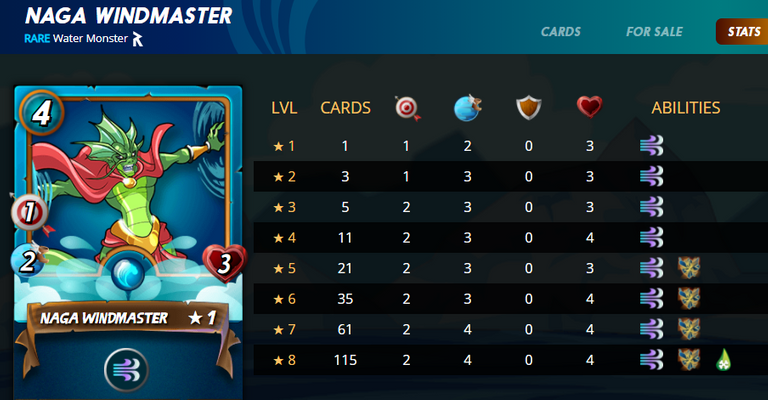 Let's have a look into his stats and find out!
Level 1 - In its initial level, it carries 1 range attack with 3 health and 2 speed. It brings headwinds ability at the initial level with it.
Level 3 - At level 3, it carries 2 range attack at 3 speed and 3 health.
Level 6 - At the 6th level, It possesses 2 range attack with 4 health at 3 speed. It also gets Shatter ability at level 5.
Level 10 - At the maximum level, It possesses 2 range attack with 4 health at 4 speed.
So, what do you think guys? Is it a fantastic choice to defend rangers or just a common reward monster? Let's now see about his ability.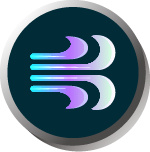 Headwinds
Monsters with Headwinds ability will decrease the range power of every enemy by 1.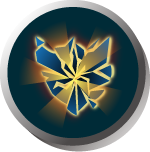 Shatter
Monsters with Shatter ability will break any enemy armour it hits.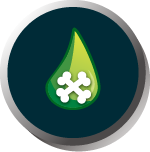 Poison
Monsters with Poison ability has 50% chance of applying poison to the enemy monsters causing it lose 2 health every round.
Match line up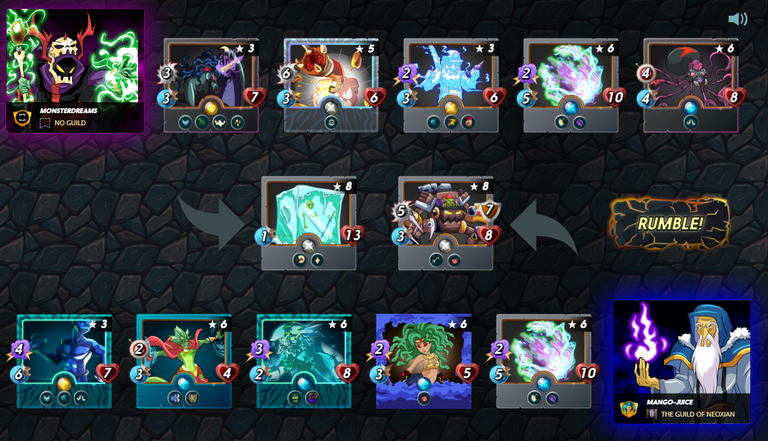 Ruleset Of Battle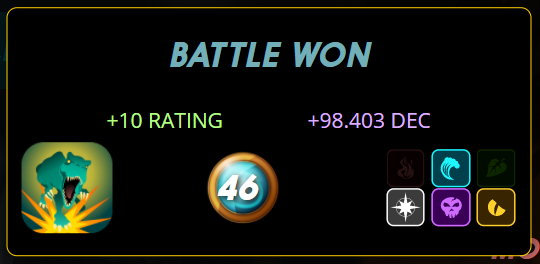 Mana count This match holds a high 46 mana cap!

Summoners This battle supports Water, Life, Death and Dragon summoners.
Ruleset So, It was a single ruleset as below...
Stampede The trample ability can trigger multiple times if the monster kills the enemies with one blow back to back.
Well, It's a large mana match this time and I am thinking to go for the Water summoner Alric Stormbringer. Because it's a Stampede ruleset match, this ruleset is favoring monsters with trample ability. Sadly, I dont have the Frost Giant so I will be using more magic monsters this time with a big front defence to cope with things up!

Line-Up
---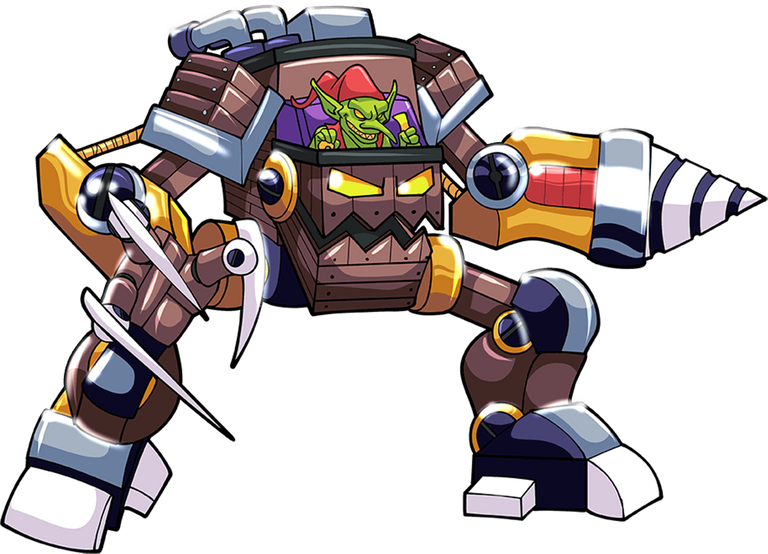 GOBLIN MECH
I chose GOBLIN MECH in the first place because of its high health + shield combo with piercing and stun ability. I have a level 8 and it has 5 melee attack at 3 speed, 7 armour and 8 health.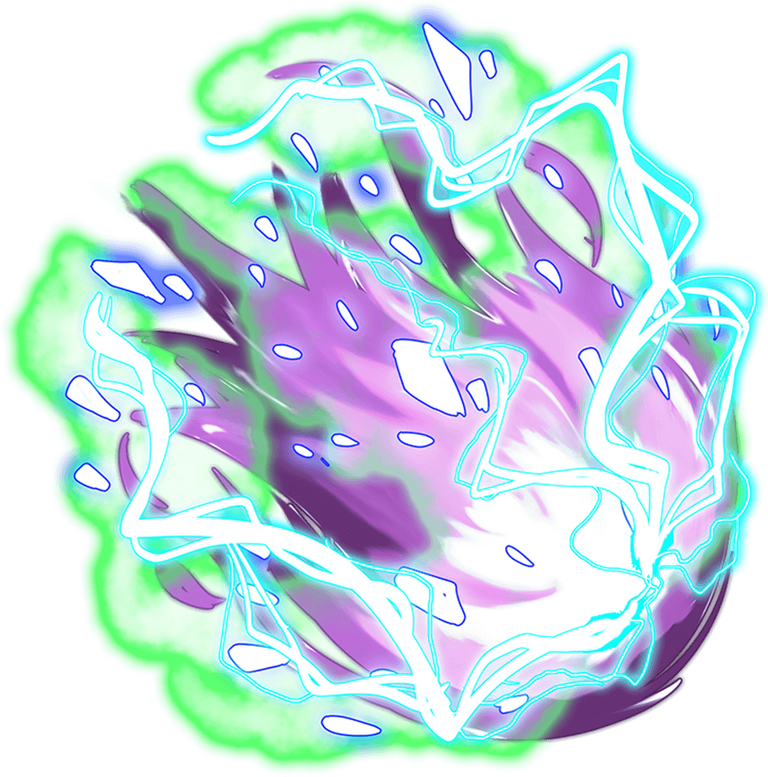 PRISMATIC ENERGY
I chose PRISMATIC ENERGY in the second place because of its high health and reflect + void ability. I have a level 6 and it has 2 magic attacks at 5 speed and 10 health.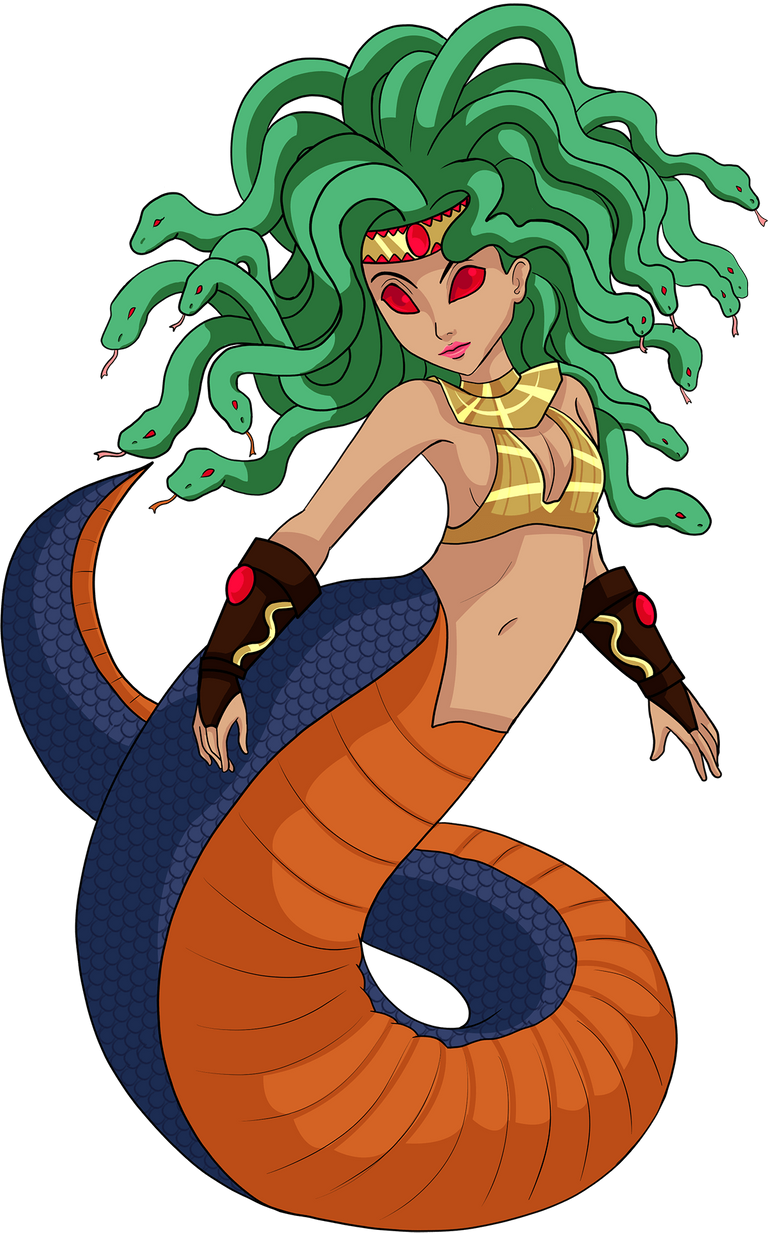 MEDUSA
I chose the MEDUSA in the third place because of its 4 mana cost and high magic attack with stun ability. I have a level 8 and it has 3 magic attack at 3 speed and 6 health. This is Mainly to give our enemies a little bit of stun in meantime.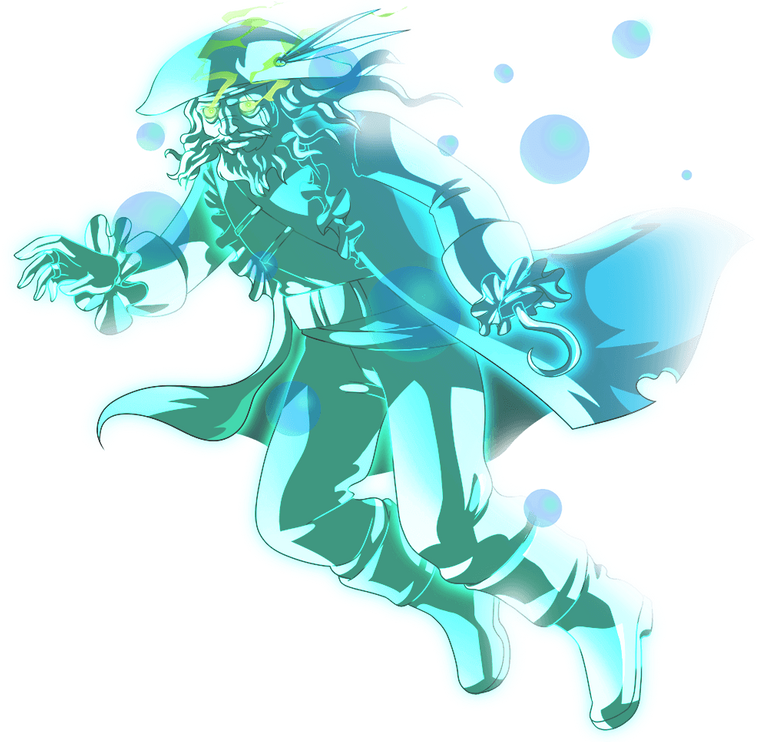 CAPTAIN'S GHOST
I chose the CAPTAIN'S GHOST in the fourth place because of its high magic attack with oppress ability. I have a level 6 and it has 3 magic attack at 2 speed and 8 health. This is Mainly to give our enemies a little bit of oppress in meantime.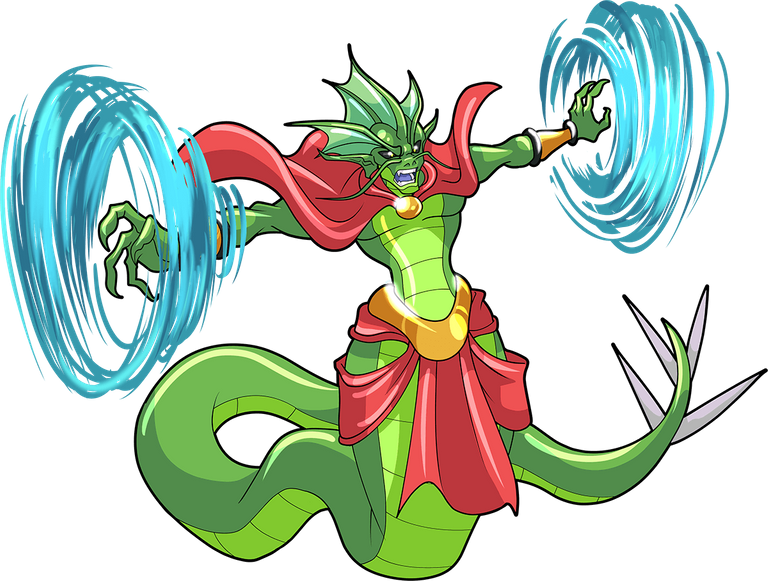 NAGA WINDMASTER
I chose NAGA WINDMASTER in the fifth place because of its decent range attack with headwinds, Shatter and poison ability. I have a level 6 and it has 2 range attack at 3 speed and 4 health.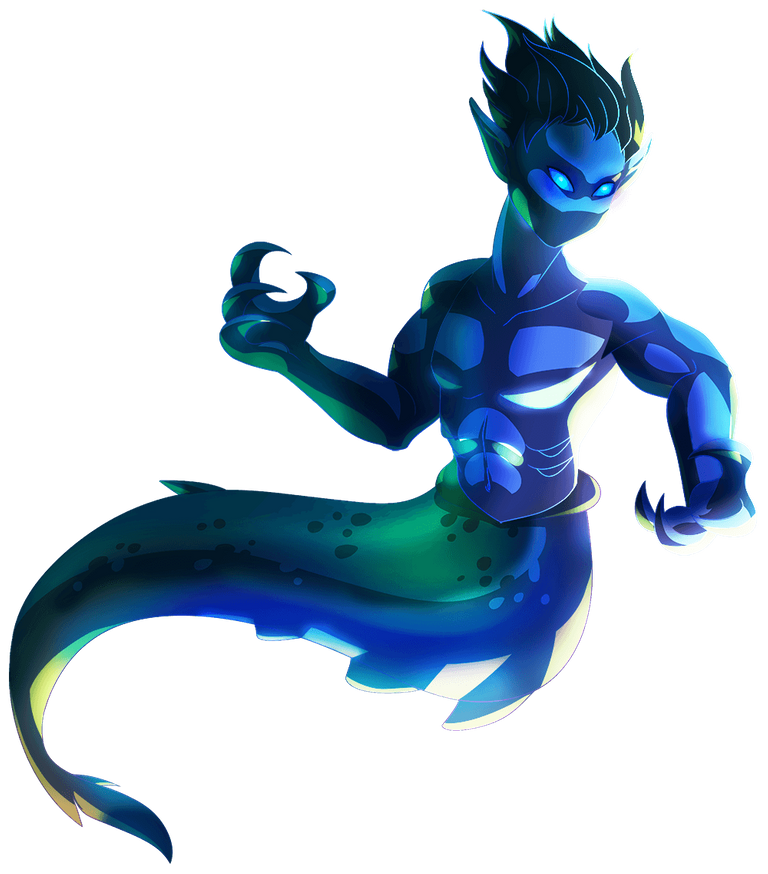 PHANTOM OF THE ABYSS
I chose PHANTOM OF THE ABYSS in the last place because of its high speed magic attack with flying, demoralize and dodge ability. I have a level 3 and it has 4 magic attacks at 6 speed and 7 health. It has flying and dodge abilities which makes it a hard target for enemies.
Battle Result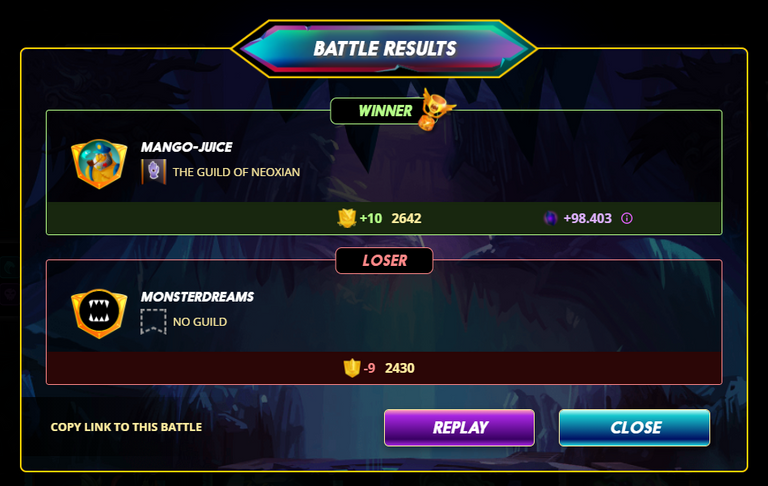 Let us now take a leap of faith straight into the gameplay.
Well, it was an awesome large mana match and friends, the match was full of high level monsters as my opponent used a high level Zintar Mortalis Death Summoner against me! My opponent was having some big level death and neutral cards and his line up was just great! Let's look down to the match!
Gameplay

You can directly view the battle. Just click the hyperlink below.
---
First, let us follow the opponent's line-up...
My opponent @monsterdreams used Death summoner Zintar Mortalis against me.
At the front position, he used the cube Level 8. He definitely chose a undying beast as tanker due to the stampede ruleset to his front and I just hope I get able to kill this iconic beast with my warriors.
At the second position, he puts the Corrupted Pegasus lev 3.
At the third he used Sand Worm lev 5.
At the fourth position, he puts Spirit Miner level 3.
At the fifth position, he puts Prismatic Energy lev 6.
At the sixth position, he puts The Octopider level 6.
As you can see from the battle, the opponent's line up was mostly focused to attack on my first position. Apart from the Sand Worm, all the rest 4 attackers were attacking upon my Goblin mech, among them 2 were magic attacks and 1 melee and 1 range attack.
At this case, I have chosen a good front defense because it really stood up for quite some time while my other monsters were attacking and killing the enemies. I did a good move by choosing the Captain's Ghost as it killed the cube so easily with it's oppress ability. The opponent only used 1 range card but that too got weakened by my naga windmaster.
My opponent @monsterdreams really played great! I face her often on the battlefield and her line ups are great as always! If you are reading this, please give him a shout out. I hope you have enjoyed reading my post. Please let me know your feelings by leaving a comment below.
---
Last but not least, I really wanna say thanks to @aggroed @yabapmatt and the entire @splinterlands team for their fantastic and tireless effort on this game. You guys really rock!!
---
Haven't joined this awesome game yet?? now is the time dude! Follow the link below and get yourself in the amazing world of Splinterlands.
---
All the images in this post are screenshots taken from the site below:
Cover picture is made with - http://canva.com
#POSH - You can check my Twitter handle at the comment section of this post.

Monster Market
Do you want some sweet cashback while buying Splinterlands packs and cards? Visit Monster market now! Being Run by @zaku and @reazuliqbal, It is an awesome alternative site for the Splinterlands market which gives instant cashback on the card and packs purchases. Feel free to contact their Discord for any query.




Posted Using LeoFinance Beta