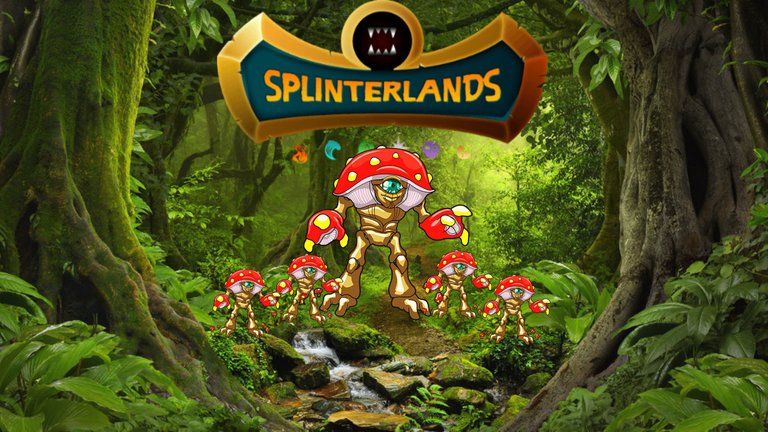 Hola Splinterland Players!
I hope you all enjoying Splinterlands!!
This is your splinter fellow warrior mango-juice with another awesome Splinterlands Battle challenge post!!
---
Our state is currently experiencing a lot of temperature lately because both the summer and vote come at the same time. 3 days ago, I managed myself to go out and give my vote at the nearest polling booth. Summer
The Brawl playing is going on very well in our Neoxian guild. We have already collected 43 CROWNS from brawl and counting. After leaving last 2 brawls I am again joined the brawls with my A-team and chose the silver all cards fray. I got total 7 battle in this particular brawl and only submitted 1 so far. Well, we have 24 hours for that right!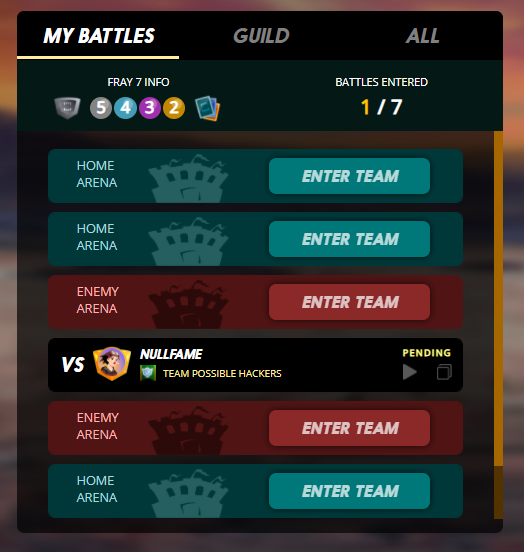 In the first brawl fight, we secured the first place and we also did very well in the second and third one. This is the fourth one and we are all trying our level best to collect 150 Crowns as soon as possible so that we can upgrade our arena.
---
Now talking about the battle post, last week, the battle monster was MUSHROOM SEER! Sorry I am running late as usual so Let us straight look into this wild 5 mana reward card from the the Earth realm!
The MUSHROOM SEER is an old card of splinterlands. This magic card belongs to the Earth section and it comes with gold edition also as well. This must have monster is one of the most important cards in Earth realm because of his high magic attacks and poison and silent ability! A 5 mana cost monster packed with both Silence and Posion abilities at max level becomes very dependable in ground defending situations, especially when you are having some magic monsters as your opponent.
MUSHROOM SEER is super usable in varieties of matches, especially in medium mana magic friendly matches. If you want something defensive against those magic monsters that goes straight for the health avoiding the armour, or you can happily use some poison over opponents, well, then the MUSHROOM SEER can be your best friend!
To be honest, I had a level 7 MUSHROOM SEER for a very long time but recently as I was started fighting for the top positions, I started to max my cards and the MUSHROOM SEER was the first of them. I have mainly started building the untamed deck and I am still missing some important cards, and only have Zaku as my lone legendary summoner, but after just spending a few bucks if you are getting some max reward monsters then why not? So, today I will be sharing the battle from my main account mango-juice because I have recently made a fabulous deck of earth with thew help of new reward and untamed max monsters..
Ok so, before moving on, lt use see what s being written in the book of Splinterlore for him.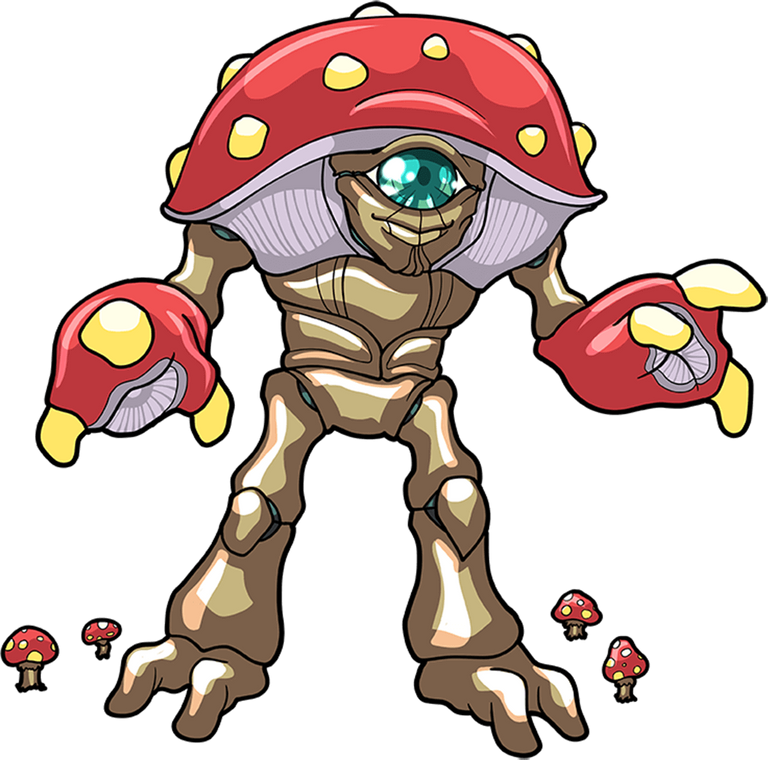 The hidden Mushroom Forest at the heart of the Centauri Wood has produced many curiosities in the past, including medicines with strange and otherworldly effects. Recently, fully grown Mushroom People have emerged from this forest. These Mushroom People spread maddening spores everywhere they go.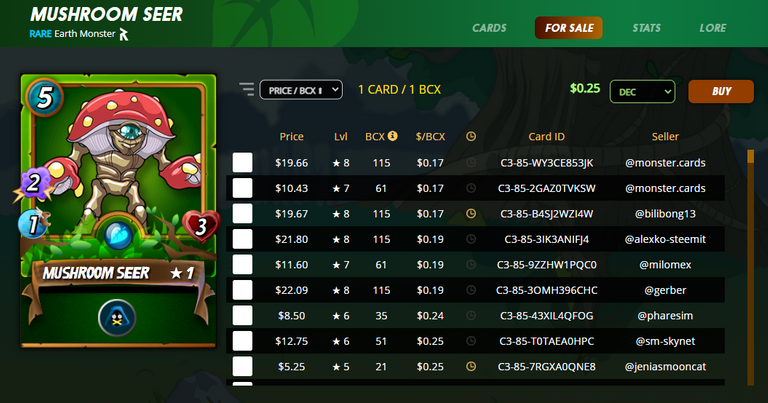 For this card in beta edition, Right now there is currently only a handful of max MUSHROOM Seers available at the market at 19.66$ ( 0.17$/bcx, 21,183.885 DEC total). However, there are also some high-level monsters available at slightly higher prices and The single ones are available starting at 0.25$ and will cost you 273.618 DEC as per the current rate.

What MUSHROOM SEER is actually capable of?
---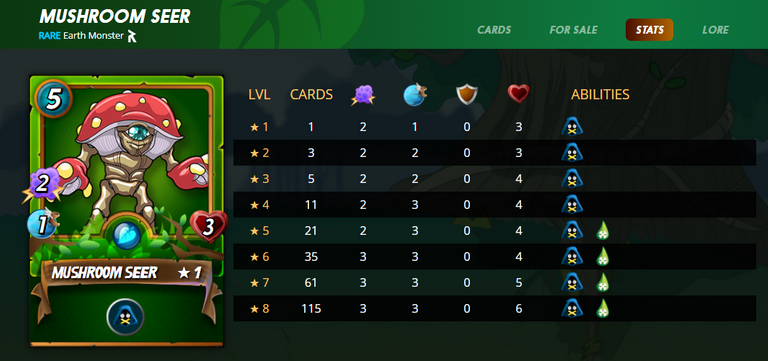 Let's have a look into his stats and find out!
Level 1 - In its initial level, it carries 2 magic attack with 3 health and 1 speed. It also brings Silence ability at the initial level with it.
Level 3 - At level 3, it carries 1 magic attack, 2 speed and 4 health.
Level 5 - At the 5th level, It possesses 3 magic attack with 4 health at 3 speed. It also gets the poison ability from level 5.
Level 10 - At the maximum level, It possesses 3 magic attack with 6 health at 3 speed.
So, what do you think? It is a fair choice only at 5 mana to level up the overall magic defense by a bit, isn't it? Let me know in the comments below!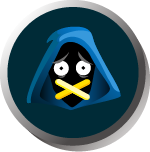 Silence
enemy magic monsters with 2 or more magic attack get -1 magic.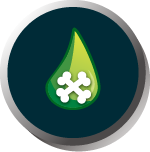 Silence
enemy magic monsters with 2 or more magic attack get -1 magic.
Match line up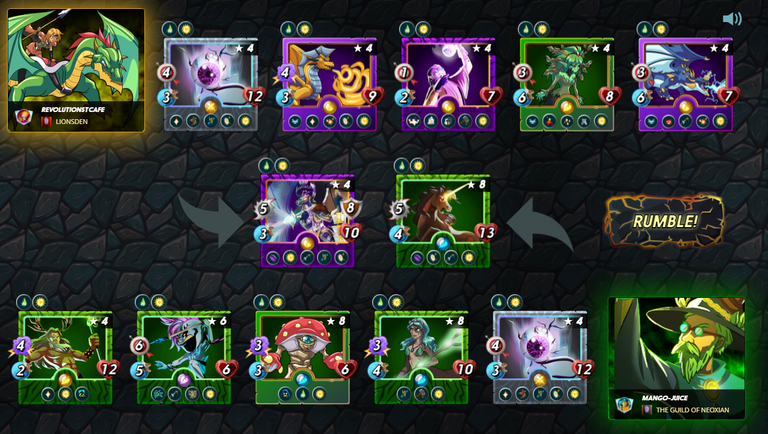 Ruleset Of Battle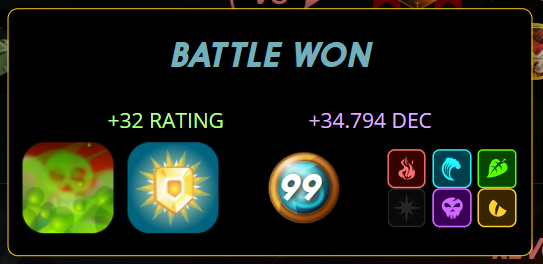 Mana count This match holds a large 99 mana cap!

Summoners This battle supports Fire, Water, Earth, Death and Dragon summoners.
Ruleset So, It was a double rule set as below...
Noxius Fumes All monsters at the start of this battle get poisoned.

Holy Protection All monsters at the start of this battle gets Divine Shield ability.
It's a typical very high mana match this time my friends and I am thinking to go for the Earth summoner Wizard of Eastwood, thou there is plenty of mana to spend in this match but sadly I dont own any legendary Earth summoner atm.
Since the ruleset is very Noxius Fumes, this time I go away and use some giant sized monsters to attack concentratedly at the front side of enemy line up.

Line-Up
---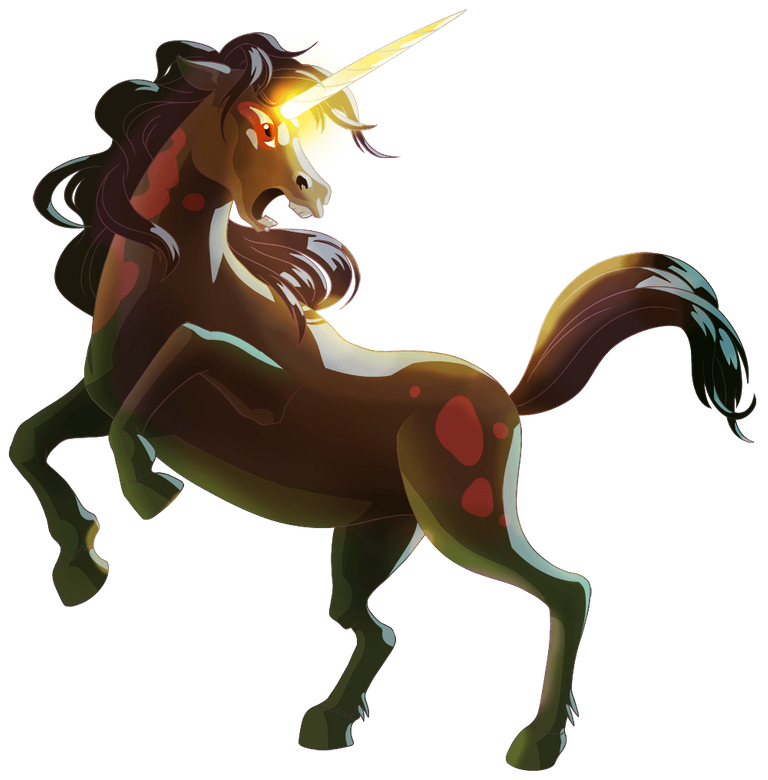 UNICORN MUSTANG
I chose UNICORN MUSTANG in the first place because of its high health + melee attack with void + Reflect + Piercing ability. I have a level 8 and it has 5 melee attack at 4 speed and 13 health.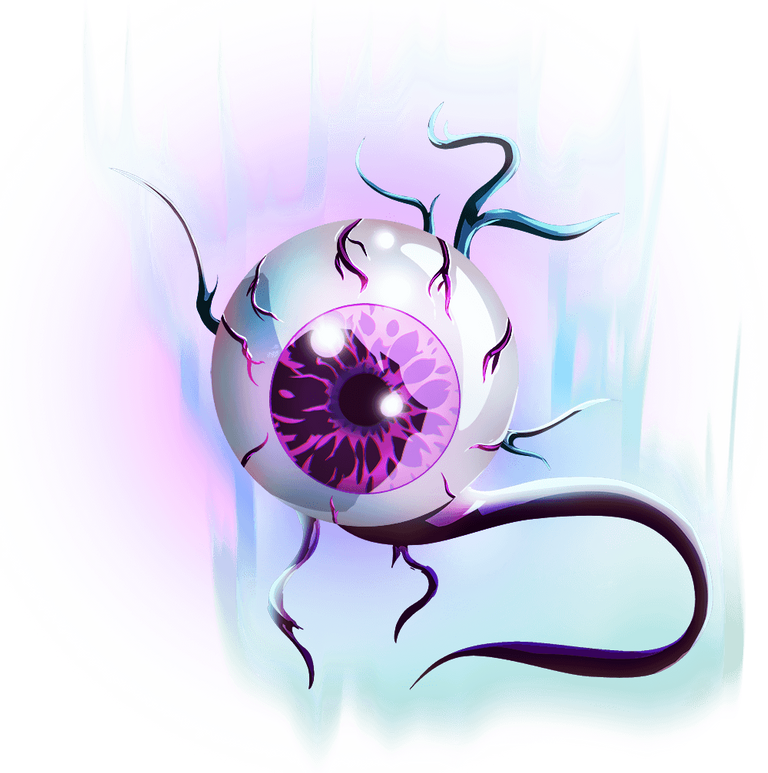 CORNEALUS
I chose CORNEALUS in the second place because of its high health with heal + Thorns + Return Fire + Reflection ability. I have a level 4 and it has 4 range attack at 3 speed and 12 health. This is Mainly to give my front a big defense from the enemy damages.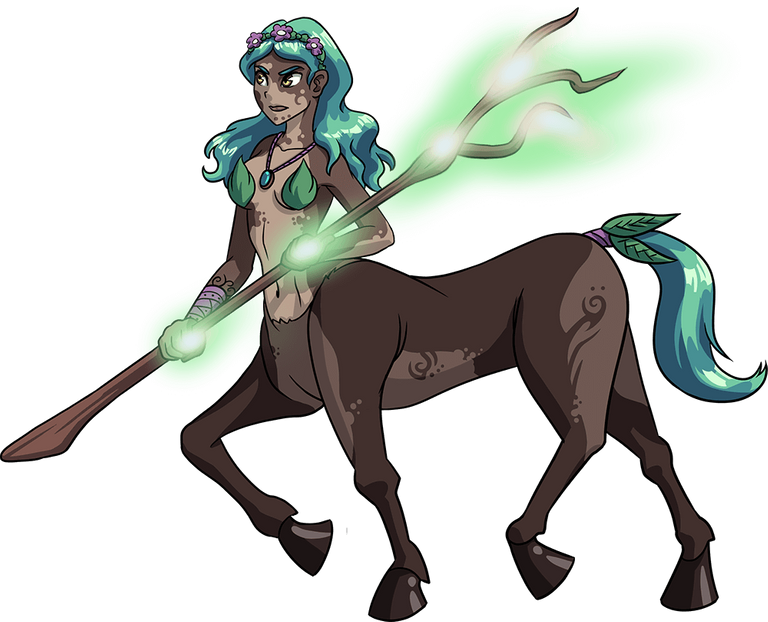 CENTAURI MAGE
I chose CENTAURI MAGE in the third place because of its high magic attack and Return Fire + Repair. I have a level 8 and it has 3 magic attack at 4 speed and 10 health.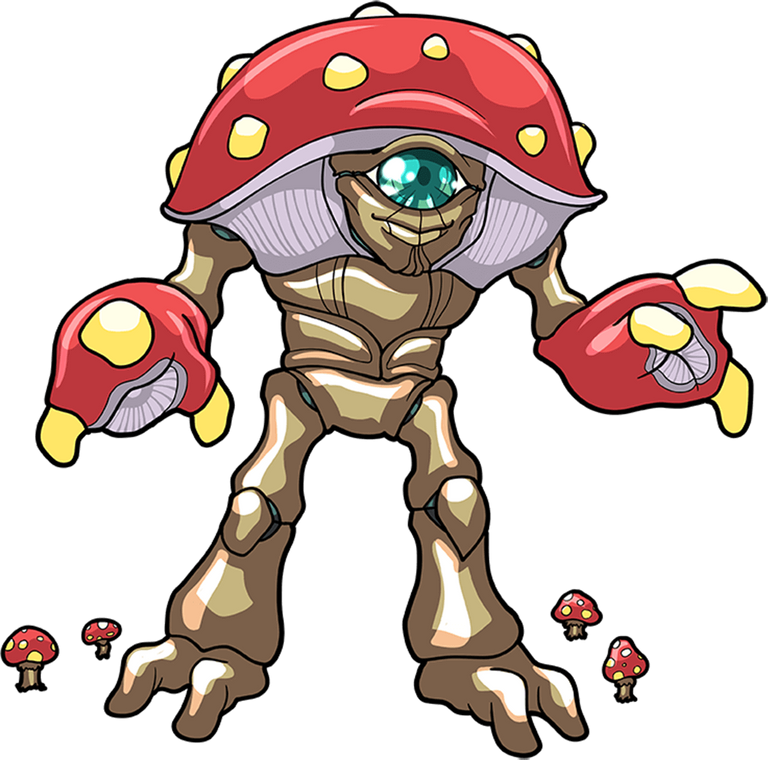 MUSHROOM SEER
I chose MUSHROOM SEER in the fourth place because of its high magic attack with Silence + Poison ability. I have a level 8 currently and it has 3 magic attack at 3 speed and 6 health.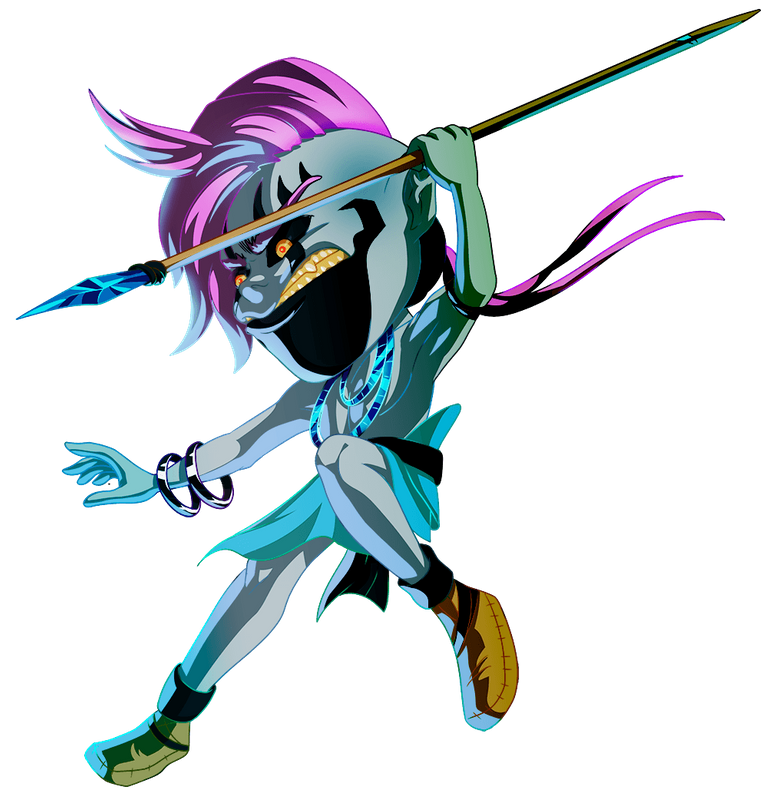 MITICA HEADHUNTER
I chose MITICA HEADHUNTER in the fifth place because of its high range attack alongwith Snare and Piercing at 8 mana cost. I have a level 6 and it has 6 range attack at 5 speed and 6 health.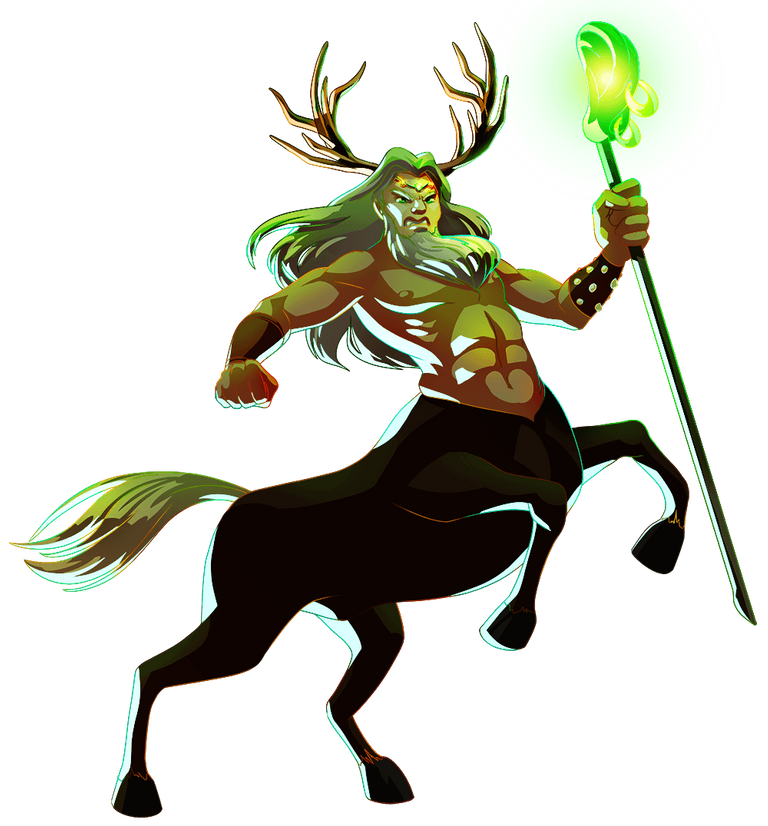 KRON THE UNDYING
I chose KRON THE UNDYING in the last place because of its magic attack attack with Heal, Divine Shield and Last Stand ability. I have a level 4 currently and it has 4 magic attack at 2 speed and 12 health.
Battle Result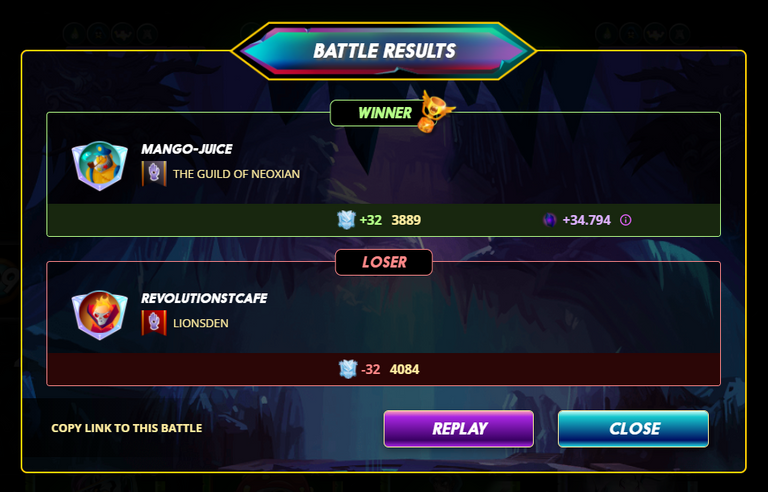 Let us now take a dive into the gameplay.
Well, as it was a large mana match, I went with all the big monsters this time attacking focused on the first enemy card, how is that for a strategy my friends! My opponent was having a max level gold dragon, Cornelus, Spirit of the fire and some other high-level cards and his line up was great too! Let's look down to the match!
Gameplay

You can directly view the battle. Just click the hyperlink below.
---
First, let us follow the opponent's line-up...
My opponent @revolutionstcafe used legendary Earth summoner Prince Rennyn against me.
At the front position, he used Robo-Dragon Knight level 4.
At the second position, he puts Cornelus lev 4.
At the third he used Gold Dragon level 4.
At the fourth position, he puts Scale Doctor level 4.
At the fifth position, he puts Spirit of the Forest level 4.
At the last position, he puts Lightning Dragon level 4.
As you can see from the battle link above, the opponent's line up was defensive with 3 self healing monsters and hard to knock down from the front end, especially with that high level robo knight at the front followed by the Cornealus at reach position. He also got spirit of forest as sniper monster at the back supporting the front defence by healing it. He went full-on attack stance upon me at my front and sniping position. He would think that I will be big magic monsters but this time I believed in the all of them ones mostly!
My opponent @revolutionstcafe really played great! I face him often on the battlefield and his line ups are great as always! If you are reading this, please give him a shout out ;)
I hope you have enjoyed reading my post. Please let me know your feelings by leaving a comment below.
---
Last but not least, I really wanna say thanks to the entire @splinterlands team for their fantastic and tireless effort on this game. You guys really rock!
---
Haven't joined this awesome game yet?? now is the time dude! Follow the link below and get yourself in the amazing world of Splinterlands.
---
All the images in this post are screenshots taken from the site below:
Cover picture is made with - http://canva.com
#POSH - You can check my Twitter handle at the comment section of this post.

Monster Market
Do you want some sweet cashback while buying Splinterlands packs and cards? Visit Monster market now! Being Run by @zaku and @reazuliqbal, It is an awesome alternative site for the Splinterlands market which gives instant cashback on the card and packs purchases. Feel free to contact their Discord for any query.



Posted Using LeoFinance Beta