Another investment in Cub Finace / Kolejna inwestycja w Cub Finance [EN/PL]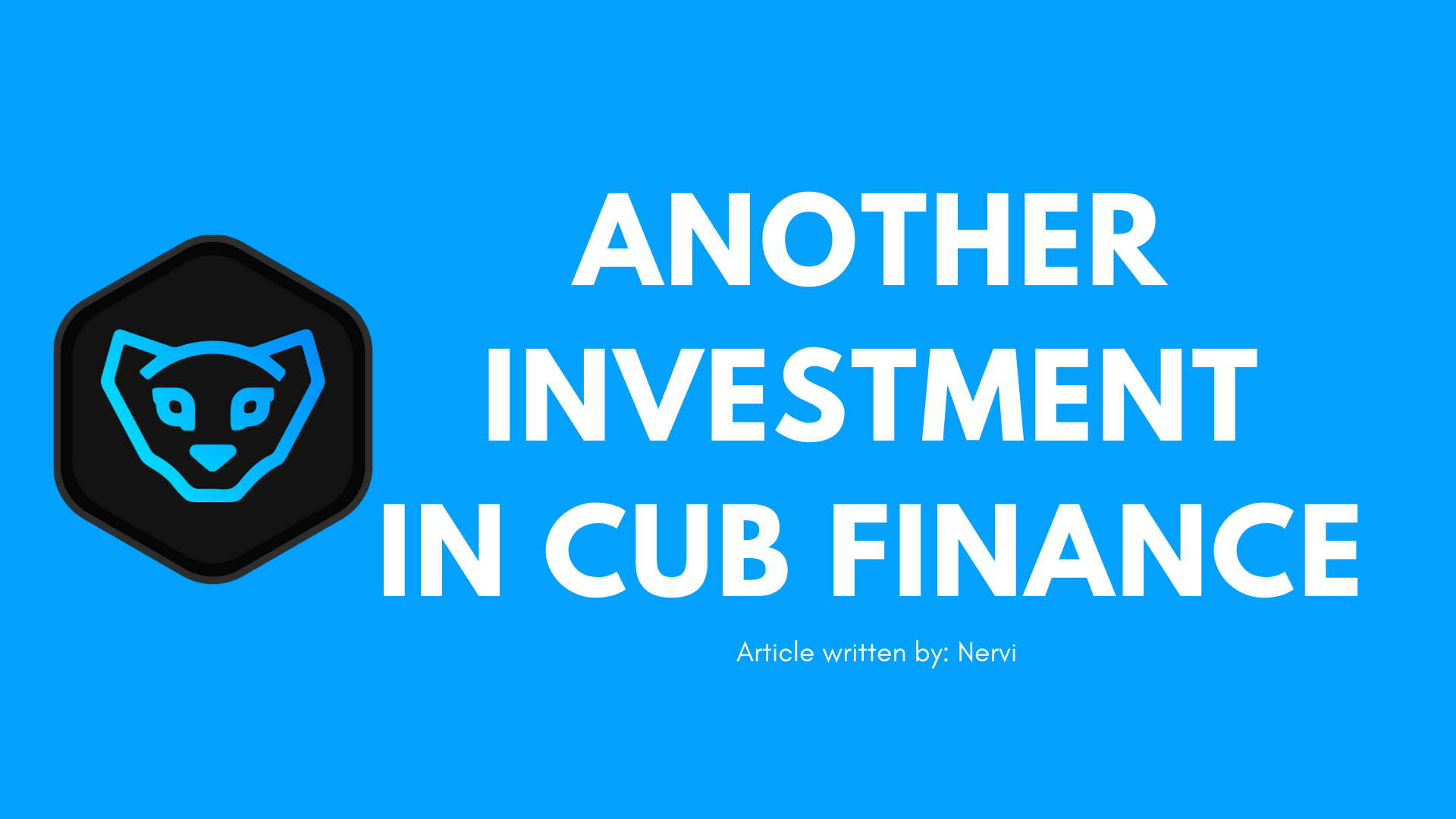 Fascinated by DeFi, I continue to look for more opportunities to acquire more cryptocurrencies for my diversified portfolio. This is my third investment on the Cub Finance platform. Today, for the second time, I invested in CUB Den.
I withdrew almost 600 BUSD from the Binance exchange, which I managed to earn by selling CAKE tokens. One of my better exchanges on the stock by the way. I then went to the BUSD-CUB exchange and signed the transaction.

The exchange is virtually 1:1, about 0.14% difference in price, which is what I value AMM for. Now it was time to add the newly acquired tokens to the CUB Den pool. Earlier I already had a little over 70 CUB and still a few CUB in my wallet. In the end it came out 232.981 CUB. Taking into account the current interest rate I should receive a little over 1 CUB per day. The plan is to reinvest the CUB every week in order to maximise the interest and not lose so much on transaction fees.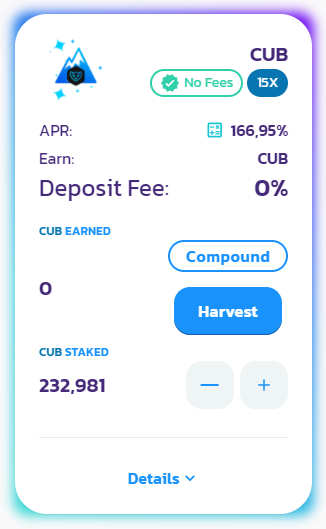 Below is a summary of all my invested funds on the Cub Finance website. The Pool consisting of DEC-BUSD, which I also mentioned once, also has its share. Cool, @splinterlands has found its share of DeFi projects.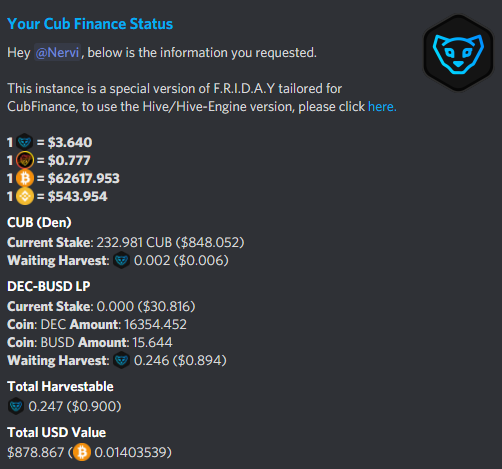 It will be nice to see increases in my account in some time. I really like the idea of investing in different projects and protocols based on cryptocurrencies. It is better than melting money in the bank. But above all, think for yourself because I am not an oracle and the money is yours and this is not investment advice!
Thank you, see you next time, Nervi.
---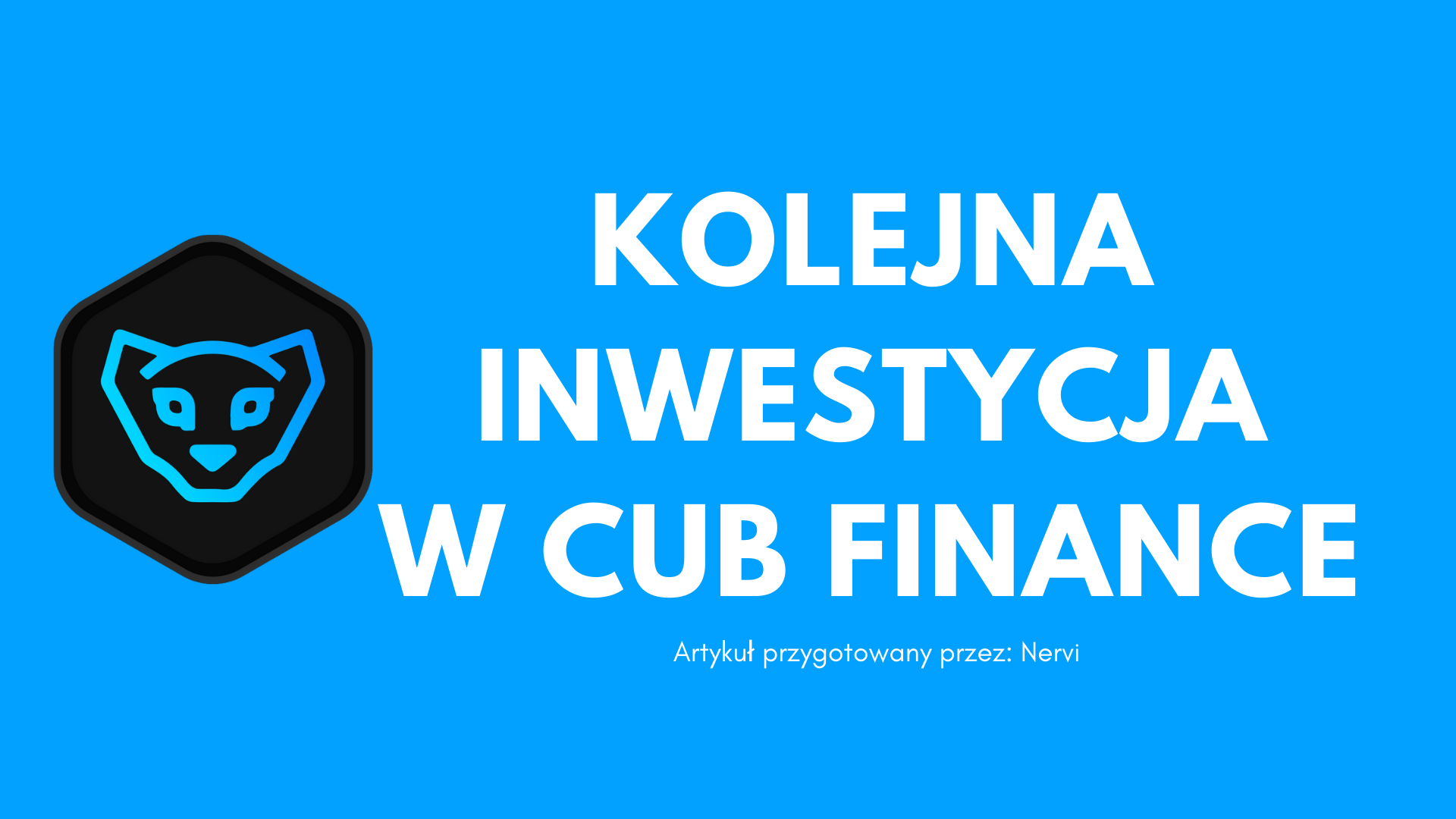 Zafascynowany DeFi dalej szukam kolejnych okazji do zdobycia kolejnych kryptowalut do mojego zdywersyfikowanego portfela. Jest to już moja trzecia inwestycja na platformie Cub Finance. Tym razem, po raz drugi, zainwestowałem w CUB Den.
Z giełdy Binance wypłaciłem prawie 600 BUSD, które udało mi się zarobić na sprzedaży tokenów CAKE. Jedna z moich lepszych wymian na giełdzie swoją drogą. Następnie udałem się na wymianę BUSD-CUB i podpisałem transakcję.

Wymiana praktycznie 1:1, około 0.14% różnicy w cenie, za to cenię sobie AMM. Teraz przyszedł czas na dodanie nowo zdobytych tokenów do puli CUB Den. Wcześniej miałem już nieco ponad 70 CUB a w portfelu jeszcze parę groszy. Końcowo wyszło 232.981 CUB. Biorąc pod uwagę aktualne oprocentowanie powinienem otrzymywać lekko ponad 1 CUB dziennie. Plan jest reinwestować CUB co tydzień aby zmaksymalizować oprocentowanie przy czym nie tracić tak wiele na opłatach transakcyjnych.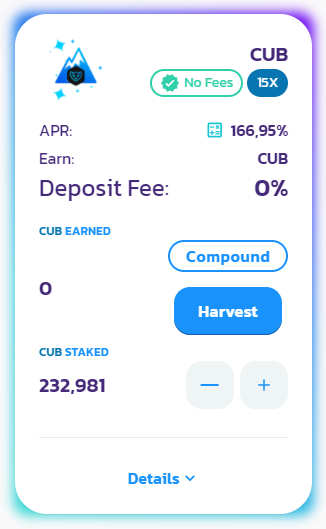 Poniżej przedstawia się wykres wszystkich moich ulokowanych środków na stronie Cub Finance. Swój udział ma również Pool składający się z DEC-BUSD, o którym też kiedyś wspominałem. Fajnie, @splinterlands znalazło swój udział w projektach DeFi.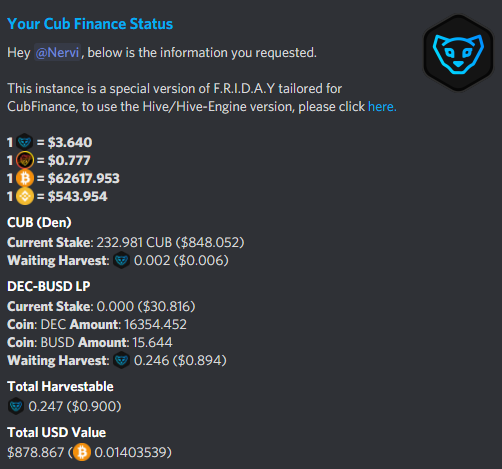 Miło będzie zobaczyć za jakiś czas wzrosty na swoim koncie. Bardzo podoba mi się pomysł inwestowania w różne projekty oraz protokoły oparte o kryptowaluty. Lepsze to niż topienie się pieniędzy w banku. Ale przede wszystkim pomyślcie za siebie bo ja wyrocznią nie jestem a pieniądze są Wasze i to nie jest porada inwestycyjna!
Dziękuję, do następnego, Nervi.
Posted Using LeoFinance Beta
---
---