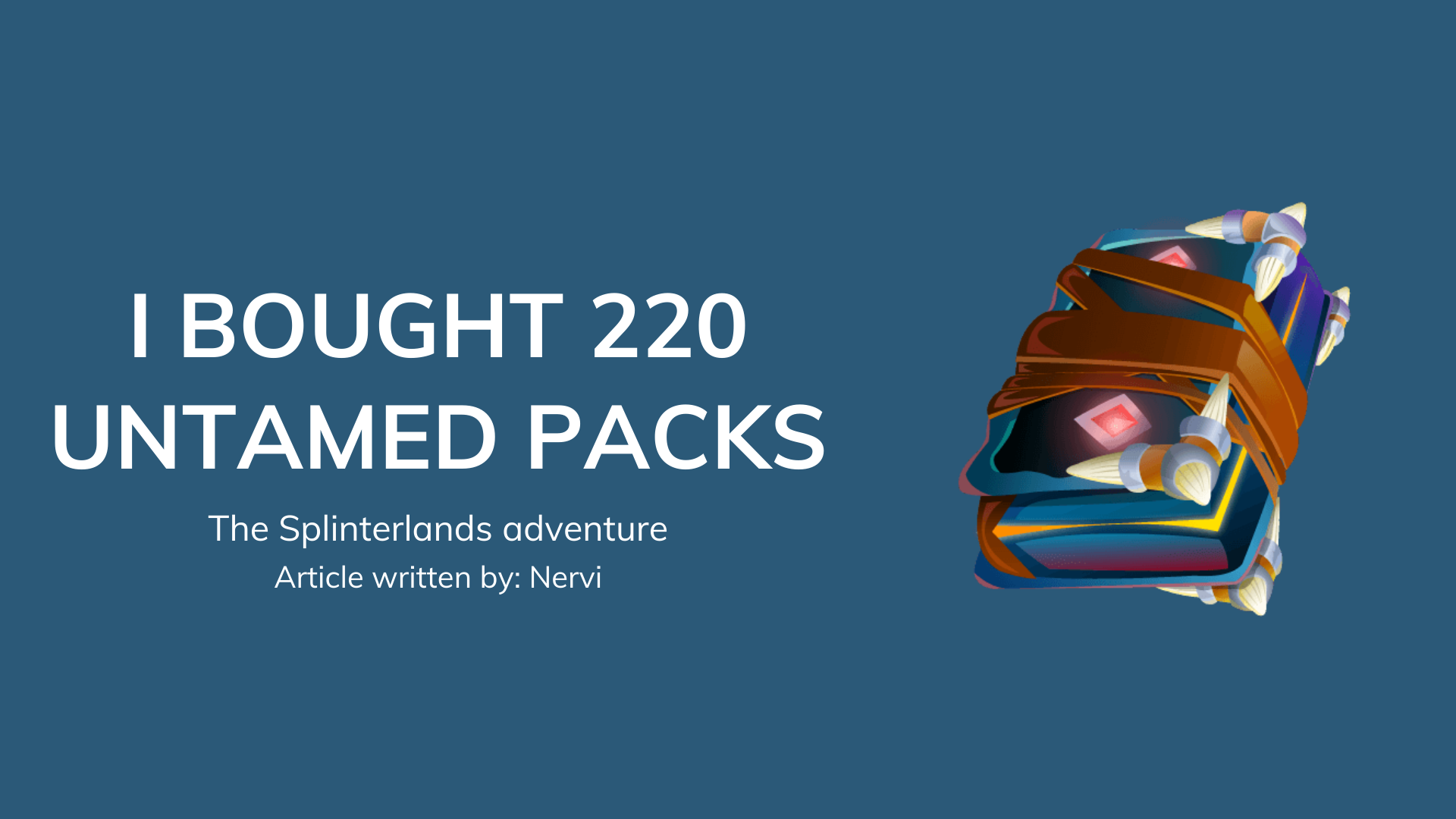 I've managed to make it in time for the final bell. Right now all packs from Untamed series were sold out. However, I managed to quickly buy out my 220 packs.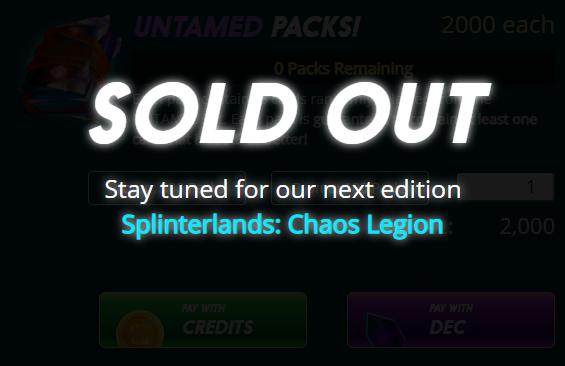 I got a notification on the official Splinterlands discord from @aggroed that there are only 12,500 Untamed packs left in the game shop. I thought that maybe I'll buy some tomorrow. I enter the game and there's only 11.5 thousand. Oh no, it goes too fast. I decided to buy as much HIVE as I have left on the exchange and buy some packs. It came out about 400 dollars in HIVE.

I bought 400,000 Splinterlands coins for 1151,547 HIVE. I calculated that it would work out cheaper that way than buying packs for DEC. About 0.7% difference. Seemingly little and yet it is two packs more. So I bought 2 packs of 100 packs so I received a double bonus of 10%. I didn't decide to buy 500 packs, because I didn't want to spend too much on them.
However, I decided to open those free 20 packs which I got as a bonus. I bought enough potions and started the opening. The total price of the cards is about 35 dollars so it's $1.75 per pack of earnings. Subtracting probably $7 for potions I earned $28 from the free packs alone.
What I'm going to do with the other 200 packs I don't know yet. It is possible that I will just keep them. The new token from @splinterlands is getting closer and closer and I'll be getting rewards for keeping the packs so it seems to be profitable.
The market has gone a bit crazy. I look on Hive Engine and the cheapest pack costs $2.85 a piece and on WAX I couldn't find packs cheaper than $4. As you can see those who didn't make it are buying up as much as they can. It's fun to watch, especially when I'm the one who bought the cheapest.
And you, did you manage to buy the packages?
Thank you and until next time, Nervi.
---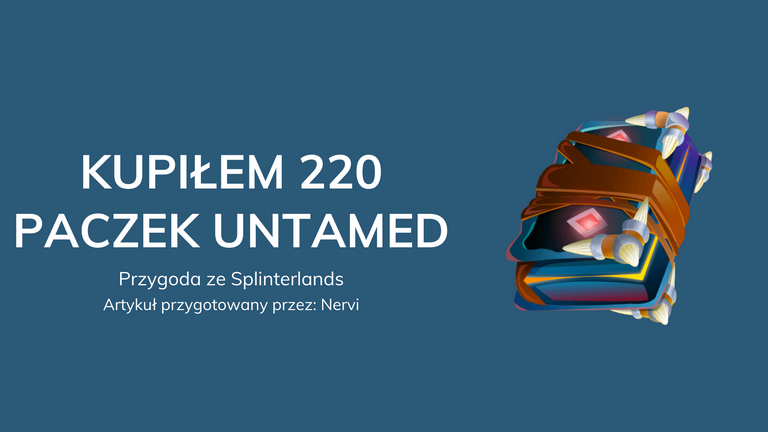 Udało mi się zdążyć na ostatni dzwonek. Właśnie teraz zostały wyprzedane wszystkie paczki z serii Untamed. Zdążyłem jednak szybko wykupić swoje 220 paczek.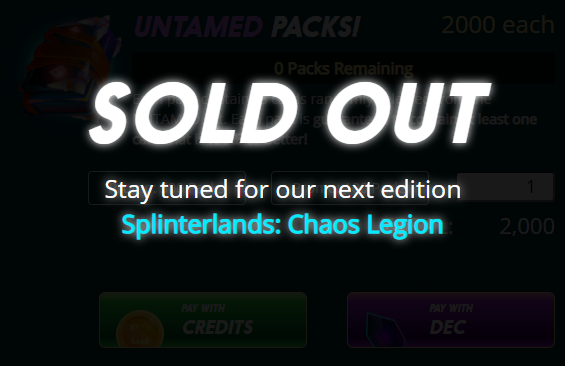 Dostałem powiadomienie na oficjalnym discordzie Splinterlands od @aggroed, że zostało jedynie 12,5 tysiąca paczek Untamed w sklepie gry. Pomyślałem, że spokojnie może sobie trochę jutro kupię. Wchodzę do gry a tam już tylko 11.5 tysiąca. Oj nie, to schodzi za szybko. Postanowiłem, że kupię tyle HIVE ile mi zostało na giełdzie i wykupię ileś tam paczek. Wyszło około 400 dolarów w HIVE.

Za 1151.547 HIVE kupiłem 400 tysięcy monet Splinterlands. Obliczyłem, że tak wyjdzie taniej niż kupno paczek za DEC. Około 0.7% różnicy. Niby mało a to jednak dwie paczki więcej na oko. Tak więc zakupiłem 2 pakiety po 100 paczek dzięki czemu otrzymałem podwójny bonus 10%. Nie zdecydowałem się na kupno 500. paczek, ponieważ nie chciałem wydawać za dużo na nie.
Postanowiłem otworzyć jednak te darmowe 20 paczek, które dostałem w bonusie. Dokupiłem odpowiednią ilość miksturek i zacząłem opening. Łączna cena kart to około 35 dolarów więc wychodzi 1,75$ na paczkę zarobku. Odjąć chyba 7 dolarów na miksturki to zarobiłem już na starcie 28 dolarów z samych darmowych paczek.
Co zrobię z pozostałymi dwustoma paczkami jeszcze nie wiem. Możliwe, że będę je po prostu trzymał. Zbliża się coraz bardziej nowy token od @splinterlands i będę dostawał za trzymanie paczek nagrody więc wydaje się to być opłacalne.
Rynek trochę oszalał. Patrzę na Hive Engine i najtańsza paczka kosztuje 2.85 dolara za sztukę a na WAX nie znalazłem paczek tańszych niż 4 dolary. Jak widać Ci co nie zdążyli wykupują jak najwięcej. Fajnie się na to patrzy, szczególnie jak jestem tym co kupili chyba najtaniej.
A Wy, zdążyliście kupić paczki?
Dziękuję i do następnego, Nervi.
Posted Using LeoFinance Beta