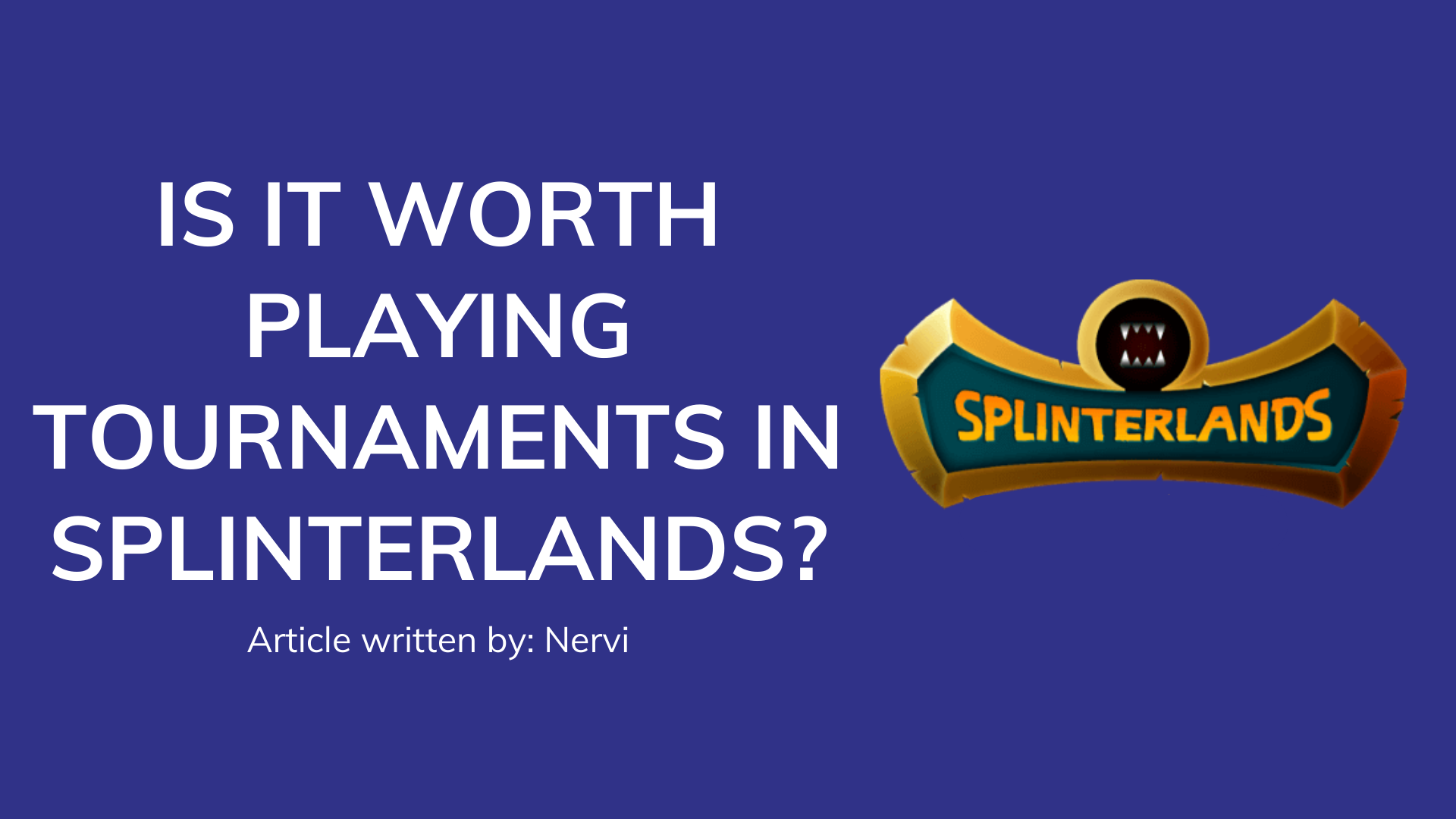 Lately I've been looking more and more for tournaments at @splinterlands that I can play. I'm usually looking for ones that I will have time for, or ones that are just cheap to qualify for. Today I'm going to look at tournaments from a more economical side.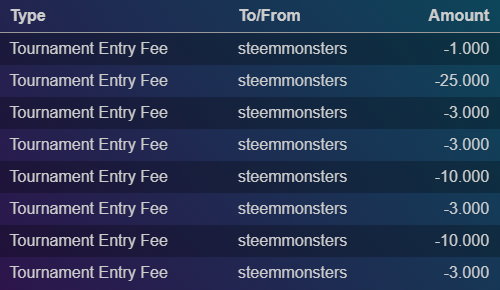 Over the last month I have attended eight tournaments, for which I have spent 58 DEC. So the average entry cost is 7.25 DEC per tournament, less than one cent, not much right.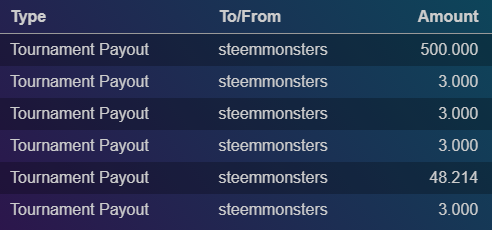 I managed to win some sort of prize in 6 out of 8 tournaments. The total reward is 560,214 DEC or about 70 DEC per tournament. So I made an 865% profit from participating in various tournaments, right? Not really. Most likely the system does not count payments in token other than DEC, because I participated in probably two tournaments organized by @dcitygame where you paid with ENTRY token and it's already about 0.5 HIVE cost per tournament. This payment on Splinterlands does not show.
On the other hand, I also participated in tournaments organized by @davemccoy, in which the prizes are NFT on the WAX blockchain. Here you could also count how much profit I made from the sale of packs but I can't do that because all the cards I received I still keep in my wallet.
In conclusion, if we approach Splinterlands tournaments from an economic perspective we will very often come out on top. This is because the entry cost is relatively low and if we have the right pack of cards we will statistically beat more opponents who have weaker decks. And beyond the aspect of earning DEC, tournaments are a fun way to spend time at Splinterlands. Personally, besides the daily league games, I like to play some tournament to learn new tactics.
Thank you and until the next one, Nervi.
---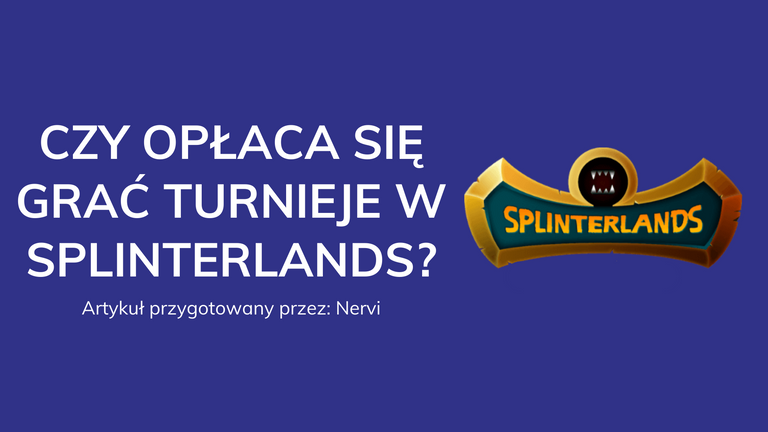 Ostatnimi czasy coraz częściej szukam turniejów w @splinterlands, które mógłbym rozegrać. Szukam zwykle takich, na które będę miał czas lub takich, które są po prostu tanie do kwalifikacji. Dzisiaj przyjrzę się turniejom od strony bardziej ekonomicznej.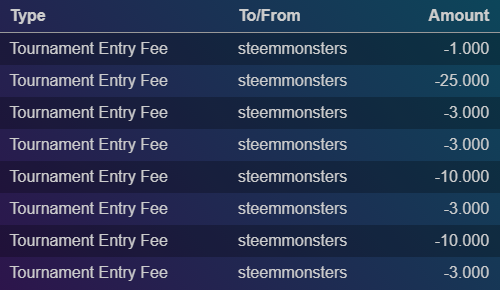 Przez ostatni miesiąc uczestniczyłem w ośmiu turniejach, na które wydałem 58 DEC. Średni koszt wstępu wynosi więc 7.25 DEC na turniej, mniej niż jeden cent, niewiele prawda.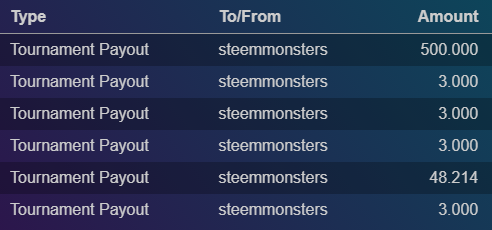 Udało mi się w 6 na 8 turniejów zdobyć jakąś nagrodę. Łączne wynagrodzenie to 560.214 DEC czyli około 70 DEC na turniej. Zatem uzyskałem 865% zysku na uczestnictwie w różnych turniejach, tak? Nie do końca. Najprawdopodobniej system nie liczy płatności w innym tokenie niż DEC, ponieważ brałem udział podajże w dwóch turniejach organizowanych przez @dcitygame gdzie płaciło się tokenem ENTRY a to już około 0.5 HIVE kosztów za turniej. Tego historia na Splinterlands nie pokazuje.
Natomiast uczestniczyłem też w turniejach, które organizuje @davemccoy, w których nagrodami są NFT na blockchainie WAX. Tutaj też można było policzyć ile zysku uzyskałem ze sprzedaży paczek ale nie mogę tego zrobić, ponieważ wszystkie karty jakie otrzymałem trzymam dalej na swoim portfelu.
Podsumowując, jeżeli podchodzimy do turniejów Splinterlands pod względem ekonomicznym bardzo często będziemy wychodzić na plus. Jest tak dlatego, że koszt wejścia jest stosunkowo niski a jeżeli mamy odpowiednią talię kart to statystycznie pokonamy więcej przeciwników, którzy mają słabsze talie. A poza aspektem zarabiania DEC to turnieje są fajną formą spędzania czasu przy Splinterlands. Osobiście poza codziennymi rozgrywkami ligowymi lubię zagrać jakiś turniej aby się nauczyć nowych taktyk.
Dziękuję i do następnego, Nervi.
Posted Using LeoFinance Beta