Splinterlands Art Contest - Vera Salacia

Hi, I hope everybody's doing well!
Today I share with you this illustration that I recently made to participate in the Splinterlands Art Contest // Week 113 . This time I decided to recreate another summoner card, since I drew Lorna Shine a while ago and I really liked how it turned out. This week I recreated Vera Salacia - Summoner of Water, since i want to little by little to draw all the summoners cards. As always I made some changes when I recreated the character I chose for this opportunity, to give my own touch, but always respecting the original design of the card. I really hope you like the final result, I did it with a lot of love.
Thanks to #splinterlands for giving us the opportunity to express our art in the best possible way through this contest, which I find impressive to see and be part of.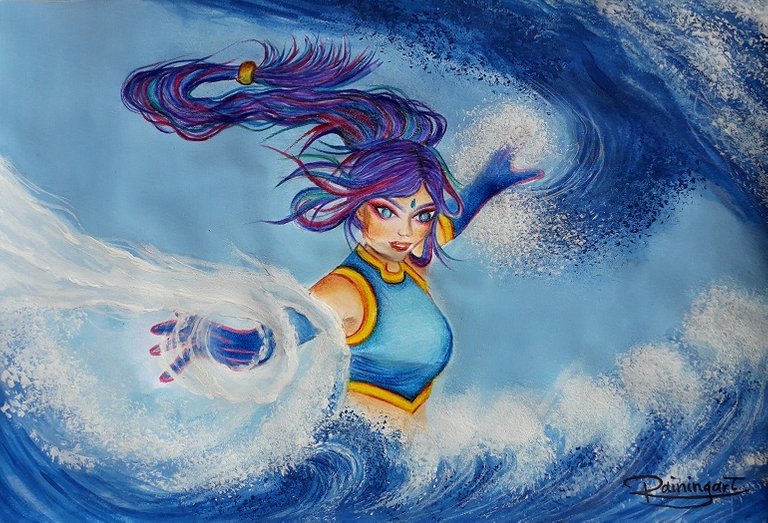 The Making Process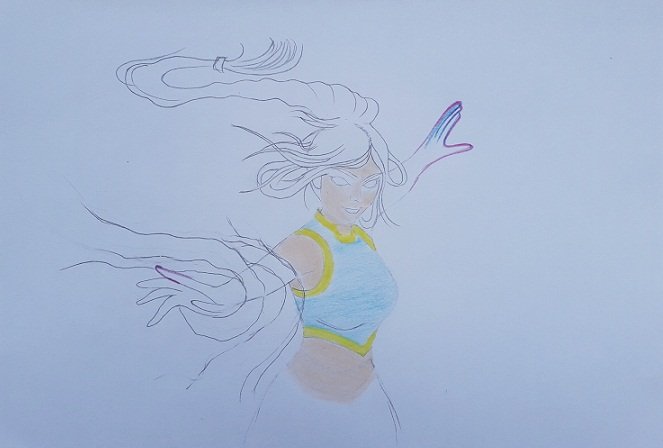 As a first step to make my illustration will always be, of course, to capture with pencil all the parts of my drawing, which in this case will be the character of the card I chose this week. Then, once I have a good base I can start applying the color.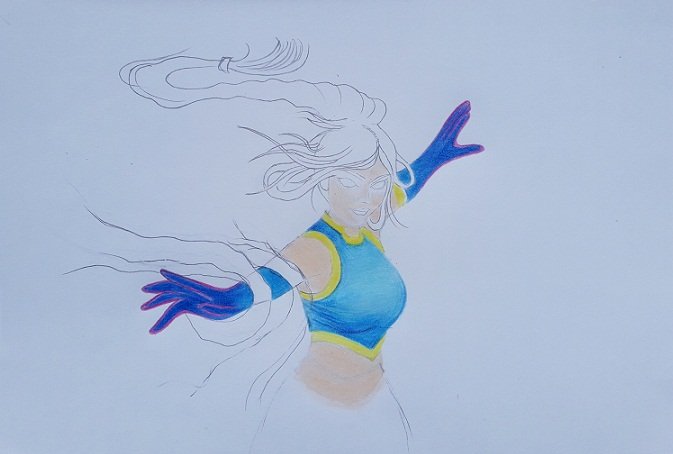 Now in the next image you can see how I applied just a little bit of color to the girl's skin and to the clothing of this character, which I decided to recreate just like in the original card; everything in a very soft way to create a kind of base first that I will continue working on later.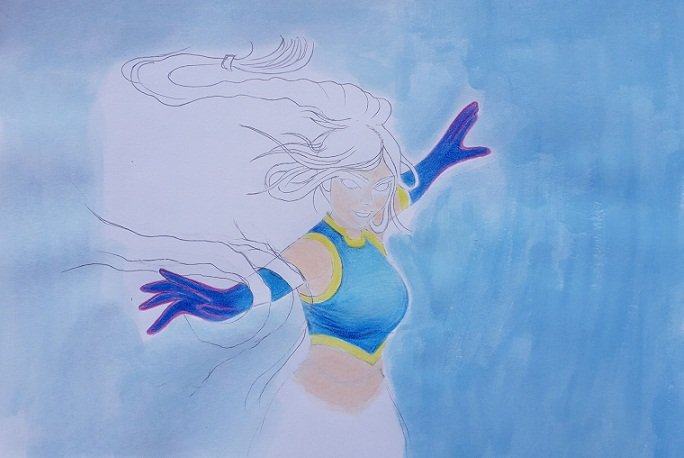 In this step I did not advance anything in the girl's clothes, but I preferred to work in the background applying paint in a very light blue tone as a base for the waves that I will make next.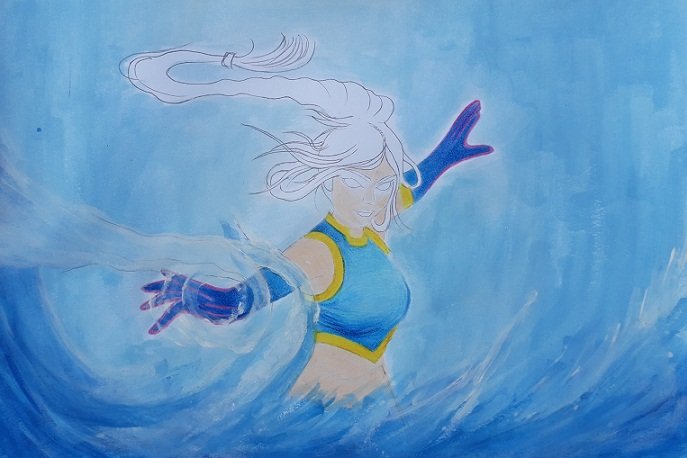 I finished applying all the blue base color, now with white paint and different shades of blue I started to make the waves that go at the bottom, which I did to a direction that I thought was more convenient to not cover the silhouette of the girl.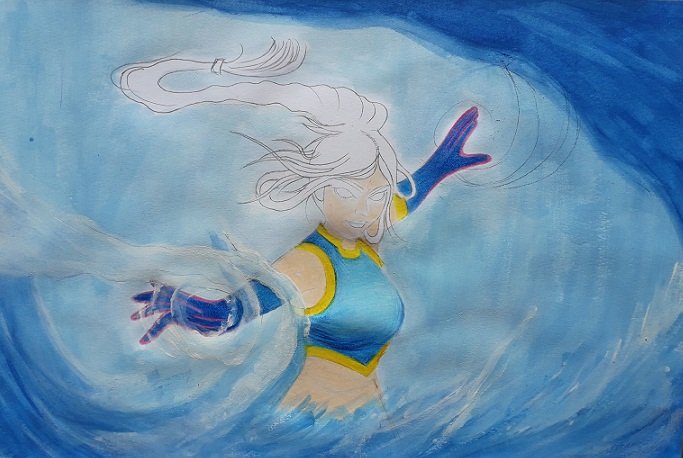 With dark blue paint I made only the base of the wave that goes in the upper right side of my illustration.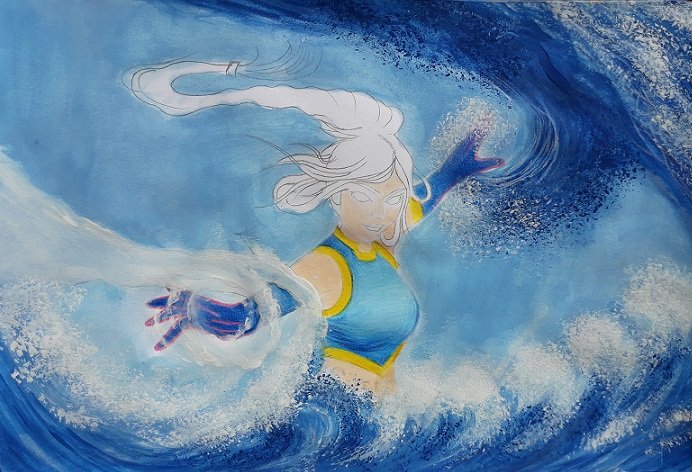 In this step I continued working more on all the waves, which are an important part of this illustration, since it is the power that characterizes this character, that's why I wanted to emphasize that part a lot so that it looks as cool as in the original card; for that I used different tones of blue and a lot of white to create the foam that the waves have.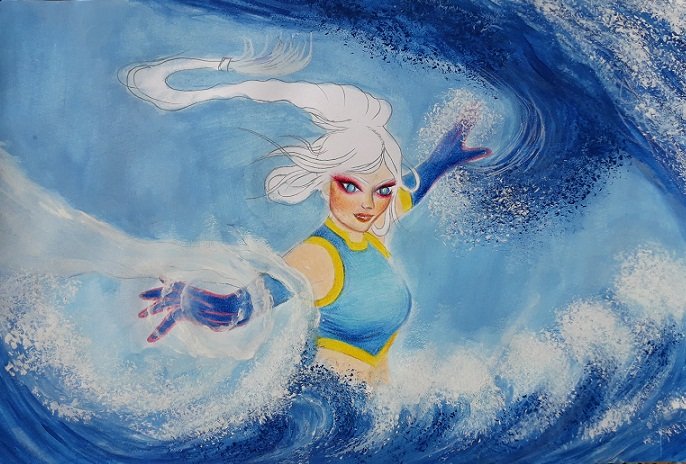 Once I have the whole background almost ready, I start to give color to the girl's face. When I draw faces I always like to start with the eyes, so I decided to apply pink, fuchsia and black tones on the eyelid to make the eye color stand out more; then I applied color on the cheeks and lips in warm tones.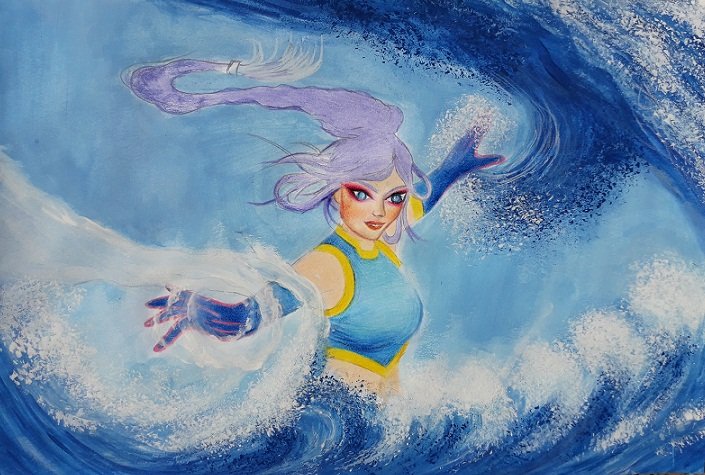 With a lilac color I colored the whole base of the hair, which I will continue to work on later; with that same lilac color I filled in the eyebrows as well.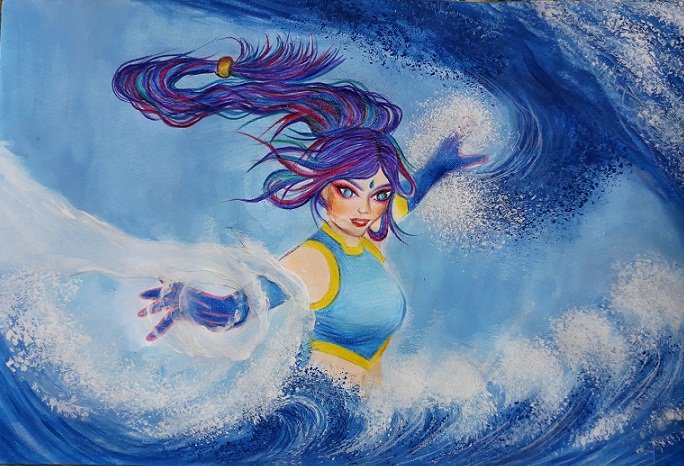 I finished the last details in the hair, for that I used pink, fuchsia, violet and different shades of blue in some locks to look as close as possible to the character; I also applied black to highlight the colors a little more.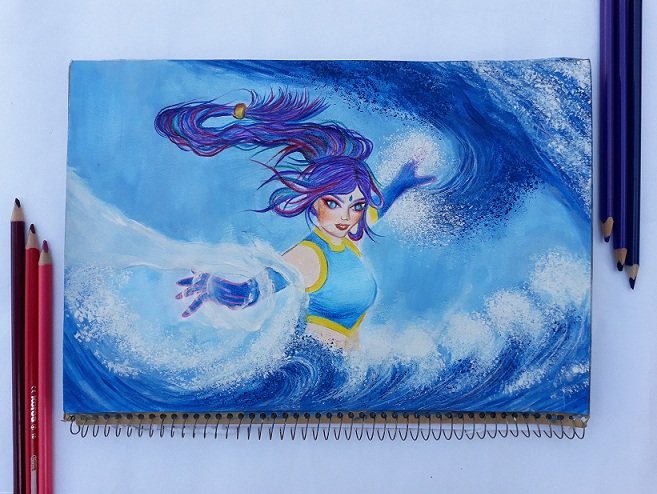 All my illustrations are made with colored pencils, also with some markers for some details that I want to highlight and paint only for more complex backgrounds.

Final Result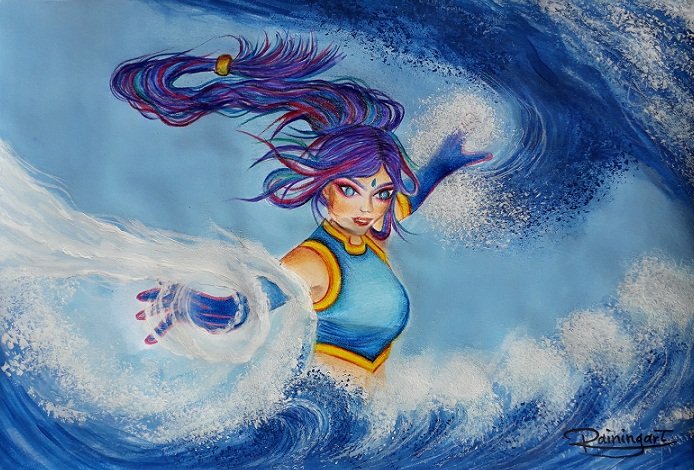 Reference Card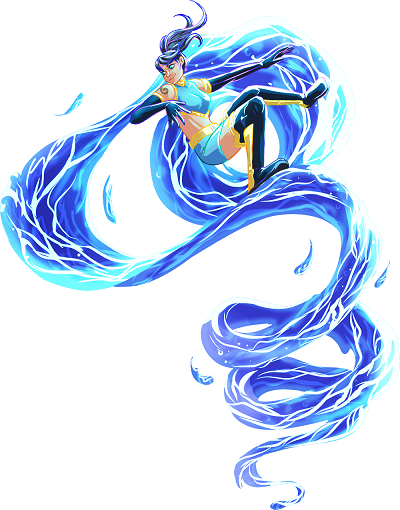 Soon you will be able to see more of my art. Thank you for your support!

---
---