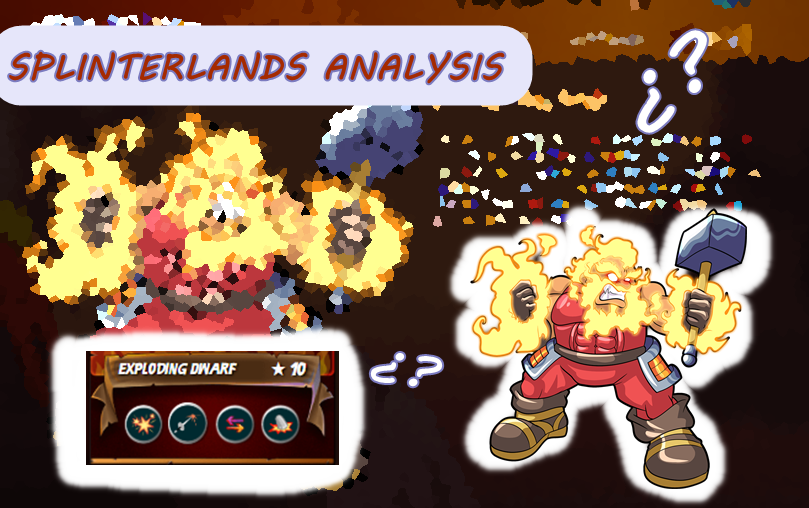 This is definitely one of the cards with the most wrong rank. Deserves much more!

IT'S TIME TO MEET ONE OF THE MOST POWERFUL CARDS!



Recently I was talking to my friend @yonilkar about the "Exploding Dwarf" letter, although in Spanish, which is my original language, many of us from the Splinterlands community usually call it "the exploiter" or "the pastry chef".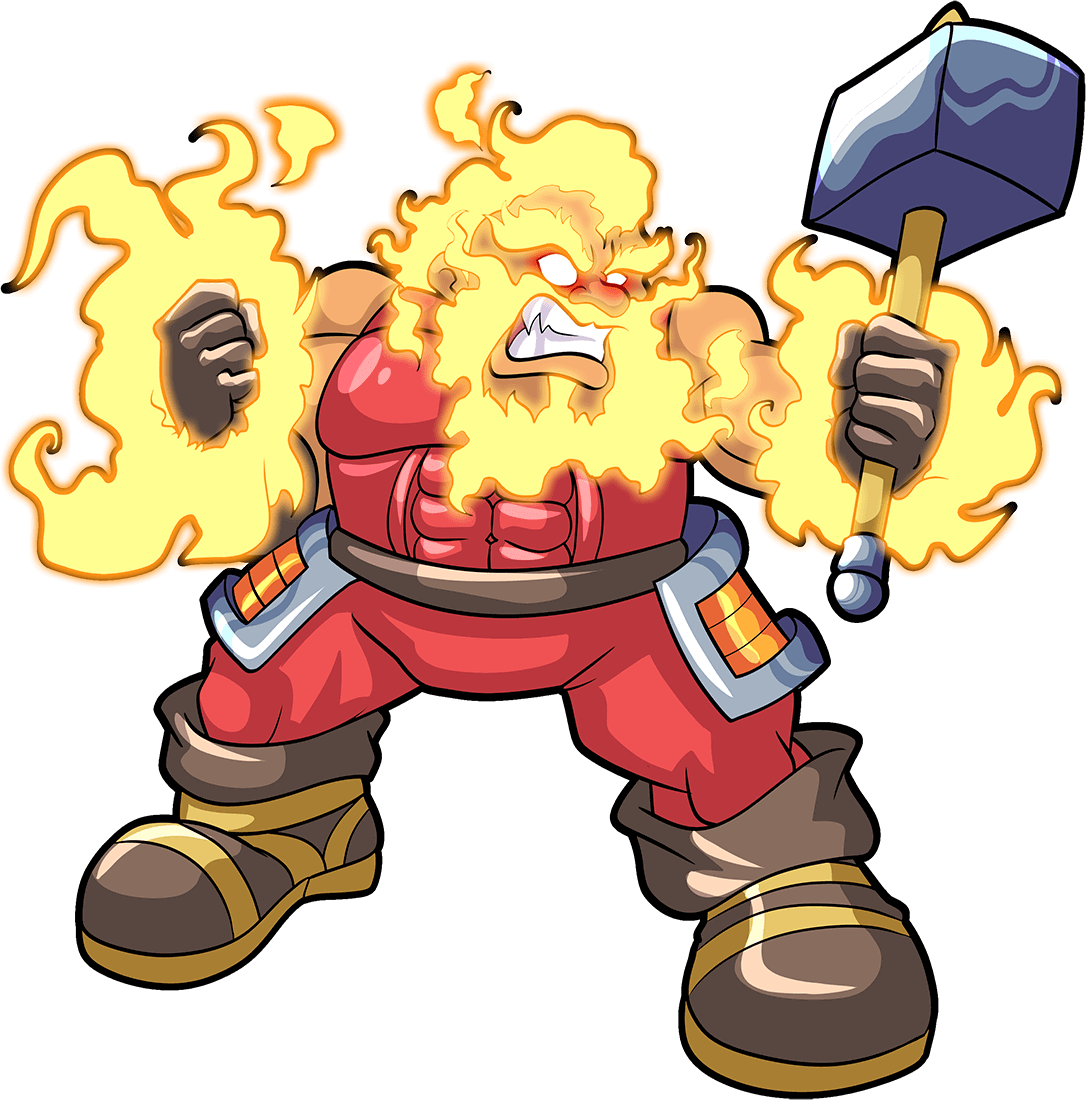 So we talked about the great power of this letter and how it has gained a lot of value lately.
Many underestimate her for her low life, with just 1 point. But even as weak and susceptible, it can give you a huge battle headache if the enemy knows how to play it.
First we have to know their attacks and a way to counter the rules or have them in favor.

SKILLS OF "EXPLODING DWARF"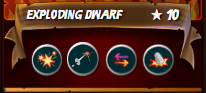 EXPLOSION: Deals additional damage to Monsters adjacent to the target.
(One of my favorite powers, the more attacks you have, the more deadly it is.)

PUNCH: If Ranged melee Attack exceeds armor, then the rest of the damage will be applied to health.
(If you upgrade your attack with any Beta or Dragon fire summoner, it will be bestial in the rule of "everyone has 1+ shield point")

FIGHT BACK: Taking damage from melee attacks, monsters with this Counterattack ability can attack back.
(Sometimes before dying, he can do something as epic as counterattack and that, however, his explosive power can also damage and kill the second enemy. I have experienced it and it is something EPIC)

TRAMMING: When a monster with trampling kills its target, it will make another attack against the next monster from the enemy team.
(Something similar happens with the above, as this card has so much power, if it kills you it will give a knockout to the second one as well and in turn the "Explosion" will reverberate to the third ♥)

GOOD AND BAD RULES FOR THIS MONSTER:
GOOD



EQUALIZER: Here all cards have a high life based on a card that has a lot of life. That is why "Explodign Dwarf" in this rule is very good, since it stays more with his life and if he is attacked he will be able to counterattack several times until his life reaches 0. Besides all the benefit of his remaining abilities, then they would have more opportunities to win in battle.

MELEE MAYHEM: For this rule, it is advisable to put the card as focused on the formation as possible, neither in the background nor in the first few rows, so you will have more time to attack and make your "Explosion" ability shine. Trample and Drill ".

SUPER SNEAK: The same thing happens as a rule, only it is not advisable to put it very close to the end, because they are generally the first to die.

HEAVY HITTERS: We know that this rule attaches the Knock Out ability to all monsters. In this case, if one of your team has "stun" and it manages to take effect on an enemy and is hit by the "" Exploding Dwarf ", it is almost certainly one or 2 eminent deaths in a row.
These would be some of the most important, if you have others that you would like to share, leave it in the comments;)
BAD:



Back to Basics: You will have a terrible time if you put this card in this rule, you would have very few points in favor. Without the 4 abilities of this card, you only have to win with its attack power and speed, I hope it is enough haha

Reverse Speed: This rule is not so bad, but it would make you attack last because we know that one of the qualities of this card is its extreme speed.

Earthquake: The number one enemy on this card, you would not survive more than 1 turn, unless you have some shield percentage. Otherwise, for the second round it would be done.
These would be some of the many that go against, you have others that you would like to share. Put it in the comments;)

MY CONCLUSION: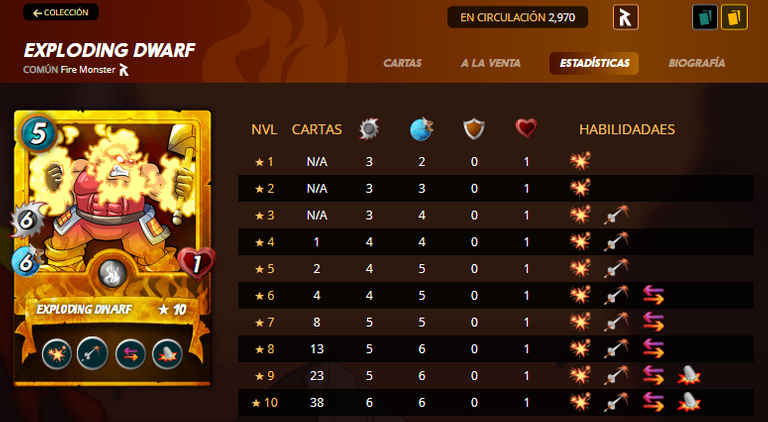 It could well have been a legendary card, beyond having a point of life. There are many other legendary cards that don't deserve to be. WELL, because I say so, it will not change.
Until recently I had it golden at level 6 and you enjoyed it in a large percentage, but I had to sell it for one thing, which I will tell later thanks to @splinterlands ♥
100% RECOMMENDED LETTER, ESPECIALLY NOW THAT THERE IS AN EQUALIZER AND THAT SEVERAL CARDS SHIELD AS THEY ALSO REPAIR THEM
This card can be worth a lot, despite its rarity. So my advice is: buy it. If it is golden, much better because you will have rewards in DEC for each game won with it;)

You like me? You may be interested in these posts:
Greetings to all! Have a nice day / afternoon / night 💝



---
POST EN ESPAÑOL
---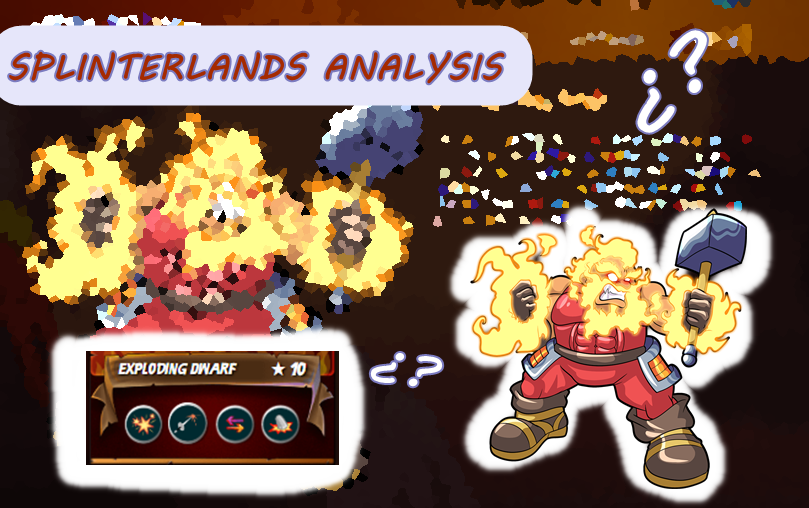 Definitivamente esta es una de las cartas con el rango más equivocado. ¡Merece mucho más!

¡ES HORA DE CONOCER A UNAS DE LAS CARTAS MÁS PODEROSAS!



Recientemente hablaba con mi amigo @yonilkar sobre la carta "Exploding Dwarf" aunque en español, que es mi idioma original, la solemos llamar muchos de los que somos de la comunidad de Splinterlands: "el explotador" o "el pastelero".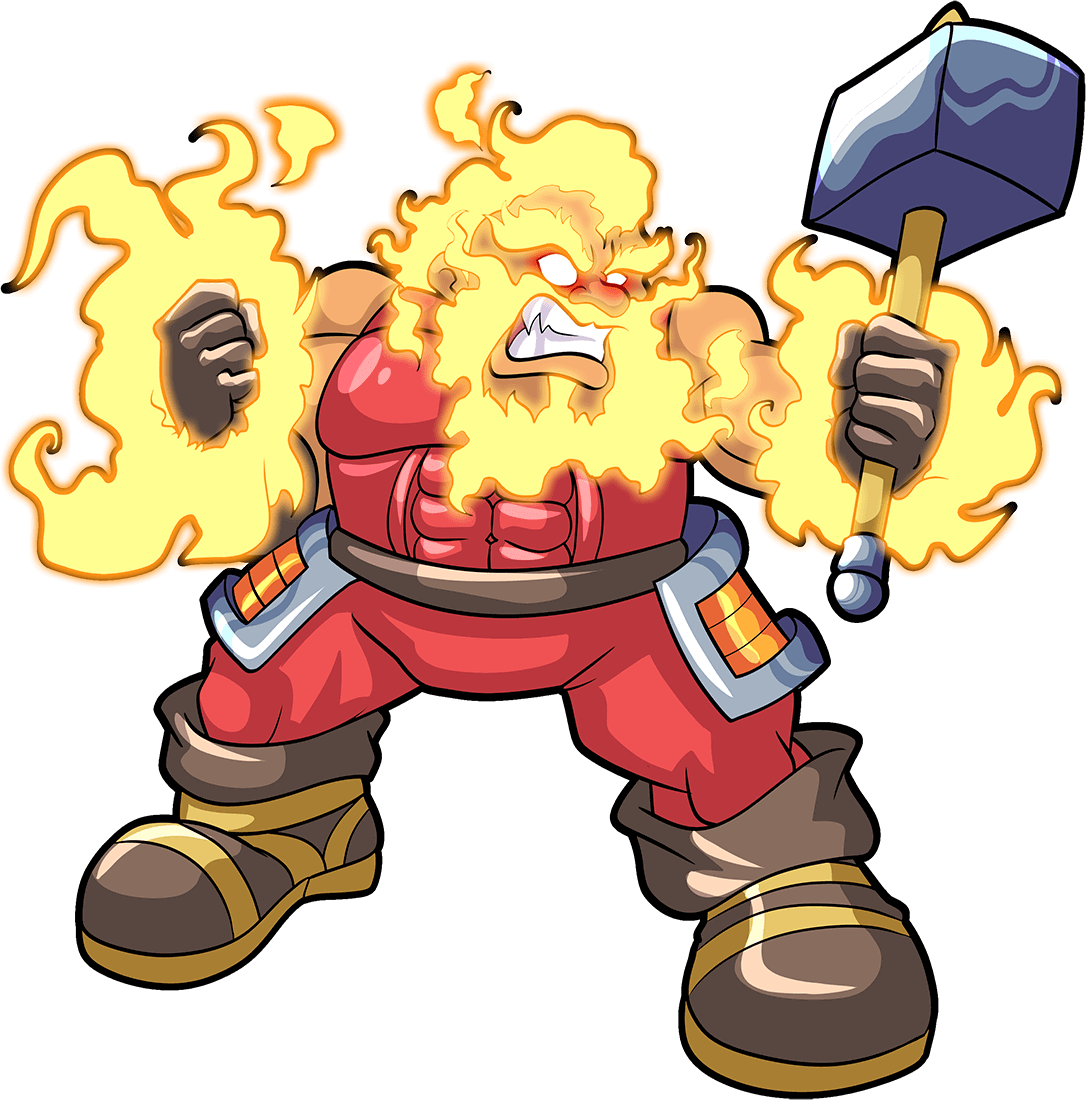 Entonces conversábamos del gran poder de esta carta y de como últimamente ha agarrado mucho valor.
Muchos la infravaloran por su baja vida, con tal solo 1 punto. Pero incluso así de débil y susceptible, puede darte un enorme dolor de cabeza en batalla si el enemigo la sabe jugar.
Primero tenemos que conocer sus ataques y un modo de contrarrestar las reglas o tener a favor.

HABILIDADES DEL "EXPLODING DWARF"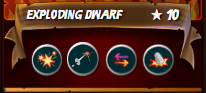 EXPLOSIÓN: Inflige daño adicional a los Monstruos adyacentes al objetivo.
(Uno de mis poderes favoritos, mientras más ataques tengas, más letal es.)

PERFORAR: Si el Ataque cuerpo a cuerpo a Distancia excede la armadura, entonces el resto del daño se aplicará a la salud.
(Si le mejoras el ataque con algún invocador de fuego Beta o Dragón, será bestial en la regla de "todos tienen 1+ punto de escudo")

CONTRAATACAR: Al recibir daño de los ataques cuerpo a cuerpo, los monstruos con esta habilidad Contraatacar puede atacar de vuelta.
(Algunas veces antes de morir, puede llegar a hacer algo tan épico como contraatacar y que no obstante, su poder de explosión también pueda llegar a dañar y matar al segundo enemigo. Lo he vivido y es algo ÉPICO)

PISOTEAR: Cuando un monstruo con pisotear mata a su objetivo, realizará otro ataque en contra del próximo monstruo del equipo enemigo.
(Sucede algo similar con lo de arriba, como esta carta tiene tanto poder, si te mata dará un golpe de gracia al segundo también y a su vez la"Explosión" repercutirá al tercero ♥)

REGLAS BUENAS Y MALAS PARA ESTE MONSTRUO:
BUENAS:



ECUALIZADOR: Aquí todas las cartas tienen la vida alta en función a alguna carta que posea mucha vida. Es por eso que "Explodign Dwarf" en esta regla es muy bueno, ya que se mantiene más con su vida y si es atacado podrá contraatacar varias veces hasta que su vida llegue a 0. Además de todo el beneficio de sus habilidades restantes, pues tendrían más oportunidades de vencer en batalla.

MELEE MAYHEM: Para esta regla es aconsejable poner dicha carta lo más centrada posible en la formación, ni muy al fondo, ni muy en las primeras filas, así tendrá más tiempo de atacar y hacer brillar su habilidad de "Explosión, Pisotear y Perforar".

SUPER SNEAK: Lo mismo sucede en regla, solo que no es aconsejable ponerla muy cerca del final, porque generalmente son los primeros en morir.

HEAVY HITTERS: Sabemos que esta regla adjunta la habilidad Knock Out a todos los monstruos. En este caso, si alguno de tu equipo tiene "aturdir" y el mismo logra hacer efecto en algún enemigo y es golpeado por el ""Exploding Dwarf" es casi seguro una o 2 muertes eminentes seguidas.
Estas serían unas de las más importantes, si tienes otras que quisieras compartir, déjala en los comentarios ;)
MALAS:



Back to Basics: la pasarás terrible si pones esta carta en esta regla, tendrías muy pocos puntos a favor. Sin las 4 habilidades de esta carta, solo te queda su ganar con su poder de ataque y velocidad, espero que te sea suficiente jaja

Reverse Speed: esta regla no es tan mala, pero te haría atacar de último pues sabemos que unas de las cualidades de esta carta es su extrema velocidad.

Earthquake: El enemigo número uno de esta carta, no sobrevivirías más del 1 turno, al menos que tengas algún porcentaje de escudo. Sino, para el segundo round estaría hecho polvo.
Estas serías unas de las tantas que van en contra, tienes otras que quisieras compartir. Ponla en los comentarios ;)

MI CONCLUSIÓN: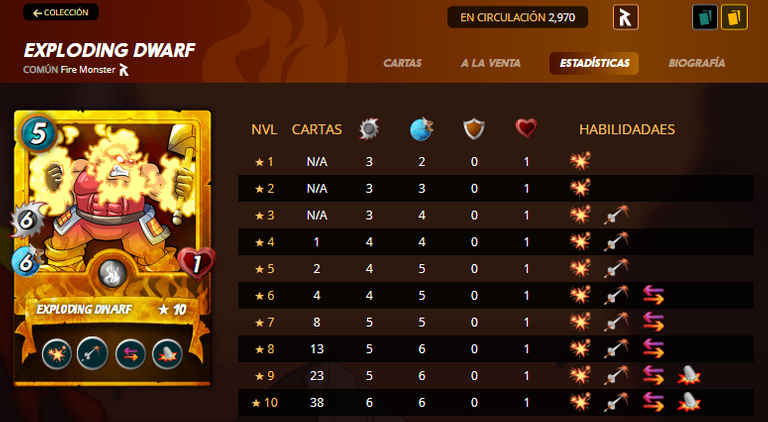 Bien pudo ser una carta legendaria, más allá de tener un punto de vida. Hay muchas otras cartas legendarias que no merecen serlo. PERO BUENO, porque lo diga yo no va a cambiar.
Hasta hace poco la tuve dorada en nivel 6 y la disfrutabas en gran porcentaje, pero la tuve que vender por una cosa, que más adelante contaré gracias a @splinterlands ♥
CARTA 100% RECOMENDADA, SOBRETODO AHORA QUE EXISTE ECUALIZADOR Y QUE VARIAS CARTAS DAN ESCUDO COMO TAMBIÉN LOS REPARA
Esta carta puede llegar a valer mucho, a pesar de su rareza. Así que mi consejo es: comprenla. Si es dorada, muchísimo mejor porque tendrás recompensas en DEC por cada partida ganada con ella ;)

¿Te gustó? Tal vez te interese estos post:
¡Saluditos a todos! Que tengan un buen día / tarde / noche 💝