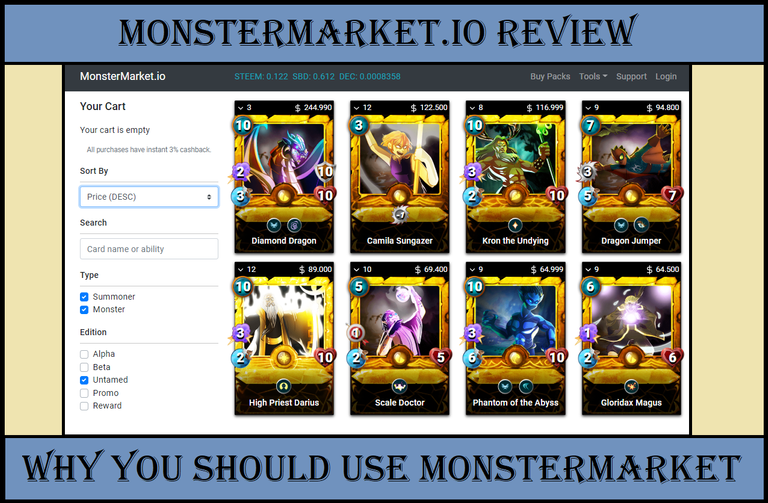 ---
So you are a Splinterlands player?
That must mean that you probably also use the market to sell and buy cards from time to time? Or did you catch Untamed fever recently? If so, you are probably buying packs from the market to extend your collection of Untamed cards. I used to do these things only on the Splinterlands/Steemmonsters website or when renting cards were involved, I use Peakmonsters. But packs I always bought via the official site.
The reason behind that is because I didn't know better than that I only was eligible for the airdrops if I bought the packs from the official website. It never occurred to me that buying via another website would still give me that benefit! I was so wrong, and I was a thief of my own digital wallet for quite some time.
Speaking about wallets, or money, please make sure you have the Keychain extension installed to be able to buy and sell cards/packs on the Monstermarket website. Chrome Keychain Extension, Firefox Keychain Extension.
Now let's have a look at the Monstermarket.io website and why you should always use it from now on.
---
Because everyone loves cashbacks!
Who doesn't like getting back some of the money you just spent on a purchase? I mean, come one, that alone should convince you to use Monstermarket.io!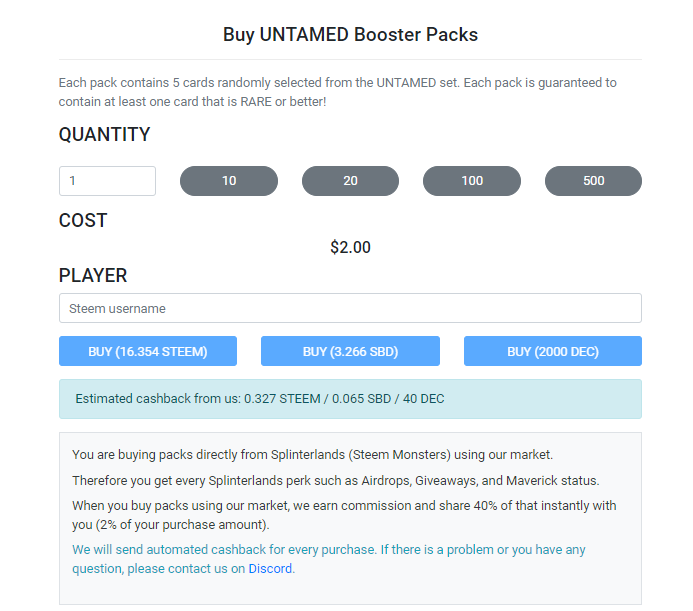 Buy Untamed packs
As you can see in the information shown on the website, you earn 2% cashback from Monstermarket when you buy Untamed packs via the website. But, there is more money to be saved because you can earn 7 % cashback in total when you buy them with an account that used your referral code.
Most of the players already know that you can use an alt to purchase packs, and if you have signed up this alt with your main account, you will get 5% cashback from the Steemmonsters account over the packs you have purchased. Just make sure that you use Monstermarket with one of these accounts, so you will receive the cashback from Steemmonsters/Splinterlands in the currency you have used to pay for your packs.
Note: this cashback is only valid on pack purchases!
To buy packs at the Monstermarket website, click on this link.
Do you prefer buying the cards you need? Monstermarket gives you 3% cashback over the card purchases you have bought in the market.
---
The search option is awesome
You can search by card name but also by ability. I love this feature, as you can now look up what cards get certain abilities when you are levelling up your cards.

While you type in the search word, you already see the cards appear on your screen. This works super smooth! I think this option is a huge plus when you are looking for a certain card with a specific ability.
---
Tools: Splinterlands cost estimator
Are you curious about the estimated costs for a certain deck in a specific league? Use this the cost estimator tool on the Monstermarket website.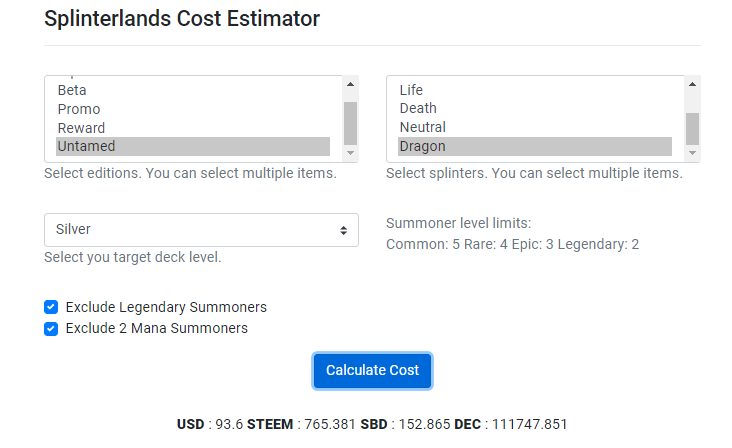 You can select the edition of the cards, the splinter and then select a league (novice to champion!) and calculate the estimated costs. You can choose to include or exclude legendary summoners and 2 mana summoners in this calculation.
You can find this tool here.
---
Tools: Analyze openings
I don't know about you, but I love to analyze things. And when buying packs, it's not that easy to see if you made a profit or loss when buying many of them. This tool is your answer in these cases: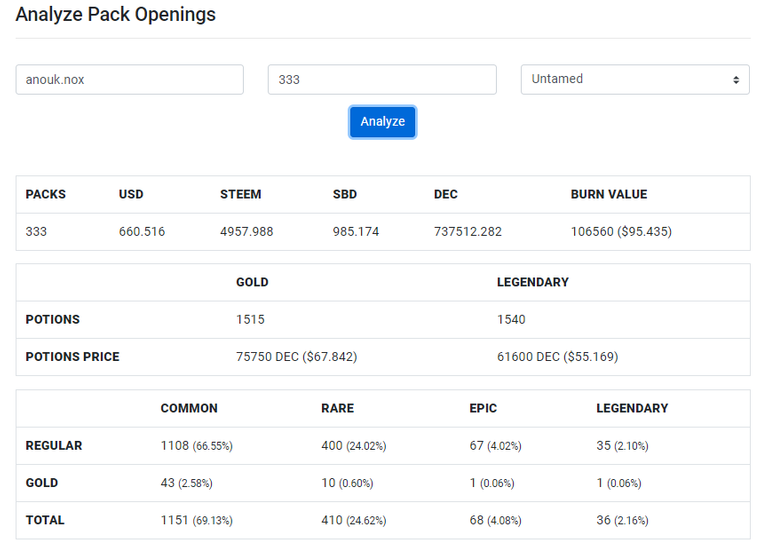 Analyze openings is a simple tool where you can check the value of the cards you have opened. You fill in the account name, amount of packs and edition you want to check, and then press the analyze button to see the results.
Where we used to be able to see information about the USD value, burn value and also how much STEEM/SBD and Dec this would be if you sell the cards. You could also see how many potions were used (and their prices) to do some easy calculations to see if this round of openings was a profit or loss. The latest update is even better because it contains more details and a breakdown of which rarity of cards you opened as well. Above you can see an example of my openings including the percentages of each rarity. I love this update!
This analyzing tool has been updated shortly after I published this review, therefore I updated this info.
I hope you enjoyed my review about Monstermarket.io, please leave a comment in the comment section!
~Anouk