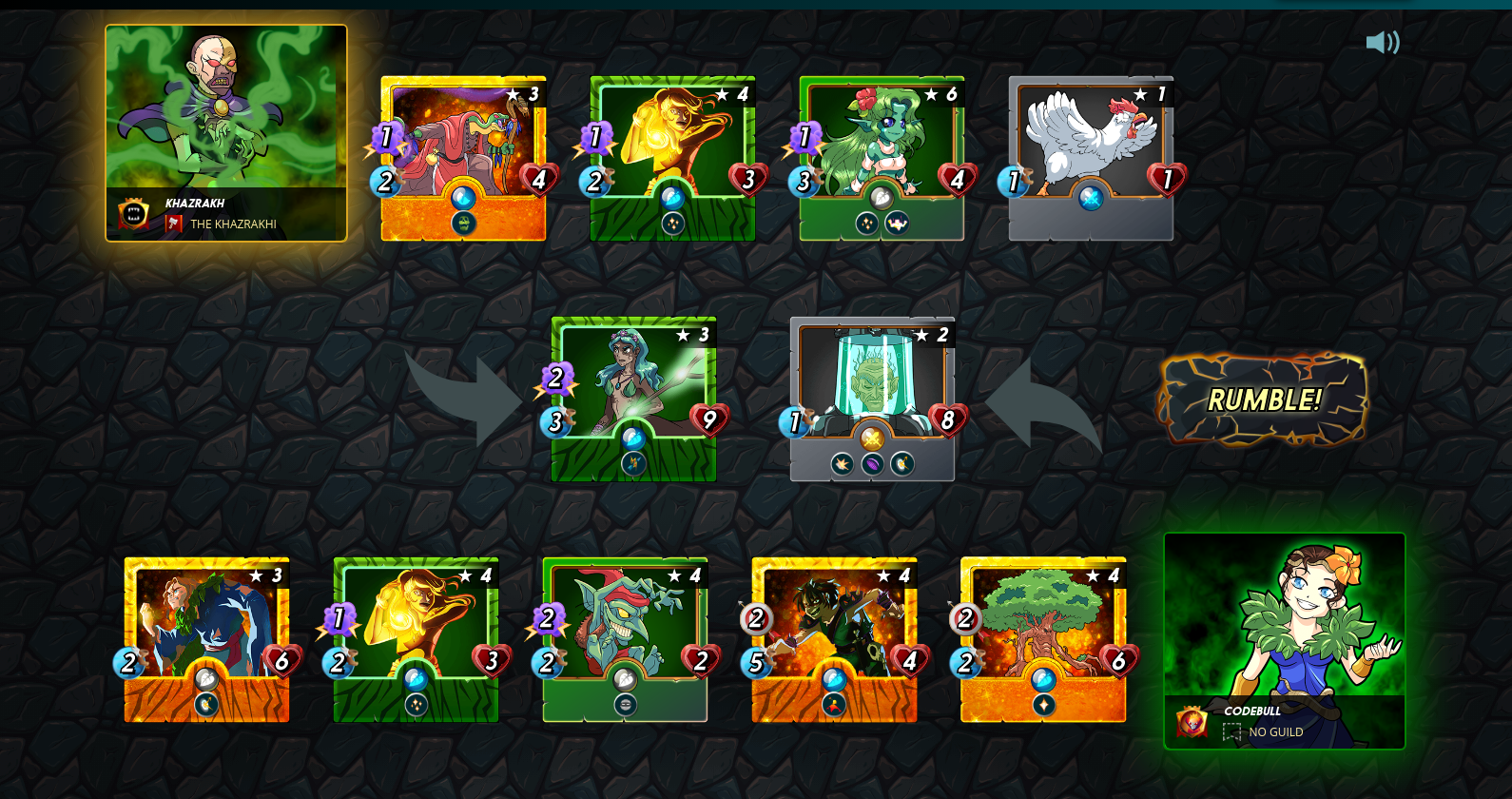 Battle Link
Today's top battle is between me and khazrakh.
Ruleset: Unprotected and Keep Your Distance
Mana Limit: 21
I have selected Lyanna Natura (Lvl 4) summoner, and Lord Arianthus (Lvl 2), Earth Elemental (Lvl 4), Child of the Forest (Lvl 4), Goblin Sorcerer (Lvl 4), Khmer Princess (Lvl 4), Failed Summoner (Lvl 3) monsters. Opponent has fielded Delwyn Dragonscale (Lvl 6) summoner and Centauri Mage (Lvl 3), Serpentine Mystic (Lvl 3), Khmer Princess (Lvl 4), Wood Nymph (Lvl 6), Furious Chicken (Lvl 1) monsters.
This battle has earned me 35.431 DEC and 40 rating points.
Today's Quest Rewards
| Cards | Gold | Legendary | Dec | Orb |
| --- | --- | --- | --- | --- |
| Baby Unicorn, Octopider, Battle Orca, Ettin Spearman, Undead Rexx, Phantasm | 3 | 2 | 37 | 1 |
Today's All Battles
| Me | Result | Opponent |
| --- | --- | --- |
| Lyanna Natura (Lvl 4), Lord Arianthus (Lvl 2), Earth Elemental (Lvl 4), Child of the Forest (Lvl 4), Goblin Sorcerer (Lvl 4), Khmer Princess (Lvl 4), Failed Summoner (Lvl 3) | Win View | Delwyn Dragonscale (Lvl 6), Centauri Mage (Lvl 3), Serpentine Mystic (Lvl 3), Khmer Princess (Lvl 4), Wood Nymph (Lvl 6), Furious Chicken (Lvl 1) |
| Lyanna Natura (Lvl 4), Flesh Golem (Lvl 5), Brownie (Lvl 3), Furious Chicken (Lvl 4), Enchanted Defender (Lvl 5) | Win View | Xander Foxwood (Lvl 4), Flesh Golem (Lvl 6), Brownie (Lvl 4), Creeping Ooze (Lvl 6), Furious Chicken (Lvl 2), Wood Nymph (Lvl 7) |
| Lyanna Natura (Lvl 4), Failed Summoner (Lvl 3), Earth Elemental (Lvl 4), Goblin Sorcerer (Lvl 4), Magi of the Forest (Lvl 3), Furious Chicken (Lvl 4) | Win View | Tyrus Paladium (Lvl 5), Baby Unicorn (Lvl 4), Divine Healer (Lvl 5), Feral Spirit (Lvl 5), Furious Chicken (Lvl 1), Creeping Ooze (Lvl 1), Herbalist (Lvl 1) |
| Lyanna Natura (Lvl 4), Lord Arianthus (Lvl 2), Prismatic Energy (Lvl 4), Javelin Thrower (Lvl 4), Mitica Headhunter (Lvl 1), Goblin Chariot (Lvl 4), Mantoid (Lvl 4) | Win View | Malric Inferno (Lvl 4), Naga Fire Wizard (Lvl 4), Beetle Queen (Lvl 4), Magi Sphinx (Lvl 1), Centaur (Lvl 4), Ettin Spearman (Lvl 4), Mantoid (Lvl 1) |
| Lyanna Natura (Lvl 4), Unicorn Mustang (Lvl 4), Kron the Undying (Lvl 1), Mitica Headhunter (Lvl 1), Khmer Princess (Lvl 4), Goblin Thief (Lvl 4), Swamp Thing (Lvl 2) | Win View | Camila Sungazer (Lvl 1), Goblin Mech (Lvl 3), Fire Spitter (Lvl 1), Peacebringer (Lvl 1), Mantoid (Lvl 2), Centaur (Lvl 1), Cyclops (Lvl 1) |
---