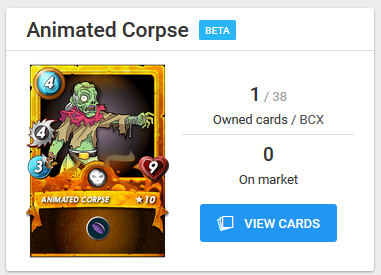 In July I was able to maintain Champion I status in the end of both seasons but barely. I grew fond of trying to earn maximum level monsters ever since I obtained my first max level in Ruler of the Sea. I am excited to now say I am an beta gold foil max Animated Corpse owner now! Also I enhanced my summoner collection.
A level 5 rare death summoner: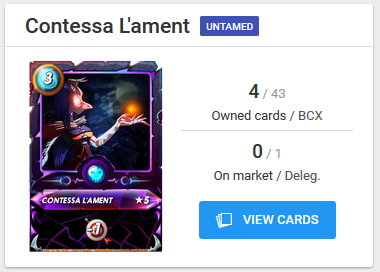 Two level 4 epic dragon summoner: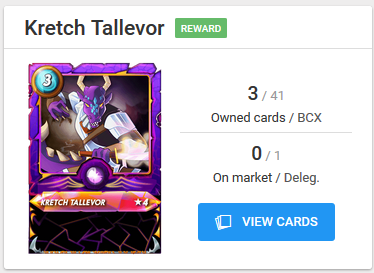 I plan to achieve a max level summoner Kretch Tallevor, as I am only 5 bcx away from level 6 dragon. In addition I plan to now invest more into Untamed cards as prices of most cards have drop slightly and I have a need for level 5 and higher summoners. Untamed summoners appear to be the best bang for the buck presently.
In addition some nice Untamed Legend cards are within my price range.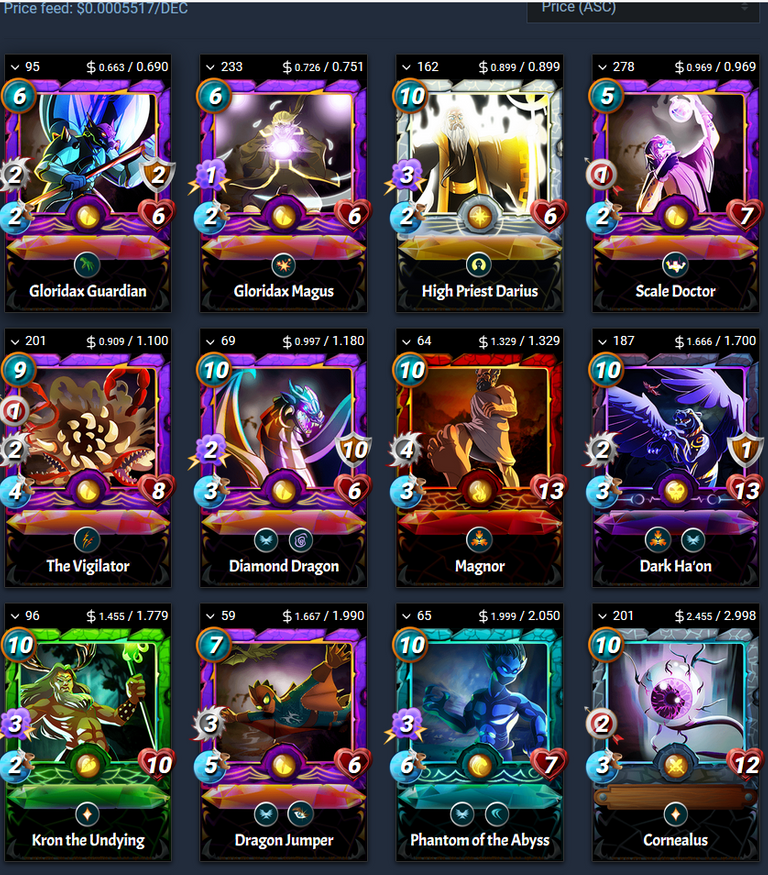 My goal for beta neutral cards also got increased in July.

I am determined to save up for a beta Elven Cutthroat and Cocatrice before end of the year but for now will have to wait patiently.
I like the new format in Splinterlands.

I am at the border of max 500k in points and will likely save enough hive/hbd to purchase cards to get me there. So for this recent Splinterlands upgrade I seem to still be able to play and earn as I had been in the past. Note I have mostly level 4 summoners and mid level monsters. All of which are mostly alphas with a max of beta and a ton of reward cards.
The last two season I was not able to really score much in reward cards but my overall card collection value based on Peakmonsters.com has rose slightly.

I look forward to adding in Untamed cards and the last couple of Beta neutrals to get myself a better overall collection for competition. I wish to be playing more Events in the future and I know in order to do so I need a further collection of cards and increase in level for some cards such as summoners. I have a lot to cover as to what I want in building my deck and will progress as I go.
Thanks for reading!
If You have yet to take part in playing this great game called Splinterlands please click on my referral link. It is free but in order to earn real assets such as cards and token you would have to invest in a starter deck or purchase game cards. Join the discord to learn more. Good luck!

THANKS FOR READING! CONTINUE TO PLAY SPLINTERLANDS!

Posted via neoxian.city | The City of Neoxian