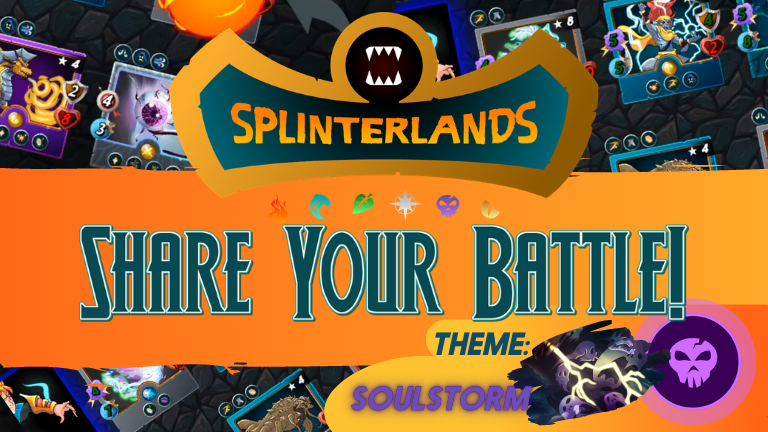 Evening Splinterlands Fans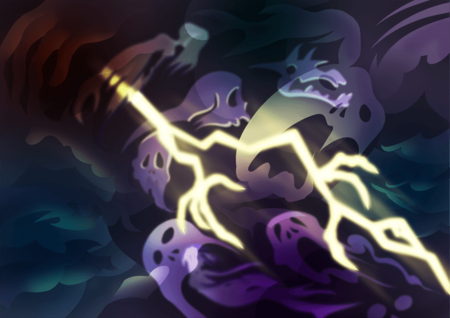 This week battle challenge is about the dreadful wandering souls, called SOULSTORM. SOULSTORM is an epic death card with strong ranged attack. Once maxed, it is loaded with some awesome abilities, like Flying, Snare, Headwinds and Stun. It has low default health, but compensates that with it's lightning speed. Flying monsters like SOULSTORM with speed of 5+ can be quite difficult to hit with ordinary ranged and melee monsters.
I own only Level-3 SOULSTORM so I rented the maxed one for this Week's Battle challenge. And it proved its metal in my death battles. With the strong ranged attack, along with abilities like Snare, Headwinds and Stun, SOULSTORM can be a real asset in one's ranks.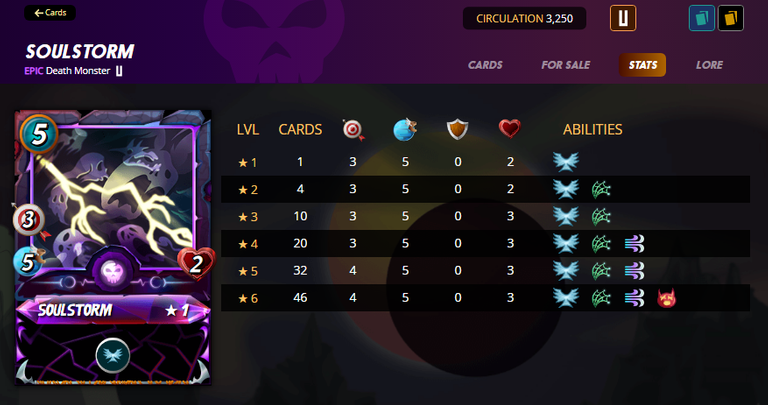 Currently there are 3,250 normal foil SOULSTORM in circulation, costing 0.64$/BCX. Gold Foils are far less abundant(for obvious reasons), with a supply of only 168, trading at 8.35$/BCX.
Here is the price trend of

SOULSTORM

for the last 30 days, courtesy

SPLINTX

. Note the spike in the price during current week, due to current weekly challenge. Once the Challenge is complete, the artificial inflation in price will surely subside.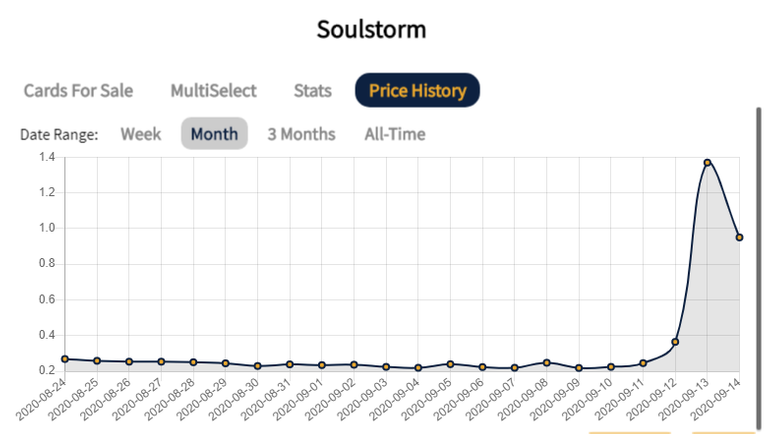 Favored Battle Rules
SOULSTORM can be used effectively in all type of battle rule sets, except Reverse Speed. Its utility increases many folds in Earthquake rule set, due to the Flying and Snare abilities.

Placement
SOULSTORM, like all ranged monsters is best suited in the middle back ranks, protected well from Snaek, Snipe and Blast attacks.
How to Use
SOULSTORM can prove a substantial threat to the enemy. Some adjustments can keep it alive for as long as possible, inflicting more and more damage to enemy.
Enhancing the ranged attack by using ARCHMAGE ARIUS or SELENIA SKY Summoner.

Since SOULSTORM is inherently weak and has no shield by default, so giving it shield from DRAKE OF ARNAK(summoner) or from Protect ability is a nice play.

Positive health attribute from Strengthen ability monsters is a nice ploy, as SOULSTORM is inherently low on health.

SOULSTORM is lightning fast by default, so speed related attributes like Slow, Swiftness and Blind can make it even more difficult to target.

Healing it by Triage ability can also work well.

Defense

Being low on health, SOULSTORM attracts Opportunity monsters, so killing it with speed Opportunity monsters is pretty easy. Also being a Flying monster, it is always an easy target for Snare ability monsters. DRAGON JUMPER is ideal for killing SOULSTORM, since it has both Opportunity and Snare abilities with strong melee attack.

MY BATTLE USING SOULSTRON

This was a 30 mana battle with two battle rules, Lost Legendaries and Close Range.

MY LINEUP

ZINTAR MORTALIS

I noticed enemy relaying heavily on melee and ranged attacks so I decided to go with Death Splinter. Since it was 30 mana battle so I went with ZINTAR MORTALIS summoner(instead of MIMOSA).

---

UNDEAD REXX

Since legendary tanks were unavailable due to Lost Legendaries rule, so I used UNDEAD REXX. This was the 1st time I used REXX upfront as a tank and it didn't disappoint me at all. All the heavy melee attack with Trample ability can be quite destructive.

---

TWISTED JESTER

On one down position, came the Joker, TWISTED JESTER. TWISTED JESTER's high speed and attack, makes it a good one down option in Close Range rule set.

---

UNDEAD ARCHER

Next, I used affliction monster, UNDEAD ARCHER. It is always wise to include Affliction monster in your team, to counter the heavy healing tanks.

---

SOULSTORM

Next came the star of our show, SOULSTORM. It's a shame that my summoner couldn't summon the maxed one, but still the level-5 SOULSTORM proved pretty destructive.

---

HAUNTED SPIDER

Then came another low mana monster, HAUNTED SPIDER. The main attraction of HAUNTED SPIDER is its Poison ability, which has no remedy but Cleanse ability.

---

TOWER GRIFFIN

On the very last, I placed a neutral monster, TOWER GRIFFIN. The Protect ability can really strengthen the team and provide much needed cushion to weak monsters against opportunity attack.

---

BATTLE ANALYSIS

This was a fun battle. Almost all went by plan. UNDEAD ARCHER fell before it could apply Affliction. But still I managed to take out enemy Cube without Affliction, thanks to the heavy attack of REXX and SOULSTRORM. The enemy made a mistake of placing STONESPLITTER ORC in the back ranks.

My Final Opinion About SOULSTORM

SOULSTORM once nearing Maximum can be a real killer in your ranks. But always remember to protect it by some shield.

That will be all for today.
Take very good care of yourself and people close to you..
Until next time...
👋Adios👋

Don't know about Splinterlands

---




Support @bdcommunity by voting them for witness following this instructions: