Nineteenth brawl completed - Neunzehnte Rauferei absolviert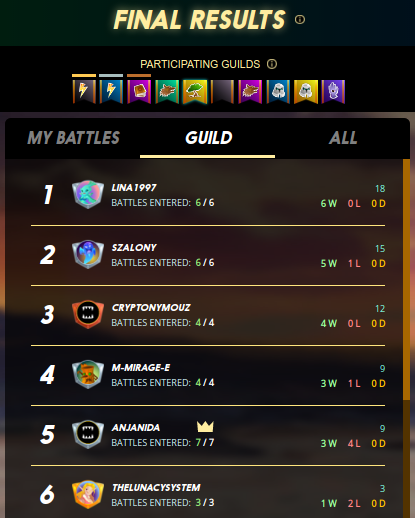 DEUTSCH
33 % Begünstigung dieses Beitrags gehen diesmal wieder an @jk420 und auch an @lina1997 für den Kauf weiterer Karten (oder ein Erfrischungsgetränk am Strand).
Diesmal war ich eine Zeit offline. Die Statistiken der neunzehnten Raufereien hatte ich grad noch notiert und dann nicht mehr veröffentlicht. Die zwanzigsten sind inzwischen auch schon absolviert und die Ergebnisse dazu werden folgen. Nun noch mal zu den neunzehnten.
Das @sm-rules Deck war ohne Gegner. Das erging @thelunacysystem bei den 17. Raufereien schon mal so. Doch diesmal gibt es ein Bildschirmfoto davon: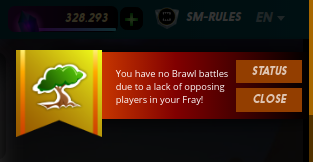 Das wird in der Spieler-Liste leider nicht erwähnt. Es erfährt also nur der Spieler, den es betrifft, sofern es nicht im Chat erzählt wird.
Unten gibt es nun noch wieder ein paar Statistiken, und während du vielleicht darin stöberst, werde ich noch etwas spielen.
Worum es sich bei Raufereien handelt, kannst Du lesen in Gilden-Raufereien werden stattfinden! [1]
Zur Verbesserung deines eigenen Decks empfehle ich die Lektüre meines Artikels Das eigene Deck langsam und stetig wachsen lassen - ohne Banknoten zu verwenden [2]
Und zur Verbesserung des Decks eines Mitspielers meinen Artikel Raufereien: Verstärken des Kartenstapels eines Teammitglieds [3]
Du spielst noch kein Splinterlands? Dann probiere es doch mal! Wir verleihen oder verschenken gerne auch mal ein paar nützliche Karten, statt sie "nur" zu verkaufen. Wenn du magst, verwende dazu meinen Link, um anzufangen. Dann bist Du auf ewig in meinem Team unterstützenswerter Spieler https://splinterlands.com?ref=anjanida
Hoffentlich auf bald!
PS: Wenn du mehr von uns lesen möchtest, wirf bitte einen Blick auf unsere Bilanz aus 2019: Rückblick, Gegenwart und Ausblicke [4]
---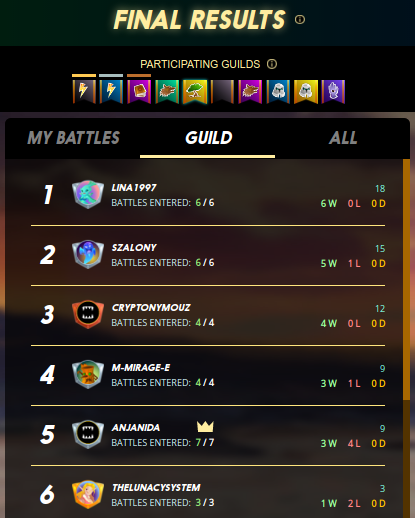 ENGLISH
33 % beneficiary rewards of this post will again go to @jk420 and to @lina1997 additionally this time for improving the deck (or a softdrink at the beach).
This time I was offline for a while. The statistics of the nineteenth brawls I had just noted and then not published. The twentieth have been completed in the meantime and the results will follow. Now again to the nineteenth.
The @sm-rules deck was without opponents. This happened to @thelunacysystem at the 17th brawl before. But this time there is a screenshot of it: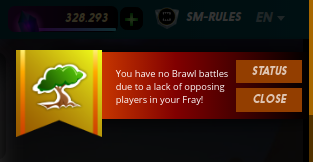 Unfortunately, this is not mentioned in the player list. So only the player it affects will know, unless it is told in the chat.
Below are some stats again, and while you might be browsing through them, I'm going to play some more.
What brawls are about, you can read in Guild Brawls Are Coming! [1]
On improving your own deck I suggest reading my article Let your deck grow slowly and steadily - without using banknotes [2]
And to improve the deck of a fellow player my article Brawls: Boosting the Deck of a Team Member [3]
You don't play Splinterlands yet? Then give it a try! We gladly lend or give away some useful cards instead of "just" selling them. If you like, use my link to get started. Then you will be in my team of supportworthy players for eternity https://splinterlands.com?ref=anjanida.
We hope to see you soon!
PS: If you want to read more from us, please have a look at our summary from 2019: Recap, Present, and Prospects [4]
Prep Stage: Frays in Tier 1
| # | League | Cards + Limits | C | R | E | L | Player | Power |
| --- | --- | --- | --- | --- | --- | --- | --- | --- |
| 1 | Novice | all / no limit | 1 | 1 | 1 | 1 | @szalony | 74,120 |
| 2 | Novice | all / no limit | 1 | 1 | 1 | 1 | @lina1997 | 70,925 |
| 3 | Novice | all Untamed | 1 | 1 | 1 | 1 | @cryptonymouz | 5,235 |
| 4 | Novice | all Alpha/Beta | 1 | 1 | 1 | 1 | @a3manolo | 52,185 |
| 5 | Bronze | all / no limit | 3 | 2 | 2 | 1 | @lucajuda1 | 1,000 |
| 6 | Bronze | all / no limit | 3 | 2 | 2 | 1 | @boomhower | 23,115 |
| 7 | Bronze | all Untamed | 3 | 2 | 2 | 1 | @jk420 | 44,400 |
| 8 | Silver | all / no limit | 5 | 4 | 3 | 2 | @m-mirage-e | 72,895 |
| 9 | Silver | all / no limit | 5 | 4 | 3 | 2 | @anjanida | 158,405 |
| 10 | Silver | all Untamed | 5 | 4 | 3 | 2 | - | - |
| 11 | Bronze | GF / no limit | 3 | 2 | 2 | 1 | @sm-rules | 139,595 |
| 12 | Bronze | GF Untamed | 3 | 2 | 2 | 1 | - | - |
| 13 | Silver | GF / no limit | 5 | 4 | 3 | 2 | @thelunacysystem | 295,049 |
Guild #FHREE.org internal results
| Points | Fray | Cards | Battles | Won | Lost | Draw | Player | Power |
| --- | --- | --- | --- | --- | --- | --- | --- | --- |
| 18 | Novice | all / no limit | 6/6 | 6W | 0L | 0D | @lina1997 | 70,925 |
| 15 | Novice | all / no limit | 6/6 | 5W | 1L | 0D | @szalony | 74,120 |
| 12 | Novice | all Untamed | 4/4 | 4W | 0L | 0D | @cryptonymouz | 5,235 |
| 9 | Silver | all / no limit | 4/4 | 3W | 1L | 0D | @m-mirage-e | 72,895 |
| 9 | Silver | all / no limit | 7/7 | 3W | 4L | 0D | @anjanida | 158,405 |
| 3 | Silver | GF / no limit | 3/3 | 1W | 2L | 0D | @thelunacysystem | 295,049 |
| 3 | Bronze | all Untamed | 5/5 | 1W | 4L | 0D | @jk420 | 44,400 |
| 3 | Novice | all Alpha/Beta | 6/6 | 1W | 5L | 0D | @a3manolo | 52,185 |
| 0 | Bronze | all / no limit | 2/6 | 0W | 6L | 0D | @boomhower | 23,115 |
| 0 | Bronze | all / no limit | 6/6 | 0W | 6L | 0D | @lucajuda1 | 1,000 |
| 0 | Bronze | GF / no limit | 0/0 | 0W | 0L | 0D | @sm-rules | 139,595 |
ALL Guilds that participated in our brawl
| Points | Name | Tag Line | Guild Rank | |
| --- | --- | --- | --- | --- |
| 84 | Bone Crushers | We will crush you if you get in our way | #85 | Link |
| 84 | Splinter Elites | TOGETHER WE RISE | #38 | Link |
| 78 | Acolytes of Helio | We Keep Battling! | #90 | Link |
| 76 | Рогатые Трупоеды (Horned Carcass Eaters) | - | #160 | Link |
| 72 | #FHREE.org | Team Self-Directed Education | #106 | Link |
| 39 | BGN | BGN | #133 | Link |
| 22 | Primate Prospectors | - | #184 | Link |
| 15 | Hall Of Göndul | Mandalorian Covert - This is the way | #217 | Link |
| 15 | SplinterlandsRU | - | #101 | Link |
| 15 | GOAT Gang | Welcome Home! | #16 | Link |
---
Blog Reward Statistics
---
Footnotes
---
Fußnoten
---
---