Twentieth Brawl completed - Zwanzigste Rauferei absolviert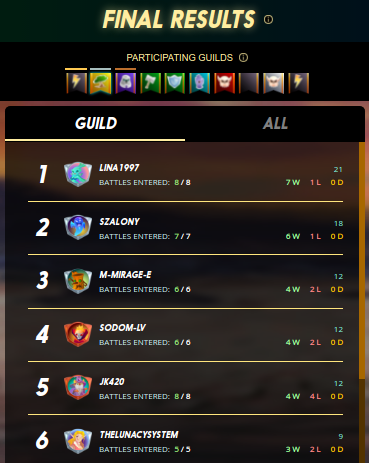 DEUTSCH
33 % Begünstigung dieses Beitrags gehen diesmal wieder an @lina1997 und auch an @sodom-lv für den Kauf weiterer Karten (oder ein Erfrischungsgetränk am Strand).
Ich bin noch immer zurück mit aktuellen Statistiken und mag das grad nachholen, bevor die einundzwanzigsten Raufereien beendet sind. Es wurde ein schöner knapper zweiter Platz auch ohne meine Beteiligung. Herzlichen Glückwunsch!
@lina1997 hatte diesmal erneut eine super Serie, wie schon in der Rauferei zuvor. Ich hatte gar ein paar Links zu den Kämpfen kopiert. Doch diese sind mir in der Zwischenzeit leider abhanden gekommen. Darum erinnert: Bitte teilt sehenswerte Rauferei-Kämpfe im Chat und ich werde sie hier zeigen.
Aufgefallen war mir vor Beginn der Rauferei noch, dass es inzwischen eine einzelne Gilde gab, die in Tier 3 hoch ist. Davon war jedoch nach Beginn der Rauferei nichts mehr zu sehen. Ich kann an dieser Stelle nur vermuten, womit das zusammen hängt. Die Bildschirmfotos mag ich jedoch teilen und auch einen Link zur betreffenden Gilde. Sehr enthusiastisch! Das gefällt mir!! Warum wir mit unserer Gilde bislang nicht in Tier 2 hoch wollen, jedoch auf eine Arena Level 2 hinarbeiten, beschrieb ich in Die 11 Top-Gilden, die raufen! Du denkst über ein Upgrade der Gilden-Arena nach?
| vor Start | nach Start |
| --- | --- |
| | |
Vor Start wurde für die Gilde Tier 3 auch angezeigt. Das ist anschließend nicht mehr der Fall gewesen. Warum das so ist? Sag du's mir!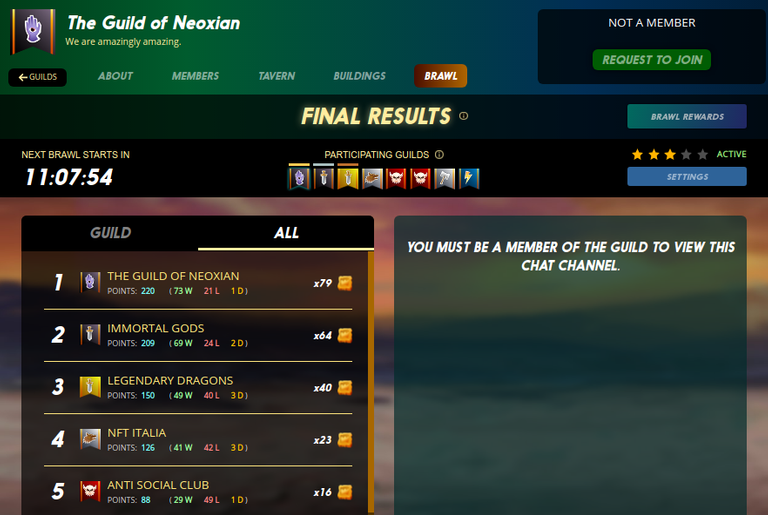 https://splinterlands.com/?p=guild&ref=anjanida&id=f1840e0d297c7a6aaf4fbb9dd68dd88d2b60af2c&tab=brawl
Unten gibt es nun noch wieder ein paar Statistiken, und während du vielleicht darin stöberst, werde ich noch etwas spielen.
Worum es sich bei Raufereien handelt, kannst Du lesen in Gilden-Raufereien werden stattfinden! [1]
Zur Verbesserung deines eigenen Decks empfehle ich die Lektüre meines Artikels Das eigene Deck langsam und stetig wachsen lassen - ohne Banknoten zu verwenden [2]
Und zur Verbesserung des Decks eines Mitspielers meinen Artikel Raufereien: Verstärken des Kartenstapels eines Teammitglieds [3]
Du spielst noch kein Splinterlands? Dann probiere es doch mal! Wir verleihen oder verschenken gerne auch mal ein paar nützliche Karten, statt sie "nur" zu verkaufen. Wenn du magst, verwende dazu meinen Link, um anzufangen. Dann bist Du auf ewig in meinem Team unterstützenswerter Spieler https://splinterlands.com?ref=anjanida
Hoffentlich auf bald!
PS: Wenn du mehr von uns lesen möchtest, wirf bitte einen Blick auf unsere Bilanz aus 2019: Rückblick, Gegenwart und Ausblicke [4]
---
ENGLISH
33 % beneficiary rewards of this post will again go to @lina1997 and to @sodom-lv additionally this time for improving the deck (or a softdrink at the beach).
I'm still behind with current stats and may just catch up before the twenty-first brawls are over. It turned out to be a nice close second place even without my participation. Congratulations!
@lina1997 had another great series this time, as did in the brawl before. I had even copied a few links to the fights. But these unfortunately got lost to me in the meantime. Therefore remember: Please share brawl fights worth watching in the chat and I will show them here.
I had noticed before the start of the brawl that there was a single guild in the meantime, which is high in Tier 3. However, there was nothing of that after the brawl began. I can only guess at this point how this happened. I may share the screenshots though and also a link to the guild of interest. Very enthusiastic! I like that!! As to why we don't want to go up to Tier 2 with our guild so far, but are working towards an Arena Level 2, I described in The 11 Top Guilds that Brawl! You think about upgrading the Guild Arena?
| before start | after start |
| --- | --- |
| | |
Before the start, Tier 3 was indicated for the guild likewise. This was no longer the case afterwards. Why is that? You tell me!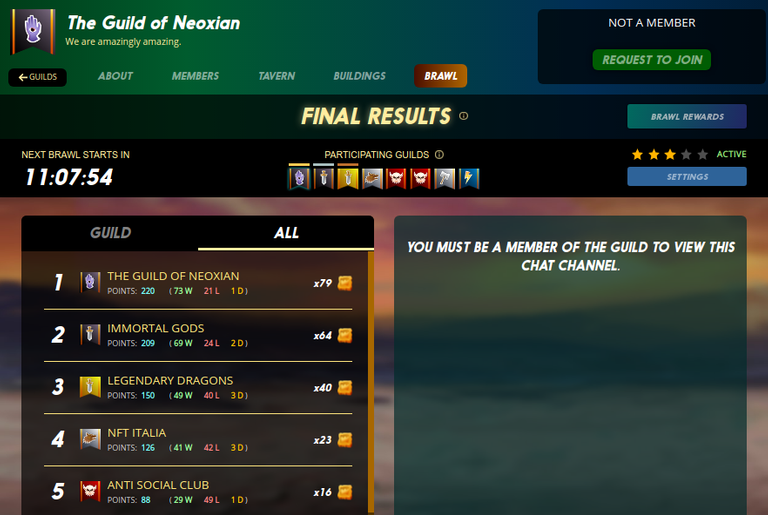 https://splinterlands.com/?p=guild&ref=anjanida&id=f1840e0d297c7a6aaf4fbb9dd68dd88d2b60af2c&tab=brawl
Below are some stats and finds again, and while you might be browsing through them, I'm going to play some more.
What brawls are about, you can read in Guild Brawls Are Coming! [1]
On improving your own deck I suggest reading my article Let your deck grow slowly and steadily - without using banknotes [2]
And to improve the deck of a fellow player my article Brawls: Boosting the Deck of a Team Member [3]
You don't play Splinterlands yet? Then give it a try! We gladly lend or give away some useful cards instead of "just" selling them. If you like, use my link to get started. Then you will be in my team of supportworthy players for eternity https://splinterlands.com?ref=anjanida.
We hope to see you soon!
PS: If you want to read more from us, please have a look at our summary from 2019: Recap, Present, and Prospects [4]
Prep Stage: Frays in Tier 1
| # | League | Cards + Limits | C | R | E | L | Player | Power |
| --- | --- | --- | --- | --- | --- | --- | --- | --- |
| 1 | Novice | all / no limit | 1 | 1 | 1 | 1 | @szalony | 74,330 |
| 2 | Novice | all / no limit | 1 | 1 | 1 | 1 | @sodom-lv | 1,345 |
| 3 | Novice | all Untamed | 1 | 1 | 1 | 1 | @lucajudo1 | 1,300 |
| 4 | Novice | all Alpha/Beta | 1 | 1 | 1 | 1 | @thelunacysystem | 312,724 |
| 5 | Bronze | all / no limit | 3 | 2 | 2 | 1 | @lina1997 | 75,335 |
| 6 | Bronze | all / no limit | 3 | 2 | 2 | 1 | @m-mirage-e | 73,875 |
| 7 | Bronze | all Untamed | 3 | 2 | 2 | 1 | @cryptonymouz | 4,930 |
| 8 | Silver | all / no limit | 5 | 4 | 3 | 2 | @marklos | 123,340 |
| 9 | Silver | all / no limit | 5 | 4 | 3 | 2 | @jk420 | 45,080 |
| 10 | Silver | all Untamed | 5 | 4 | 3 | 2 | - | - |
| 11 | Bronze | GF / no limit | 3 | 2 | 2 | 1 | - | - |
| 12 | Bronze | GF Untamed | 3 | 2 | 2 | 1 | - | - |
| 13 | Silver | GF / no limit | 5 | 4 | 3 | 2 | - | - |
Guild #FHREE.org internal results
| Points | Fray | Cards | Battles | Won | Lost | Draw | Player | Power |
| --- | --- | --- | --- | --- | --- | --- | --- | --- |
| 21 | Bronze | all / no limit | 8/8 | 7W | 1L | 0D | @lina1997 | 75,335 |
| 18 | Novice | all / no limit | 7/7 | 6W | 1L | 0D | @szalony | 74,330 |
| 12 | Bronze | all / no limit | 6/6 | 4W | 2L | 0D | @m-mirage-e | 73,875 |
| 12 | Novice | all / no limit | 6/6 | 4W | 2L | 0D | @sodom-lv | 1,345 |
| 12 | Silver | all / no limit | 8/8 | 4W | 4L | 0D | @jk420 | 45,080 |
| 9 | Novice | all Alpha/Beta | 5/5 | 3W | 2L | 0D | @thelunacysystem | 312,724 |
| 6 | Bronze | all Untamed | 5/5 | 2W | 3L | 0D | @cryptonymouz | 4,930 |
| 6 | Silver | all / no limit | 6/6 | 2W | 4L | 0D | @marklos | 123,340 |
| 0 | Novice | all Untamed | 6/6 | 0W | 6L | 0D | @lucajudo1 | 1,300 |
ALL Guilds that participated in our brawl
| Points | Name | Tag Line | Guild Rank | |
| --- | --- | --- | --- | --- |
| 118 | Bone Crushers | We will crush you if you get in our way | #73 | Link |
| 96 | #FHREE.org | Team Self-Directed Education | #102 | Link |
| 93 | Hivemonsters | - | #76 | Link |
| 90 | Valhalla | VLHL | #90 | Link |
| 78 | Team Possible Lobby | We Believe In Each Other! | #77 | Link |
| 76 | SkilletFish | Cook um, fry um, they are already a pan | #96 | Link |
| 48 | Utopia | Tactics without strategy is noise before defeat | #127 | Link |
| 33 | Astral Entities | Free Entry | #86 | Link |
| 15 | PeakMonsters [ALL-5} | Free guild for users of PeakMonsters.com | #58 | Link |
| 9 | ELITE | Elite Alliance | #187 | Link |
---
Blog Reward Statistics
---
Footnotes
---
Fußnoten
---
---