Twenty-first Brawl completed - Einundzwanzigste Rauferei absolviert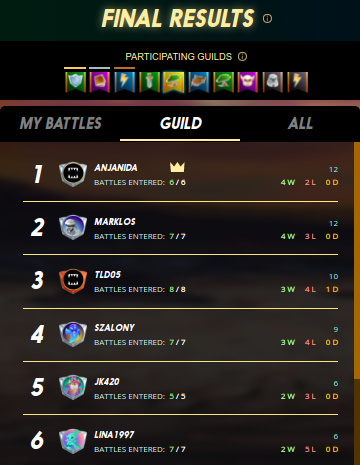 ENGLISH
Me being first place this time I waive a third, so 66 % beneficiary rewards of this post will go to @tld05 again for improving the deck (or a softdrink at the beach).
We had a good chat about the Enrage rule set. Here is a pretty good lineup. I like how the Cerberus covers the back, gets enraged by the opponent's faster but weaker Kobold Miner for their slower but stronger Sand Worm to miss every time. Good game!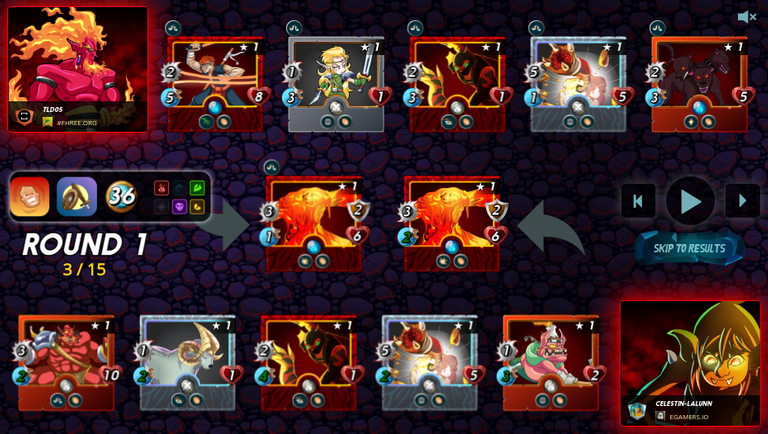 https://splinterlands.com?p=battle&ref=tld05&id=sm_K98W1DytJka0VdsmAZnG
The following is one of my lost battles in Silver that hooked me up to leveling my Flame Monkey that I rarely use from 4 to 5. I have not done this before, because I have not maxed out my Alpha rare summoner Malric Inferto for playing in Silver and therefore only being able to play common cards with level 4. Yet I maxed out my Beta epic summoner Talia Firestorm that can make use of a common level 5, especially in low mana battles. Here is the battle I got the lesson from, so thanks to @sweetcheeba for the good game.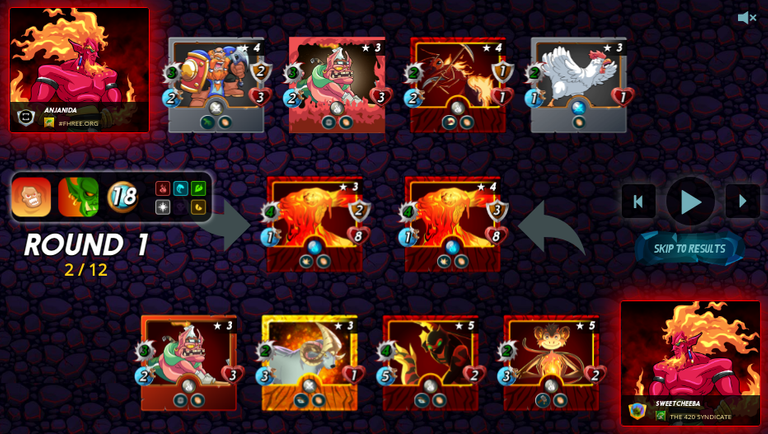 https://splinterlands.com?p=battle&ref=anjanida&id=sm_ME1uBAAhc69DDwIPQQD2
So this is me leveling up a Flame Monkey from 30 to 60 BCX ...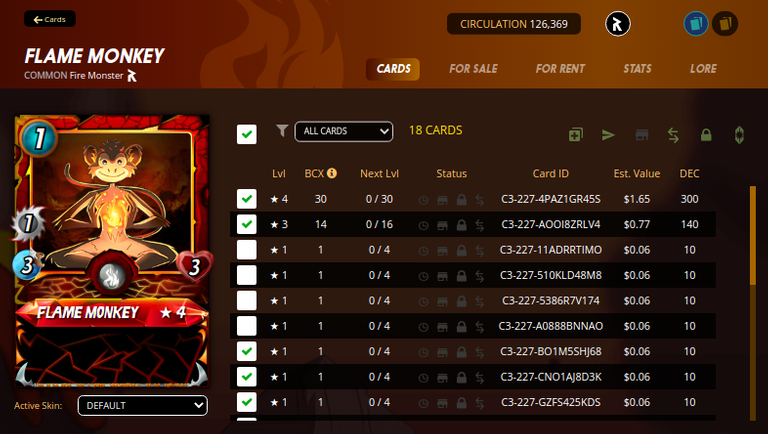 ... then realizing that Fire Beetle is going to be a perfect fit with level 5 getting an Armor. I just managed to curb my impatience and placed a bid for about half the price of an immediate purchase. Whereby the price was not bad at all. Well, we will see. I will raise my bid to remain the highest bidder. Take a look into the live Peakmonsters, if you like.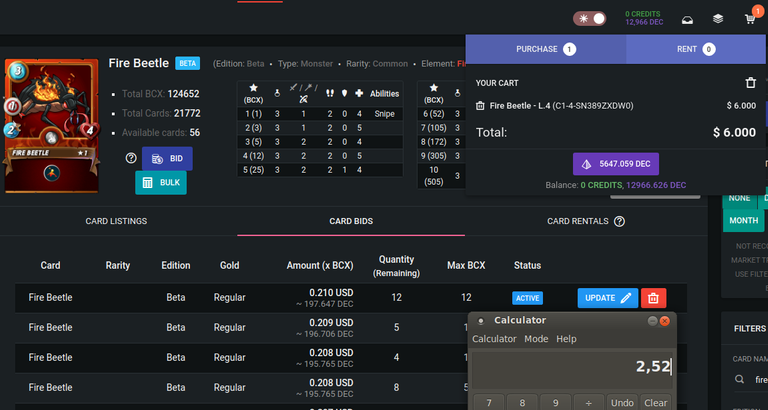 Below are some stats again, and while you might be browsing through them, I'm going to play some more.
What brawls are about, you can read in Guild Brawls Are Coming! [1]
On improving your own deck I suggest reading my article Let your deck grow slowly and steadily - without using banknotes [2]
And to improve the deck of a fellow player my article Brawls: Boosting the Deck of a Team Member [3]
You don't play Splinterlands yet? Then give it a try! We gladly lend or give away some useful cards instead of "just" selling them. If you like, use my link to get started. Then you will be in my team of supportworthy players for eternity https://splinterlands.com?ref=anjanida.
We hope to see you soon!
PS: If you want to read more from us, please have a look at our summary from 2019: Recap, Present, and Prospects [4]
---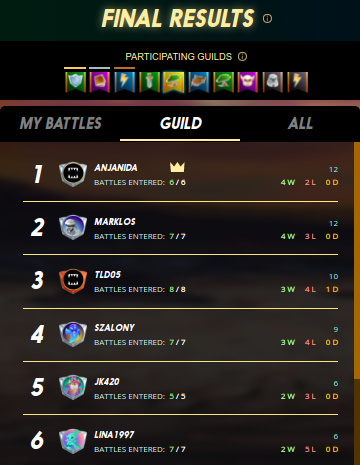 DEUTSCH
Da ich dieses Mal den ersten Platz belege, verzichte ich auf ein Drittel, so dass 66 % Begünstigung dieses Beitrags diesmal erneut gehen an @tld05 für den Kauf weiterer Karten (oder ein Erfrischungsgetränk am Strand).
Wir hatten einen guten Chat über das Enrage-Regelwerk. Hier ist ein ziemlich gutes Lineup. Mir gefällt, wie der Cerberus den Rückraum sichert, vom schnelleren, aber schwächeren Kobold Miner des Gegners erzürnt wird, damit sein langsamer, aber stärkerer Sandwurm jedes Mal daneben schlägt. Guter Spielzug!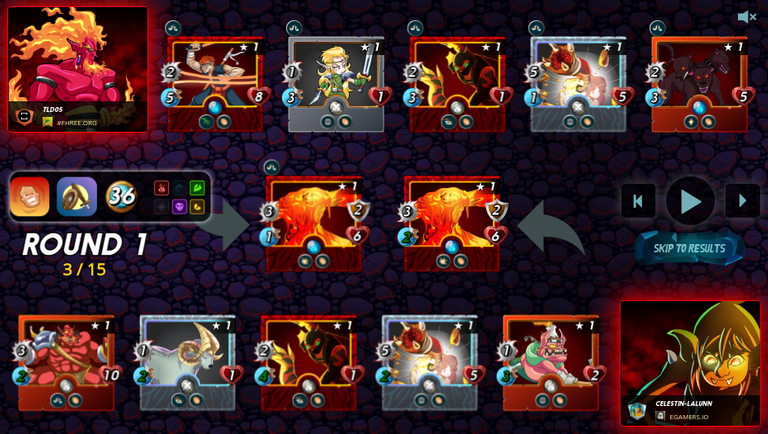 https://splinterlands.com?p=battle&ref=tld05&id=sm_K98W1DytJka0VdsmAZnG
Das Folgende ist eine meiner verlorenen Kämpfe in Silber, der mich dazu gebracht hat, meinen Flammenaffen, den ich selten benutze, von 4 auf 5 zu leveln. Ich habe das vorher nicht gemacht, weil ich meinen seltenen Alpha-Beschwörer Malric Inferto nicht ausgeschöpft habe für das Spielen in Silber und daher nur in der Lage bin, gewöhnliche Karten mit Level 4 zu spielen. Allerdings habe ich meinen epischen Beta-Beschwörer Talia Firestorm ausgeschöpft, der eine gewöhnliche Karte der Stufe 5 ausnutzen kann, besonders in Kämpfen mit wenig Mana. Hier ist der Kampf, aus dem ich die Lektion gelernt habe, also danke an @sweetcheeba für den guten Spielzug.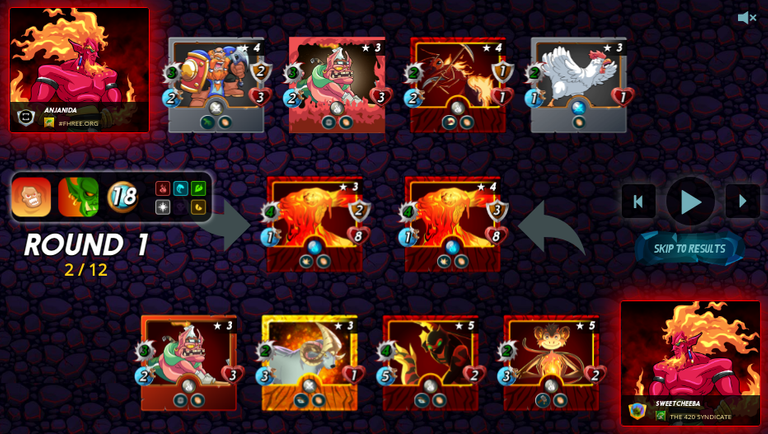 https://splinterlands.com?p=battle&ref=anjanida&id=sm_ME1uBAAhc69DDwIPQQD2
Das ist also das Hochstufen eines Flame Monkeys von 30 auf 60 BCX ...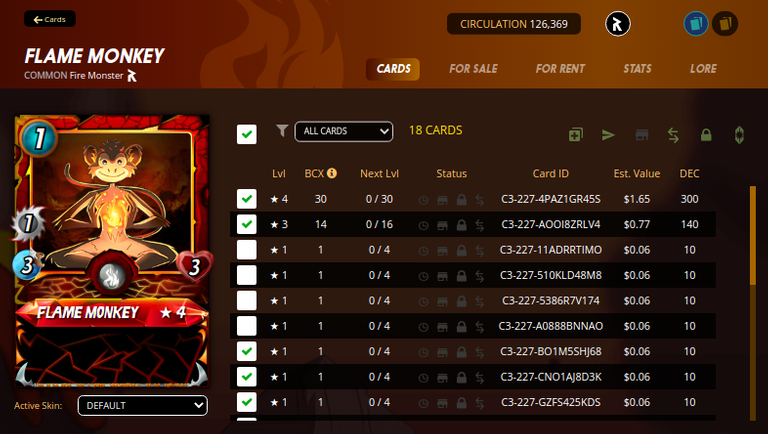 ... um dann festzustellen, dass der Feuerkäfer perfekt passt, weil er auf Stufe 5 eine Rüstung bekommt. Ich habe es gerade noch geschafft, meine Ungeduld zu zügeln und habe ein Gebot für etwa die Hälfte des Preises eines Sofortkaufs abgegeben. Wobei der Preis gar nicht mal so schlecht war. Nun, wir werden sehen. Ich werde mein Gebot erhöhen, um der Höchstbietende zu bleiben. Wirf doch mal einen Blick in die Live-Peakmonster, wenn Du magst.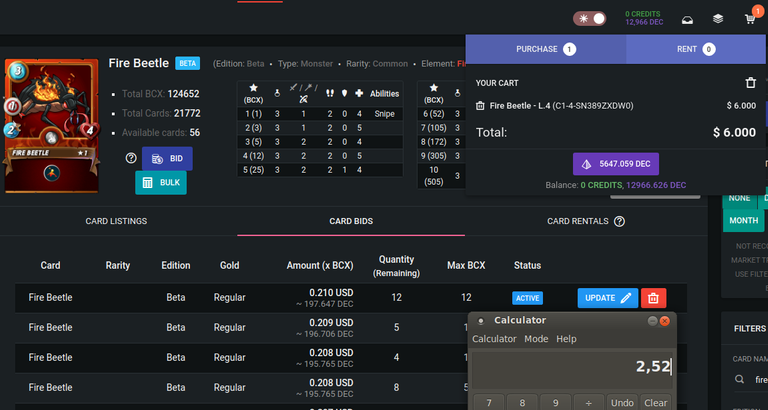 Unten gibt es nun noch wieder ein paar Statistiken, und während du vielleicht darin stöberst, werde ich noch etwas spielen.
Worum es sich bei Raufereien handelt, kannst Du lesen in Gilden-Raufereien werden stattfinden! [1]
Zur Verbesserung deines eigenen Decks empfehle ich die Lektüre meines Artikels Das eigene Deck langsam und stetig wachsen lassen - ohne Banknoten zu verwenden [2]
Und zur Verbesserung des Decks eines Mitspielers meinen Artikel Raufereien: Verstärken des Kartenstapels eines Teammitglieds [3]
Du spielst noch kein Splinterlands? Dann probiere es doch mal! Wir verleihen oder verschenken gerne auch mal ein paar nützliche Karten, statt sie "nur" zu verkaufen. Wenn du magst, verwende dazu meinen Link, um anzufangen. Dann bist Du auf ewig in meinem Team unterstützenswerter Spieler https://splinterlands.com?ref=anjanida
Hoffentlich auf bald!
PS: Wenn du mehr von uns lesen möchtest, wirf bitte einen Blick auf unsere Bilanz aus 2019: Rückblick, Gegenwart und Ausblicke [4]
---
Prep Stage: Frays in Tier 1
| # | League | Cards + Limits | C | R | E | L | Player | Power |
| --- | --- | --- | --- | --- | --- | --- | --- | --- |
| 1 | Novice | all / no limit | 1 | 1 | 1 | 1 | @tld05 | 1,430 |
| 2 | Novice | all / no limit | 1 | 1 | 1 | 1 | @szalony | 74,340 |
| 3 | Novice | all Untamed | 1 | 1 | 1 | 1 | @jk420 | 45,100 |
| 4 | Novice | all Alpha/Beta | 1 | 1 | 1 | 1 | @thelunacysystem | 313,204 |
| 5 | Bronze | all / no limit | 3 | 2 | 2 | 1 | @marklos | 126,380 |
| 6 | Bronze | all / no limit | 3 | 2 | 2 | 1 | @lina1997 | 69,755 |
| 7 | Bronze | all Untamed | 3 | 2 | 2 | 1 | @m-mirage-e | 73,905 |
| 8 | Silver | all / no limit | 5 | 4 | 3 | 2 | - | - |
| 9 | Silver | all / no limit | 5 | 4 | 3 | 2 | @anjanida | 158,575 |
| 10 | Silver | all Untamed | 5 | 4 | 3 | 2 | - | - |
| 11 | Bronze | GF / no limit | 3 | 2 | 2 | 1 | @sm-rules | 139,845 |
| 12 | Bronze | GF Untamed | 3 | 2 | 2 | 1 | - | - |
| 13 | Silver | GF / no limit | 5 | 4 | 3 | 2 | - | - |
Guild #FHREE.org internal results
| Points | Fray | Cards | Battles | Won | Lost | Draw | Player | Power |
| --- | --- | --- | --- | --- | --- | --- | --- | --- |
| 12 | Silver | all / no limit | 6/6 | 4W | 2L | 0D | @anjanida | 158,575 |
| 12 | Bronze | all / no limit | 7/7 | 4W | 3L | 0D | @marklos | 126,380 |
| 10 | Novice | all / no limit | 8/8 | 3W | 4L | 1D | @tld05 | 1,430 |
| 9 | Novice | all / no limit | 7/7 | 3W | 4L | 0D | @szalony | 74,340 |
| 6 | Novice | all Untamed | 5/5 | 2W | 3L | 0D | @jk420 | 45,100 |
| 6 | Bronze | all / no limit | 7/7 | 2W | 5L | 0D | @lina1997 | 69,755 |
| 3 | Novice | all Alpha/Beta | 4/4 | 1W | 3L | 0D | @thelunacysystem | 313,204 |
| 0 | Bronze | GF / no limit | 2/2 | 0W | 2L | 0D | @sm-rules | 139,845 |
| 0 | Bronze | all Untamed | 3/3 | 0W | 3L | 0D | @m-mirage-e | 73,905 |
ALL Guilds that participated in our brawl
| Points | Name | Tag Line | Guild Rank | |
| --- | --- | --- | --- | --- |
| 126 | Team Possible Hackers | - | #42 | Link |
| 102 | Acolytes of Helio | We Keep Battling! | #88 | Link |
| 79 | Splinter Elites | TOGETHER WE RISE | #38 | Link |
| 73 | Imperio Azteca (Mx) [Aztec Empire (Mx)] | Sangre Mexicana [Mexican Blood] | #99 | Link |
| 58 | #FHREE.org | Team Self-Directed Education | #106 | Link |
| 51 | Wayward War Dogs | There is no land beyond the Volga | #75 | Link |
| 42 | The 420 Syndicate | Puff, puff, pass. | #91 | Link |
| 36 | PeakMonsters [ALL-1] | For all Peakmonsters Users | #52 | Link |
| 28 | eGamers.io | 57IO | #178 | Link |
| 12 | Optimus | Prime but not the bezos kind | #144 | Link |
---
Blog Reward Statistics
---
Footnotes
---
Fußnoten
---
---