Twenty-third Brawl completed - Dreiundzwanzigste Rauferei absolviert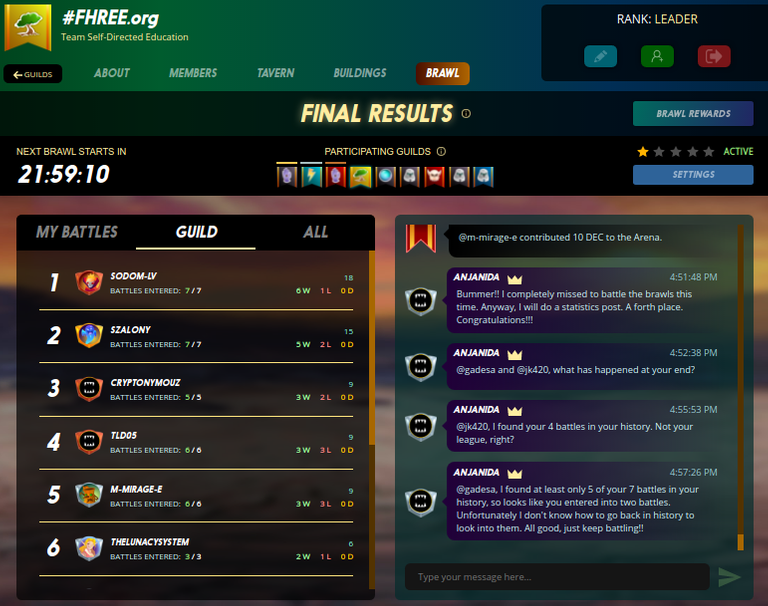 ENGLISH
33 % beneficiary rewards of this post will again go to @gadesa and to @sodom-lv additionally this time for improving the deck (or a softdrink at the beach).
Bummer, this time I have - at least as far as my brawl participation concerns - completely screwed up. But the team still made it to 4th place! I'm even still behind with this posting, which means that the twenty-fourth brawl has already ended in the meantime. But even though I didn't contribute anything to the result, at least I recorded all the info of the brawl and some more. And now you can find it here.
I'm not the only one who didn't score. @jk420 had already announced it in the chat before the start and was simply misplaced in the silver fray with rare summoners not stronger than level 2. Probably for lack of available alternatives and hoping to meet many others misplaced. I like this fighting spirit! I was able to watch all the fights. Here are two worth watching.
In the first one you can see well what a legendary tank means. There's not much to say about it, except that it looks pretty good at first.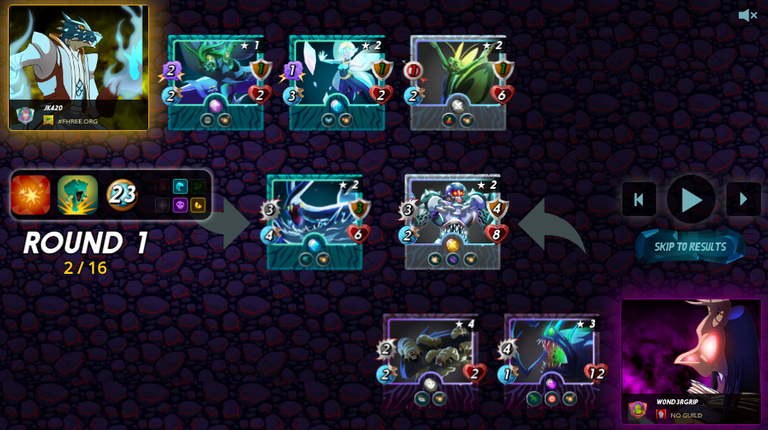 https://splinterlands.com?p=battle&ref=anjanida&id=sm_Urr9OTatxTQP58DDLyQC
The second one is such a typical Llama fight. I find it remarkable that @jk420 also plays a legendary Kron the Undying. But not also level 2, like his opponent @bandogge. And if it wasn't for the Llama.... what am I talking, see for yourself.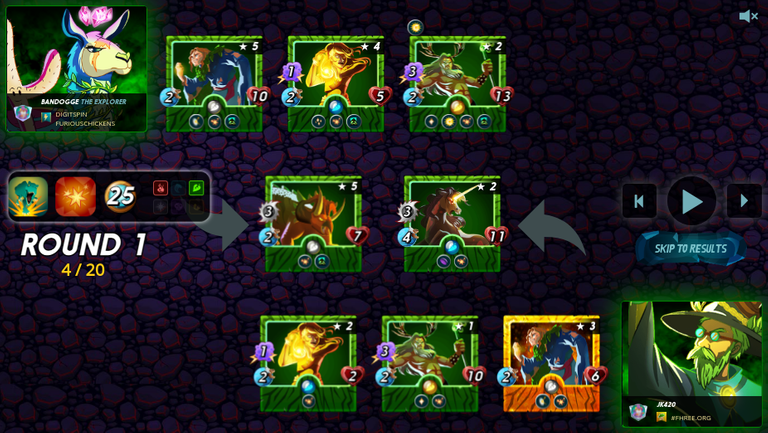 https://splinterlands.com?p=battle&ref=anjanida&id=sm_JItZD7FHHIgjip8HGmYm
From @gadesa I found at the end of the brawl only five of seven fights failed due to non-participation. @gadesa reported later, the Internet connection was unfortunately interrupted. I would have loved to watch the two other fights as well. But unfortunately they were already not to be seen on the generally very short battle history.
What I still found, looking at the chat at the time, was quite a cheerful activity during the brawl:
@cryptonymouz in the Novice Untamed fray shared the following battle with us. Thanks to using the Legendary Summoner Camila Sungazer in the "melee only" ruleset, the rare Living Lava became invulnerable against four of @wiggl3's five cards and even won against two Legendaries. Worth watching! @cryptonymouz couldn't believe it yoselves and had to watch the fight a second time first. Thanks for sharing!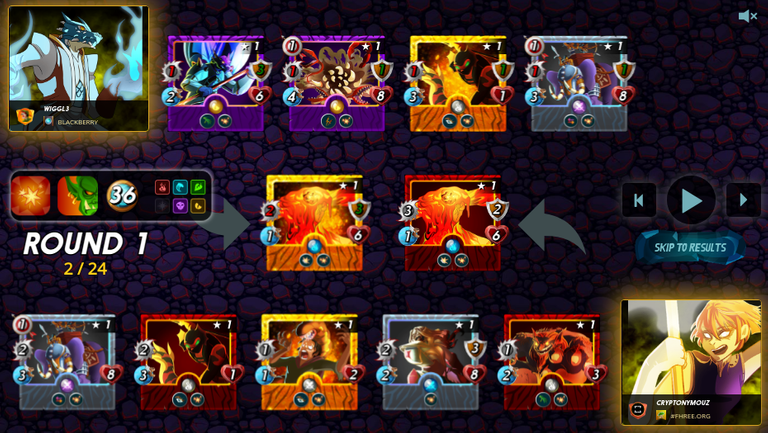 https://splinterlands.com/?p=battle&ref=anjanida&id=sm_HpM5snQd72ZRQZbNqN7i
@thelunacysystem, again battling in the Novice Alpha/Beta fray, shared this battle with us. Check out the Selenia Sky Splinterstorm skin alone! I am loving it!!! And Selenia's ability doesn't even come into play with that ruleset! But it is an alpha edition after all, costs 3 mana too, looks good, and is here in perfect combination with the predominant alpha team. A feast for the eyes!!! Thank you for sharing too!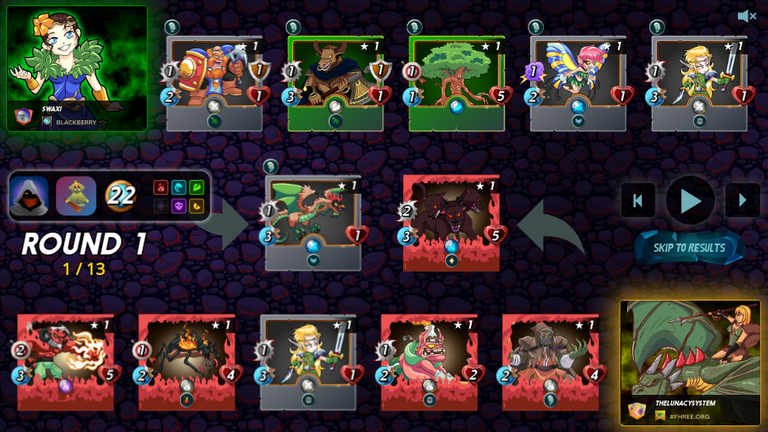 https://splinterlands.com/?p=battle&id=sm_leT8zRtqJsPWstxd6n4a
And last but not least @thelunacysystem announced in the chat to have published a first blog post. I am very pleased! Please them yourself!
https://peakd.com/plurality/@thelunacysystem/introduction-to-the-lunacy-system
By the way, this time was the first brawl in which two guilds already brawled in Tier 3. But I will not report about it at this point. More about this next time, because something else has already happened in the matter.
New below are some stats again, and while you might be browsing through them, I'm going to collect the data from the twenty-fourth brawl that has already ended.
What brawls are about, you can read in Guild Brawls Are Coming! [1]
On improving your own deck I suggest reading my article Let your deck grow slowly and steadily - without using banknotes [2]
And to improve the deck of a fellow player my article Brawls: Boosting the Deck of a Team Member [3]
You don't play Splinterlands yet? Then give it a try! We gladly lend or give away some useful cards instead of "just" selling them. If you like, use my link to get started. Then you will be in my team of supportworthy players for eternity https://splinterlands.com?ref=anjanida.
We hope to see you soon!
PS: If you want to read more from us, please have a look at our summary from 2019: Recap, Present, and Prospects [4]
---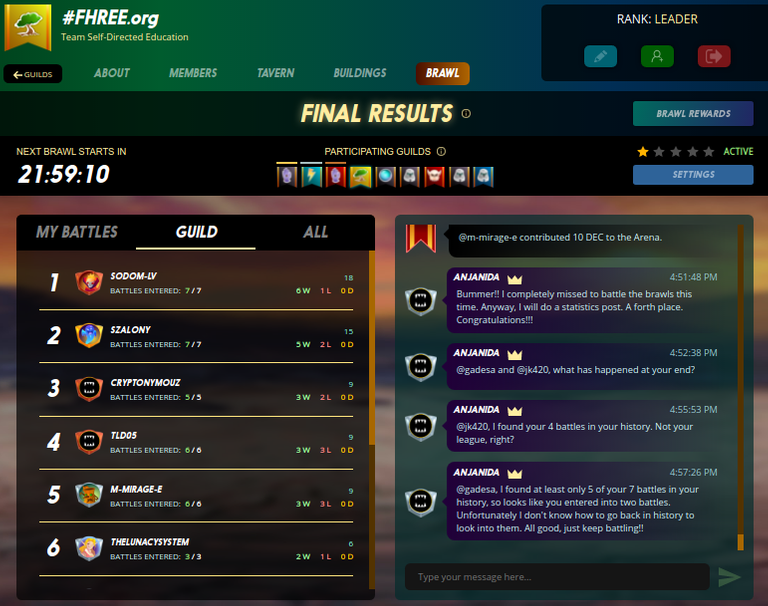 DEUTSCH
33 % Begünstigung dieses Beitrags gehen diesmal wieder an @gadesa und auch an @sodom-lv für den Kauf weiterer Karten (oder ein Erfrischungsgetränk am Strand).
Ferflixt, diesmal hab ich es - zumindest was meine Rauferei-Beteiligung betrifft - komplett verpeilt. Doch das Team schaffte es dennoch auf Platz 4! Ich bin sogar mit diesem Posting noch immer hinterher, was bedeutet, dass die Vierundzwanzigste Rauferei inzwischen bereits zuende ging. Doch auch wenn ich selbst nichts zum Ergebnis beigetragen hab, ich hab immerhin all die Infos der Rauferei festgehalten und noch einiges mehr. Und das gibt es nun hier.
Ich bin nicht der einzige, der keine Punkte erzielte. @jk420 hatte es im Chat vor Beginn bereits angekündigt und war im Silber-Fray schlicht deplaziert mit seltenen Summonern nicht stärker als Level 2. Vermutlich aus Mangel an verfügbaren Alternativen und in der Hoffnung, auf viele andere Deplazierte zu treffen. Ich mag diesen Kampfgeist! Ich konnte die Kämpfe alle anschauen. Hier sind zwei sehenswerte.
Im ersten ist gut zu sehen, was ein legendärer Tank bedeutet. Da gibt es nicht viel zu sagen, außer dass es Anfangs erst ganz gut aussieht.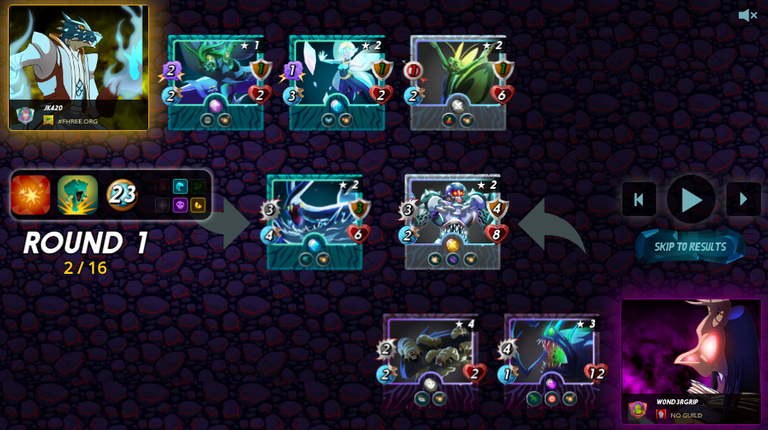 https://splinterlands.com?p=battle&ref=anjanida&id=sm_Urr9OTatxTQP58DDLyQC
Der zweite ist so ein typischer Llama-Kampf. Bemerkenswert finde ich, dass @jk420 auch einen legendären Kron the Undying spielt. Allerdings nicht auch Level 2, wie sein Gegner @bandogge. Und wenn das Llama nicht gewesen wäre... was red ich, sieh selbst.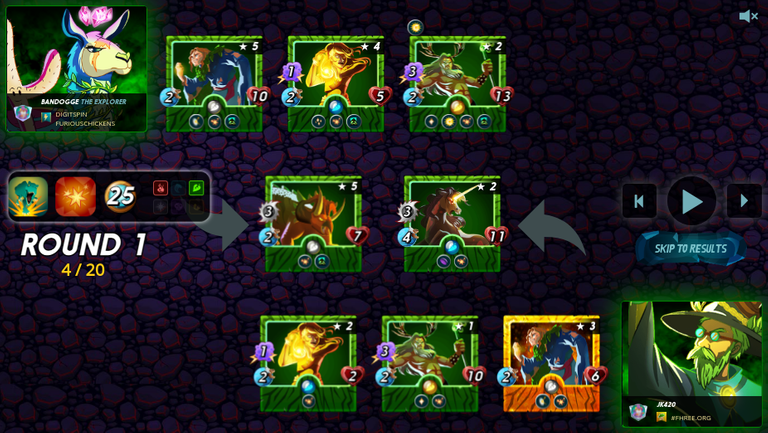 https://splinterlands.com?p=battle&ref=anjanida&id=sm_JItZD7FHHIgjip8HGmYm
Von @gadesa fand ich am Ende der Rauferei nur fünf von sieben Kämpfen, die aufgrund von von Nichtteilnahme scheiterten. @gadesa berichtete später, die Internetverbindung war leider unterbrochen. Die zwei weiteren Kämpfe hätte ich mir sehr gerne auch noch angesehen. Doch leider waren sie auf der generell sehr kurzen "letzte Kämpfe-Liste" bereits nicht mehr zu sehen.
Was ich noch fand, beim Blick in den Chat seinerzeit, war ein recht fröhliches Treiben während der Rauferei:
@cryptonymouz im Novice-Untamed-Fray teilte den folgenden Kampf mit uns. Dank Verwendung des legendären Summoners Camila Sungazer im Regelsatz "nur Nahkampf" wurde die seltene Living Lava gegen vier von fünf Karten von @wiggl3's unverwundbar und gewann gar gegen zwei Legendäre. Sehenswert! @cryptonymouz konnte es selbst nicht glauben und musste den Kampf zunächst ein zweites Mal schauen. Danke für's Teilen!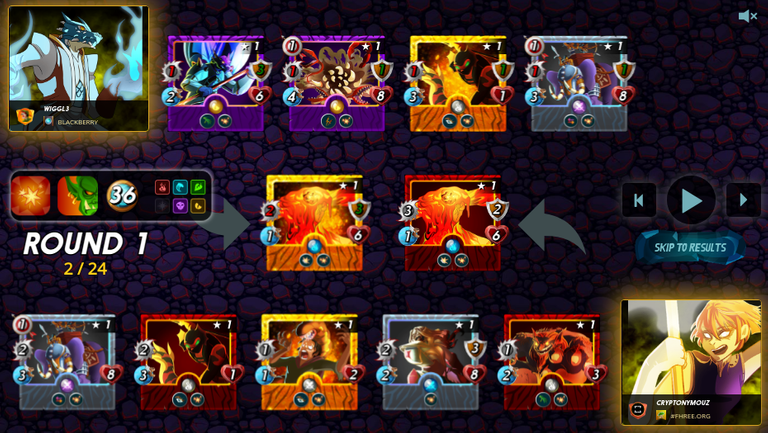 https://splinterlands.com/?p=battle&ref=anjanida&id=sm_HpM5snQd72ZRQZbNqN7i
@thelunacysystem, wieder im Novice Alpha/Beta Fray kämpfend, teilte mit uns diesen Kampf. Schau dir allein das Selenia Sky Splinterstorm skin an! Ich lieben es!! Und Selenias Eigenschaft kommt bei dem Regelsatz nicht mal zum Einsatz! Doch es ist nun mal eine Alpha-Edition, kostet auch 3 Mana, sieht gut aus, und ist hier in perfekter Kombination mit dem überwiegenden Alpha-Team. Eine Augenweide!! Danke auch dir für's Teilen!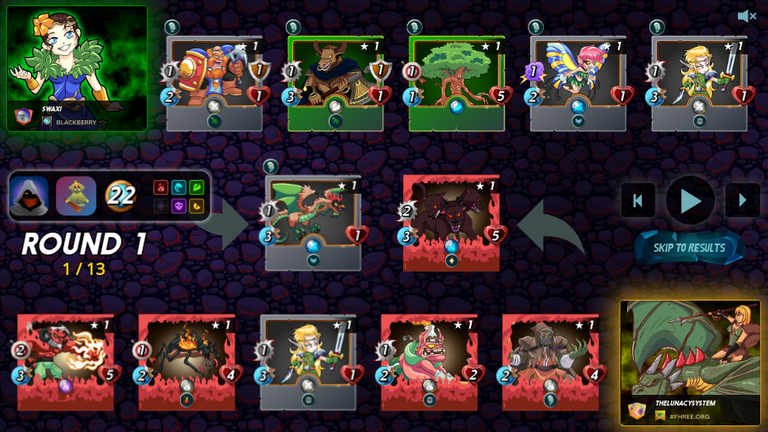 https://splinterlands.com/?p=battle&id=sm_leT8zRtqJsPWstxd6n4a
Und zu guter Letzt verkündete @thelunacysystem im Chat noch, einen ersten Blog-Post veröffentlicht zu haben. Ich bin sehr erfreut! Bitte sie selbst!
https://peakd.com/plurality/@thelunacysystem/introduction-to-the-lunacy-system
Diesmal war übrigends die erste Rauferei, in der zwei Guilden bereits in Tier 3 gekämpt haben. Doch davon werde ich nun hier nicht auch noch berichten. Mehr dazu beim nächsten Mal, denn da hat sich auch schon wieder etwas ereignet in der Angelegenheit.
Nun gibt es unten wieder einige Statistiken, und während du vielleicht darin stöberst, werde ich die Daten der vierundzwanzigsten Rauferei zusammenstellen, die bereits beendet ist.
Worum es sich bei Raufereien handelt, kannst Du lesen in Gilden-Raufereien werden stattfinden! [1]
Zur Verbesserung deines eigenen Decks empfehle ich die Lektüre meines Artikels Das eigene Deck langsam und stetig wachsen lassen - ohne Banknoten zu verwenden [2]
Und zur Verbesserung des Decks eines Mitspielers meinen Artikel Raufereien: Verstärken des Kartenstapels eines Teammitglieds [3]
Du spielst noch kein Splinterlands? Dann probiere es doch mal! Wir verleihen oder verschenken gerne auch mal ein paar nützliche Karten, statt sie "nur" zu verkaufen. Wenn du magst, verwende dazu meinen Link, um anzufangen. Dann bist Du auf ewig in meinem Team unterstützenswerter Spieler https://splinterlands.com?ref=anjanida
Hoffentlich auf bald!
PS: Wenn du mehr von uns lesen möchtest, wirf bitte einen Blick auf unsere Bilanz aus 2019: Rückblick, Gegenwart und Ausblicke [4]
Prep Stage: Frays in Tier 1
| # | League | Cards + Limits | C | R | E | L | Player | Power |
| --- | --- | --- | --- | --- | --- | --- | --- | --- |
| 1 | Novice | all / no limit | 1 | 1 | 1 | 1 | @gadesa | 232,165 |
| 2 | Novice | all / no limit | 1 | 1 | 1 | 1 | @sodom-lv | 1,294 |
| 3 | Novice | all Untamed | 1 | 1 | 1 | 1 | @cryptonymouz | 5,650 |
| 4 | Novice | all Alpha/Beta | 1 | 1 | 1 | 1 | @thelunacysystem | 128,090 |
| 5 | Bronze | all / no limit | 3 | 2 | 2 | 1 | @marklos | 129,120 |
| 6 | Bronze | all / no limit | 3 | 2 | 2 | 1 | @tld05 | 1,300 |
| 7 | Bronze | all Untamed | 3 | 2 | 2 | 1 | @m-mirage-e | 103,265 |
| 8 | Silver | all / no limit | 5 | 4 | 3 | 2 | @szalony | 340,270 |
| 9 | Silver | all / no limit | 5 | 4 | 3 | 2 | @anjanida | 159,240 |
| 10 | Silver | all Untamed | 5 | 4 | 3 | 2 | @jk420 | 45,355 |
| 11 | Bronze | GF / no limit | 3 | 2 | 2 | 1 | @sm-rules | 140,125 |
| 12 | Bronze | GF Untamed | 3 | 2 | 2 | 1 | - | - |
| 13 | Silver | GF / no limit | 5 | 4 | 3 | 2 | - | - |
Guild #FHREE.org internal results
| Points | Fray | Cards | Battles | Won | Lost | Draw | Player | Power |
| --- | --- | --- | --- | --- | --- | --- | --- | --- |
| 18 | Novice | all / no limit | 7/7 | 6W | 1L | 0D | @sodom-lv | 1,294 |
| 15 | Silver | all / no limit | 7/7 | 5W | 2L | 0D | @szalony | 340,270 |
| 9 | Novice | all Untamed | 5/5 | 3W | 2L | 0D | @cryptonymouz | 5,650 |
| 9 | Bronze | all / no limit | 6/6 | 3W | 3L | 0D | @tld05 | 1,300 |
| 9 | Bronze | all Untamed | 6/6 | 3W | 3L | 0D | @m-mirage-e | 103,265 |
| 6 | Novice | all Alpha/Beta | 3/3 | 2W | 1L | 0D | @thelunacysystem | 128,090 |
| 3 | Bronze | all / no limit | 6/6 | 1W | 5L | 0D | @marklos | 129,120 |
| 0 | Bronze | GF / no limit | 0/2 | 0W | 2L | 0D | @sm-rules | 140,125 |
| 0 | Silver | all Untamed | 4/4 | 0W | 4L | D | @jk420 | 45,355 |
| 0 | Silver | all / no limit | 0/6 | 0W | 6L | 0D | @anjanida | 159,240 |
| 0 | Novice | all / no limit | 2/7 | 0W | 7L | 0D | @gadesa | 232,165 |
ALL Guilds that participated in our brawl
| Points | Name | Tag Line | Guild Rank | |
| --- | --- | --- | --- | --- |
| 121 | Spirit Animals | - | #18 | Link |
| 121 | Digitspin FuriousChickens | Official Guild for the DigitSpin YouTube Channel | #39 | Link |
| 69 | NO GUILD | cryptowave - cyberpunks | #44 | Link |
| 69 | #FHREE.org | Team Self-Directed Education | #102 | Link |
| 66 | BlackBerry | Securing a connected future you can trust. | #75 | Link |
| 63 | SoulReapers | Your soul is ours. | #42 | Link |
| 48 | Krampus | Austria German | #156 | Link |
| 27 | Mandalorians | This is the way! | #56 | Link |
| 15 | Hall Of Göndul | Mandalorian Covert - This is the way | #201 | Link |
---
Blog Reward Statistics
---
Footnotes
---
Fußnoten
---
---