Steemmonsters minimum price
In steemmonsters.
I haven't sold cards in a long time.
Because it's hard to sell out it.
Last sale.
Hanged for many days.
Can't sell out it.
Always change the price.
Lower price.
Is it possible to sell.
Because me have to keep changing prices.
And the price is not high.
So lazy to sell them.
Just sold a few cards.
Found many cards.
All fell to $ 0.01.
I enter $ 0.009.
I can't sell it.
It turned out there was a minimum price limit of $ 0.01.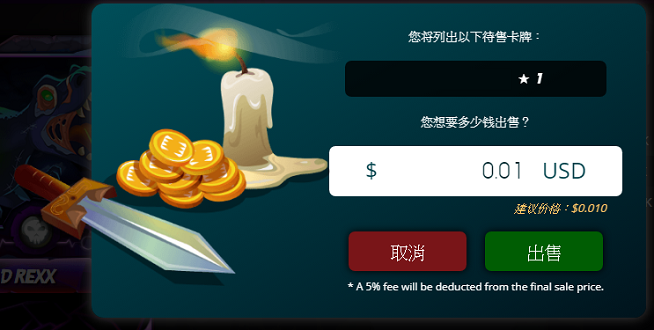 steemmonsters最低价格
在steemmonsters
我很久没有卖卡片了
因为很难卖掉
上一次挂卖
挂了好多天
都卖不掉
要一直改价钱
越改越低价
才有可能卖出去
因为要一直改价
且价钱也不高
就懒得挂卖了
刚刚挂卖
发现很多卡片
都跌到了0.01美元
我输入0.009美元
居然无法挂卖
原来有最低价要0.01美元的限制