---
Well, I just haven't posting this week.
Pretty Distracted with trading crypto, Honestly. Lot of coins are pumping these days, Hence I decided to put my money in few of them.
It takes lot of time I dedicate for the Interwebz.
However I dint wan't to miss this opportunity to take part in Sayee's contest.
I know I knowww.
The contest just closed and winners are decided, but still there is no harm in making a post to help out newbies.
Like my mom used often say after I loose some competion,
"Participation is Important!"
Besides, Sayee is a sweetheart. It will be a shame if I din't take part in her contest.
So here are my top 5 cards that I used this week.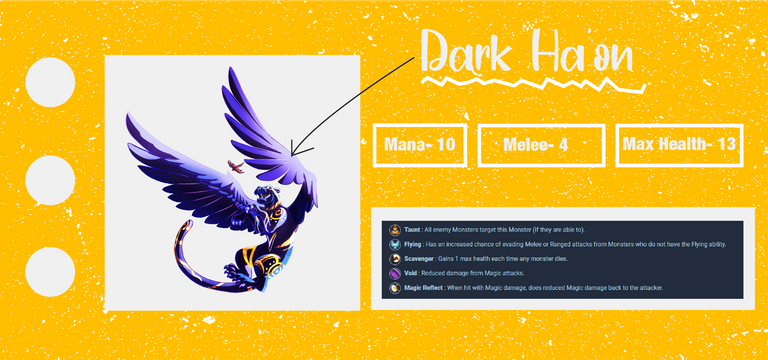 I play the dark deck a lot from My Team Share Account as it has lot of Maxed Cards. Hence, Its quite natural for me to use The Dark Haon as my Tank or some times I place it in the end to shield Tank from Ranged attacks and Magic as it has Taunt Ability(Example in the video). Apart from Taunt, It has abilities like Scavenger, Void, Magic Reflect and Flying which make it a card to perform well against Magic Attacks. We could melee and range debuff cards like Fallen Specter to reduce damages from Melee and Ranged Attacks. Even Healers compliment Haon to be Invincible.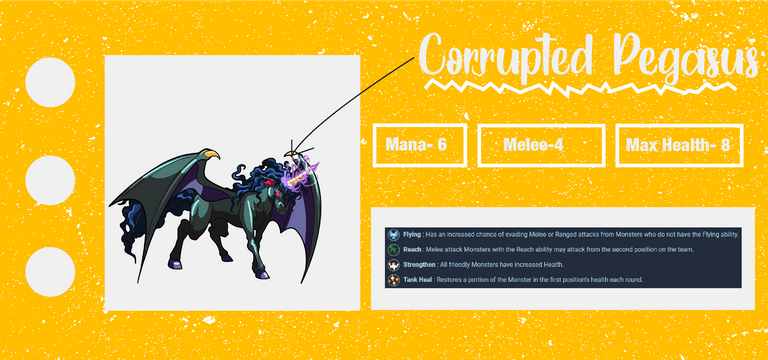 Talking about healers, I can only think of this Unicorn Healer which is great second tank as it has the reach ability. I always play it with Dark Hoan as it requires healing to sustain against Ranged and Melee attacks. Also with its flying and strengthen ability its very handy during earthquake rule. For low mana battles where I cant use the dark hoan,I use the Pegasus as my tank. Hence its in my list of most used cards for this week.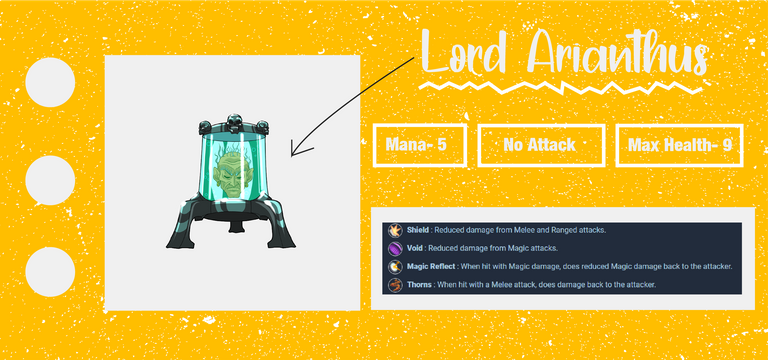 If this card doesn't make it to this list I don't know what will. This card is most used after the furious chicken.
Why?
Well, This card ticks all the boxes once it reaches level 3.
Its got good defense against melee, ranged and magic while having counter defense for Melee and Magic with abilities like Magic reflect and Thorns.
With a Mana of 5, its easily become our go to choice for the card you keep up front!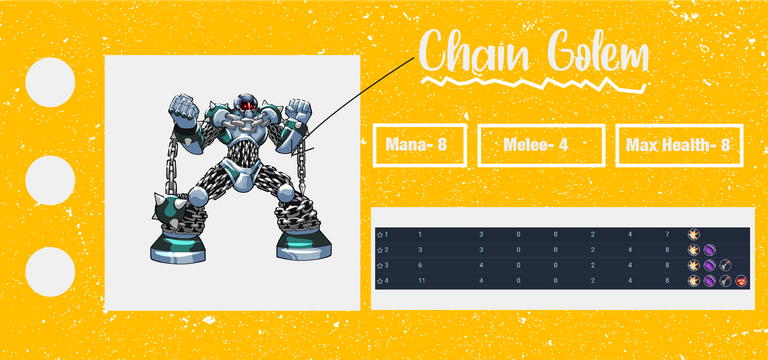 During times I don't want use Lord Arianthus, I go for Chain Golem. Again a card which is good against all Magic, Ranged and Melee as it has Void and Shield. Additionally, Its got 4 shield to resist some initial damages and also makes it useful during earthquake rule. Its got abilities like Pierce and Stun which can vital to take out melee mosters of the enemy team especially during the knock out rule. Hence, It is a no brainer to have him in here.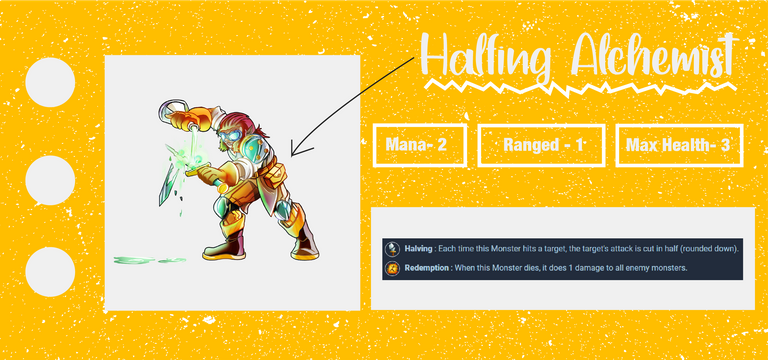 I picked the half alchemist because its an awesome range monster that has the ability to reduce the attack of the enemy to half of its original value. Like say the Chain Golem has 4 melee attack, Halving Alchemist can reduce that value to 2. It has a low health and will cost you only couple of Mana while you arrange your deck, Hence I usually try to place it in the 5th position. When this card reaches level 4, it gets this ability called redemption which reduces all the monsters health by 1 when it is killed.
There you go.
That was my top 5 this week.
I had few more names in my head like Furious Chicken and Sand Worm which were pretty good as well, but din't make it to the final 5. You can all these cards from @monstermarket by clicking this link.
Oh! You haven't started playing yet?
Here is My Refee
Now, I throw back the question at you.
What is your top 5 cards you used this week?
Think this blog will be valuable for someone? Feel free to Tag your Friends and re-blog.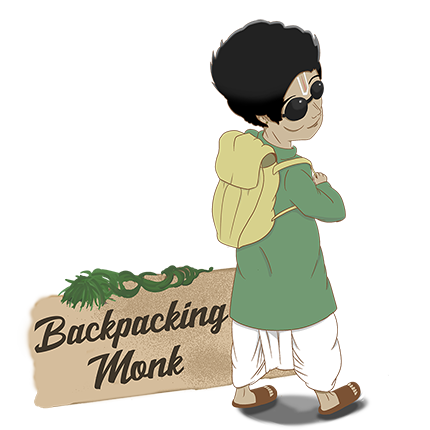 Cartoon Art by @turtledance24
---
▶️ 3Speak