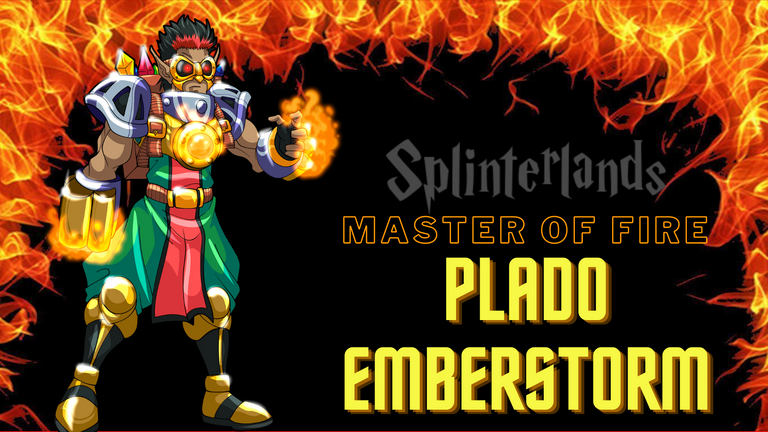 Namaste Splinterland Warriors!!!
I hope all of you are happy and enjoying Splinterlands!
---
Folks, I don't know if you guys have experienced a flood in your locality but where I live in, it floods here almost every year. I live beside a river named as Shilaboti and almost every year in monsoon time, it gets flooded. This is happening since the beginning and the local inhabitants are used to it Our houses are built on artificial high lands so that the flood-water doesn't enter and damage our houses. Also, the local authority is very active about this situation and they prepare themselves well before the monsoon comes. Right now, its been weeks of heavy rain and already the other bank the river got flooded. If the rain stays continuous or the dam gets overflowed, soon this side will face the flood too.
Anyways, let me come back with another legendary post and this time, it's FIRE time ;)
In my previous posts, I have already talked about Peakrider, Yodin Zaku, Prince Rennyn, Valnamor and Crypt Mancer. So today I will tell a tale about another legendary summoner today, PLADO EMBERSTORM, the fire keeper!
Whenever you roam in those burning lands, beware of the man with the golden eyeglasses. Is it fire in his hands?? Then run away my friend! Because most probably you have crossed your path with the mighty PLADO EMBERSTORM!! Let's see what the Book of @splinterlore has to say about this fierce monster.
For a Splinter packed full of grunting savages and wandering primitives, the Burning Lands produces a surprising number of geniuses. One such genius is Plado Emberstorm, the powerful Efreet summoner who has graduated from every school in the Burning Lands. Years ago, his privileged childhood was brought to a crashing halt when his parents were murdered in front of him over nothing more than a Heliostone. Young Plado became obsessed with the invention, as though he had a plan to create the machine that would bring his parents back to him. His heart, in spite of being forever broken, is kind, true and generous. All of Plado's inventions are put to use for the good of the people. The Torch looks with scorn on Emberstorm's benevolence, but they never interfere with the work of their most prized summoner.
PLADO EMBERSTORM is a 5 mana legendary summoner from Fire realm. Its a beta edition card and got printed out already I think. The best way to get a PLADO EMBERSTORM is from the market. So let us see the current listing prices of this angry summoner.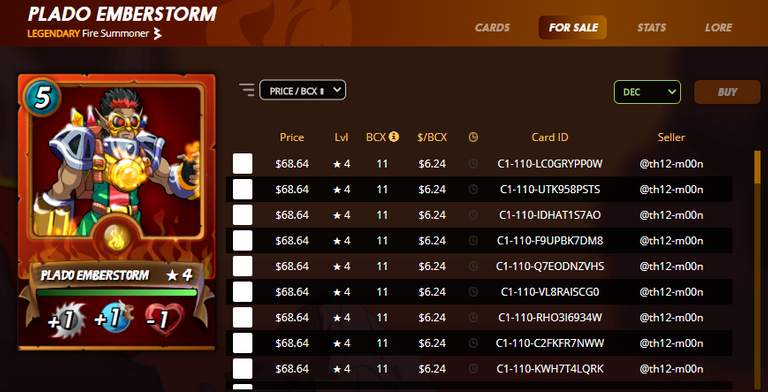 As you can watch from the above screenshot, there are right now a ton of max Plado available at 68.64$ and only 124,460.562 DEC is required to buy one at the monebt. The 1 BCX cards are starting from 7.99$ (14,487.761) but as usual, much more pricy later on and it will cost you more at this point to make max Plado by buying 1 BCX card the current market rate as there are not many 1 bcx cards available right now.
Why Paldo is an important card to have?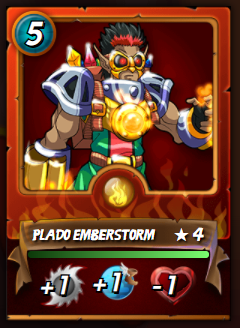 Just like any other high mana Legendary summoner, the PLADO is also considered to be one of the most powerful summoners in Splinterlands and it's way more powerful than the common 3/2 mana summoners. Especially on MELEE games, this summoner is VERY TOUGH to fight against, but why?
The answer lies in the buffs/debuffs that particular summoner possesses. Plado carries 3 buffs with him Such as...
+1 health to all friendly monsters.
+1 speed to all friendly monsters.
+1 melee attack to all friendly magic monsters.
It is as simple as that. Paldo is the best choice for large mana Melee mayhem or Super sneak games. We already know that melee attacks can become deadly attacks as the attack amount is generally more than range attacks comparing card mana costs.
But yes, there are some negative points also. First of all, for its 5 mana cost, it cant be used in low or medium mana matches. Moreover, Without those 2 rulesets that I mentioned above, I don't see much of a use for Plado. Yes, you can gamble in Equalizer matches or matches with 18-28 mana range but that becomes risky considering its mana cost. But besides that, no doubt Plado is worthy of a king for those all melee attack matches.
Today, I am going to try the Max level Plado on the battlefield. Thank you @netaterra for this awesome card! I already have a max beta deck in Fire region and also a good number of neutral cards to assist. Let me show you the Fire cards before jumping in the battleground.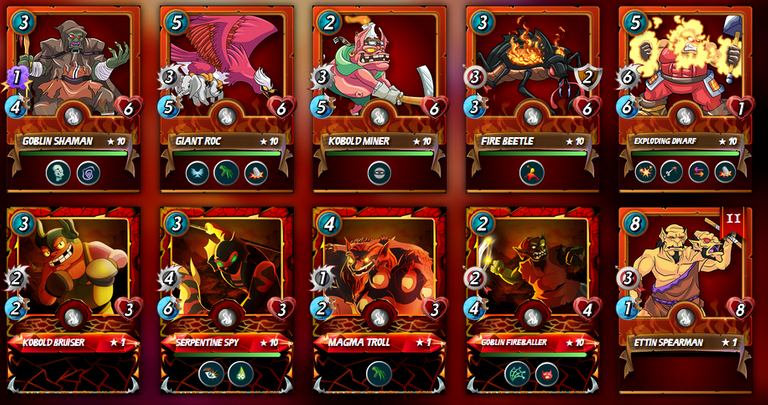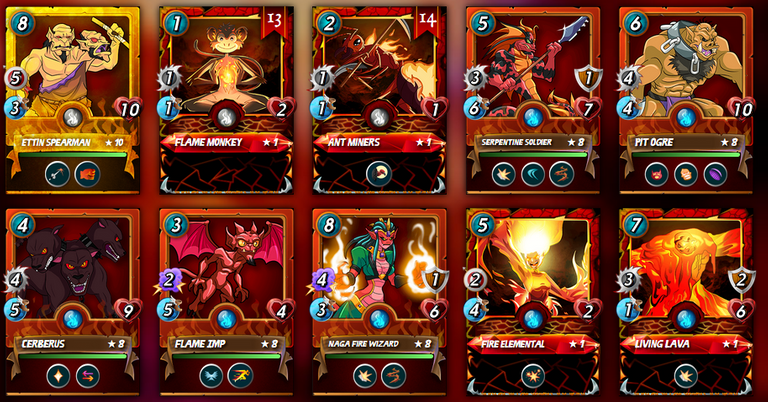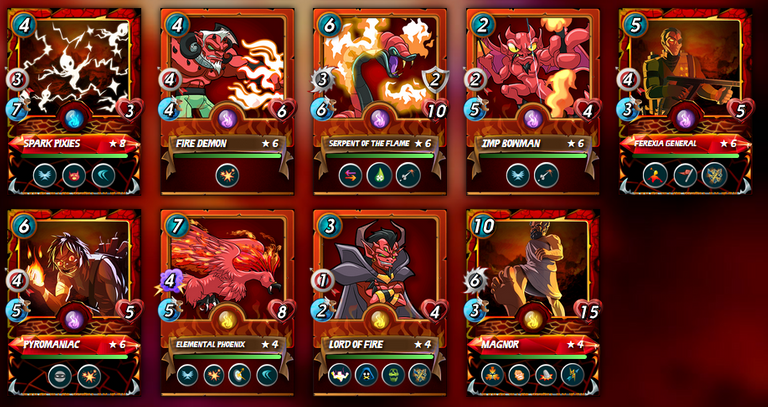 Match line up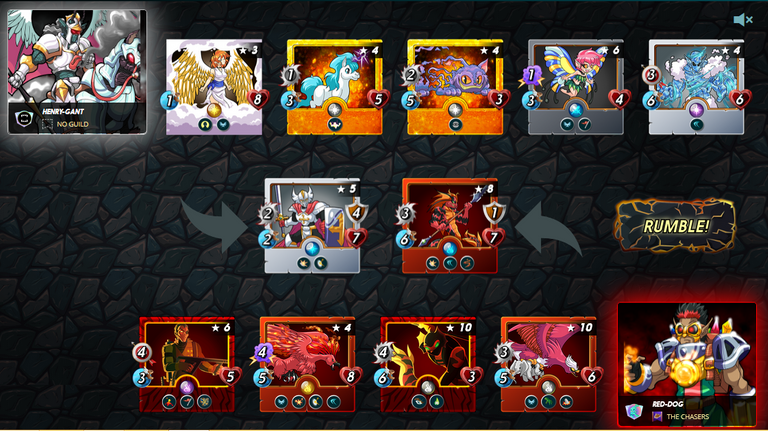 Ruleset Of Battle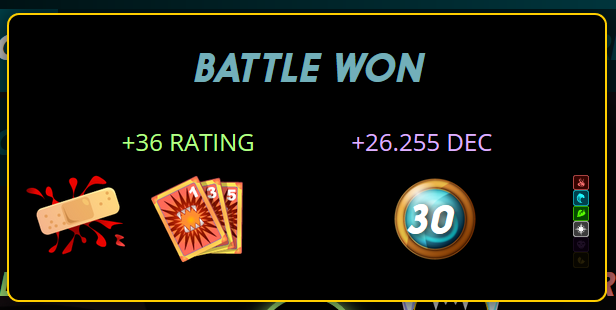 Mana count This match holds a mid-level 30 mana cap.

Summoners This battle supports Fire, Water, Earth and Life summoners.
Ruleset So, It was a Healed out ( Monsters cant heal or cant be healed) + Odd ones out ( Only monsters with odd mana cost can be used). It's a medium mana match but I will go for Plado summoner deck with a group of melee and a good front defence.
At this much mana cap, generally, I often consider using Plado, and also this time I wanted to go differently. It costs 5 mana, I will be left with 25 mana, which won't allow you to choose all the big monsters you want, so I will choose the small n big combo this time.
Line-Up

---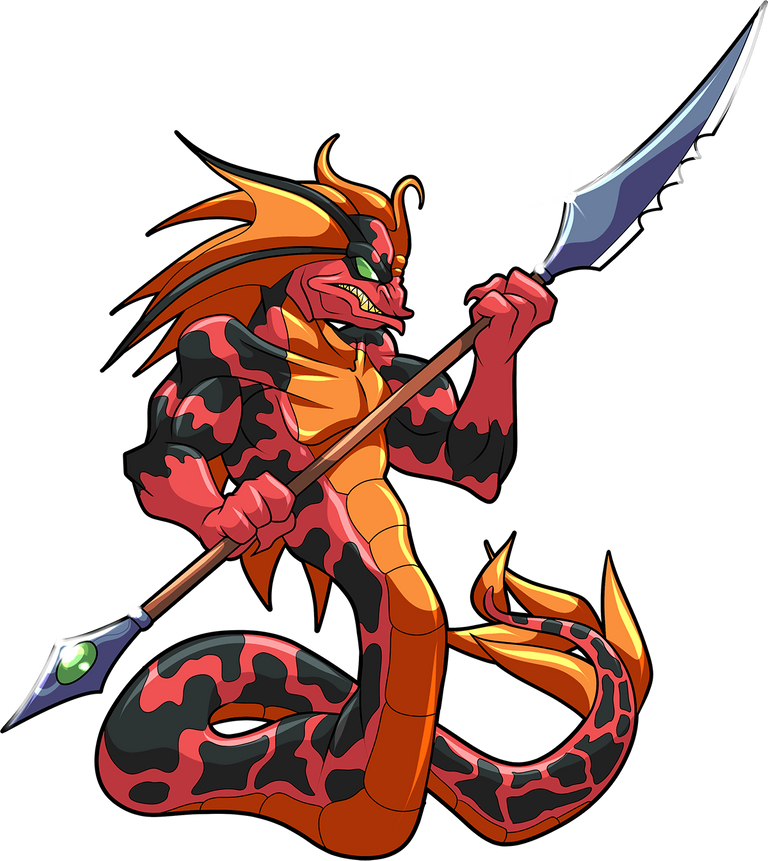 SERPENTINE SOLDIER
I chose the SERPENTINE SOLDIER in the first place because of its Shield and the throne ability. I have a level 8 SERPENTINE SOLDIER at it has 3 melee attack at 6 speed, 1 armour and 7 health. It also possesses 3 abilities as stated below.
Thrones - When hit by a melee attack, does damage back to the attacker.

Shield - Will receive reduced hit from melee and ranged a

Evade - has increased chance of evading melee and ranged attacks.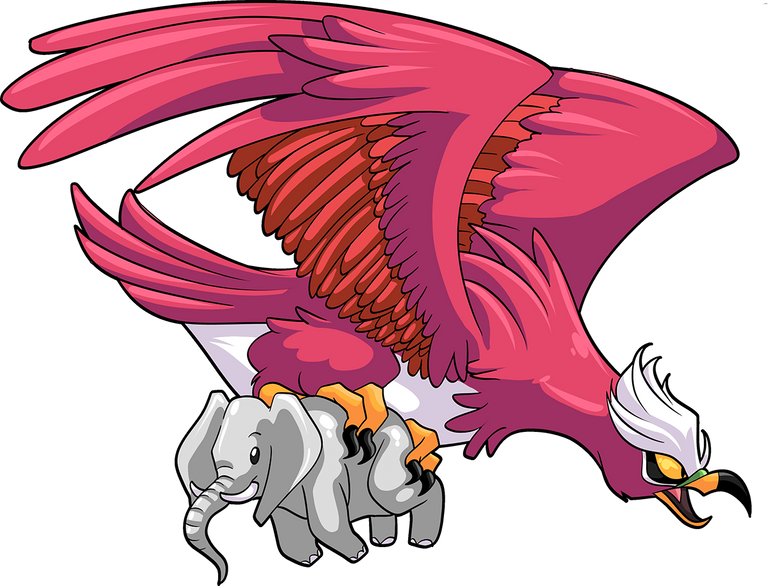 GIANT ROC
I chose the GIANT ROC in the second place because of its flying ability. I have a level 10 GIANT ROC at it has 3 melee attack at 5 speed and 6 health. It also possesses 3 abilities as stated below.
Reach - Can attack from the second-in-line position.
Flying - has less chance of getting hit from non-flying monsters.

Trample - If it successfully killed a monster, it will again attack the next one in line.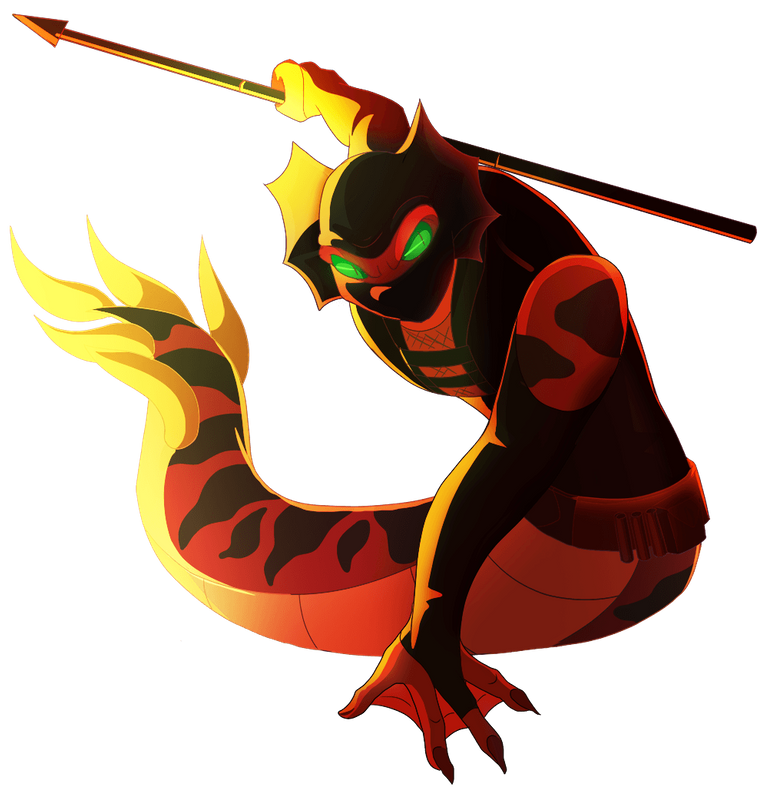 SERPENTINE SPY
I chose the SERPENTINE SPY in the third place because of its opportunity ability. I have a level 10 SERPENTINE SPY at it has 4 melee attack at 6 speed and 3 health. It also possesses 2 abilities as stated below.
Opportunity - will attack the enemy monster having the lowest health.
Poison - After attacking successfully, has a chance of applying poison on enemy, making him lose health each round.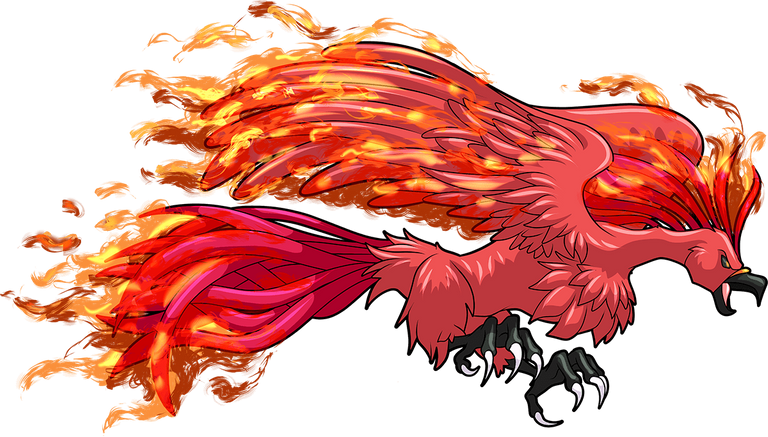 ELEMENTAL PHOENIX
I chose the ELEMENTAL PHOENIX in the fourth place because of its bunch of abilities. I have a level 4 ELEMENTAL PHOENIX at it has 4 magic attack at 5 speed and 8 health. It also possesses 4 abilities as stated below.
Flying - has less chance of getting hit from non-flying monsters.

Evade - has increased chance of evading melee and ranged attacks.

Blast - When hit a target, does reduce damage to the adjacent monsters.

Magic Reflect - When hit by magic, does reduce damage back to the monster.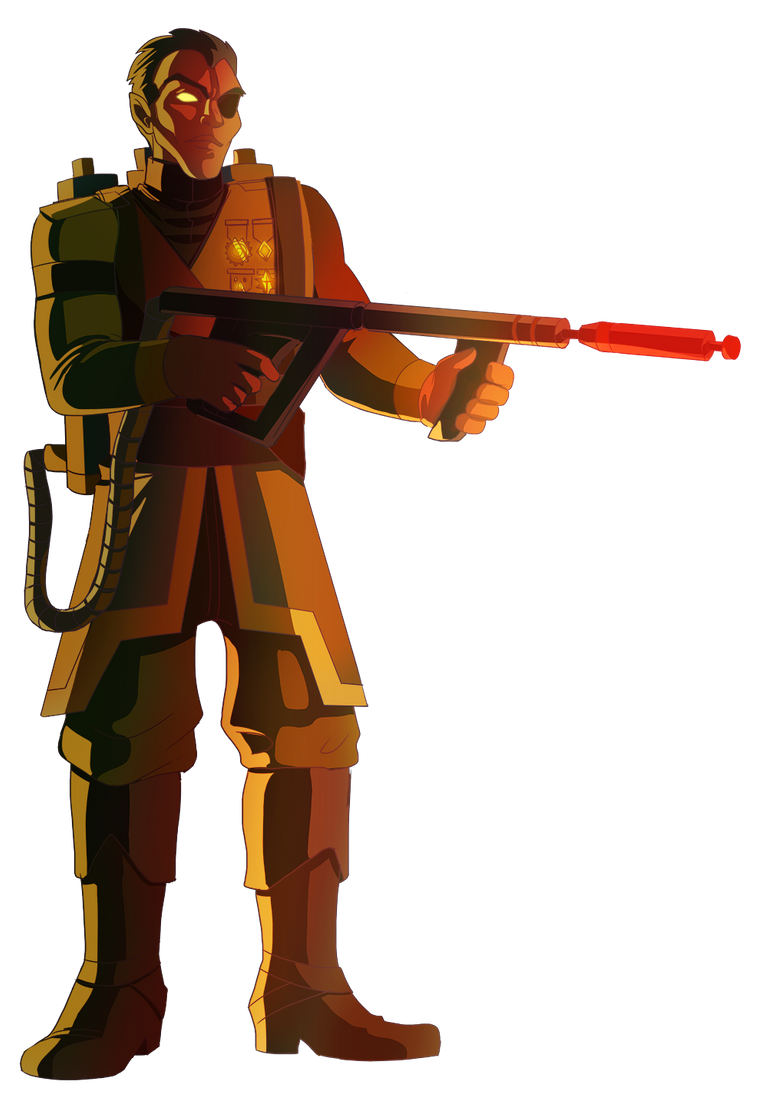 FEREXIA GENERAL
I chose the FEREXIA GENERAL in the fourth place because of its bunch of abilities. I have a level 6 FEREXIA GENERAL at it has 4 range attack at 3 speed and 5 health. It also possesses 3 abilities as stated below.
Snipe - Will attack the first monster with no attack, range or magic power that is not in the first position.

Inspire - Will give all friendly melee monsters with +1 melee power.

Shatter - When attack, will destroy the monster's armour completely.
Battle Result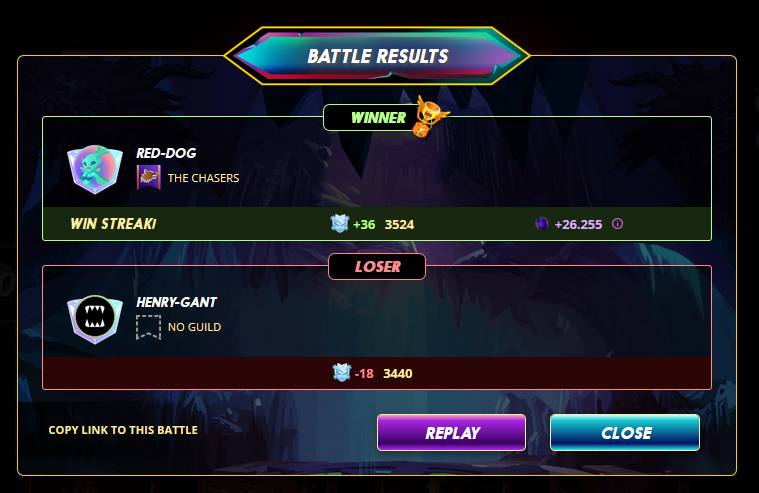 Well, the match was simply awesome guys! The opponent also used a legendary summoner on me but my furious monsters got able to survive and kill down the enemies one by one.
Let us now take a dive in the gameplay.
Gameplay

You can directly view the battle. Just click the hyperlink below.
---
First, let us follow the opponent's line-up...
My opponent @henry-gant used legendary Life summoner Peakrider against me.
At the front position, he used Silvershield Paladin Level 5. He chose a defensive beast to his front and I just hope I get able to kill this shielded beast with my melee warriors.
At the second position, he used Angl of Light level 3.
At the third position, he puts Baby Unicorn lev 4.
At the fourth position, he chose Feral Spirit lev 4.
At the fifth position, he chose Pixie lev 6.
At the last position, he chose Air Elemental lev 4.
Well, for me, It was quite an unpredictable match because of the weird deck I had made. Using Plado in a 30 mana match didn't allow me to choose other high mana monsters. But I wanted to see how much effective it will be. Gladly I won this match.
First of all, the match ruleset was odd ones out so I could only use the monsters with odd mana cost. So I went with SERP. Soldier and Giant Roc combo at the front followed by the Serpentine spy. As I was Plado, I chose to use 3 melee monster along with it.
At next, I chose Fore elemental for his unmatched power. I chose the Ferexie General at the end to increase the melee power more!
Again, It was a great match and my opponent also had a great line up.
I hope you have enjoyed reading my post. Please let me know your feelings by leaving a comment below.
---
Last but not least, I really wanna say thanks to @aggroed @yabapmatt and the entire @splinterlands team for their continuous and tireless effort on this game. You guys really rock!!
---
Haven't joined this awesome game yet?? now is the time dude! Follow the link below and get yourself in the amazing world of Splinterlands. Click here to join!
---
All the images in this post are screenshots taken from the site below:
Cover picture is made with - http://canva.com
#POSH - You can check my twitter handle at the comment section of this post.

Monster Market
Do you want some sweet cashback while buying Splinterlands packs and cards? Visit Monster market now! It an alternate site for the Splinterlands market which gives instant cashback on the card and packs purchases. Feel free to contact in their Discord for any query.