$1,000 Splinterlands Grand Tournament by Synergy of Serra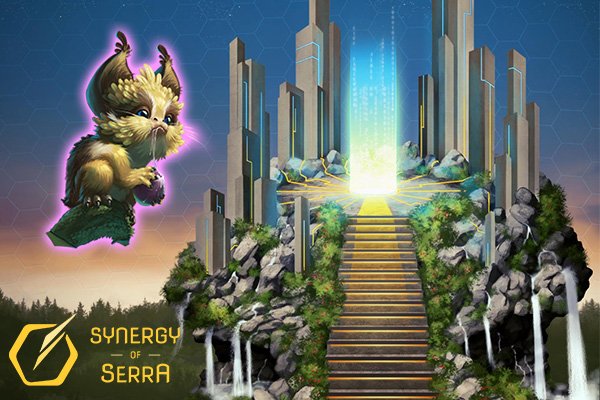 Splinterlands Grand Tournament by Synergy of Serra
The planet Serra is inhabited by an advanced and diverse society that found ways to sustain the planet's ecosystem and is divided into six factions, that live together in harmony. At least most of the time...
This peace was one day disturbed by findings during one of the deep space explorations to chart the unknown galaxy around Serra. The findings indicated a distant threat, devouring one planet system after another. Simulations demonstrated that sooner or later Serra would be one of the planets falling prey to this ancient threat...
The citizens of Serra challenge you, Splinterlanders, to prove the best strategist within your ranks. Your strategic skill will help us Serrans to defend our planet against the future alien threat. The citizens of Serra will show gratitude and reward the best strategists!
---
Rewards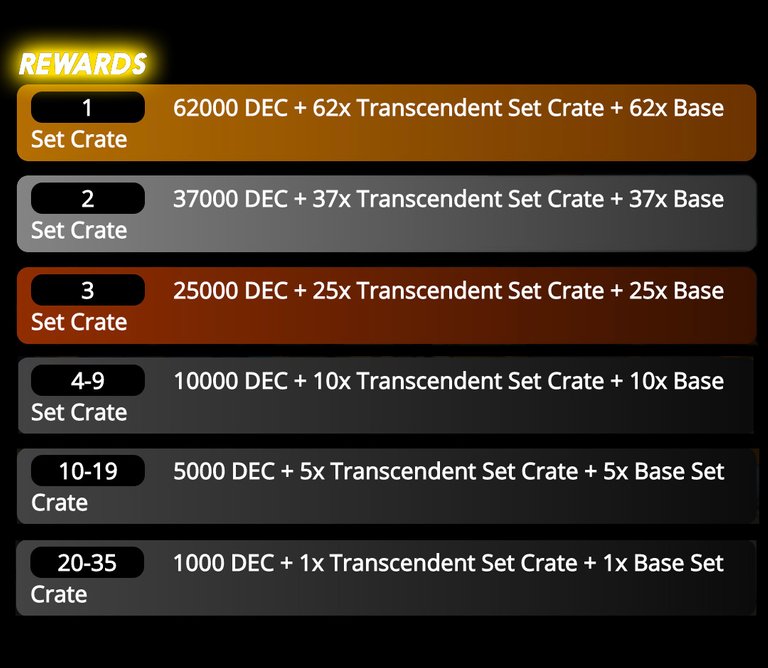 To be clear... YES, the champion of this tournament is rewarded with ~$250 of value and there are 35 ranks which are rewarded with ~$1,000 in total value!
Splinterland's Dark Energy Crystals (DEC)

Dark Energy Crystals (DEC) are the most valued resource in the Splinterlands. They can be obtained by draining the dark energy from cards or from your opponents by achieving victory on the battlefield. Once obtained, they can be traded for powerful items and magical potions in the shop!
Synergy of Serra's Transcendent Set Crates
The Transcendent Set contains 60 distinct Expansion Cards, including the new Transcendent faction, in different Qualities and Rarities. Each Transcendent Set Crate starts from $2 and contains 6 cards with different drop chances, scarcity in two dimensions. There is the Rarity dimension (Common 70%, Rare 24%, Epic 5%, Legendary 1%) and the Quality dimension (Painted Metal 84%, Bronze 10%, Silver 5%, Gold 1%). The most scarce card drawn from this crate is Legendary/Gold (0.01% Chance)!
Synergy of Serra's Base Set Crates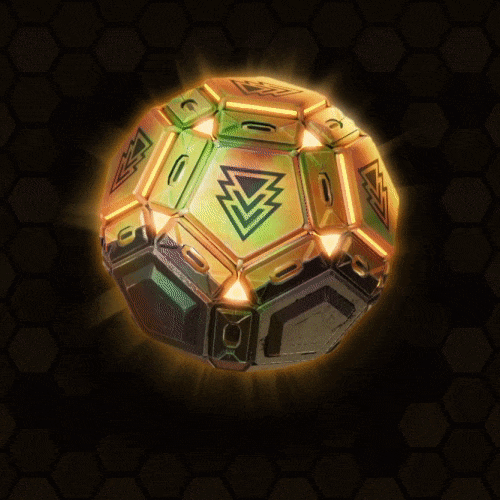 The Base Set Contains the 90 free Base Set Cards in higher Qualities. Each Base Set Crate starts from $1 and contains 6 cards with different drop chances regarding Quality (Bronze 75%, Silver 24%, Gold 1%). Since each player gets all 90 cards from the Base Set for free, there is no Rarity — all Base Set cards are valued as 'common'. Therefore, cards from Base Set Crates are higher quality, cosmetic versions of Base Set cards. These cosmetic cards are also tradable!
---
Synergy of Serra
Synergy of Serra shapes a new game genre, merging classic Strategy Card Games with the infinite game experience possibilities of Deckbuilder Card Games.
Play-to-Earn: Start for free with 90 unique cards, full access to all features, and earn money by winning seasonal ranked games.
Skill-To-Win: There used to be hardcore games, now again!
Infinite Game Experience: Your card deck and strategy evolve and changes every turn through deckbuilding mechanics resulting in endless unique battles.
Trading Experiences: Trade and exchange all in-game assets for real money through true ownership on the blockchain.
No Entry Barrier: Your grandma is playing it already! No wallets, no plugins, no fees required.
Join the six factions of biologic and mechanic creatures in the defense of the planet Serra from an alien threat. Become the leading commander of Serra!
Learn more about Synergy of Serra
Synergy of Serra Official Website
---
Splinterlands Grand Tournament by Synergy of Serra
Good luck everyone.. and more important - may the best strategist win! 👊
Event sponsored by @splinterlands & @synergyofserrra ! 🙏
---
---